The CB Insights Smart Money list contains the world's best-performing VC investors. We analyze their early-stage investment portfolios to identify where they see opportunity and risk.
Venture capitalists are known for their ability to see around corners. Prescient, wildly profitable VC investments in startups like Facebook, Alibaba, and WhatsApp are part of Silicon Valley lore.
Less widely shared is the concept of "power laws" in the distribution of returns across venture capital firms. In truth, a tiny, elite minority of firms account for most of the outsize returns the asset class is known for.
We surfaced the top 25 VCs out of thousands of firms in the CB Insights database. Many of the game-changing startups of the 2020s will likely emerge from the portfolio companies of these "Smart Money" firms, making this list a powerful filter for uncovering startups and industries that could change the world over the next decade.
The heatmap below shows how the deal concentration of Smart Money VCs' early-stage deals has shifted in the last 5 years across the 30+ top investment categories.
See the methodology section for the full Smart Money VC list.

Investment categories are ranked by percentile within each calendar year, based on the number of deals with participating Smart Money investors.
Smart Money investors have shifted portfolio concentrations over the past 5 years. Categories like fintech and many enterprise-focused services are on the rise, while some consumer-focused investment categories have fallen out of favor.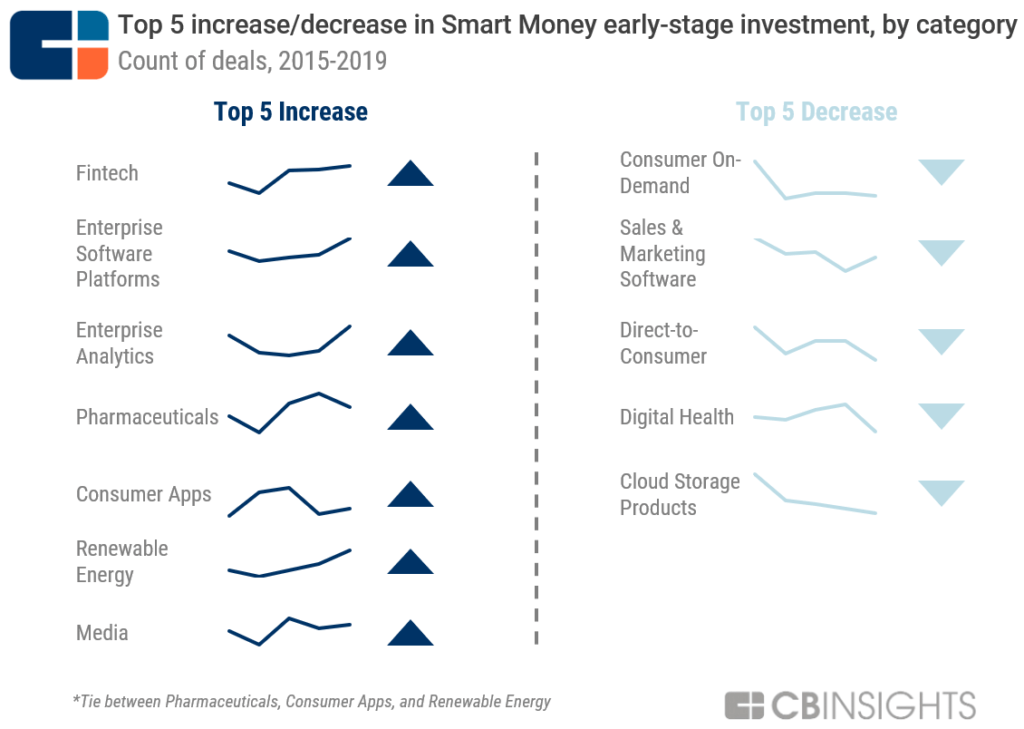 Key takeaways
Using the Smart Money VC list, we analyzed how early-stage investment activity has changed over the past 5 years and uncovered the following key takeaways:
Enterprise-focused investment categories have enjoyed sustained investment momentum and account for the largest proportion of early-stage deals since 2015.
Quantum computing is beginning to move out of the lab and toward commercialization.
Smart Money investors increased funding to AI development startups — companies working to develop the next generation of chips and software that could underlie artificial intelligence-enabled products.
Smart Money VCs generally slowed investment in consumer-focused startups.
Fintech is a notable exception where consumer-focused services are still enjoying significant traction.
While there is notable territory we don't cover explicitly in this analysis (e.g. digital health, cybersecurity, gaming), we believe the 5 trends presented below are the most relevant today.
Smart Money VC early-stage investment trends
1. Enterprise Software Investment picks up
Enterprise software products provide Smart Money investors a safe bet in an increasingly challenging investing environment.
Stable, predictable cash flows and healthy acquisition interest for B2B startups are driving up Smart Money investment in the space — Q1'20 investment levels outpaced Q1 levels in recent years.
Enterprise-focused software startups raised over a third of all deals with Smart Money participants over the past 5 years.
Enterprise software, including SaaS products, analytics tools, collaboration platforms, and cloud storage, provide consistent early-stage deal flow for Smart Money investors. Deal activity was mostly flat over the past 5 years, though high compared to other categories, with increasing dollars invested.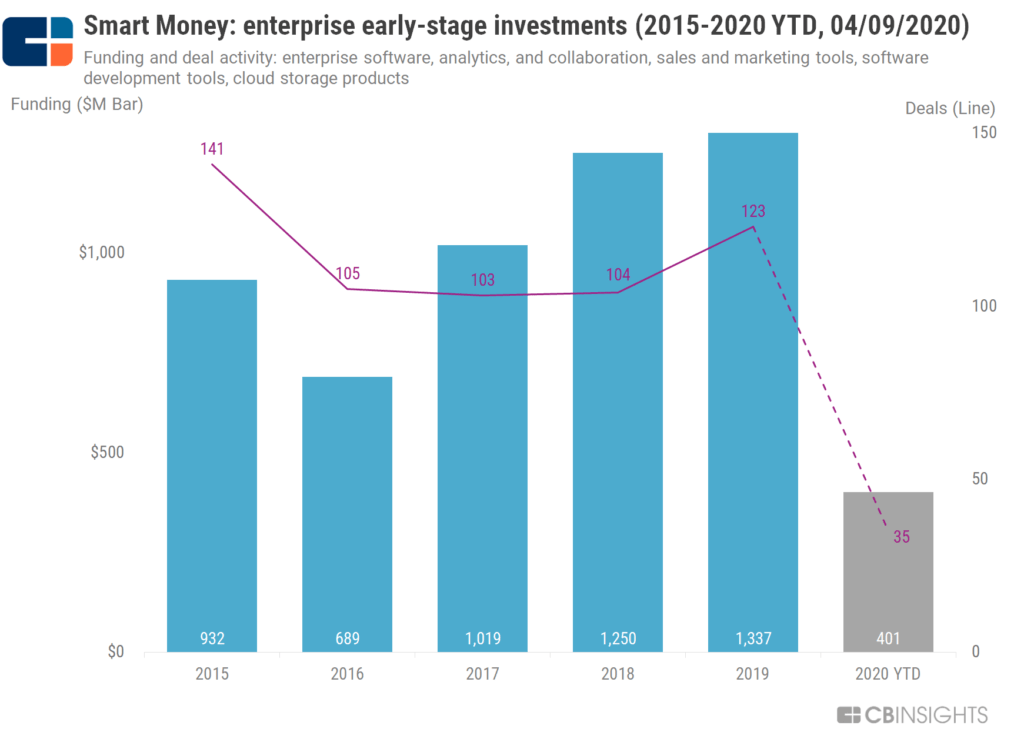 B2B startups have emerged as a safe haven investment for VCs, especially when consumer-focused, tech-adjacent companies have seen slashed valuations and poor public market performance. With stable, predictable cash flows and generally high margins, enterprise software is often seen as a safer bet.
Since 2015, 67 early-stage, enterprise-focused Smart Money investments have exited in acquisitions — accounting for over a third of all acquisitions of Smart Money early-stage investments over that period.
Among enterprise-focused companies with Smart Money investors, the average valuation at exit was $137M. Several of these investments have been highly profitable for early-stage investors.
For example, Heptio, a startup that helped companies transition legacy software systems, raised a Series A round in 2016 with participation from Accel, followed by a Series B at a $117M valuation in 2017. In late 2018, VMware acquired Heptio for $550M, providing a rapid, highly profitable exit for a small group of investors.
As we enter a challenging investment environment in 2020, Smart Money investors could be seeking safety in enterprise-focused startups. At the end of Q1'20, Smart Money deal activity in this category was at its highest quarter-over-quarter level since 2015.
2. Quantum computing Is on The Horizon

Smart Money investors are funding quantum computing's move from the lab to commercialization.
Deal activity in the space is just beginning to pick up, with commercial activity emerging among later-stage quantum computing startups.
Quantum computing is edging toward commercial applications. Smart Money investors are funding early-stage startups working on quantum hardware systems and software platforms that could eventually lead to exponential leaps in computing power for both researchers and commercial users.
Smart Money investors have funded 5 early-stage quantum computing startups since 2016. The numbers are still small, but we expect this category to see increasing investment and commercial traction over the coming years.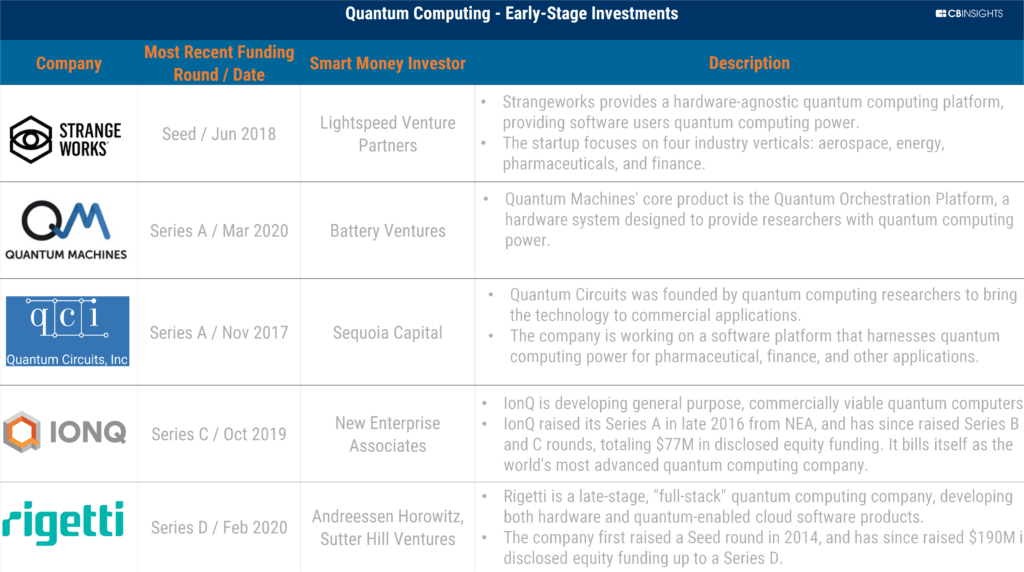 Many of these companies are developing software platforms that harness quantum computing power. Quantum-powered software products, like those offered by Strangeworks, Quantum Machines, and Quantum Circuits, provide an option for users that can't justify investing in today's quantum computer hardware, which is generally expensive, highly delicate, and intended only for research.
Rigetti and IonQ, both pure-play quantum computer companies, raised seed and Series A rounds in the past 5 years, and have seen significant commercial traction in a short time frame. IonQ recently partnered with Amazon Web Services to allow AWS users to remotely run experimental algorithms on its quantum computers.
It is remarkable that these Smart Money-backed quantum computing startups are entering into commercial applications given how nascent these technologies were as recently as 10 years ago.
3. AI Development Gains traction

Smart Money investors are funding artificial intelligence hardware and data products that could underlie the AI-driven computing infrastructure of the next decade.
Smart Money investment in the space has increased over the past 5 years.
Smart Money investors in the past 5 years funded 8 early-stage companies developing pure-play AI technology that could enable a variety of applications.
These companies provide chips, training data, and infrastructure solutions. While AI-enabled startups became commonplace near the end of the decade, the startups in this space are distinct in that they could provide the underlying infrastructure for a wide range of AI products in the future.
Cerebras Systems is a pioneer in this space. The company raised a Series A in 2016 from Benchmark and has since completed more rounds to reach a total of $173M in disclosed equity funding.
The company's flagship product is the Cerebras CS-1, a deep learning system for data centers that is powered by the world's largest graphics processing unit.
Already, Smart Money investors are seeing successful exits from early-stage investments made in this space over the past 5 years.
For example, NEA invested in Mighty AI's 2014 seed round and 2015 Series A. The company was then acquired by Uber in 2019 for an undisclosed price. Mighty AI provides training data to help develop machine learning applications for autonomous vehicles.
The companies developing AI hardware products could be the future providers of day-to-day computing power in a wide variety of industries.
4. Consumer-focused Startups lose their sheen
Smart Money investors slowed investment in consumer-focused investment categories starting in 2018.
Poor IPO performance and slashed valuations for consumer-focused startups will continue to depress Smart Money investment in the space in the 2020s.
The direct-to-consumer startup playbook, typically involving money-losing direct-to-consumer products that scale rapidly using prolific advertising and generous customer promotions, is out of favor. Smart Money investors backed 126 of these companies in early-stage deals over the past 5 years, with deal activity declining starting in 2018.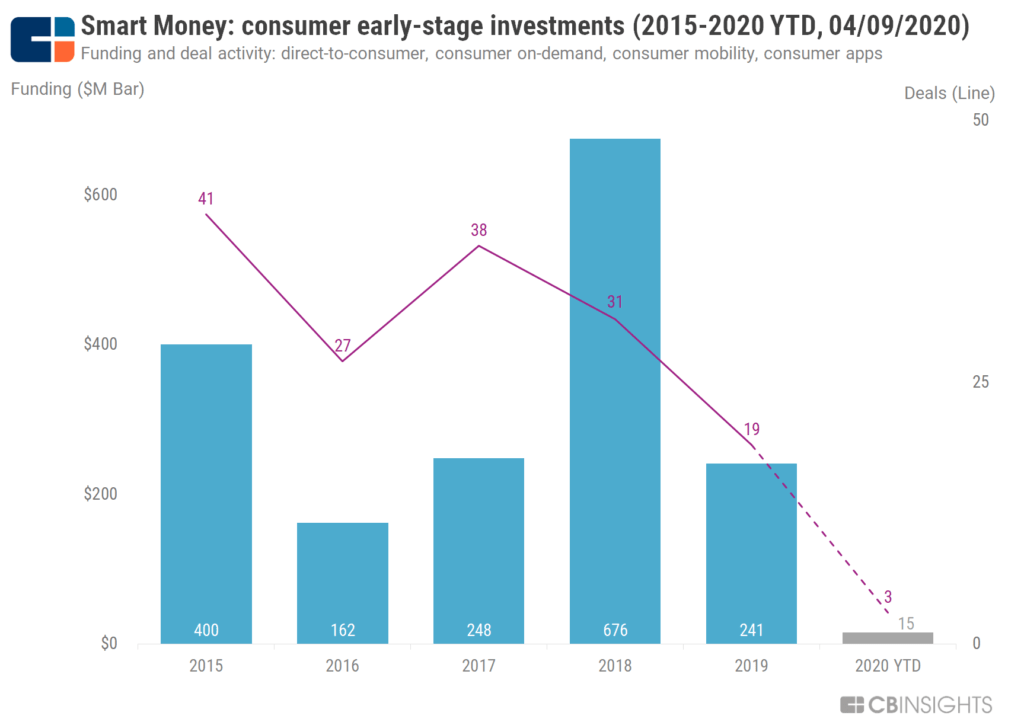 Many of these startups have recently exited in highly publicized IPOs. But these companies have tended to perform poorly in the market, with public filings revealing significant weaknesses in their underlying businesses.
In one of the most extreme cases, Blue Apron, a meal kit delivery company that raised a 2013 Series A with participation from Bessemer Venture Partners, has seen its market value decline by over 90% since its 2017 IPO.
In another example, direct-to-consumer mattress company Casper, which raised a 2014 Series A with participation from NEA and Norwest Venture Partners, went public in February 2020 at less than half the value it was given during its Series D a year prior. The company's public filings revealed that it was operating at significant losses from heavy customer acquisition costs.
While consumer-focused startups may have been able to exit at high multiples in acquisition (e.g. Unilever's $1B acquisition of Dollar Shave Club in 2016), feedback from public markets will likely push VC sentiment for these companies down, especially at early investment stages. Smart Money investors are ahead of this trend: early-stage deal activity among these investors began to fall in 2018.
5. fintech Offers abundant Exit Opportunities
Smart Money investment in the fintech space remains strong, with deal activity and funding sharply increasing starting in 2017.
Fintech exit opportunities are plentiful, with Visa's $5.3B acquisition of Plaid in early 2020 marking a record for M&A in the space.
Among consumer-focused startups, fintech is a notable exception in sustaining investment from Smart Money VCs. Fintech investment by Smart Money investors has been in the top percentile the past 3 years and accounts for the most deals of any single investment category in our analysis.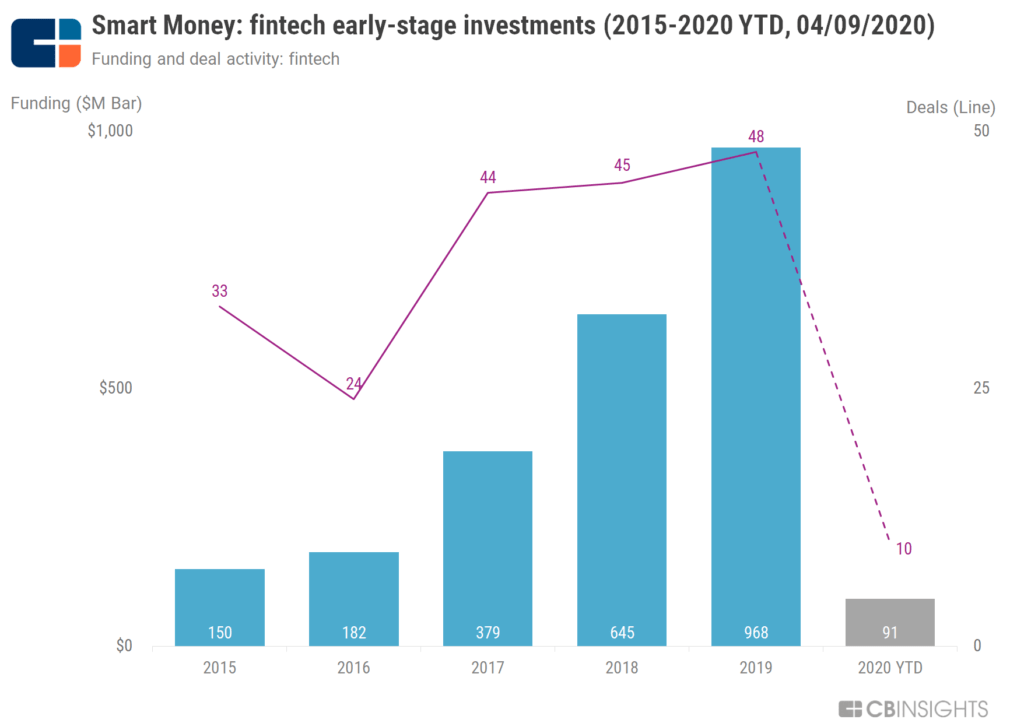 Fintech startups tend to offer VC investors more favorable unit economics than other consumer-focused services. Another significant tailwind is the host of financial industry incumbents threatened by rapidly growing fintech startups.
Financial industry incumbents, from banks to credit card companies, have provided a consistent source of exit opportunities for fintech startups. Visa's 2020 acquisition of Plaid, a financial services platform, provided massive returns for seed investors, including NEA and Spark Capital.
As we enter the 2020s, Smart Money investors will likely continue shifting from other consumer-focused investment categories to fintech apps.
The CB Insights Smart Money list: methodology and firms
Over the past 5 years, the top 25 VC firms, as defined by the CB Insights Smart Money list, invested in around 1,600 early-stage startups. The most promising startup founders are often drawn to these top-tier VC firms by a nebulous combination of reputation, resources, access to talent, and past performance. Our methodology for the Smart Money list has captured this combination of factors, which goes beyond returns and prestige rankings used for many comparable lists.
What is the CB Insights Smart Money list?
The Smart Money list is an unranked collection of the top 25 venture capital firms worldwide. We crunched the numbers for over 2,200 VC firms in the CB Insights database to surface the highest performing investors based on our methodology (more on that below).
What makes a VC "smart"?
Comparable lists in other asset classes rank firms based on investment performance, but returns data is hard to come by in the VC world and rates of return can be easily manipulated.
Our methodology factors in portfolio company outcomes, the ability to consistently deploy capital, and portfolio quality. These factors capture the combination of a firm's network and access, scale and repeatability, and profitability that make VCs "smart."
What can I do with this collection?
The Smart Money list is available on the CB Insights platform as an Expert Collection, which can be used as a filter for deal and company searches. Rather than publish a standalone, prestige list, we want the Smart Money Expert Collection to be used as a tool to help our clients surface high-quality companies and emerging industries.
Which VC firms are on the Smart Money list?
Firms are presented in alphabetical order.
Institutional Venture Partners
Kleiner Perkins Caufield & Byers
If you aren't already a client, sign up for a free trial to learn more about our platform.