We analyze recent Smart Money cybersecurity investments to identify where top investors are placing their bets, from identity verification to cloud security.
Cybersecurity has captured the attention of the CB Insights Smart Money investors, with 23 of the 25 high-performing VCs placing bets in the sector since the start of 2019.
Last year, Smart Money VC funding to cybersecurity startups reached a new high, and it is on track to surpass that record in 2020.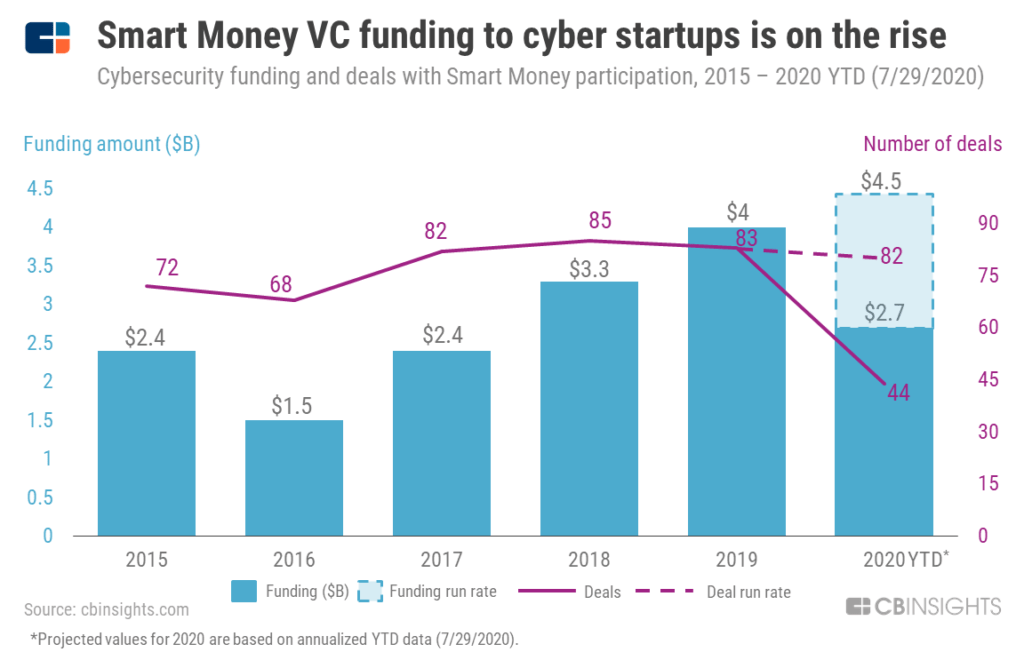 Investor interest is being driven by market opportunities created by the rising threat of cyberattacks, alongside the growing prevalence of devices and software that require protection. Furthermore, IT security skill shortages and data privacy regulations are creating additional demand for cybersecurity services.
Another factor attracting VC attention is the relatively high number of cybersecurity startup exits, either through acquisition or going public. Notable recent exits for Smart Money-backed cybersecurity companies include CrowdStrike's IPO, Armis' $1.1B acquisition by Insight Partners, and Shape Security's $1B acquisition by F5.

With cybersecurity continuing to gain traction more broadly, we mapped out where Smart Money VCs have invested in cybersecurity since 2019 to identify where they see opportunity in the space.
The full CB Insights Smart Money VC list is presented at the bottom of this post.
Investors are mapped according to the number of unique cybersecurity companies they inked new or follow-on deals with since 2019. Please click to enlarge.