Top smart money VCs like Andreessen Horowitz and New Enterprise Associates have co-invested in industrial 3D printing companies.
Industrial 3D printing companies have raised some of the biggest funding rounds in the technology's history in recent years.
In Q1'17, Desktop Metal, which provides 3D printing systems for metals, raised a $45M C round, followed by a $115M D round in Q3.
Carbon, which makes 3D printers for plastics, raised $181M in two C rounds in 2015.
2015 also saw an $80M round for Onshape, a 3D printing software imaging provider.
"Smart money VCs," CB Insights' list of the top 24 VC investors, have participated in most large deals to well-funded 3D printing companies. Of the top five VC-backed industrial 3D printing companies (measured by total funding), Desktop Metal, Carbon, and Onshape all have smart money VC investors.
For more on how we selected our 24 "smart money VCs," please see the explanation and full smart money list at the bottom of this post.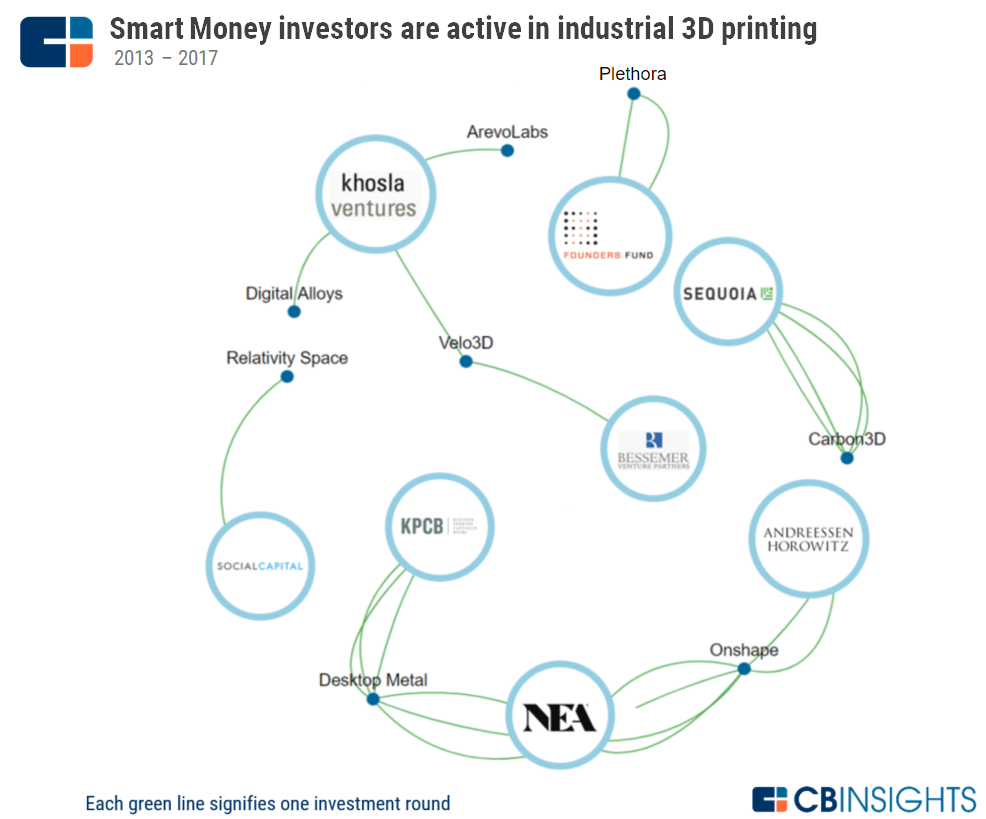 From 2013 through 2017, smart money VCs have invested in 8 industrial 3D printing companies over 23 rounds. Some of the largest funding rounds, to companies like Desktop Metal and Onshape, have seen co-investment by these top VCs.
Printer makers are also raising multiple large rounds in short intervals. Kleiner Perkins and NEA have participated in 3 funding rounds to Desktop Metal. The first was a $14M Series A round in Q4'15, followed by a $34M Series B round less than a year later in Q2 2016. Around a year later, after raising two additional rounds with other investors, Desktop Metal raised a $115M D round with Kleiner Perkins and NEA participating again.
Carbon has also raised multiple mega-rounds quickly, with participation from Sequoia in each round. The company raised a $200M D round near the end of 2017, which was preceded by two Series C rounds for $100M and $81M in 2015 and 2016 respectively.
The frequency and size of rounds raised by industrial 3D printers could be a function of the capital intensity of manufacturing industrial machinery. 3D printer makers have matured to the point where they are ramping up production, making them a good bet for the large amounts of capital smart money VCs are able to deploy.
Note: To analyze smart money trends, we looked at the activity of 24 top VC firms, selected according to portfolio valuations and investment outcomes. Some of the investors are linked to relevant research briefs. Here's our full list of 24 smart money investors:
Andreessen Horowitz
New Enterprise Associates
Founders Fund
Foundry Group
Khosla Ventures
Social Capital
Emergence Capital Partners
True Ventures
Floodgate Fund
Battery Ventures
If you aren't already a client, sign up for a free trial to learn more about our platform.