Top investors include Amazon Alexa Fund, First Round Capital, and Cherubic Ventures.
Deal count to smart home startups reached an all-time high in 2015, with 111 deals across over $500M in funding to smart home startups.
Using CB Insights data, we ranked the most active investors into unique smart home technology companies since 2012, including venture capital and corporate venture investors.
We define the smart home category as companies producing consumer-facing products that replace or augment existing home products such as appliances. These products must connect to a smartphone or the internet, or integrate sensors and digital interfaces.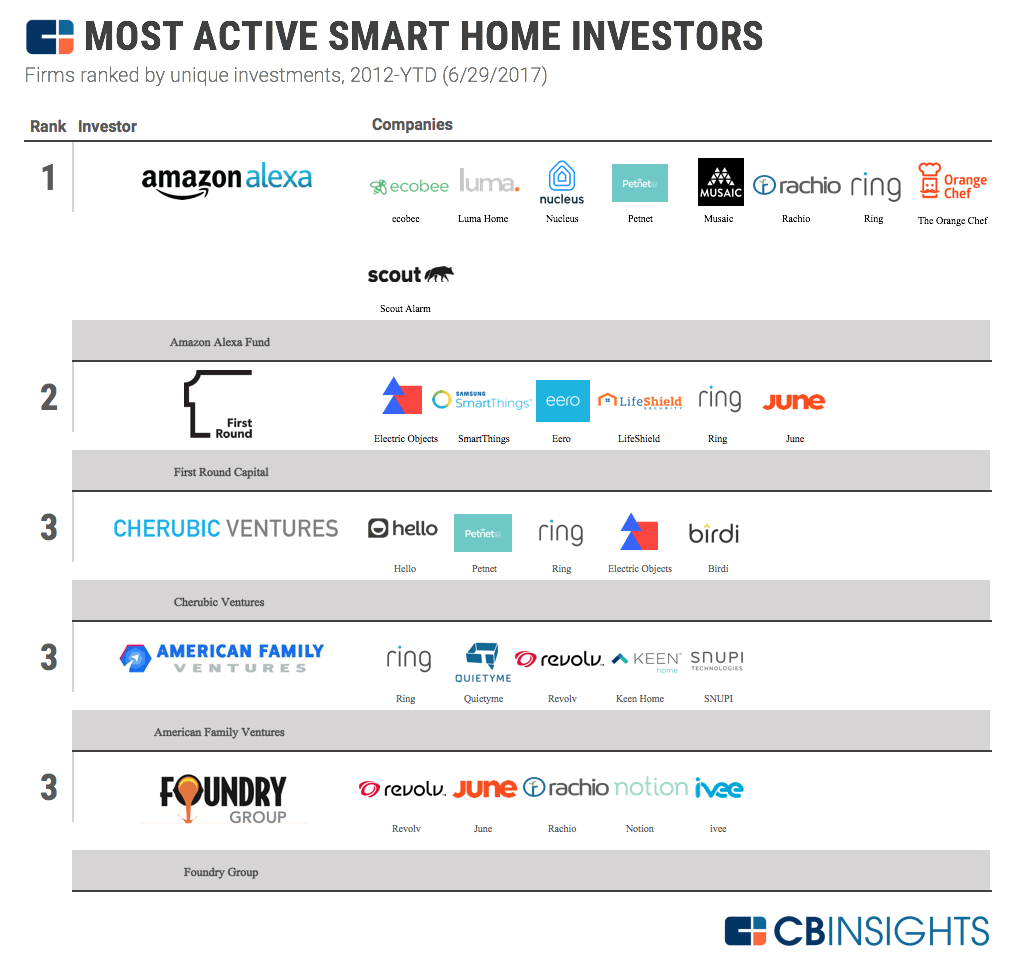 *Exited companies are included in the above graphic
SOME TAKEAWAYS
Amazon Alexa Fund tops the list with investments in 9 different smart home companies since 2012. Founded at the peak of smart home investment back in 2015, Amazon committed $100M to Alexa Fund, a standalone corporate venture arm which specifically invests in voice technology innovation and IoT devices to bolster the ecosystem for its Alexa Voice Service. Despite this seemingly narrow focus, the application of voice integration spans across a number of smart home categories that the fund has invested in including home security (Ring, Scout Alarm), energy conservation (ecobee), health & wellness (Luma Home), and kitchen & home appliances (PetNet, The Orange Chef), among others.
Despite its investment in the smart home space, Amazon or Amazon Alexa Fund did not acquire any smart home companies over the time period. This stands in contrast to the strategy of a number of its competitors including Microsoft, Google, Samsung, and Apple, all of which acquired smart home companies during the period but do not appear on our top investors list. Google, specifically, acquired 3 smart home companies in 2014 alone (Nest Labs, Dropcam, Revolv) but did not make our list of top investors having only made 4 unique investments in smart home startups since 2012 (Nest Labs, The Orange Chef, Juicero, Luma Home).
Smart Home Startups
Smart home startups are changing the way we interact with everyday products. Look for Smart Home Startups in the Collections tab.
Track Smart Home startups
First Round Capital, a VC firm which focuses on early-stage and previously unfunded companies, has also made a considerable push into the smart home space and follows Amazon Alexa Fund with investments in 6 different connected home companies.
Three companies tied for the third spot on our top investors list, each with 5 unique smart home technology investments. Two of the firms, Cherubic Ventures and Foundry Group, both focus their investments in early-stage technology companies, making the smart home space a prime target, with early-stage deal share over 75% at its peak in 2015. The third VC, American Family Ventures, is the corporate VC arm of American Family insurance and focuses its investment on companies that impact the insurance industry, harnessing IoT technology to help bring down premiums. Its investments include companies focused on security and loss prevention (Ring, SNUPI Technologies) and more general smart home solutions.
If you aren't already a client, sign up for a free trial to learn more about our platform.