Funding for the tech solutions making cities smarter is increasing as the world looks to solve complex urban dilemmas. In this brief, we discuss the sector's market drivers and the implications of emerging themes.
At the onset of the Covid-19 pandemic, many predicted a mass urban exodus and the "death of cities." 
Instead, the pandemic highlighted the need for the smart city technology stack — a complex web of infrastructure and systems-of-systems that uses data from sensors and other connected devices to address urban issues such as health, safety, and sustainability — and accelerated the timeline for its implementation. 
In 2021, funding to startups in the smart cities space increased 43% year-over-year, slightly surpassing the record high set in 2018.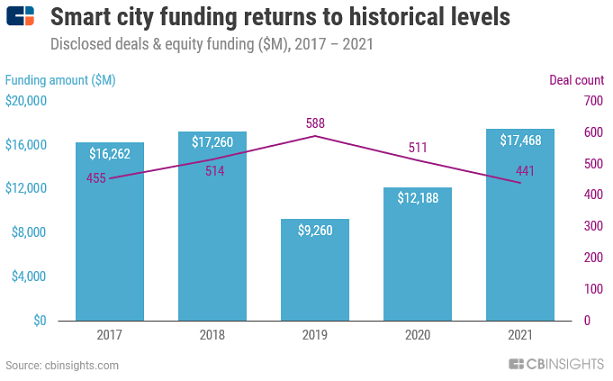 Companies within the transportation and sustainability sectors continue to receive the majority of investor funds, but the connectivity & cybersecurity and government & society spaces have also seen a boost.
As the pandemic evolves and the world recalibrates, investment in smart city tech is expected to continue rising.
In this brief, we'll look at:
The topline findings and implications for this growth

The market drivers underlying this boom

And the categories receiving the most attention
To dig into all of the underlying data in this brief, sign up for a free trial to CB Insights here.