Funding to smart cities startups is on pace to reach an all-time high in 2021. We analyze where the top smart cities investors are placing their bets.
Smart cities funding rebounded in 2020 and is anticipated to reach an all-time high in 2021.
This surge is being driven by numerous mega-rounds ($100M+) for autonomous vehicle (AV) and micromobility startups, such as Waymo, Didi Bike, and Pony.ai.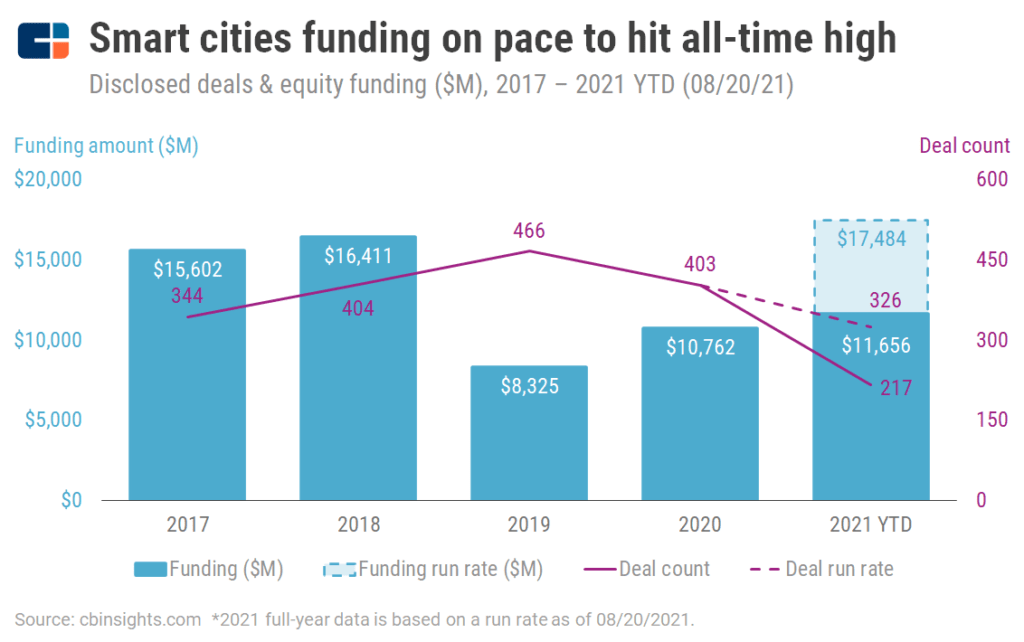 Growing VC investment in transportation companies aligns with municipal and governmental efforts to upgrade transportation infrastructure. This activity is reflected by increased infrastructure spending in major economies like the United States, China, and India.
Recent high-profile hacks on pipeline infrastructure in the United States have highlighted the importance of bolstering IoT security for edge assets and furthered smart cities momentum. 
In this analysis, we identify the top smart cities investors and where they're placing their bets.
Note: This analysis excludes angel investors, accelerators, and crowdfunding.
Top investors in smart cities
The 4 most active investors in the smart cities space since 2015 are US-based SOSV, GGV Capital, Sequoia Capital China, and China-based Tencent Holdings.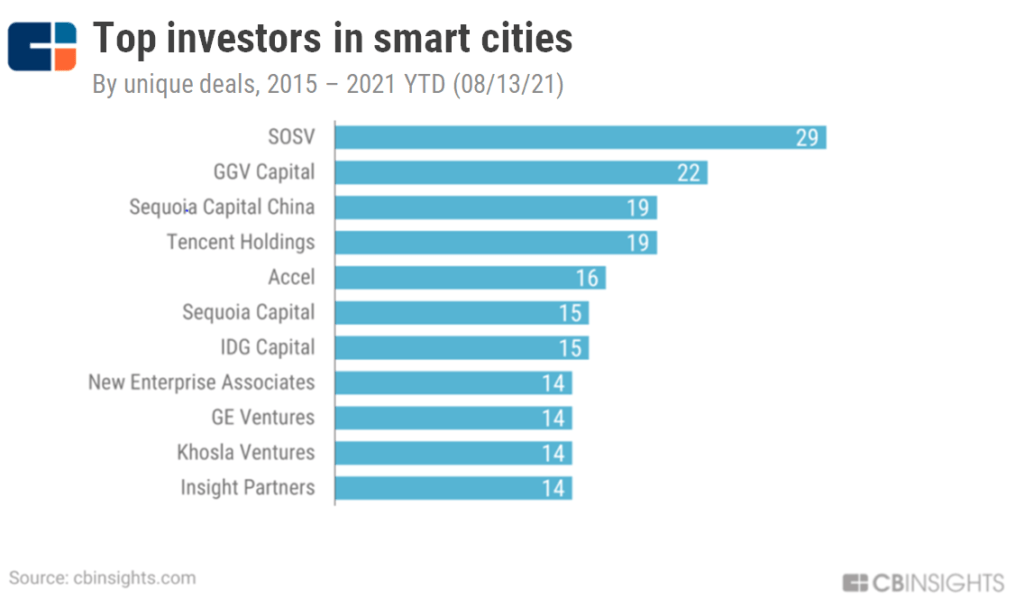 The presence of other Asia-based investors, such as Beijing-based IDG Capital, among the top investors in smart cities reflects the rise in Asia's share of deal activity in the space, which increased from 20% of global deals in 2015 to 37% YTD in 2021.
Top smart cities investors in the US and China have shown similar investment patterns during the period analyzed, with micromobility, IoT connectivity, spatial intelligence, and autonomous vehicles being the dominant themes in both countries.
SOSV, which targets spatial intelligence and urban mobility startups, is the most active smart cities investor.
It has backed multiple rounds to spatial intelligence startups, such as New York-based Stae and Shanghai-based Futurefleet.
Stae's civic intelligence platform enables cities to visualize and monitor transportation and congestion data, while Futurefleet provides a suite of smart cities services, including a platform for monitoring congestion and facial recognition technology to identify passengers.
SOSV's mobility investments include bike-sharing startup Jump Bikes (which was acquired by Uber), scooter sharing startup Tier Mobility, and scooter rental startup beyond. This reflects a long-term bet that electric bikes, scooters, and mopeds will play a central role in helping to reduce urban congestion, despite a recent decline in ridership amid the Covid-19 pandemic.
The firm also participated in a seed round for IoT startup ACiiST, a provider of connectivity infrastructure for smart lighting systems, 5G networks, connected highways, and other applications.
GGV Capital has invested heavily in urban mobility as well, backing micromobility startups Lime, Hello TransTech, and Yellow.