We dive into initiatives for collecting and sharing accessible city data, as well as how organizations around the world are handling growing privacy concerns.
Cities are undergoing a digital transformation.
As technologies emerge to make these urban spaces more connected, a lot of data is being generated. But the data collected is most useful if all of its sources — from traffic lights to parking meters — work together.
Unified data streams can be used for broad solutions, like making a busy intersection safer for a pedestrian, or limiting access to roads when they're heavily trafficked. New streets can be planned to accommodate and optimize the ways that citizens move, and infrastructure like parking lots can be built in places that need it.
Below, we dig into select initiatives that have emerged to collect and connect disparate sets of data across smart cities, as well as how technologists are thinking about making the data collected more equitable and accessible.
Sidewalk Labs' Coord is starting with the curb

Alphabet's Sidewalk Labs developed Coord, an initiative used to track the unique regulations and rules that govern each curb. Coord's first tool is Surveyor, which uses augmented reality to collect curb asset data.
As cars drive down streets, signs are often obstructed by big objects like trees. Sometimes, signs are placed diagonally or facing away from the street. With seemingly no rules governing these decisions, it can be difficult to create a tool that can collect imagery information easily and at scale. And street signs have a lot of information on them, from parking specifications to rules for commercial vehicles.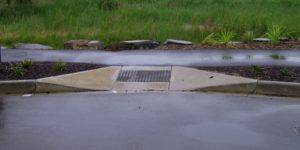 Users can submit photos to the Surveyor platform, which is powered by augmented reality technology. This allows users to measure the length of curbs and capture the depth and location of specific details like curb cuts.
The tech also taps into a phone's accelerometer to gauge the speed at which a person is moving so real-life measurements aren't skewed.
Ideally, Coord data will help provide more accurate parking and standing information to drivers in real-time. The collected data might also allow policy makers to tweak curb regulations to better fit driver movement.
NACTO's SharedStreets is trying to create the OS of the streets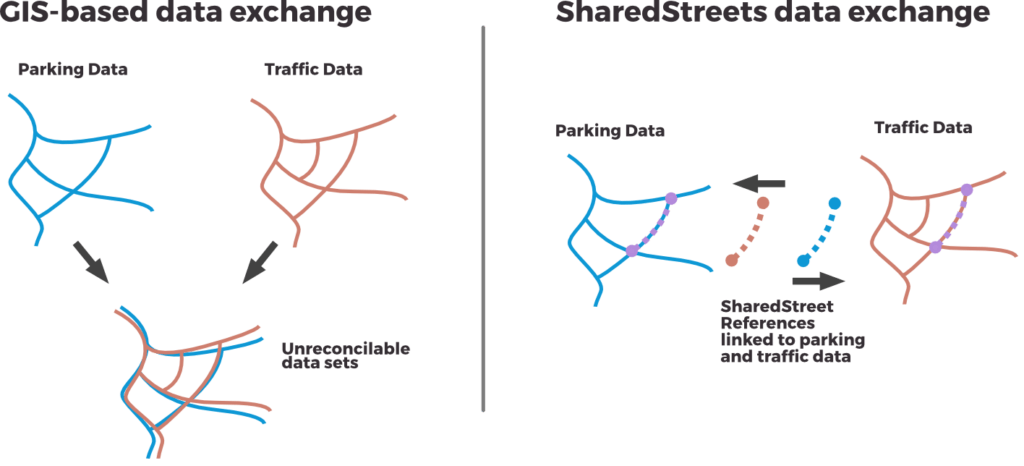 NACTO is an association of 63 American cities and 10 transit agencies across North America, including Seattle and the King County Metro and New York and the MTA. All plan to work together to advance the state of transportation across American cities.
One initiative rolled out by NACTO is SharedStreets. One street can look very different, depending on the data used to describe it: Different landmarks, for example, can be used to describe the location of things (i.e., the coffee shop is next to the school, or the coffee shop is next to the deli). But describing locations like this isn't always helpful for urban planning, and sometimes, more accurate coordinates are needed.
SharedStreets is attempting to create a standardized platform to group all of these data points together to "provide a global, non-proprietary system for describing streets." By creating a data standard for the streets, various parties can collaborate more effectively to identify and manage street space.
In September 2018, Lyft, Ford, Uber and NACTO started a partnership to work together. Although the overarching premise of these partnerships is to collect and utilize better mobility data, each company has a unique reason for partnering with NACTO.
Ford, for example, is developing a universal data standard that can show real-time demand and availability for curb space. The data standard will be freely available to everyone from policy makers to scooter companies. Theoretically, the data might be used to price curb usage in real-time, with prices adjusting to meet supply and demand.
Uber and Lyft are gathering datasets on where drivers speed most often. They are also planning to use SharedStreets to provide anonymized data on passenger pickups and drop-offs. The data will help inform traffic control and congestion reduction techniques.
SharedStreets also claims that it has an advantage compared to privately owned city data collection companies like Sidewalk — it's not privately owned, and therefore might not have the same self-interested motives.
NACTO has other partnerships, including one with scooter company Lime that allows it to provide anonymized scooter use data to the government of Detroit.
Remix creates visualizations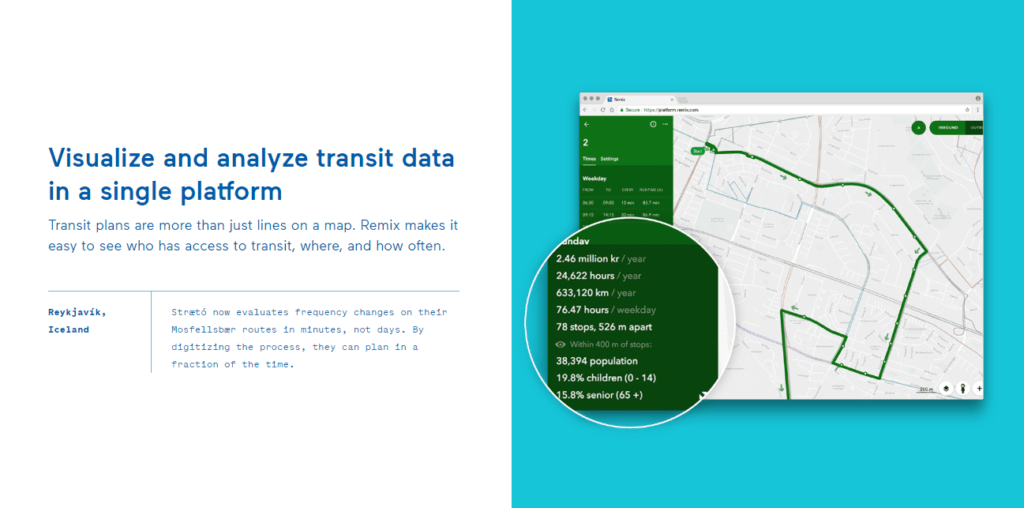 Remix has created a cloud-based platform where cities can use data to visualize and plan for public transit, streets, and new mobility services.
For example, data on public transportation is used to analyze areas like accessibility in different communities, as well as the impact that building new lines might have across the city. This data is presented through visuals to help engage stakeholders and community members.
Street data includes information on collisions, curb activity, street centerlines, and right-of-ways. The Remix platform allows users to analyze this data for initiatives like traffic-calming programs, corridor studies (planning projects that attempt to understand the relationship between a roadway and the land next to it), and grant writing.
All of its data is fine-tuned to operate on NACTO's SharedStreets data standard. The company graduated from Y Combinator in Q1'15 and raised $10M in Series A funding from Sequoia Capital in Q2'17.
The World Bank partners with top ride-hailing apps in emerging markets 

With unprecedented levels of growth, traffic is bad in the most populated cities in emerging markets — and ride-hailing companies are only making it worse.
The World Bank has partnered with Southeast Asian ride-hailing unicorn Grab, Brazil's Easy Taxi, and France's Le.Taxi to connect local governments and organizations with traffic data. The first launch of this initiative was in the Philippines. Traffic congestion costs the capital city of Manila upwards of $60M per day, according to the World Bank.
Its second launch country was Malaysia, where Grab, the Malaysia Digital Economy Corporation, and the World Bank Group came together to launch OpenTraffic. Traffic information from Grab's GPS streams address congestion and road safety in Malaysia's biggest cities. The data will be free to governments and provided on an open data license.
It also has plans to launch in Brazil and Colombia.
Much of the data collection in emerging markets is manual, which can make it costly and inefficient to gather. Partnering with tech companies that have managed to penetrate these populations, however, makes it easier to access that data. Traffic data can then feed into solutions — like government restrictions on driving down certain streets at specific hours — to reduce congestion.
Los Angeles' Department of Transportation and NACTO launch a mobility data platform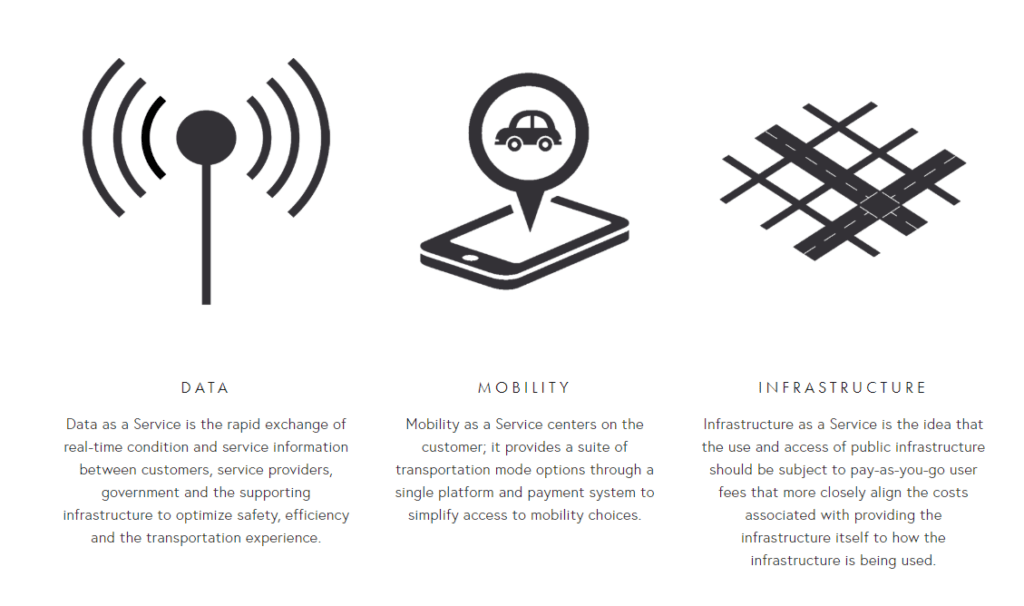 The City of Los Angeles' Department of Transportation (LADOT) launched a transportation platform with NACTO.
The platform has 3 use-cases planned for the data, including a data-as-a-service tool that allows customers, governments, service providers, and infrastructure managers to exchange real-time data that can improve the safety and efficiency of transportation.
The second use case is a mobility-as-a-service tool that aggregates a suite of mobility options on a unified platform and payment system.  The third use case is infrastructure-as-a-service, which allows infrastructure to be adjusted to respond to mobility data, like deploying car-free zones and piloting networks of autonomous vehicles.
The program anticipates that its usefulness will only increase over time, especially as technology evolves (i.e., with advances in autonomous vehicles).
Making collected data accessible and equitable
With all of these new initiatives to collect and collaborate on data, data ownership and sharing is a growing concern. What does it mean for a private company to collect public data?
Data trusts, which allow different entities to deposit collected data into an equally accessible, standardized trust, are a solution proposed by a growing number of governments.
The UK government's Office for Artificial Intelligence teamed up with think tank Open Data Institute (ODI) to pilot two data trusts. The ODI defines a data trust as a "legal structure that provides independent third-party stewardship of data." The ODI is also urging big tech companies like Google and Apple to share their mapping data on a trust.
In Toronto, Alphabet's Sidewalk Labs is beginning to pilot its mixed-use smart community on the Eastern waterfront, Quayside. The company is looking to implement technology across the city to improve areas like housing and transportation.
In Alphabet's words, it would be the "world's first neighborhood built from the internet up," but residents have complained that Alphabet might play an unfair role by using the data it collects from Quayside.
In response, Sidewalk Labs proposed a Civic Data Trust, where it would deposit all data collected on activity in Quayside. Any entity that wished to use this data would have to file a Responsible Data Impact Assessment with the trust, which would then analyze the implications of sharing the data. Sidewalk Labs has also stated that it will not receive any special treatment from the data trust.
In the case of Alphabet, however, the data trust hasn't been enough to convince citizens of the benefits of allowing the company into Quayside. Citizens of the city have questioned what it means to have their data collected by Alphabet. Theoretically, Alphabet's tech prowess across industries grants the company abilities to use data in ways that other organizations can't.
Around the world, other solutions are being piloted. In Barcelona, for example, proposals include an open digital marketplace where smaller businesses can also sell the data they collect, reducing dependence on big tech companies for data. Barcelona has also launched the Open Data BCN, which is a safe, open portal where citizen data will be held.
In Australia, the Australian Market and Social Research Society (AMSRS) has chosen to go the route of certification and validation. In November 2018, it released Fair Data, which is a trust marker that ensures consumers that their data will be handled ethically and securely.
In the digital world, where data is a precious asset, finding ways to collect and collaborate in ethical, equitable, and fair ways could impact the ways smart cities are built.
If you aren't already a client, sign up for a free trial to learn more about our platform.