Beyond space exploration, these high-potential startups are leveraging data from small satellites to increase military surveillance, predict the weather, and more.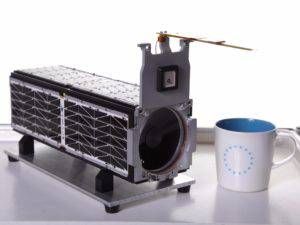 Just ten years ago, it cost millions of dollars (up to $1B) to build a satellite and launch it into outer space – limiting the market for "sats" largely to high-tech companies and government entities.
But thanks to the rapid pace of technological development, the costs have declined significantly: Small satellites – ranging in mass from 1 kg to 500 kg – can now be built at budgets in the tens of thousands of dollars, and startups offer containerized sat launches for as little as $300,000.
As the costs continue to decline, the market for small satellites is expanding rapidly. Universities, research groups, and tech companies are sending these machines to space at an unprecedented pace.
According to SpaceWorks Enterprises — a private company that monitors satellite demand — the number of annual nano- or microsatellite launches has grown at an average of 40% per year since 2011, with 10% growth projected annually through 2023.
Using the CB Insights database, we surfaced 7 startups capitalizing on the potential for small-sats to transform space exploration and intelligence. (We dive into the many industries that can benefit from better space information here).

Total Funding: $196.1M
Latest Round: Series C III | $13.1M | July 2015
Select Investors: Draper Fisher Jurvetson, O'Reilly AlphaTech Ventures, First Round Capital
Planet Labs is one of the most mature startups in the small-satellite space: With at least 149 sats now in orbit, Planet Labs operates the largest fleet of any private company in the industry. Planet Labs uses its satellite data to build and sell easily searchable data sets to stakeholders across many industries.
The startup's core mission is to capture imagery of the entire surface of the Earth every day — something no company has achieved thus far. Planet Labs is imaging approximately 50 million square kilometers of the planet every day (roughly double the entire surface area of North America).
---

Total Funding: $139.5M
Latest Round: Series C | $70M | Nov 2017
Select Investors: European Investment Fund, Bessemer Venture Partners, Jump Capital
Spire (formerly known as NanoSatisfi) offers data and analytics to inform business decision-making, but focuses on the maritime industry, aviation sector, and custom client needs. Spire is also a leader in using satellite data to inform weather predictions and forecasts: The company currently operates at least 40 "multi-sensor nanosatellites" that collect global GPS-RO weather data, and received a 2016 contract to provide its data to the National Oceanic & Atmospheric Administration (NOAA) to help predict hurricanes and storms.
Following its November 2017 $70M Series C funded by the Luxembourg Future Fund (among other participants, via the European Investment Fund), the California-based company recently announced plans to open a second headquarters in Luxembourg.
---

Total Funding: $85.9M
Latest Round: Corporate Minority | $40.7M | September 2017
Select Investors: Space Alliance, RRE Ventures, Vulcan Capital
Spaceflight offers the small-sat sector's most straightforward pricing for commercial launches, as well as end-to-end management services to ensure customers complete their satellite missions on time and on budget. The company has launched 112 satellites to date for customers from 32 countries and counting.
Spaceflight identifies and manages launches executed via "ride sharing" on commercial rockets pre-scheduled for takeoff. Costs vary widely based on satellite mass and distance into space, but start at around $300,000.
---
Total Funding: $31.5M
Latest Round: Series B | $27M | June 2017
Select Investors: CrunchFund, FundoPitanga, Tencent Holdings
Satellogic offers satellite data services for use in agriculture, oil pipeline monitoring, disaster response/preparedness, and more. The company provides customers with high-resolution geo-intelligence – aka "live insights from planet Earth" – cultivated from its growing network of 35-kg microsatellites. Today, the company has 6 satellites in orbit, but plans to reach more than 15 in 2018, 70 in 2019, and 300 by the end of the decade.
Satellogic's machines are what's known as "spectroscopic satellites," which pick up signals from light to understand the health of environmental organisms at the molecular level. Following NASA's decommissioning of its high-performance spectral satellite, Hyperion, in March 2017, Satellogic says it is now "the sole supplier of high-resolution hyper-spectral imagery in the world."
---

Total Funding: $27.8M
Latest Round: Series A | $21M | June 2017
Select Investors: Lightspeed Venture Partners, Sequoia Capital, Space Angels Network
Vector says its satellite launch services will provide affordable, reliable space access to tech companies looking to send their innovations and applications to space. The company will use two "micro rockets" as its launch vehicles: The Vector-R will launch lightweight (66 kg or less) small satellites on up to 100 flights per year beginning in 2018; the Vector-H will deploy 160-kg satellites on up to 25 flights per year beginning in 2019.
The company says its larger goal is to serve as a platform for "Space App Developers," allowing them to concentrate on developing solutions without needing to procure launches and satellites.
---

Total Funding: $7M
Latest Round: Angel | $7M | July 2017
Select Investors: Lockheed Martin Ventures
Startup Terran Orbital specializes in nanosatellite design, development, manufacturing, testing, and launching. Terran Orbital and its child company, Tyvak Nano-Satellite Systems, are focused primarily on using nanosats and satellite-secured data for military/defense intelligence applications.
The company was founded in 2013, but maintained a fairly low profile until closing a strategic seed investment from Lockheed Martin in June 2017 (amount undisclosed). The deal was largely seen as an example of how legacy defense leaders are interested to use nanosatellites for purposes related to surveillance and/or space communication.
---

Total Funding: $2.6M
Latest Round: Bridge | October 2017
Select Investors: Space Angels Network, E-MERGE
NanoRacks has become one of the best-known nanosat startups due to the breadth of services it offers to customers ranging from high schools to government space agencies. The company offers Cubesat launches; tests platforms for advanced sensors (for earth observation); researches platforms for materials and biopharma research; and more.
NanoRacks also recently closed a contract with NASA related to a "commercial habitat concept" study called Ixion. The project is focused on finding ways to repurpose "spent" rocket tanks into suitable places for deep-space explorers to live. (The parts of used launch vehicles otherwise go to waste after deploying satellites into orbit.)
If you aren't already a client, sign up for a free trial to learn more about our platform.