From makeup brands to hotels to mobile apps, companies are targeting millennials by promoting a good night's sleep.
The CDC has hailed insufficient sleep a public health epidemic.
More than one third of American adults don't get enough sleep, and 50-70 million US adults have a sleep disorder, according to the American Sleep Association.
As sleep deprivation rises, companies are capitalizing on the trend and exploring new opportunities.
Fitness In The Post-Covid World
Download the free report to learn how technology is changing the way we work out.
Sleep is being hailed as a new frontier for holistic wellness, which includes categories from healthy foods and beverages, fitness and nutrition apps, and more.
New sleep-related products and distribution models including mattress toppers, apothecary-based goods, and more are emerging to promise better sleep routines. Beyond startups, corporates from Nokia — with its portable sensing pad — to Bose — with its sleep buds — are betting on sleep.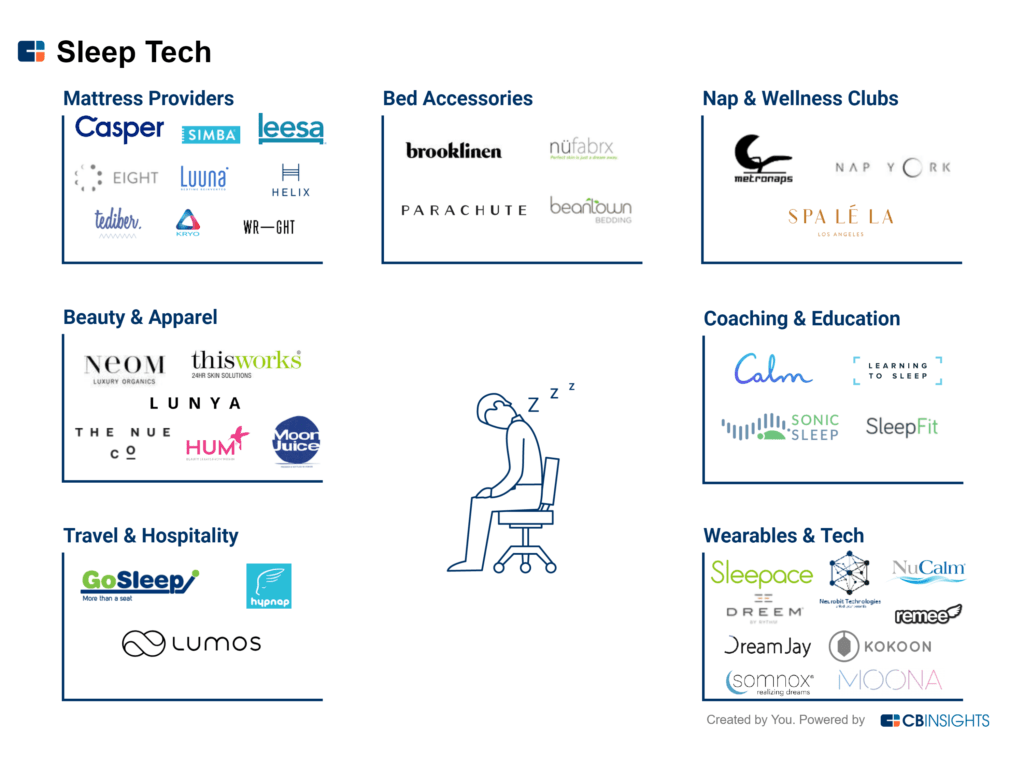 With sleep tech becoming a big business opportunity, companies will have to think about how they can promote healthy sleeping patterns through new products and services.
Below, we highlight a few industries offering new sleep products, services, and technologies.
Which industries are participating in the sleep economy?
Mattress providers
Amidst the "retail apocalypse," traditional mattress retailers are struggling.
But a new crop of mattress brands is rising, some even moving from online-only into physical retail by embracing the concept of sleep-as-a-lifestyle.
Notably, Casper, the most well-funded mattress provider with over $240M in total disclosed funding, goes beyond the physical mattress to build a culture around sleep. Company initiatives include its quarterly print magazine, fitness and wellness partnerships, and most recently its launch of The Dreamery — a nap lounge featuring nap pods, complementary beverages, and other post-nap amenities.

Casper's success spurred competition from other mattress upstarts including Purple (now public due to a reverse merger in Feb'18), Helix (which offers personalized mattresses), and Eight (which produces a smart mattress with an accompanying sleep coaching app). Tuft and Needle just announced a merger with incumbent mattress maker Serta Simmons Bedding signaling increased competition for direct-to-consumer mattress brands.
Inspired by Casper, others could begin promoting more products and services beyond mattresses to create a culture around sleep.
Bed accessories
Sleep isn't just about the mattress — bed accessories are taking a similar approach to mattress startups using direct-to-consumer distribution.
Notably, bedding startups Brooklinen ($10M in total disclosed funding) and Parachute ($35M) offer luxury bedding (along with bath and home care goods) at an affordable price point.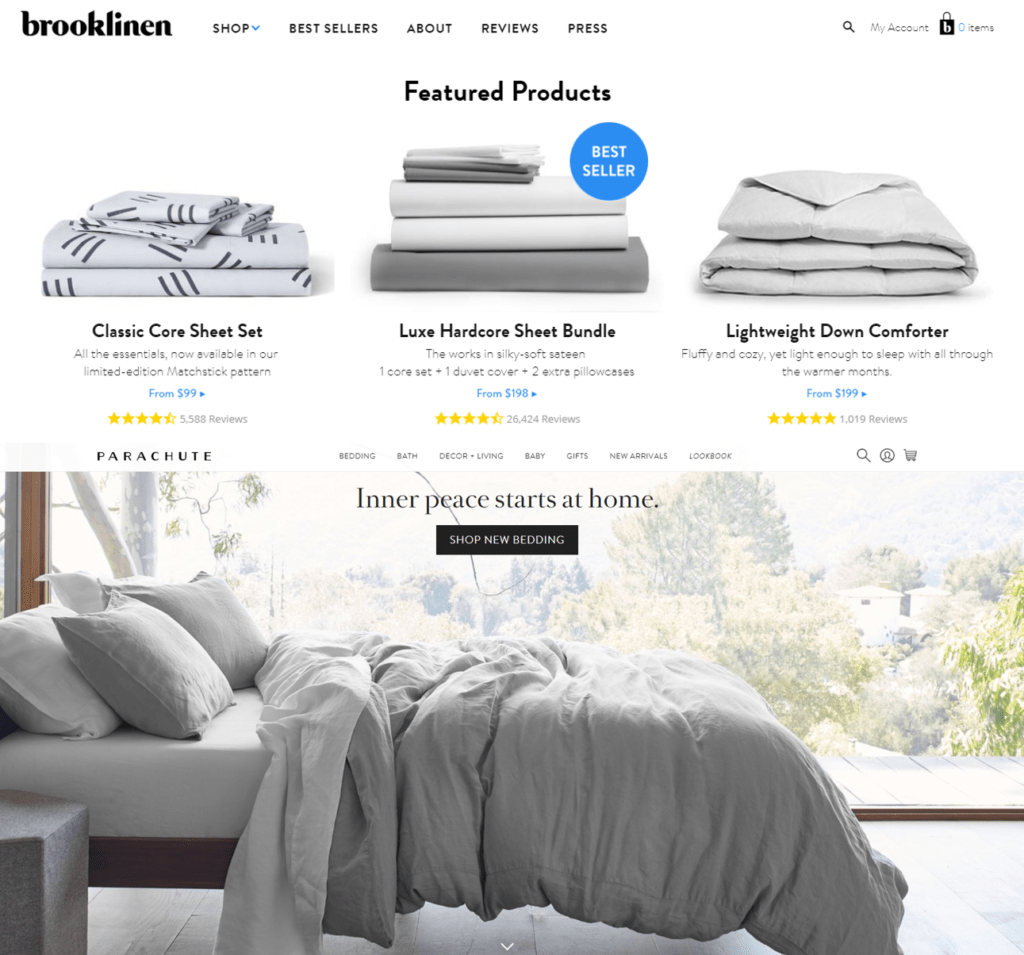 While mattress startups have attracted increased investor funding, startups are beginning to sell mattress toppers, which could render mattresses an unnecessary expenditure in the future if consumers invest in new toppers instead of new mattresses. For example, mattress topper companies Kloudes and Kryo have both raised funding from crowdfunding platforms.
nap & wellness clubs
Wellness clubs across the globe are offering sleep-as-a-service while looking to destigmatize sleep and napping.
New York-based Nap York, for example, offers a quiet cafe as well as sleep pods for napping, yoga and meditation classes. Los Angeles' Spa Lé La offers a nap room for 25 minutes for $40. Outside of the United States, London's Pop & Rest and Tokyo's Nescafe Harajuku provide nap pods and beds for stressed city workers.
Such wellness clubs are echoing the boutique effect seen across the fitness industry with premium sleep services and membership options.
Though sleep coaching is not a new phenomenon, fitness companies are also exploring the connection between sleep and fitness performance. Luxury gym chain Equinox, for example, recently began offering sleep coaching features and tracking within its app, integration of sleep research into its in-person fitness coaching, as well as standalone sleep coaching services for members.
Fitness In The Post-Covid World
Download the free report to learn how technology is changing the way we work out.
Beauty & apparel
Many beauty brands offer products focused on sleep while some even brand their lines around sleep.
Beauty supplement brands like the The Nue Co., HUM Nutrition, and Moon Juice offer specific supplements geared towards deeper sleep. HUM Nutrition, for example, offers a sleep supplement containing melatonin, Vitamin B6, and calcium. Moon Juice's adaptogenic powders aim to promote deep rest.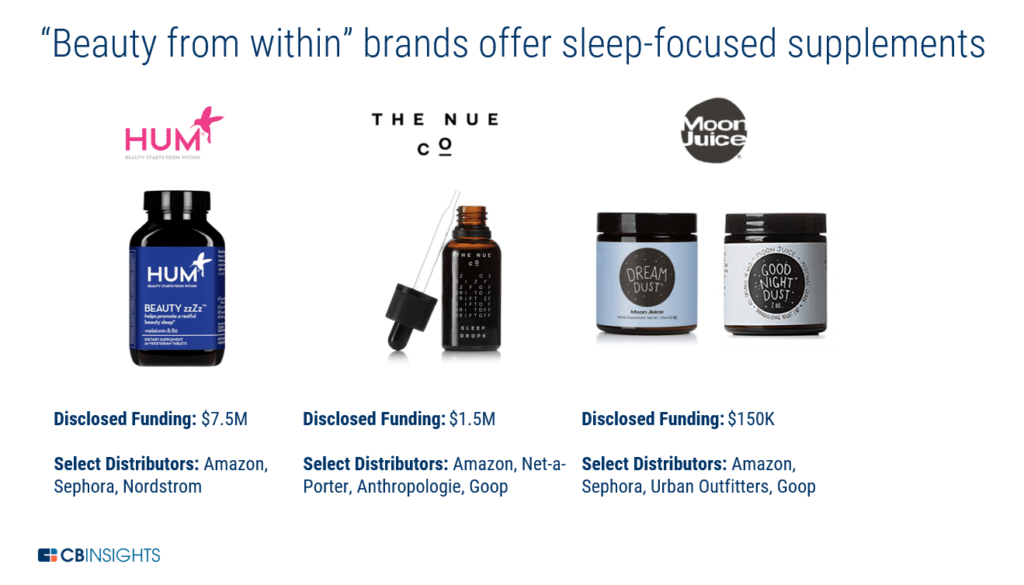 More niche brands have designed their whole brand ethos around sleep.
For example, Goodnight Darling offers a beauty and lifestyle apothecary brand that aims to teach women how to sleep well. The company offers products ranging from room and fragrance sprays, candles, apparel, and more.
We're even seeing apparel lines centered around sleep. Direct-to-consumer apparel startup Lunya produces luxury sleepwear. The company has collections that aim to solve for specific sleep problems — hot sleepers, cold sleepers, and more. Similarly, luxury sleepwear brand Sleepy Jones, which can be found at Casper's Dreamery, develops luxury pajamas, loungewear, and underwear.
Existing or new beauty, fitness, and wellness brands will continue to capitalize on the sleep-as-a-lifestyle trend to develop sleep-focused product lines in the future.
coaching & education
Startups are offering sleep coaching services to help consumers achieve better sleep regimens. SonicSleep offers an AI sleep assistant which provides coaching services for individuals as well as corporate wellness programs.
As meditation has gained greater mainstream popularity as a pillar of wellness, mindfulness apps are offering meditation services meant to induce sleep. Meditation app Headspace, for example, offers guided meditation programs to enable sleep. Calm has developed "Sleep Stories," which are relaxing bedtime stories to help users fall asleep.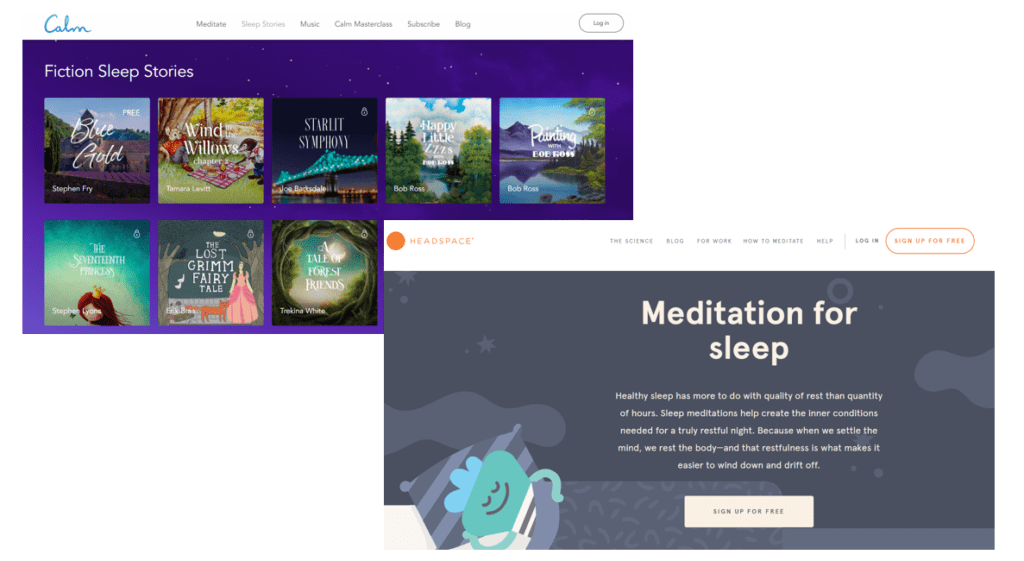 Travel & hospitality
The travel and hospitality industries are placing increased importance on sleep throughout the travel journey.
Airports
As airports seek to become more premium destinations, they are dedicating more space for travelers to rest. Sleeping pods such as the ones developed by GoSleep are now available in a growing number of international airports, including Dubai and Amsterdam.
Premium sleep options may soon be available as well. For example, luxury rentals platform Onefinestay recently partnered with Virgin Atlantic to open a pop-up bedroom in the airline's Clubhouse lounge in London Heathrow airport.
Airlines
Beyond airports, airlines are improving the passenger experience as sleep becomes a greater focus.
Last year, American Airlines announced a partnership with Casper to provide its complimentary sleeping products on longer flights for first-class and some premium-economy fliers.
United Airlines announced a similar partnership with Saks Fifth Avenue to offer upgraded sleeping amenities. Meanwhile, European aerospace company Airbus is planning to use part of the cargo area to create sleeping pods where passengers can nap.
More products aiming to offset the negative effects of jet lag are also emerging. Mobile app Timeshifter offers a jet lag app, which uses sleep and circadian neuroscience to help long distance travelers fight daytime lethargy. Other brands are offering sleep light masks and light therapy goggles to combat jet lag while traveling.
Apparel
The apparel industry has also capitalized on the sleep trend. Aforementioned Lunya offers a travel-inspired sleep line while companies like crowdsourced apparel platform Betabrand features a travel collection with clothing items ranging from travel yoga pants to round-trip dresses.
Down the line, we could begin to see new sleep apparel companies emerge or existing apparel brands foray into sleepwear lines.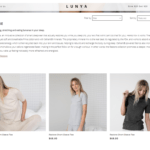 Hotels
Hotels are also looking to create more sleep-friendly experiences for travelers.
Major chains like Marriott and Hyatt are using IoT to create connected hotel rooms with features like smart lighting for better sleep, adjustable smart beds, and more.
Wellness-focused hotels like Six Senses Spas offers sleep programs for visitors, which include circadian lighting features as well as "sleep ambassadors" that curate guests' sleep experience and environment.
Beyond features within hotel rooms, Westin offers a "Sleep Well Menu" that promotes better rest through a curated list of sleep-enhancing superfoods on its room service menu.
Additionally, hotels are also capitalizing on room availability during off-hours with apps like Recharge and Dayuse that allow travelers to reserve short-term, marked-down stays at participating hotels to catch up on sleep.
Hotels could continue exploring partnerships with mattress providers, sleep apparel brands, and other companies to capitalize on the overall wellness trend.
Wearables & TECH
Though wearables are most often associated with fitness, new sleep wearables are looking to provide sleep tracking and other features to promote a good night's rest.
For example, Dreem, which has raised $57M in total disclosed funding, develops a body and brain-sensing headband which aims to help users achieve better sleep. Companies like Beddr offer an FDA-approved wearable "SleepTuner," which pairs with a sleep insights app.
Companies are also integrating sleep wearables and associated products into the smart home. China-based startup Sleepace, which offers sleep-focused wearables, unveiled its smart bedroom at CES 2018. The sleep module featured a connected sleeping routine with bedroom temperature monitoring, smart pillows, alarm and light activation upon waking up, and more.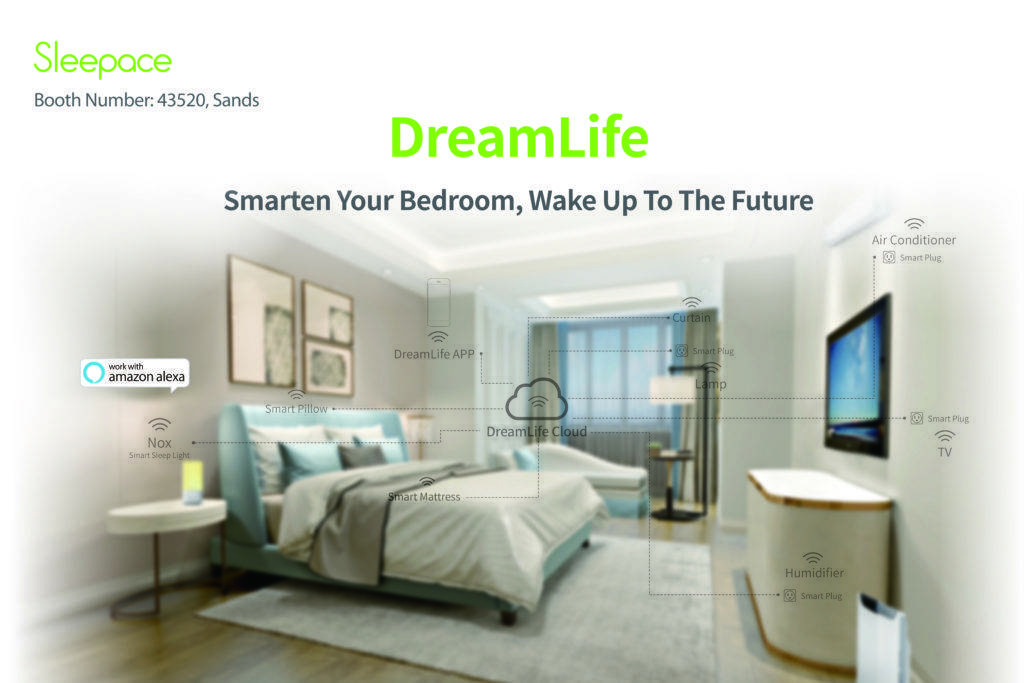 Sleep headphones have also gained greater traction. Kokoon produces bluetooth headphones geared towards helping users relax and sleep while Bose recently launched the "Bose Sleepbuds" designed to mask unwanted noise and lull users to sleep with soothing sounds.
If you aren't already a client, sign up for a free trial to learn more about our platform.