As collaboration software unicorn Slack Technology makes its NYSE debut via direct listing, we look into the company's biggest stakeholders and how much their shares are worth.
Almost a year after being valued at $7.1B, workplace collaboration unicorn Slack is going public in a direct listing on the NYSE.
Over the past decade, the company has received funding from 25+ investors, attracting high profile investors from corporate venture arms (Comcast Venture, Google Ventures) to VC firms (a16z, Accel).
Now, a strong showing in the public market could mean a big payday for some of Slack's biggest investors.
Breakdown of top stakeholders
Using Slack's S-1 filing, we calculated how much its top investors' shares are worth, based on its opening price of $38.50 a share.
Here's the breakdown of the company's top stakeholders.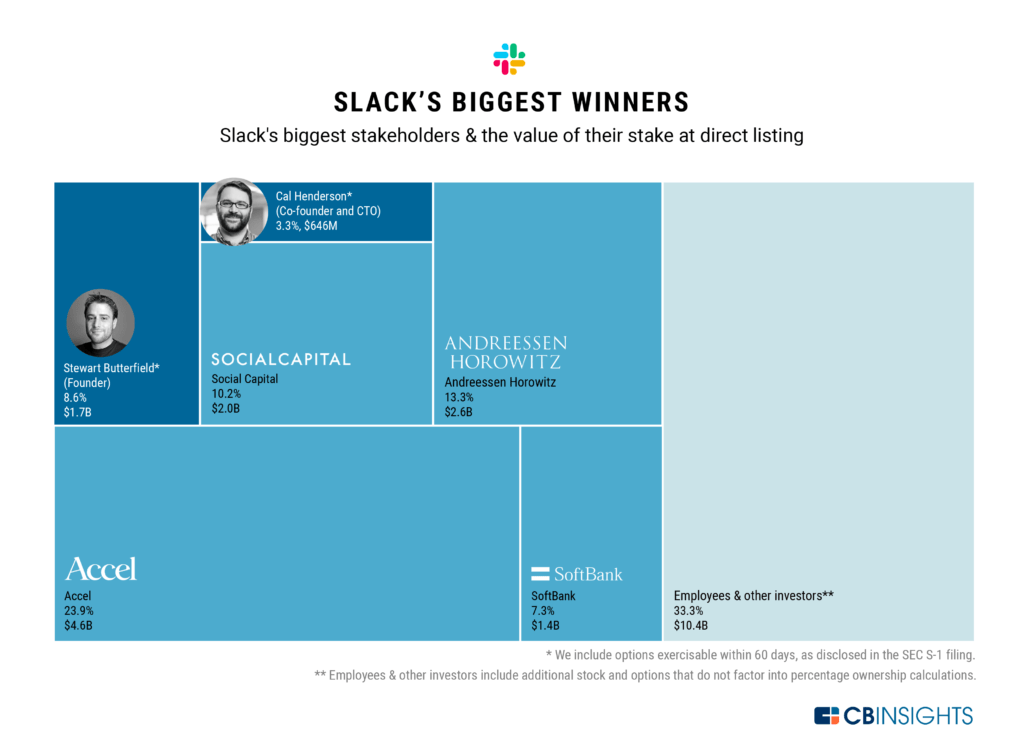 VC firm Accel is the company's top stakeholder, owning almost a quarter of the company with a whopping 23.9% share. At a price of $38.50, this share would be worth $4.6B.
The second- and third-largest stakeholders are VC firms as well: Andreessen Horowitz (13.3% share) and Social Capital (10.2%). Japanese holding company SoftBank rounds out the top institutional investors with a 7.3% share.
Co-founder Stewart Butterfield, who previously founded several other startups including photo-sharing platform Flickr, has an 8.6% stake in the company — more than double fellow co-founder and Slack CTO Cal Henderson, with a 3.3% share.
Top institutional investors timeline
Many of Slack's top institutional investors have backed the company for 5+ years.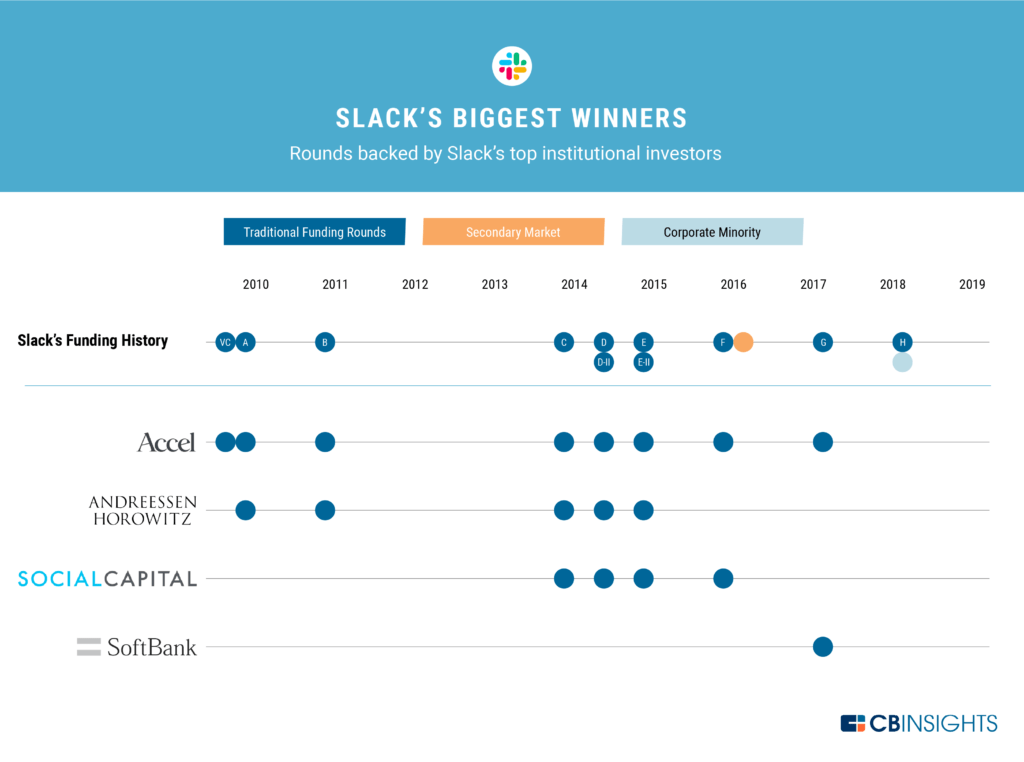 Accel was one of the company's earliest investors, backing its seed VC round in 2010, followed shortly by its Series A in the same year. All told, Accel participated in 8 traditional equity rounds to Slack, most recently including its 2017 Series G.
VC firm Andreessen Horowitz also backed Slack early on, backing the company in 5 rounds from its 2010 Series A to its 2015 Series E. Social Capital participated in 4 equity rounds to the company between 2014 and 2016.
In contrast to other top institutional investors, which were repeat investors several times over, SoftBank only funded Slack once to secure its 7% stake in the company: the Japanese holding company participated in Slack's 2017 Series G.
If you aren't already a client, sign up for a free trial to learn more about our platform.