With over 1,800 integrations, Slack offers a comprehensive communication, collaboration, and productivity platform for the modern enterprise.
Slack, the communication and productivity platform, hit the public markets on Thursday morning at $38.5/share — valuing the company at approximately $23.3B.
The company's choice to circumvent the traditional IPO process via direct listing brings attention to the company's healthy financial position — with nearly $800M in the bank & over $400M in annual recurring revenues.
After pivoting from game development back in 2012, Slack quickly rose to become the enterprise communication platform of choice. In many cases, it has replaced intra-company email communication entirely.
But the company has evolved into so much more. While communication remains the primary value proposition, emphasis on collaboration and productivity has followed.
Today, Slack counts more than 1,800 integrations that allow users to collaborate with colleagues or improve workflows. These integrations range from continuous code deployment tools used by engineers to email campaign tools used by marketers.
Many of the companies providing these integrations are venture-backed themselves, including  GitLab, Zenefits, Intercom, InVision, SiSense, Gainsight, Airtable, Giphy, Netskope, Stripe, Dialpad, and Workato. And each of these companies has used Slack to increase user engagement and drive adoption with their own users.
Using CB Insights data, we identified 115+ private VC-backed companies that have raised at least $10M in total disclosed funding. These companies all have raised since 2014 and offer integration with the Slack platform.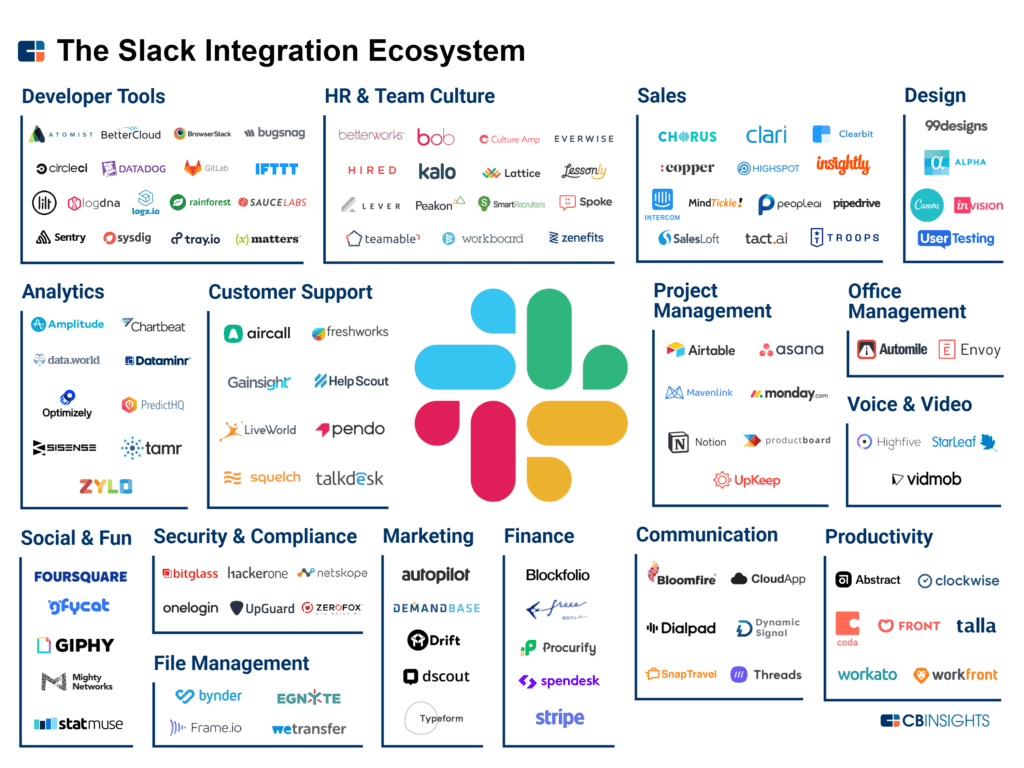 This market map is not comprehensive of all private, VC-backed startups offering Slack integration and is not meant to be exhaustive. Categories are not mutually exclusive and companies are mapped according to the integration's primary use case, not necessarily the company's.
Please click to enlarge.
Track The Cloud Computing Space
Cloud computing startups develop technologies for remote (off-premises) servers used to store, manage, and process data.
Track Cloud Computing Startups
Category Breakdown & Definitions
Analytics – Tools in this category allow users to pull reports, launch surveys, and discuss trends and analysis — right in the Slack platform. These apps ensure that data is always a part of the conversation, so organizations can make evidence-based decisions.
For example, SiSense offers business intelligence, reporting, and business analytics solutions, whereas Tamr connects and enriches underutilized datasets to provide organizations with a deeper understanding of their businesses.
Communication – Apps in this segment allow customers to share ideas with teammates and get feedback faster — through voice, video, or even text messaging.
Dialpad is an example of a communication company that provides cloud-based voice, messaging, and video solutions for the workplace. Threads, on the other hand, offers messaging services designed to break up conversations into threads which only includes relevant information to that specific reader based on their role in the project.
Customer Support – These integrations help to increase visibility into customer issues and resolve problems faster. Users can connect to their internal help desk, CSM system, or social accounts with these apps.
For example, Gainsight offers a complete customer success management solution that helps businesses reduce churn, whereas Pendo allows product teams to increase engagement by learning more about customers and user behaviors.
Design – Tools in this segment allow for faster feedback and smoother collaboration on creative work. Team members are kept in the loop as design projects progress.
InVision is an example of a design tool that offers prototyping and workflow solutions, allowing designers to better collaborate with product managers, engineers, marketers, external clients, and other stakeholders.
Developer Tools – These apps allow users to connect development tools to Slack and improve visibility into builds, bugs, and anything else that might need a developer's attention.
For example, DataDog unifies the data from servers, databases, applications, tools, and services to present a unified view of the infrastructure. On the other hand, GitLab is a code collaboration platform that provides a complete workflow to create, review, and deploy code simply and effectively.
File Management – With these integrations, users can search file contents, comment on documents, or create new files without having to leave the conversation.
Frame.io is an example of a company that allows users to upload all source media, work in progress, and assets into private workspaces where they can invite teams and clients to collaborate.
HR & Team Culture – These tools improve engagement, manage feedback cycles, celebrate wins, and create team culture right within the Slack ecosystem.
For example, Culture Amp providers a survey and analytics platform used to better understand people and improve company culture. Hired, on the other hand, provides a recruiting service for the tech industry.
Marketing – Apps in this category allow marketers to stay on top of campaigns, analytics, and social media within Slack.
Demandbase offers an Account-Based Marketing (ABM) platform that spans advertising, marketing, sales, and analytics. Similarly, Drift is a conversation-driven marketing and sales platform.
Office Management – Integrations in this segment allow users to book conference rooms and maintain an organized office environment. In addition, certain apps notify users of package deliveries, guest arrivals, and lunch orders.
For example, Envoy offers a visitor sign-in system for businesses, whereas Automile helps to track trucking fleets and their respective delivery schedules.
Finance – With these tools, users can streamline tasks like expensing and invoicing, and improve visibility into billable hours, purchase flows, payments, and more.
Procurify offers spend management solutions for organizations, whereas Stripe offers an online-payment system that gives online merchants the ability to accept credit card payments.
Productivity – These apps help users optimize their workday with status updates, to-do lists, host standups, and more.
For example, Coda is building a mobile-centric suite of business productivity tools, whereas Workato is building an intelligent automation platform that allows businesses to integrate their apps and automate workflows.
Project Management – These integrations allow users to create, update, and delegate tasks — generally anything that keeps a project moving forward.
Monday is an example of a web-based project management and team collaboration tool, while Mavenlink also provides project management and team collaboration tools.
Sales – These tools allow users to connect their sales tools to Slack so they can pull sales reports, update CRM details, celebrate deals, and find client and order history.
For example, Chorus.ai uses natural language processing to help sales teams better analyze their sales calls while Intercom offers a suite of customer communications products for sales, marketing, product, and support teams.
Security & Compliance – With these apps, users can connect their monitoring and security tools to Slack. They also help to ensure that content shared in Slack is backed-up, archived, and secure at all times.
Netskope is a security company that helps organizations direct usage, protect sensitive data, and ensure compliance. Similarly, Hacker One offers a vulnerability management and bug bounty platform.
Social & Fun – Integrations in this category allow users to add social media to Slack, organize lunch orders, or find new ways for team members to connect.
For example, Foursquare offers a local search-and-discovery service, whereas Giphy allows users to send GIFs to one another.
Voice & Video – Tools in this segment allow users to collaborate over video or voice call, without leaving the context of their work behind.
Highfive, for example, provides a video and web conferencing platform that offers video and screen sharing for every laptop, tablet, and phone.
If you aren't already a client, sign up for a free trial to learn more about our platform.