Silicon Valley Bank's focus on healthcare and life sciences made it a major partner not only to healthcare startups, but also to their VCs. We look at the top investors in SVB's healthcare inner circle.
Silicon Valley Bank (SVB) was a leading venture debt provider to the healthcare and life sciences industry.
It channeled its efforts into 5 main areas within the sector, as detailed in its Q4'22 financial highlights issued in January 2023. These include:
Tools & diagnostics

Medical devices

Biopharma

Healthcare services

Digital health & health tech
Note: You can see SVB's VC ecosystem partners in technology here.

Source: Silicon Valley Bank
As of Q4'22, healthcare and life sciences companies represented 12% of SVB's deposits and 36% of its off-balance sheet assets.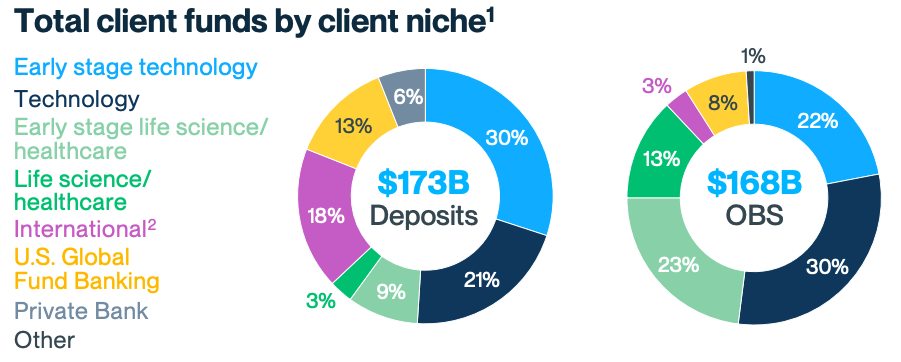 Source: Silicon Valley Bank
Silicon Valley Bank expected to see continued growth in its healthcare/life sciences portfolio in 2023, indicating that current market volatility was "fueling demand" for loans.
Source: Silicon Valley Bank (emphasis ours)
Healthcare has been a clear focus for SVB, even leading it to acquire healthcare investment bank Leerink Partners for $280M in November 2018.
Given the strategic importance of the space, SVB built a strong network of VCs who invest in healthcare — whether molecules, medical devices, or digital health.
Some of the investment syndicate partners in its orbit focus primarily on healthcare and life sciences, from VCs like Polaris Partners and SV Health Investors to pharma giants like Roche and Novo Nordisk. And some are more traditional tech investors who also invest in health IT or digital health companies. 
We dug into SVB's investment history to see which investors it paired up with most often on healthcare deals. Below, we visualize who tended to invest before SVB, alongside SVB (i.e., taking an equity stake at the same time as the debt round), and following it.