With over 2,600 fintech clients, Silicon Valley Bank is a lender, banking partner, and payments technology provider. We map out some of its biggest clients and partnerships using CB Insights' business relationship data to show its impact on the fintech industry.
For its 2,690+ fintech clients, Silicon Valley Bank (SVB) is more than just a bank. In addition to the venture debt financing and startup banking that it's known for, SVB is a gateway for commercial payments and online payments acceptance. In fact, it markets itself not as a bank, but as a financial technology partner. 
According to SVB, its clients account for 71% of all fintech IPOs since 2020. It's clearly plugged into the fintech ecosystem.
The fallout from recent events may leave a hole in fintech that won't easily be filled. While moving to a new bank for your deposits might be simple, searching for and setting up a payment rails and processing partner is a more difficult process.
To uncover just how important SVB is to the fintech universe, we mapped out some of the biggest clients, partnerships, and sectors that it serves using CB Insights' business relationship data from SVB's profile. Clients can see that Network Map below.
SVB's fintech partners and customers span a wide array of companies — from early- to late-stage to public — and over a dozen areas within fintech. These include:
Accounting

Banking

Blockchain & crypto

Capital markets

E-commerce

Expense management

Fraud & identity

Insurance

Lending

Payments

Payroll & benefits

Real estate

Wealth tech
The SVB Fintech Network Map below shows 4 areas in particular where partnerships are most common: 
Payments

Expense management

Lending 

Accounting
Within payments, commercial payments has been a particular area of growth for SVB.  
Among US financial institutions, SVB has been a top 20 originator of ACH payments by volume for 4 consecutive years (2019-2022), according to the National Automated Clearing House Association (Nacha). In 2022, it was ranked 18th.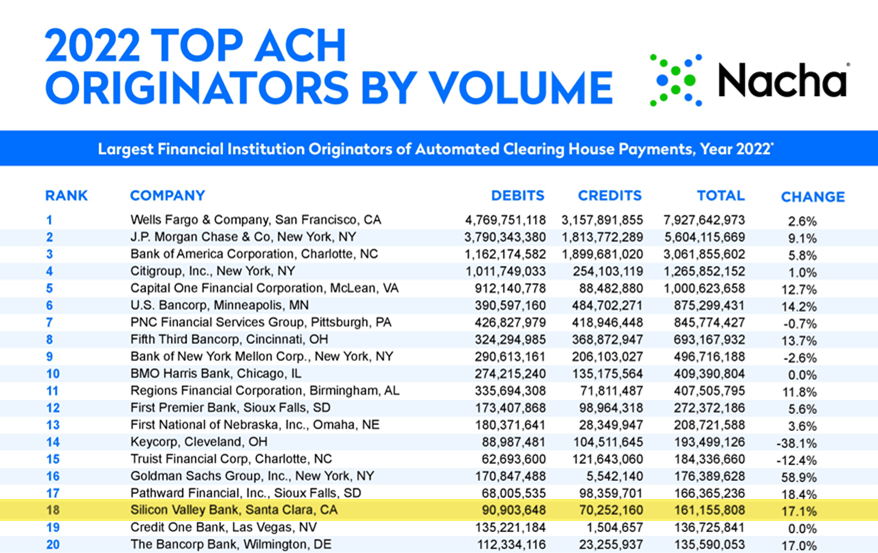 Source: Nacha (emphasis ours)
SVB integrates with Modern Treasury to allow clients to send and receive commercial payments directly through their bank account via ACH, SWIFT, and other methods. Similarly, it links up with Plaid to authenticate bank information and allow clients to send ACH payments.

Source: Silicon Valley Bank
The state of most of SVB's partnerships could be up in the air. It's also uncertain if SVB's fintech clients will continue working with SVB or if they'll be able to find the same type of payments infrastructure directly embedded with their bank through a different provider.
Dig into SVB's Fintech Network Map below and view all of these partnerships and customer relationships in downloadable form in this Collection on CB Insights.
To dig in further, check out these additional SVB resources: