From package delivery to supply chain & freight services, here's how UPS is being unbundled.
UPS — and the traditional shipping & logistics space at large — is being disrupted across many of its core functions and revenue streams.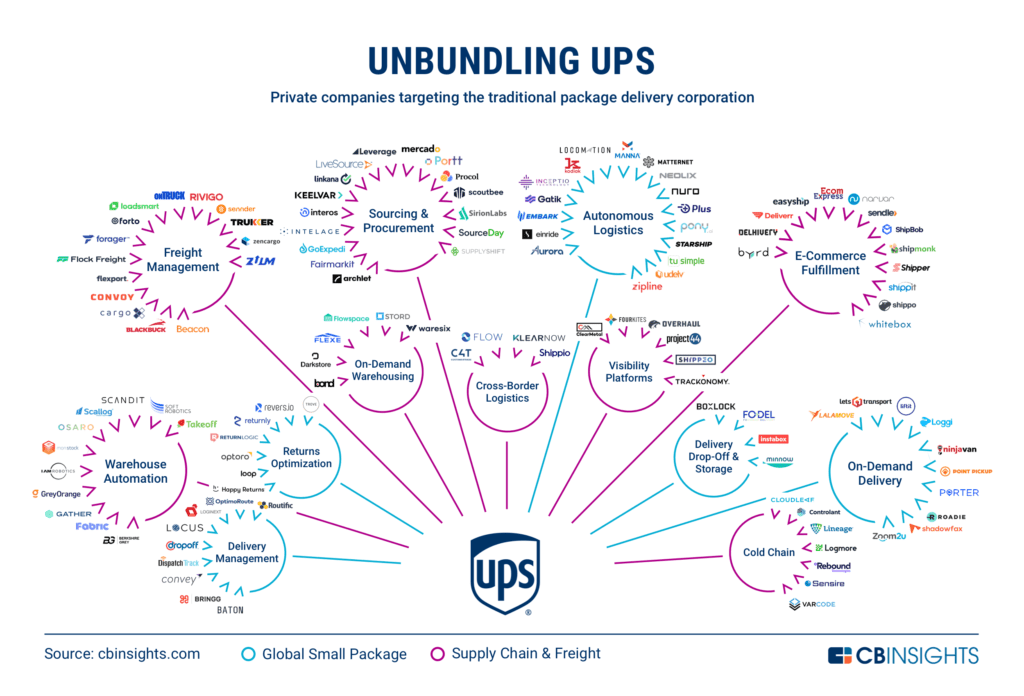 As the world's largest package delivery company, UPS has established a strong foothold in shipping and logistics, expanding its business internationally and offering additional supply chain and freight services such as freight forwarding, logistics & fulfillment, and customs brokerage.
The company competes most directly with FedEx and USPS in the US, but more recently, Amazon, one of its largest customers, has emerged as a competitor. The online retailer has launched its own shipping and delivery network that delivers more than half of its packages (Amazon Flex), on top of building out its own fleet of cargo jets, designing electric delivery vehicles from the ground up, and acquiring new warehousing space to speed up delivery.
In addition to Amazon, a growing number of startups have emerged to tackle inefficiencies in the supply chain & logistics space, which is incredibly fragmented and suffers from a lack of communication and visibility, issues that are especially significant during supply chain disruptions. Startups are deploying new technologies, such as machine learning and IoT, and experimenting with new business models, such as on-demand delivery and warehousing.
Covid-19 has drawn further attention to these startups.
The pandemic's disruption to global supply chains exposed a number of vulnerabilities and inefficiencies up the supply chain, creating opportunities for new tech-based solutions. Further, unprecedented consumer demand for e-commerce, which is expected to persist, overwhelmed legacy shipping and logistics infrastructure, generating demand for technology that can streamline fulfillment and delivery.
Investors are taking note, as funding to supply chain & logistics startups in 2020 reached record highs at $1.7B across 683 deals.
Below, we take a look at how startups and companies are unbundling UPS, from logistics and delivery to freight and supply chain management.
Category breakdown
We outline the technologies and services unbundling UPS based on the company's business segment reporting, which is comprised of the following:
Package delivery: The company's Global Small Package operations, which brought in $60.7B in revenue in 2019 (82% of total revenue) and completed 5.5B deliveries globally, provide delivery services for letters, documents, small packages, and palletized freight via air and ground services. These services are supported by shipping, visibility, and billing technologies.
Supply chain & freight services: The company's Supply Chain & Freight segment, which brought in $13.4B in revenue in 2019 (18% of total revenue), offers adjacent services such as freight forwarding, logistics, and other supply chain management capabilities.
The breakdown within each business segment is structured based on the shipping journey.
Package delivery
UPS's global small package business is primarily oriented around the shipping and delivery of small packages and letters. Companies working on automating, streamlining, and optimizing delivery services are targeting this piece of UPS's business.
Autonomous logistics
A number of autonomous driving startups are focused on logistics applications, such as long-haul trucking and last-mile delivery, both central to UPS's ground delivery services.
Long-haul trucking
UPS is already testing out autonomous long-haul trucking with autonomous trucking startup TuSimple, which is developing a Level 4 autonomous system of trucks capable of operating without a driver.
A number of other companies are focused on self-driving technology for the trucking ecosystem.
Similar to TuSimple, Aurora and Kodiak Robotics are developing autonomous driving systems that would completely replace a human truck driver, or at least enable remote operation (i.e. Level 4-5 autonomy).
Other companies like Einride focus on building the vehicles themselves, designing fully autonomous, all-electric trucks and vans for logistics applications.
Clients can view a deeper analysis of some of the emerging providers in autonomous trucking in this report.
Last-mile delivery
UPS is also working with several companies on testing autonomous last-mile delivery, including a prescription drone delivery partnership with CVS and drone startup Matternet (announced in April 2020) and an autonomous delivery partnership with Alphabet's autonomous driving subsidiary Waymo (announced in January 2020).
Companies here are developing a wide variety of vehicles for autonomous last-mile delivery, including ground-based vehicles, sidewalk robots, and drones.
For example, ground-based autonomous last-mile startups Nuro and Starship Technologies develop vehicles built specifically for carrying general merchandise and food, including perishables. These vehicles can travel on streets alongside cars or on sidewalks.
Similar to Waymo, companies like Pony.ai that originated as robotaxi companies have pivoted to delivery given strong demand due to the pandemic.
In addition to Matternet, drone startups such as Zipline are experimenting with drone-based delivery, mainly for prescriptions and personal protective equipment (PPE).
We assess several of the main players in autonomous last-mile delivery in this client-only report.
Delivery management
Given the high costs and complexities associated with last-mile delivery, some companies are focused on solutions that drive efficiencies in the last leg of the shipping journey.
Delivery management software has emerged as a viable tool, as it combines dynamic routing, real-time tracking, fleet management, and order pooling to streamline last-mile delivery.
UPS operates its own internal driver route planning program, called ORION, which it recently updated to feature dynamic routing — software that recalculates routes based on real-time traffic levels and other external factors.
Notable startups developing more comprehensive delivery management platforms include Bringg and LogiNext.
Other companies such has DispatchTrack and OptimoRoute focus on leveraging AI to optimize routes.
On-demand delivery
Similar to Uber for passenger rides, a number of startups have emerged in the delivery space that are developing platforms to better match supply (drivers) with demand (shippers).
These services offer more flexibility for shippers as demand fluctuates, and in many cases their platforms leverage AI and other technologies to streamline last-mile delivery through delivery tracking and real-time customer support.
Companies such as Point Pickup and Ninja Van offer on-demand shipping and delivery services that can more effectively match shippers with drivers, enabling faster delivery at a lower cost.
Atlanta-based Roadie has pioneered what it calls "on-the-way" delivery, which utilizes excess capacity in vehicles already on the road, rewarding drivers for delivering items on trips they were already taking.
Delivery Drop-Off & Storage
As part of its package delivery business, UPS also operates a network of local businesses and self-service lockers (UPS Access Point) to provide more flexible delivery options for consumers.
A number of startups have emerged with their own alternative delivery infrastructure.
Returns optimization
Another component to package delivery is reverse logistics, or managing packages shipped from consumers back to the original retailer.
UPS already has its own portfolio of returns services, but a number of startups have also emerged with their own solutions, in some cases using AI and machine learning to optimize the returns process.
By improving the returns experience for all parties involved, these solutions are helping retailers and brands retain customer loyalty, which helps avoid lost sales and unnecessary processing costs.
Companies are taking a variety of approaches, including the following:
Shopper-facing returns platforms such as Returnly offer streamlined returns experiences for customers and emphasize the sale of new products at "the point of return," potentially making up for lost revenue. Returnly also offers instant credit on returned items.
Back-end focused software solutions like Optoro's can help retailers process and find the most cost-efficient route for returned items, i.e. if they should be resold, donated, or sent to an off-price retailer.
Comprehensive returns solutions such as Happy Returns, which lets shoppers choose whether they want to make a return in person or by mail, can increase shopper satisfaction and reduce attrition by streamlining the entire returns process.
Clients can explore a deeper analysis of some of the emerging providers in returns optimization here.
Supply chain & freight services
In addition to its package delivery business, UPS offers a variety of services aimed at improving operations along the supply chain. Companies working on similar services are driving efficiencies in the sourcing and procurement process, optimizing the management of freight, and streamlining warehousing.
sourcing & procurement
As part of its Supply Chain & Freight business unit, UPS offers services that help customers manage the sourcing and procurement process, monitor their vendors, and navigate the complex aspects of international logistics.
Startups and tech companies are leveraging AI and machine learning to optimize sourcing (finding and vetting suppliers) and procurement (acquiring goods from suppliers), creating more transparency up the supply chain.
For example, Germany-based scoutbee is developing a B2B procurement platform that uses AI to help buyers discover suppliers.
Fairmarkit's cloud-based AI platform can automate the repetitive tasks and audits of the procurement process, helping cut down expenses and streamline procurement.
Interos and SupplyShift offer multi-tier risk mapping, which allows customers to monitor their vendors and receive alerts regarding potential disruptions.
Cross-border logistics
UPS also handles cross-border shipping and the associated services involved with international logistics, such as customs brokerage and trade finance.
Companies in this category are focused on facilitating international shipping for smaller retailers and brands, offering services such as compliance assistance and customs brokerage.
Startups such as Flow help facilitate cross-border logistics for smaller retailers and brands, providing services such as real-time tax and duty calculations, inventory control, and international payment options.
On the customs front, companies like KlearNow and Customs4trade provide digital customs clearance and document management platforms, which allow importers, customs brokers, and freight forwarders to integrate with local customs authorities and communicate on a single digital platform in real time.
Freight management
Within its Supply Chain & Freight unit, UPS offers a variety of freight-related services, including freight forwarding and freight matching. Companies in this category are tackling the inefficiencies associated with the movement of freight.
Digital freight matching
On-demand freight matching platforms, which streamline freight brokerage by matching shippers with available carriers in real time, have gained traction with their marketplace model.
UPS operates a digital freight matching service through its subsidiary, Coyote Logistics, which it acquired in 2015, offering on-demand quoting, tendering, and tracking & settlement, as well as manual task automation.
Several startups also offer on-demand freight matching solutions.
Players such as Convoy and Loadsmart are developing AI-driven data analytics platforms to more effectively broker freight matching arrangements and provide more transparency and flexibility around rates and pricing.
Other companies offer freight matching through alternative business models. LA-based Zuum's platform integrates its digital freight marketplace with other services such as transportation management, driver apps, and broker software.
Notably, in April 2019, Amazon launched its own digital freight matching platform across the continental US. The service will likely allow the tech giant to use its scale to gain greater control over the middle-mile freight market, strengthening its position as a major shipper.
Digital freight forwarding
UPS also operates as a freight forwarder. The company is one of the top international freight forwarders, in addition to offering global air, ocean, and multimodal transportation services.
A number of companies have emerged in recent years to disrupt traditional freight forwarding services by digitizing the freight forwarding process.
For a more in-depth look at some of the main players in digital freight forwarding, clients can view this report.
Visibility Platforms
UPS also offers services that monitor and track the movement of freight along the supply chain for its customers.
Several startups are working on their own visibility platforms that compile and analyze real-time data from players upstream and downstream, providing retailers and brands with end-to-end shipment visibility. Applying AI to these datasets can improve inventory predictability and help mitigate the impact of potential supply chain disruptions, increasing supply chain resilience.
On-demand warehousing
Companies in this category develop demand-based platforms that provide companies with temporary access to available storage space. These solutions can streamline last-mile delivery by storing items closer to consumers (e.g. near residential neighborhoods).
UPS operates its own on-demand warehousing service, called Ware2Go, which it launched in 2018. Ware2Go helps small- to medium-sized businesses compete on fulfillment speed and efficiency by leveraging a network of warehousing facilities from which they can cheaply store and quickly deliver products.
The ecosystem of startups offering on-demand warehousing continues to grow, and companies are taking different approaches.
For example, Flowspace and Flexe leverage existing warehouses to offer their on-demand warehousing services.
Clients can find more information around the major providers in this space in this report.
Warehouse automation
UPS is also focused on the future of warehouse design, investing in connectivity solutions, machine learning, and predictive analytics to streamline warehouse operations.
The company relies on warehouse management software, which automates day-to-day operations of a warehouse such as inventory collection & storage, stock locating, and labor management. UPS currently uses a warehouse management system from Softeon.
Other companies working on warehouse management solutions include Monstock, a France-based inventory management startup.
In addition to warehouse management software, robotics and computer vision are also gaining traction as viable tech-based solutions for warehouse automation. Robotic arms and ground vehicles (known as autonomous mobile robots and automated guided vehicles) can autonomously transport, pick, and sort goods during the fulfillment process.
UPS is already working with robotics companies such as Locus Robotics, which develops ground-based autonomous mobile robots (AMRs), AutoStore, a robotic picking solution, and Robopac, which develops autonomous wrapping machines.
A number of startups are working on similar solutions, including the following:
For a more in-depth look at robotic fulfillment providers, client can view this report.
e-commerce fulfillment
As e-commerce adoption accelerates, various startups have emerged to help sellers more quickly and easily fulfill online orders, providing services such as storage, order processing, and product shipping. E-commerce fulfillment companies also tend to benefit from scale, and as a result, can negotiate lower rates from shipping carriers, which can translate to a lower cost of delivery.
UPS has its own e-commerce fulfillment operations, called UPS eFulfillment, although a number of startups offering these services have established themselves as contenders in this space.
Cold chain
UPS has a dedicated internal group, UPS Healthcare, focused on serving the shipping needs of healthcare and life sciences customers, which tend to involve stricter temperature environments and more consistent monitoring.
Part of UPS Healthcare's logistics offering is cold chain storage, or warehouse and distribution space that features climate controls and validated coolers and freezers for certain temperature-sensitive items.
A number of startups are focused on cold chain storage solutions, especially with the accelerated adoption of grocery delivery and anticipated surge in demand for temperature-controlled storage for the Covid-19 vaccine.
Some companies, such as Lineage Logistics, are building out and operating cold storage facilities. Lineage and publicly traded Americold are the leaders in this space.
Other companies are focused on improving the efficiency of existing cold storage space. Rebound Technologies is developing a more agile cooling system that plugs into legacy refrigeration systems to boost performance, efficiency, and control of industrial freezers.
In May 2020, UPS Healthcare announced an expansion of its healthcare capabilities to include on-package sensor technology, enabling advanced tracking for critical shipments.
Several startups have emerged to tackle real-time monitoring for the cold chain to provide enhanced visibility and temperature control for sensitive healthcare shipments.
Companies such as Controlant and Varcode develop sensor-based solutions that can log data like time and temperature, enabling real-time asset and environment monitoring. Varcode stores a permanent record of its customers' data using blockchain technology.
---
This report was created with data from CB Insights' emerging technology insights platform, which offers clarity into emerging tech and new business strategies through tools like:
If you aren't already a client, sign up for a free trial to learn more about our platform.