With the acquisition of Mapwize, ServiceNow will be able to better support hybrid workplace management. Here are the top-line bullets you need to know.
ServiceNow, a cloud-based service management solutions provider, acquired Mapwize, an indoor mapping software developer, for an undisclosed amount. The deal is expected to close in Q3'21.
Who are the parties to the deal?
Mapwize: France-based Mapwize is a mobile mapping and navigation tool that allows employees to book seats and conference rooms and access other workspace information on mobile or desktop. The company caters to several industries, including events, retail, education, healthcare, transportation, and hospitality. The tool is integrated with beacons and other wayfinding hardware technologies and can be imported in several formats including AutoCAD. Mapwize's client base includes Notre-Dame De Grace Hospital, Natixis, Groupama, and Hong Kong University, among others.
ServiceNow: California-based ServiceNow is a workflow automation tool that automates, predicts, and digitizes business processes and related tasks. The application is used by information technology, customer service, security, and human resources teams to elevate operations and increase productivity. It has customer support centers located in Australia, India, Ireland, Japan, Netherlands, the UK, and the US, and it currently employs 11,000 people.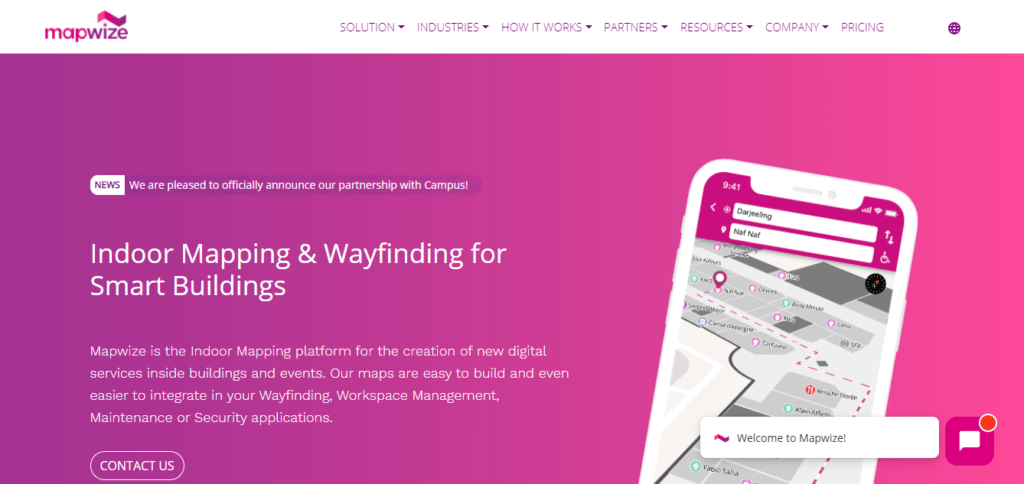 Source: Mapwize
Why does the market matter?
ServiceNow wants to enhance its global digital map capabilities:
The global digital map market is projected to grow at a CAGR of 16.2% and reach a value of $29.4B by 2024, according to Markets and Markets.
The demand for improved safety measures in larger buildings, including educational buildings, hospitals, shopping malls, and large warehouses, has given rise to indoor mapping technologies that help to enhance safety and reduce maintenance costs.
The increasing need for mapping, surveying, and navigational technologies across various industries — like construction and engineering, environment, research, and defense — is expected to spur the growth of this market.