Startups are improving serverless computing across cloud platforms like AWS, Azure, and GCP. From cost management to securitization, these 9 startups are eliminating obstacles for developers and system admins.
Serverless is an emerging trend in cloud computing, allowing developers to quickly build and deploy applications without having to provision or manage cloud infrastructure. With serverless computing, cloud providers charge for the resources consumed by an application, rather than for pre-defined, pre-purchased compute and storage capacity.
While serverless computing does, in fact, use servers to run applications, the removal of server management and capacity planning has given this execution model its name.
According to the CB Insights Market Sizing tool, the serverless computing industry is expected to grow from $1.9B in 2016 to $7.7B by 2021.
But despite the benefits of serverless, it also removes much of the control available in other execution models. Removing complexity for developers and system admins gives more control to cloud providers. As a result, there are a number of companies looking to improve serverless computing as it operates today.
Using the CB Insights platform, we surfaced 9 notable, early-stage startups in the serverless space.
We selected these companies based on their Mosaic score — CB Insights' algorithm that uses financial and non-financial signals to predict private company health — as well as the recency and size of their disclosed funding. We have listed them in descending order of total disclosed funding.
In our 3-part series, we take a deep dive into what serverless computing is, and how Amazon, Google, and Microsoft are offering serverless services to keep up with growing demand.
Serverless computing startups to watch
1. Serverless

Headquarters: San Francisco, California
Disclosed Funding: $13M
Select Investors: Lightspeed Venture Partners, Trinity Ventures
Serverless offers a platform that allows developers to build and deploy serverless applications across multiple providers. The Serverless framework also increases development speed and prevents vendor lock-in. The company raised a $10M Series A in July of this year and plans to use the capital to improve the product.
---
2. Snyk

Headquarters: London, England
Disclosed Funding: $10M
Select Investors: BOLDstart Ventures, Canaan Partners
Snyk allows developers to use open-source code for serverless apps without compromising security. The Snyk product is able to continuously find and fix vulnerable functions without burdening developers. To date, 120K developers use the platform and the company works with a number of enterprise customers including Google and New Relic.
---
3. Stackery

Headquarters: Portland, Oregon
Disclosed Funding: $7.4M
Select Investors: TechStars, Voyager Capital
Stackery helps to manage release automation, governance, and control over serverless applications and infrastructure. The company also allows users to monitor the performance of various serverless deployments across multiple cloud providers. In April 2018, Stackery raised a $5.5M Series A and plans to use to capital to grow its enterprise client base.
---
4. Pulumi

Headquarters: Seattle, Washington
Disclosed Funding: $5M
Select Investors: Madrona Venture Group, Tola Capital
Pulumi's cloud programming platform provides developers with frameworks and libraries to operate containers, serverless functions, and cloud infrastructure. The company recently came out of "stealth mode" with a product that allows developers to control their infrastructure in the same languages they use to develop their applications, instead of with cloud-specific configuration language.
Track The Cloud Computing Space
Cloud computing startups develop technologies for remote (off-premises) servers used to store, manage, and process data.
Track Cloud Computing Startups
5. IOPipe

Headquarters: Philadelphia, Pennsylvania
Disclosed Funding: $4.6M
Select Investors: Madrona Venture Group, New Enterprise Associates
IOPipe is a serverless DevOps platform that enables faster development while providing greater visibility into serverless applications. The company's monitoring service allows users to better understand the operations and inner workings of their "serverless" applications on AWS Lambda.
---
6. Epsagon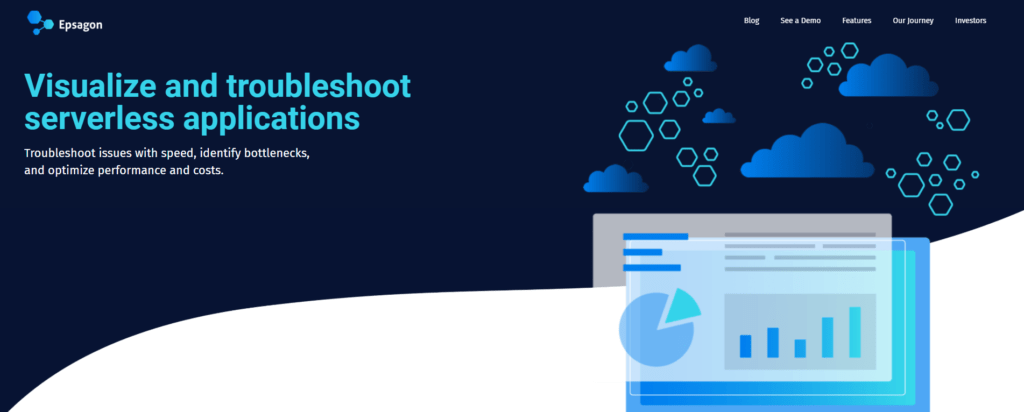 Headquarters: Tel Aviv, Israel
Disclosed Funding: $4.1M
Select Investors: Lightspeed Venture Partners, StageOne Ventures
Epsagon is a developer of monitoring solutions for serverless architectures. The firm's software enables users to identify potential issues and quickly troubleshoot before problems arise. The company raised $4.1M in March 2018 and plans to use the funding to expand R&D, marketing, and sales efforts.
---
7. StdLib

Headquarters: San Francisco, CA
Disclosed Funding: $4.1M
Select Investors: Stripe, Slack Fund
StdLib provides developers with the ability to develop quickly and integrate with APIs without the need to manage infrastructure. The company recently raised $2M from Stripe and also released a new product called Code.xyz. This new product offers an in-browser code editor for building APIs, webhooks, and workflow automation tasks that run on top of the StdLib serverless platform.
---
8. PureSec

Headquarters: Tel Aviv, Israel
Disclosed Funding: $3M
Select Investors: Entree Capital, TLV Partners
PureSec provides a security platform that helps customers build and maintain reliable, secure serverless applications. PureSec supports all serverless vendors, including AWS Lambda, Azure Functions, and Google Cloud Functions. The company recently reported vulnerabilities in Apache's OpenWhisk serverless programs that may have left users at risk. Previously, the company claimed that 20% of serverless apps have security flaws.
---
9. Protego

Headquarters: Baltimore, Maryland
Disclosed Funding: $2M
Select Investors: Glilot Capital Partners
Protego offers security for serverless applications. The platform continuously scans serverless infrastructure — including functions, logs, and databases — to help increase application security. Protego recently partnered with Mode2, offering security services to the company's US customers using AWS, Azure, and GCP for serverless computing.
If you aren't already a client, sign up for a free trial to learn more about our platform.