Sequoia Capital announced in February 2022 its first crypto-focused fund. We dive into the blockchain and crypto investments Sequoia Capital and its sister funds, Sequoia Capital China and Sequoia Capital India, have made prior to the announcement along with some of its recent bets.
Sequoia Capital is a prominent venture capital firm that invests in seed-, early-, and growth-stage technology companies across the US, Europe, Southeast Asia, and China. Its investments are focused on the clean tech, crypto, healthcare, financial services, robotics, and mobile sectors.
Sequoia began its crypto journey in 2014 when it invested in String Labs. More recently, in January 2022, the firm participated in the $500M Series E round to Fireblocks, a digital asset custody, transfer, and settlement platform.
Despite the tumultuous crypto landscape, in February 2022, Sequoia Capital announced its commitment to raise $500-600M for its first crypto-focused fund. The Sequoia Crypto Fund, a sub-fund of its flagship Sequoia Capital Fund, will primarily focus on financing liquid tokens and digital assets.
Additionally, in June 2022, Sequoia Capital India announced the launch of 2 new funds — a $2B early-stage venture and growth fund for India and a $850M fund specific for companies in Southeast Asia –- to address the booming Web3 ecosystem.
Meanwhile, Sequoia Capital China is reportedly raising around $9B for its 4 new funds. These funds will focus on backing fintech and cryptocurrency startups in China.
In this article, we will focus on the blockchain/crypto deals made by Sequoia Capital and its subsidiaries, Sequoia Capital China and Sequoia Capital India.
What are Sequoia Capital's significant investments?
Sequoia Capital has participated in 24 blockchain/crypto deals to date, while Sequoia China and Sequoia India have backed 15 and 23 deals, respectively.
Some of the notable investments Sequoia made in 2021 were in FTX, Fireblocks, and Iron Fish. The firm has participated in 8 blockchain/crypto deals so far in 2022.
Since 2017, Sequoia Capital China has invested in 13 blockchain/crypto related companies. Of the 5 blockchain/crypto deals it participated in 2022, the largest funding round they participated in was crypto finance firm Amber Group's $200M Series B.
Sequoia Capital India is newer to the realm of crypto and Web 3. Its first investment was a seed VC round to Band Protocol, a blockchain-based information curation platform, in 2019. It is now quite active in the crypto space, with a total of 11 investments already in 2022. One of its most significant investments this year was participating in a $100M Series A round to FanCraze, a cricket NFT platform for fans to buy, sell, and trade officially licensed digital cricket collectibles.
Investment overview
From 2017 to June 2022, Sequoia Capital directed most of its money toward Series A investments (42%), followed by Seed VC investments (29%), and Series B (17%) rounds. The company's investments have been spread across geographies, with a special focus on the US (75%), followed by Israel (13%), the Bahamas (8%), and Singapore (4%).
From 2017 to June 2022, Sequoia Capital China has invested the most in Series A rounds (33%), and Seed VC (33%) followed by Series B (27%). The company has made crypto investments in Hong Kong (27%), China (27%), Singapore (20%), the US (20%), and Taiwan (7%).
From 2019 to June 2022, Sequoia Capital India has focused mostly on Seed VC (74%) and Series A (17%) investments. It has made hefty investments in Singapore (35%), the US (30%), and India (22%). It has also made investments in Hong Kong (9%) and Thailand (4%).
These investments are broken down by use cases below: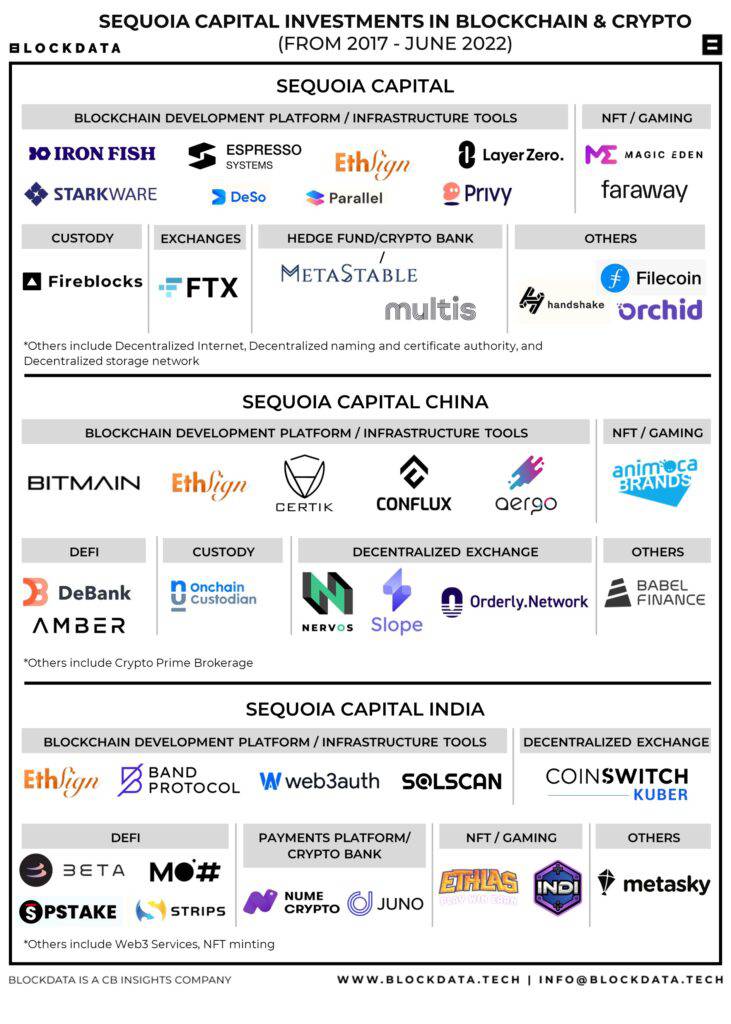 Most notable investments: Blockchain development platforms/infrastructure tools, DEXs, and DeFi
Sequoia Capital has been consistently investing in companies providing blockchain infrastructure. For example, it participated in the Series A, B, and C funding rounds to StarkWare, a developer of zero-knowledge proof (ZKP) technologies that solve the scalability and privacy problems pertaining to Ethereum. Sequoia also backed Iron Fish's $28M Series A round and Espresso Systems' $32M Series A round, both layer-1 blockchains using ZKP technologies.