Also covered are whether Amazon's got its eye on Home Depot, Indonesian startups, and the war for cloud IP.
Today, we're talking about Sequoia's bets in insurance, autonomous vehicles, and clinical trial data, among other things:
Who might Amazon acquire to attack Home Depot?

Indonesia is having its startup moment. Is it Asia's next big tech hub?

What are the big markets Sequoia Capital is targeting?

Microsoft overtakes Amazon in the cloud IP war

 How automakers bet on batteries
Is Amazon's new visual search capability targeting Home Depot?
With all the chatter about the retail apocalypse and the disruption risk that Amazon presents to traditional retailers, one company that has not just weathered the narrative storm well, but thrived, has been Home Depot.
You can see this below, in its steadily climbing 5-year stock chart.
But does Amazon now have Home Depot in its sights?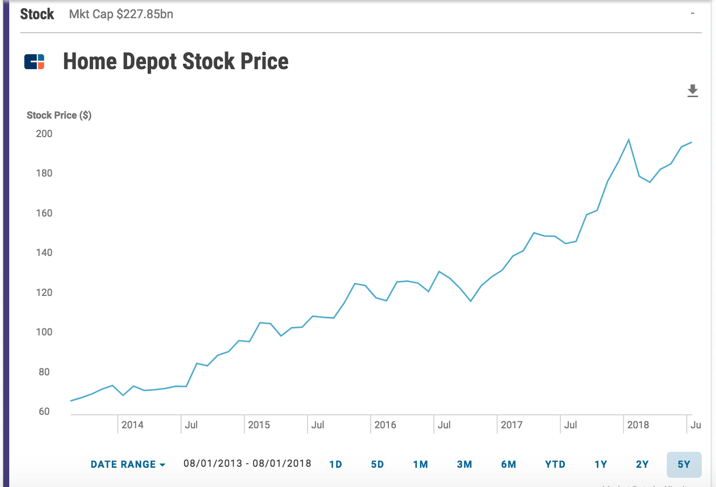 Last week, Amazon quietly rolled out a mobile app capability called Parts Finder. The app lets you take a picture of a screw, nut, bolt, etc. with your mobile phone, and then find and purchase the piece on Amazon. It uses visual search technology that Amazon picked up in its late 2016 acquisition of PartPic, an early-stage Atlanta-based startup.
This type of visual search capability has been part of Home Depot's (very favorably rated) mobile app for some time, so this is Amazon playing catch-up.