The funding will help Semios accelerate its R&D efforts. Here are the top-line bullets you need to know.
Semios, a agricultural analytics platform provider, has raised $100M in private equity funding from Morningside Technology Ventures.
How's the company performing?
Canada-based Semios leverages machine learning and big data analytics to help farmers manage orchards and improve crop sustainability and profitability.
The company's in-orchard IoT network of sensors monitors soil moisture, climate, insects, and disease activity to help mitigate crop risks. Its solutions include water management, climate monitoring, frost management, alert and monitoring tools, and plant stress monitoring.
The platform is currently used to manage 120M acres of row and permanent crops across Canada, the US, New Zealand, Europe, South Africa, and Australia.
In 2021, Semios acquired Agworld, Centricity, and Altrac.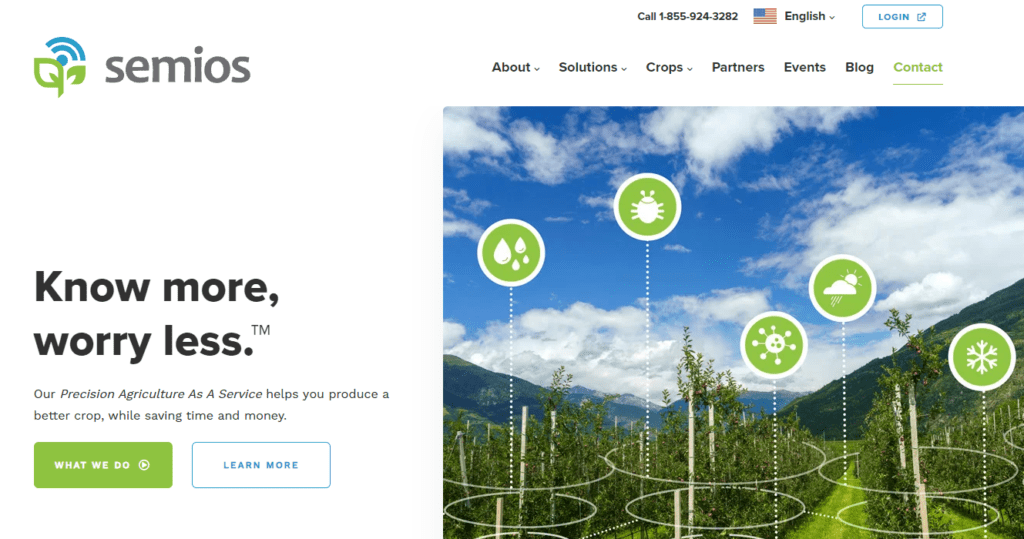 Source: Semios
Why does the market matter?
The agriculture IoT market is projected to grow at a CAGR of 15.2% and reach a value of $32.75B by 2027, according to Meticulous Research.
Increasing population counts, rising food demand, climate change complications, government incentives for tech advancement, and the decreasing presence of arable lands are some of the factors fueling the growth of the agriculture IoT market.
The pandemic has emphasized the need to adopt technology across agricultural sectors to help increase yield and support food security.