Semiconductor tech funding remained elevated as deal count hit a new high in 2021. Below, we discuss the sector's market drivers as well as emerging trends and their key implications.
Semiconductor technology, which includes everything from microprocessors to OLED displays, has become critical for the economy and national security.
Industries across the board rely on the tech to power everything from cars to cell phones, and fragile supply chains as well as chip shortages have disrupted production processes across the globe. The automotive space, for example, lost $210B in revenue last year from the shortage, according to Alix Partners.
As a result, governments around the world are looking for new solutions. For example, China is on a quest to achieve self-sufficiency in semiconductor production due to the impact of several US sanctions, like those raised against Huawei. Meanwhile, western countries recognize that the majority of production being concentrated in China is a source of national security concern, driving demand to reshore manufacturing.
The growing demand for this tech has also caught the attention of investors looking to capitalize.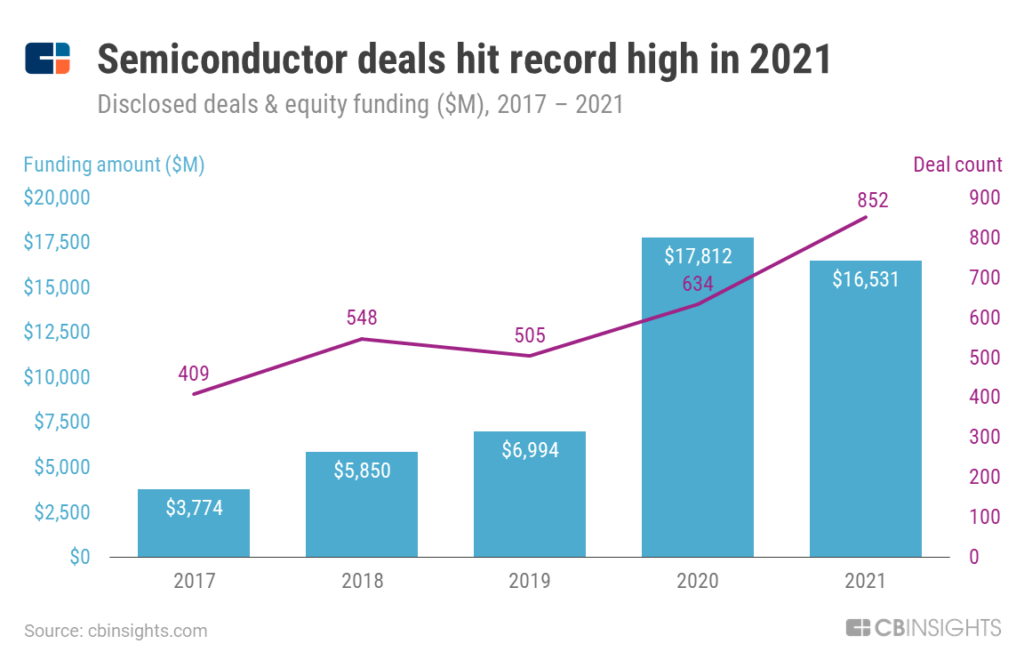 Companies in the space raised over $16.5B across a record-breaking 852 deals in 2021, with a couple of China-based startups — Jita Semiconductor and Chipone — raising $1B+ each. Though this represents a slight dip from the record level set in 2020, funding has still increased by 236% since 2019.
In this brief, we'll look at:
The topline findings and implications for this growth

The market drivers underlying this boom

And the categories receiving the most attention
To dig into all of the underlying data in this brief, sign up for a free trial to CB Insights here.
Track all the semiconductor tech companies in this market map on our platform
This Collection includes startups developing the hardware and software for semiconductors, chips, and advanced electronics.
Track these companies