Waymo, Mercedes-Benz, and other transportation players are exploring new ways to develop and deploy autonomous vehicles.
Skepticism around the future of autonomous vehicles is building.
Several robotaxi services, including projects from Waymo and Cruise, have failed to meet launch and commercialization expectations.
More broadly, the technology powering fully autonomous vehicles is not yet sophisticated enough to safely carry human passengers. Industry leader Waymo highlighted this when it acknowledged that human safety drivers will be necessary for many years to come. As a result, concerns are mounting, as the technology requires significant upfront costs but has yet to return a profit.
Discussion around self-driving tech on corporate earnings calls has fallen substantially, as shown by the CB Insights Earnings Transcripts tool.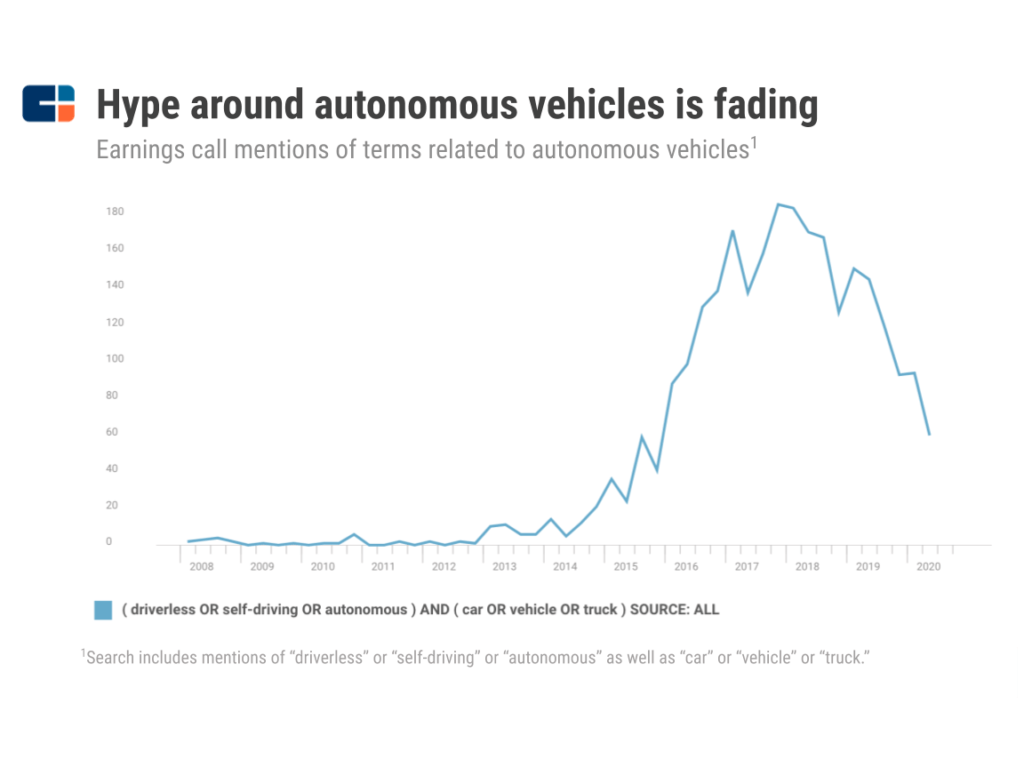 To make matters worse, the Covid-19 pandemic has placed undue financial pressure on automakers, Tier 1 suppliers, and other AV developers, driving many companies to scale back timelines and delay launch plans.
Startups have also suffered. Zoox recently put itself up for sale and was acquired by Amazon, while others — including Kodiak Robotics, Ike, and Uber's Advanced Technologies Group — have resorted to layoffs.
In response, autonomous driving developers — both corporates and startups — are looking at different approaches to developing self-driving technology. Below we take a closer look at how they're adapting, from creating partnerships to leveraging the power of simulation and more.
1. Collaborating rather than competing
Given the challenges and substantial costs associated with developing, building, and training driverless vehicles, incumbents in the auto space are more frequently collaborating to pool resources while offsetting some of the financial burden associated with AV development.
Recent examples include:
Mercedes-Benz and Nvidia announced a partnership to develop an upgradable computing platform to support automated driving. The platform will allow over-the-air (OTA) updates that can enhance and improve automated driving functions over time.
Volvo announced in June that Waymo will be its exclusive global partner for Level 4 (L4) vehicles — the stage in AV development when vehicles can operate without human input or oversight under select, geofenced conditions. Volvo plans to use Waymo's L4 technology for a fleet of all-electric robotaxis.
Consolidation is also inevitable, given that more financially vulnerable startups are increasingly turning to bigger corporates to help finance development.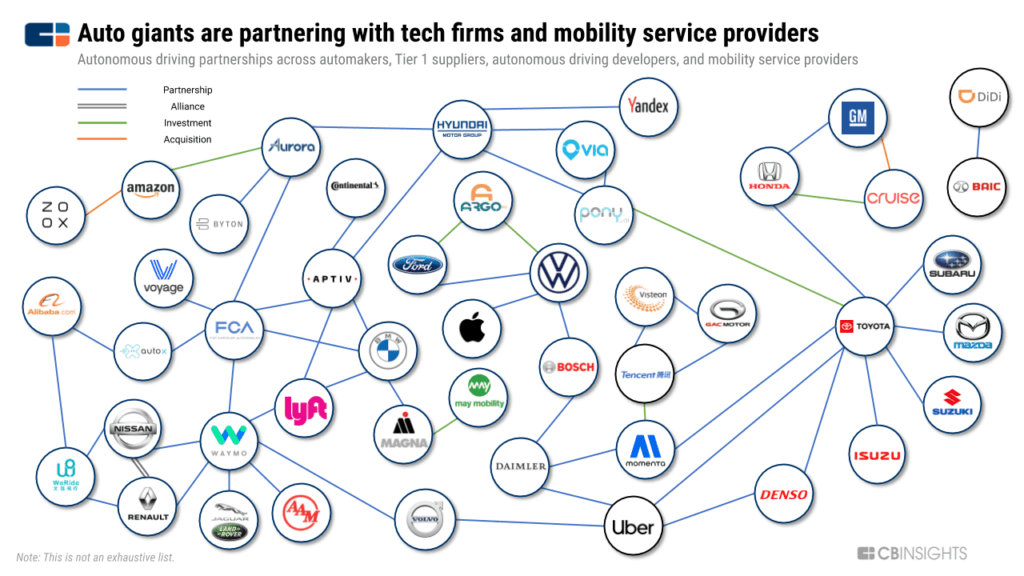 The most notable example in recent months has been Amazon's $1.2B acquisition of self-driving tech developer Zoox. As part of the deal, Zoox will continue to operate as a standalone company and Amazon will support the company as it develops its robotaxis. The companies plan to launch an autonomous ride-hailing service similar to that of Waymo.
---
2. Prioritizing more practical applications