Microscopic carbon nanotubes desalinated water six times faster than natural proteins.
With more than 1.1 billion people around the world lacking access to clean drinking water (and another 2.8 billion experiencing water scarcity at least one month a year), the global water shortage poses a threat to sustainable development.
Of course, the world's population shares access to one limitless, reliable source of water: The ocean. But our existing means for removing salt from seawater, and thus making it safe for human consumption, are highly limited: Desalination processes today can only be carried out using large-scale equipment – making them too expensive, slow, and energy-intensive to address water shortages in the developing world.
Now, scientists may have tapped into a way to make water purification faster, cheaper, and more accessible. By filtering salty water through microscopic carbon nanotubes, a research team was able to desalinate its content at a faster clip than ever.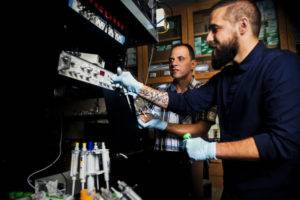 To help make water desalination more feasible, a team of scientists from Northeastern University and Lawrence Livermore National Laboratory looked to create an artificial filtration system that mimicked natural biological processes.
In living organisms, natural proteins called aquaporins transport water through membranes and filter out ions like salt. Aquaporins are effective at desalination because they are just .3 nanometers in diameter; channeling water through such a narrow tube forces water molecules to travel in a single-file line, one molecule at a time. The thinness disrupts the hydrogen molecules, forcing them to separate and allowing unwanted ions to be filtered out as water passes through.
Because aquaporins themselves are too fragile to be used in artificial filtration systems, the research team recreated them using carbon nanotubes – which are almost as small as aquaporins, but are extremely strong. Carbon nanotubes also have a negative electrical charge, which causes them to reject anything with similar charges (including salt).
The carbon nanotubes used were .8 nanometers in diameter (50,000 times thinner than a human hair) and extremely smooth on the inside. As in aquaporins, the thinness disrupted the water molecules' hydrogen bonding by forcing them to pass through the tube single-file. But the smoothness of the carbon nanotubes allowed that process to happen much more quickly – six times faster than organic desalination.
According to the researchers – who are already collaborating with a water purification company based in Israel – the carbon nanotubes are inexpensive enough to desalinate water far more cheaply than existing methods. And considering that they've already developed a faster approach to desalination than any other existing method – natural or man-made – it appears they're well on the way to helping the 4 billion people worldwide get safer drinking water faster.
"Carbon nanotubes are a unique platform for studying molecular transport and nanofluidics," said Alex Noy, LLNL principal investigator on the project, "and it is very exciting to make a synthetic water channel that performs better than nature's own."
---
The original study "Enhanced water permeability and tunable ion selectivity in subnanometer carbon nanotube porins" was published in the journal Science in August 2017. Full information is available here.
If you aren't already a client, sign up for a free trial to learn more about our platform.