The funding will help Scope Security enhance its cybersecurity solutions. Here are the top-line bullets you need to know.
Scope Security, a provider of managed detection and response (MDR) solutions for the healthcare industry, has raised $20M in a Series A. The round drew participation from Crossbeam Venture Partners, Free Solo Ventures, Martin Ventures, SV Angel, Sound Ventures, and Thrive Capital.
HOW'S THE COMPANY PERFORMING?
New York-based Scope Security provides managed detection and response solutions specifically designed to help healthcare organizations protect their medical devices as well as their IT and EHR systems.
Founder and CEO Mike Murray served as Lookout's Chief Security Officer from 2016 to 2019. He also led Product Development Security at GE Healthcare from 2014 to 2016.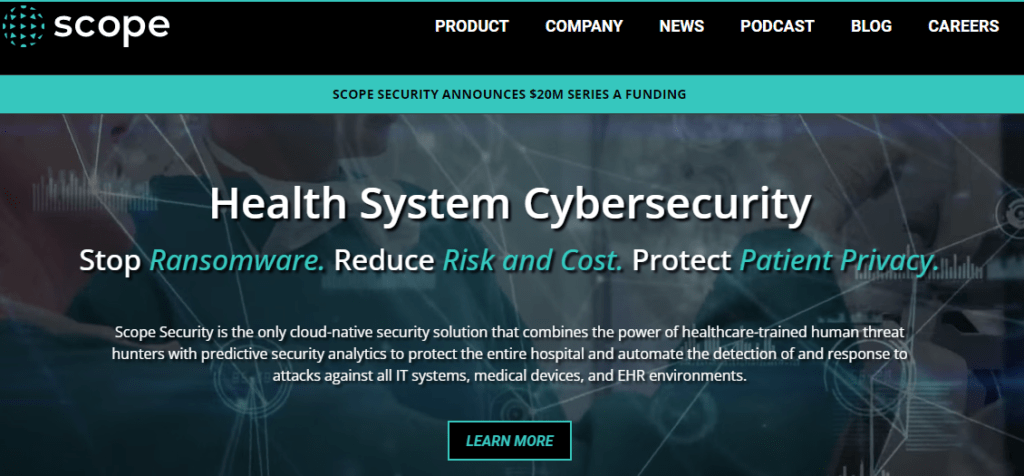 Source: Scope Security
WHY DOES THE MARKET MATTER?
The global cybersecurity market is expected to reach a value of $478.7B by 2030, growing at a CAGR of 9.5%, according to Allied Market Research.
Funding to cybersecurity companies reached an all-time high of $28B in 2021, with early-stage (seed/angel and Series A) startups attracting more than half of all cyber deals.
Big tech companies are increasing their cybersecurity investments. Google and Microsoft are looking to spend $10B and $20B, respectively, on cybersecurity over the next 5 years.
The growing frequency and severity of cyberattacks, the shortage of cybersecurity professionals, and rising governmental regulatory pressure have contributed to market growth.
Increased digitization amid the Covid-19 pandemic has also contributed to market growth.