Despite ranking first in global oil exports, Saudi Arabia is investing in electric vehicles and renewable energy, in addition to other tech startups. We dive into where Saudi investors have been most focused in the renewables and energy space.
Saudi Arabia — the largest exporter of oil in the world — is investing in electric vehicles.
The country's sovereign wealth fund, the Public Investment Fund of Saudi Arabia (PIF), was the first Saudi-based investor to enter the EV space.
In recent months, the fund has commanded the attention of the press, largely driven by its investments in Lucid Motors and in Tesla — as well as its rumored buyout of Tesla that ultimately fell through.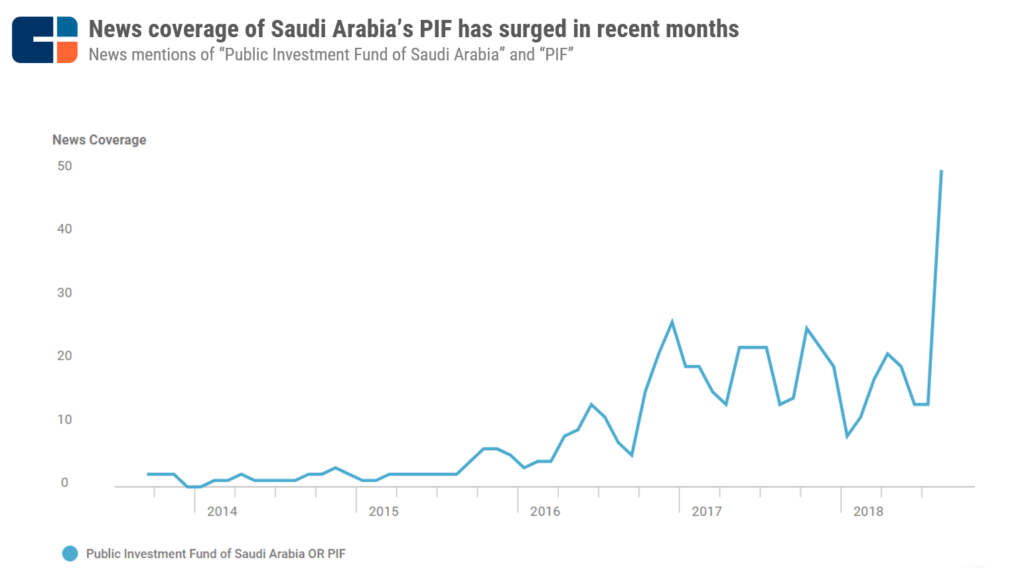 Investing in EV companies, in addition to companies pioneering technology in alternative energy, helps the country hedge against its oil export business.
In addition, Saudi Arabia was hit hard by the collapse of crude oil prices in 2014, which weighed heavily on the profitability of its oil business.
These recent investments in EVs and renewables are part of a broader economic diversification strategy called Saudi Vision 2030, pioneered by Crown Prince Mohammed bin Salman, in an attempt to lessen the kingdom's dependence on oil.
As part of the plan, PIF is planning to reach $2T in assets under management by 2030, up from an estimated $250B currently. To finance these investments, Prince bin Salman has been redirecting the country's oil revenues to the fund, and recently, PIF announced it had raised an $11B bank loan.
While PIF has driven the majority of funding in recent months, a number of venture capital firms and corporates in the kingdom are also funneling capital into tech firms, which could help diversify the economy and bring new jobs into the region.
To understand where Saudi investors are most focused in the alternative energy space, we used our Business Social Graph tool to map out their investments in electric vehicles and renewable energy since the launch of Saudi Vision 2030 in April 2016.
Click to enlarge. Orange lines represent acquisitions. Green lines represent investments.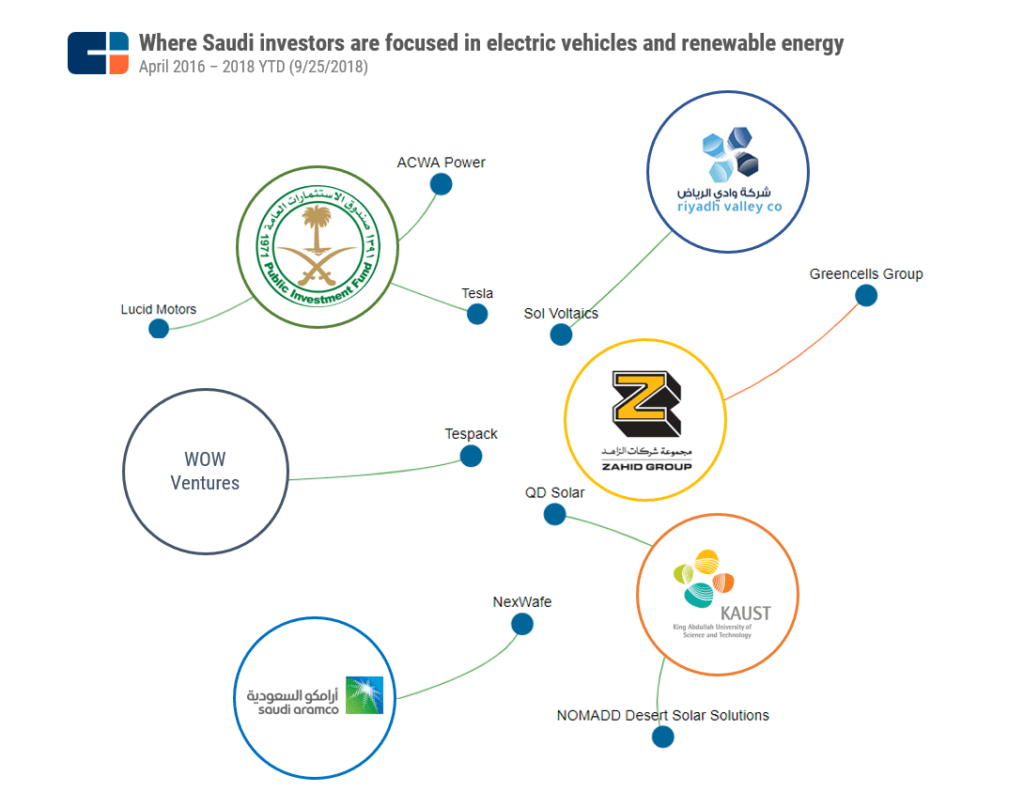 breaking into electric vehicles
In September, PIF poured $1B into Lucid Motors, an EV manufacturer that had recently been struggling to raise enough capital to launch production for its first luxury EV, the Lucid Air. Lucid plans to use the funding for engineering development and testing of the Air, which is due in 2020. The company also plans to build its first factory in Casa Grande, Arizona.

Lucid's all-electric sedan, the Lucid Air
The investment in Lucid came just six weeks after Elon Musk tweeted that he would take Tesla private at $420 a share, suggesting that PIF would back the company's move.
While many view the Lucid investment as PIF passing over Tesla, it's important to note that in August, PIF had purchased a roughly 5% stake in Tesla, which would equate to an investment of almost $2B.
Both of these investments highlight the fund's attempt to hedge its bets on oil, in addition to taking advantage of the long-term opportunity in EVs.
Renewable ENergy also a focus among saudi investors
PIF, as well as a number of other Saudi VC funds and corporations, are also investing in clean energy.
The fund announced an investment in Saudi power company ACWA Power in July, taking a 15.2% direct stake in the company. ACWA is currently building out its renewable energy capabilities.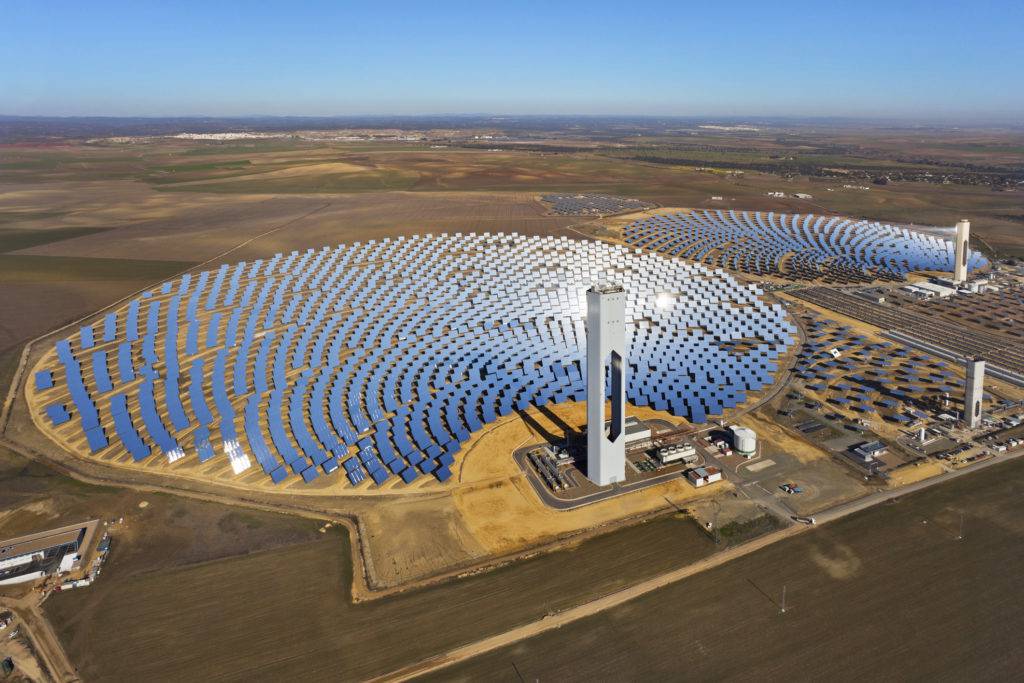 ACWA's solar plant in Morocco
In February, ACWA won a contract to develop a 300 megawatt solar plant in Saudi Arabia worth $300M.
PIF has also expressed interest in investing in its own solar project, announcing in May that it was in talks with banks to fund a solar farm in partnership with SoftBank that would have a capacity of 200 gigawatts — 100 times larger than the largest solar farm ever proposed — and would cost $200B to build.
In October, the fund announced that the project had been shelved for a broader, more practical strategy to support renewable energy. It's worth noting that government-driven solar projects have been cancelled in the past.
The country is also planning to invest $7B in renewable energy in 2018, mainly to create seven new solar plants and a wind farm. These investments are intended to help the country reach its goal for 2023 to have renewables driving at least 10% of its power generation.
Outside of PIF, a number of VCs and Saudi holding companies have also invested in renewable energy.
In December 2017, Saudi Aramco's venture arm led a $9.4M Series B investment in NexWafe, a spin-off of solar energy research firm Fraunhofer ISE. NexWafe has developed monocrystalline wafers used in solar cell production, which consume substantially less energy than traditional wafers.
WOW Ventures, a Saudi VC firm, contributed to Tespack's $2.35M Series A investment in September 2017. Tespack has developed a solar backpack that allows people to utilize off-grid electricity outdoors.

The KAUST Innovation fund, a seed fund at the King Abdullah University of Science and Technology, has also invested in two solar startups. In February 2017, KAUST contributed to QD Solar's $7.64M Series A round. QD Solar has developed technology that increases the energy output of solar panels, utilizing quantum dot technology to capture infrared energy that's currently wasted.
The fund has also invested in NOMADD Desert Solar Solutions, which has developed a fully-automated system that cleans the dust from the surface of solar panels without using water or causing any other type of damage.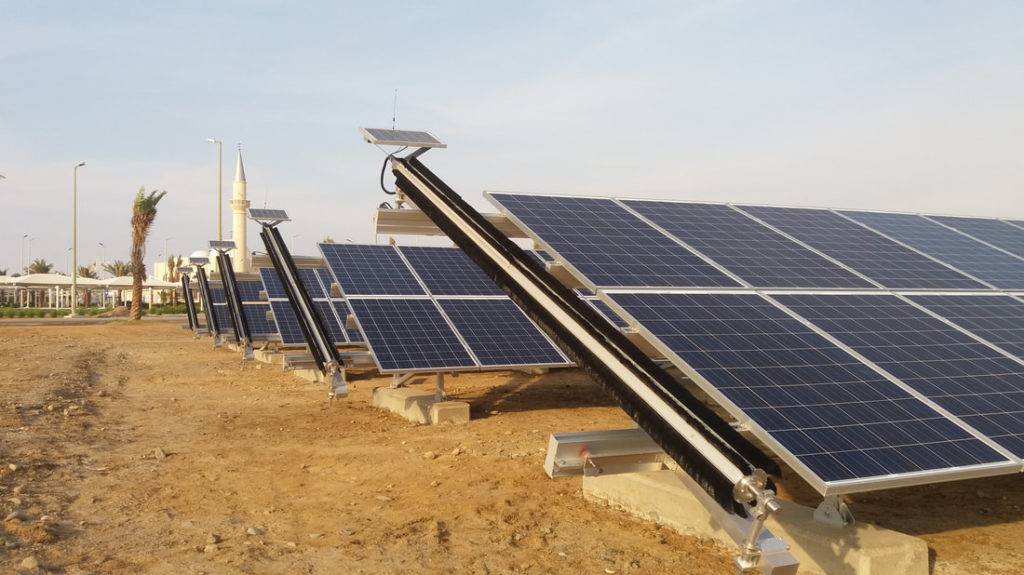 NOMADD's solar panel cleaning technology
If you aren't already a client, sign up for a free trial to learn more about our platform.