Also covered are potential buying opportunities for Walmart and health insurance M&A.
Today, we're talking about solid-state batteries, satellites, restaurants, and a confusing corporate communications strategy, among other topics:
The Next Big Thing: Satellite imagery

Sony and Walmart M&A

Kroger tries to show it's better than Amazon

Restaurant management platform unicorn

 Companies race to patent a solid-state battery
How health insurers are investing in a consolidating industry
The Next Big Thing: Satellite imagery
A few weeks ago, we discussed how funding, patents, partnerships, and other signals indicate quantum computing is about to break out. In today's installment of the Next Big Thing, we'll talk satellite imagery.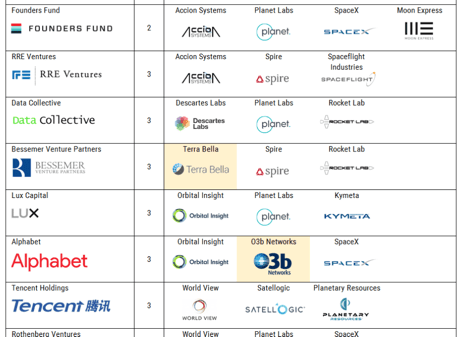 The above is a cross-section of space tech's most active investors (the full list is here). Within space tech, we've seen a notable uptick in emerging insurgent companies working in the satellite imagery space, as we detail below.
In addition to funding to insurgent companies, we're also seeing a host of large corporations actively investing in IP development around satellites.