The robotic surgery space is being transformed by declining costs, new players entering the market, and the rise of technologies like AI and 5G. We analyze how this could boost robotic surgery's adoption and help improve patient outcomes.
Robotic surgery may be coming of age.
Even though the tech has been around for over 20 years, in many ways it has remained in the early stages of adoption. But now, with several medtech powerhouses entering the market and new technologies enabling better robotic systems, the industry looks set to be on the cusp of a major transformation.
This new phase will be characterized by increasing competition, accelerating levels of innovation, and more compelling economics. But it will also raise unique challenges.
Below, we dig into how robotic surgery works, the current state of the market, opportunities looking forward, and more.
Table of contents
What is robotic surgery?
Where the opportunity lies
The current state of the robotic surgery market
The outlook for robotic surgery
Looking forward
---
What is robotic surgery?
DEFINITION
In robotic surgery, surgeons use computer-controlled machinery to perform surgical procedures. The aim of this tech is to enable less invasive complex surgeries with greater visibility, precision, and flexibility than is possible with conventional techniques.
Surgical robots range widely in terms of size, autonomy, and function.
At one end of the spectrum are large, heavy, free-standing systems, while at the other end are small, lightweight, and typically more maneuverable instruments.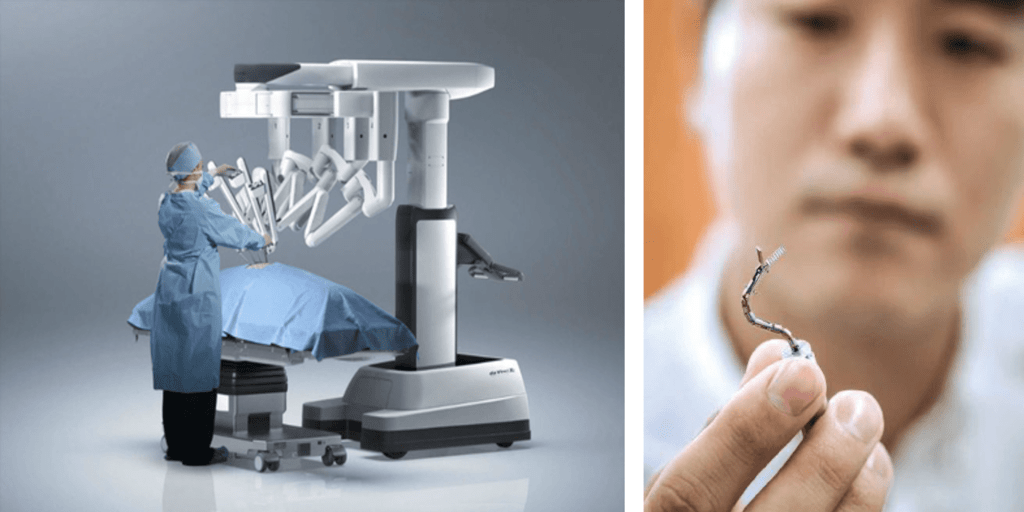 Sources: FierceBiotech, Mischer Neuroscience Institute
Some are entirely dependent on surgeon-driven controls, while others operate with varying degrees of autonomy (e.g. semi-autonomous, like Stryker's Mako SmartRobotics, or fully programmable, like Accuray's CyberKnife).
Several systems can be used across multiple surgical disciplines, but the majority are for particular specialties or are procedure-specific (e.g. Venus Concept's ARTAS for hair restoration surgery or THINK Surgical's TSolution One for total knee arthroplasty).
A brief history of robotic surgery
The fundamental concept of robotic surgery has been around for a while, but the technology being developed today may usher in a new era of growth.
The first documented procedure dates back to 1985, when a Kawasaki manufacturing robot was modified to perform a brain biopsy.
In 1994, the US FDA cleared the first surgical robot: Computer Motion's AESOP, a relatively low-tech endoscope positioning system.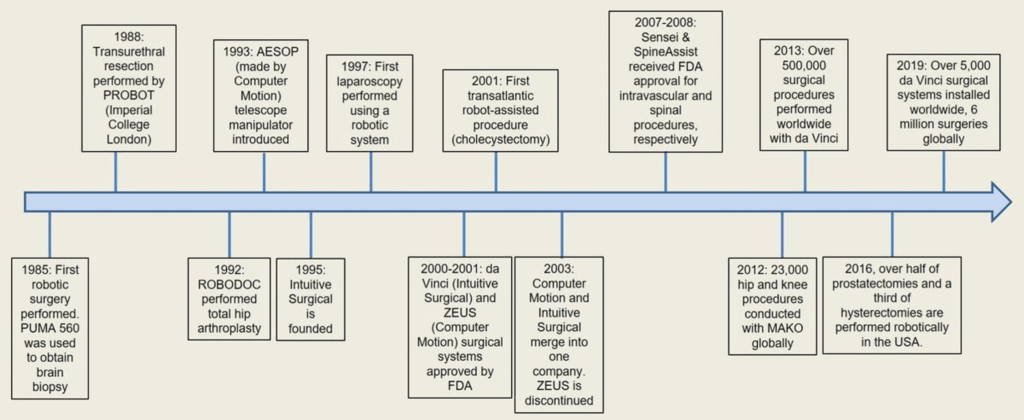 Robotic surgery timeline. Source: IDTechEx
But it wasn't until 2000 — when the FDA approved Intuitive Surgical's da Vinci system for general laparoscopic surgery — that surgical robotics gained more traction.
The da Vinci system allows a surgeon to view a live, high-definition, 3D video feed of the procedure while using hand controllers to control the movements of robotic arms fitted with surgical instruments.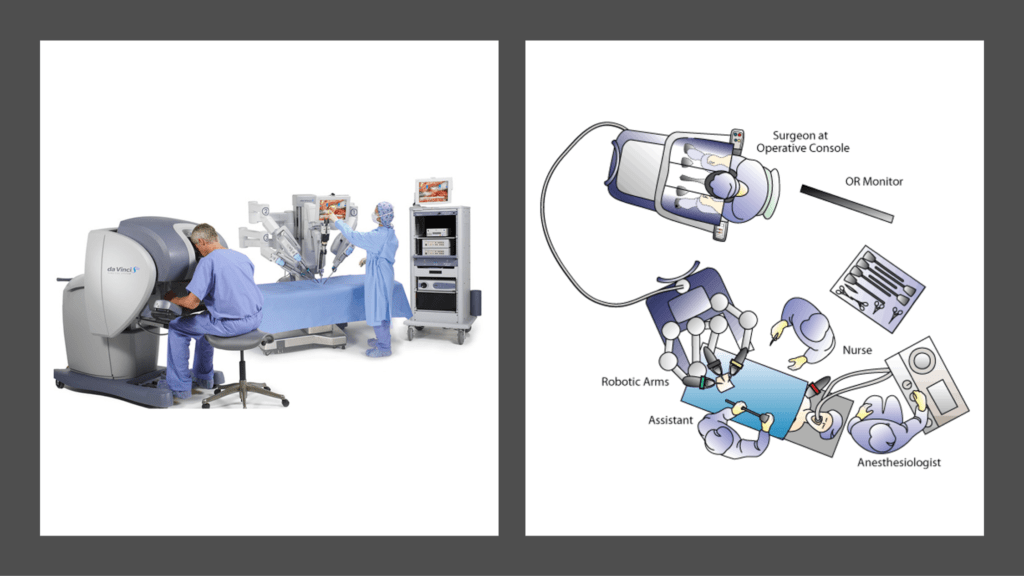 Sources: Intuitive Surgical, Science Museum Blog
Since da Vinci's introduction, several other surgical robots have come to market, but Intuitive has retained a strong position. The da Vinci system, now in its 4th generation, reportedly has a global installed base of more than 5,600 units and has been used to perform more than 6M procedures.
However, the competitive landscape is poised to change as several medtech powerhouses enter the market and as new technologies enabling smaller, more cost-effective, and easier-to-use systems demonstrate clinical utility.