Lifelike robotic pets can provide comfort and companionship in elder care.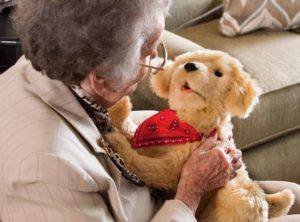 Robotic pets with fluffy coats and lifelike eyes are finding a market as elder care companions.
A far cry from the hard-shelled mechanical pets of the early 2000s, these more realistic "care bots" are providing companionship to nursing home residents — a population known to experience loneliness and isolation.
The benefits of robotic pets for elder care may extend far beyond comfort and quality of life. One study found that therapy treatments with a robotic seal led to reduced medication use, better sleep, and other health improvements in patients with dementia — showing the potential for robotic pets to provide long-term clinical value.
Robotic pets first came to market in 1999 when Sony launched Aibo, its robotic pet dog.
Sony sold 150,000 Aibos before halting production in 2006, but the toy never entirely lost its foothold among older adults in Japan: a 2015 New York Times documentary portrayed how Aibo devotees grappled with losing the pets as repair parts became obsolete — with some hosting Aibo funerals.
Japan's rapidly aging population is one reason the country is major market for social or "companion" robotics. By 2030, it's expected that over 32% of the Japanese population will be 65 or older, compared to just 20% in the US.
Just as animal-assisted therapy has been shown to improve the lives of older adults, robotic pets can provide benefits to nursing home residents.
A 2008 study by clinicians at the Saint Louis University School of Medicine, for example, found that interactive robotic dogs were effective in reducing feelings of loneliness among seniors in a long-term care facility. (The study participants also showed high levels of attachment to both a living and robotic canine.)
The next-gen care-pets making their way into elder care in the US and Japan are far less robotic than the 2008 versions, which could make them perhaps even more compelling as companions.
Love without the litterbox
The cats and dogs in Hasbro's Joy For All Companion Pets line feature realistic fur, "pet-like sounds," and heartbeats — as well as sensors that respond to petting and hugs in similar ways to real animals. The Companion Pets retail for $99 to $132.
Ted Fischer, vice president of business development at Hasbro, has said that creating more realistic robotic animals was a natural evolution of the company's earlier success with the Furby. (Not all realistic features made the cut, though; Fischer says they "left out the look of disdain and the claws" with the cat models.)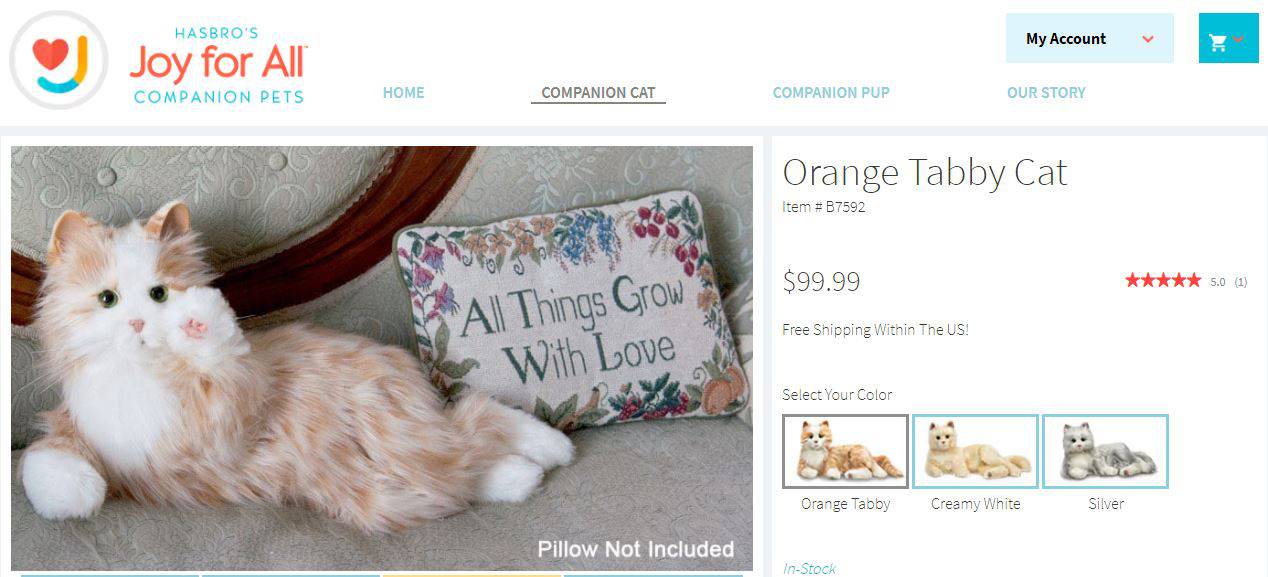 Yet while reducing senior isolation is an aim of the product, Hasbro makes no claims to the toys' clinical effectiveness — instead framing them as "inspiring smiles, laughter, and fond memories" for seniors.
Japanese technology company AIST sells its research-tested therapeutic robot PARO — a plush-covered harp seal — at a much higher price point of around $5,000. PARO offers the same lifelike features and responses as Hasbro's models, but enhances them with more sophisticated functionality.
Unlike other petbots, PARO can memorize your voice and look in your eyes as you speak, as with the retirement-community residents in the video below.
The bot is also equipped with five different kinds of sensors — tactile, light, audio, temperature, and posture — enabling it to "perceive" and realistically respond to people and its environment. Sensitivity to light also helps PARO maintain a human rhythm with his day; the toy is active in daylight hours, but gets sleepy at night.
Several other robo-pet innvations have surfaced recently, as well, with potential to infiltrate the elder-care space.
Yukai Engineering's Qoobo, for example, is a soft, round robotic pillow that responds to petting just as a cat or dog would. The crowdfunding page for the Japanese invention – which is essentially a headless, moving stuffed animal — calls the Qoobo a Tailed Cushion That Heals Your Heart. 
The product will be available for purchase in "Husky Grey" or "French Brown" beginning in June 2018.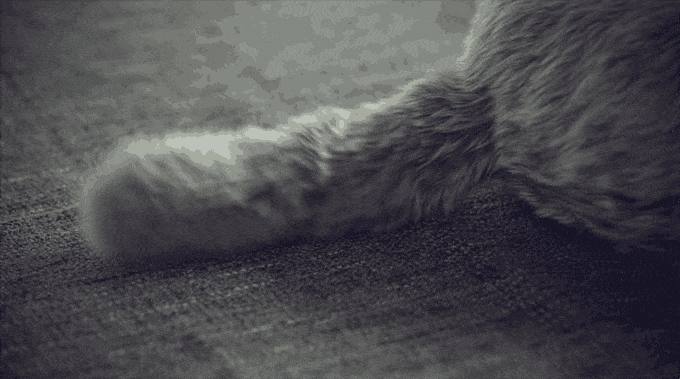 Sony also recently revealed that it is re-launching its robotic pet operation with many of the same team members that were behind the Aibo.
Details on Sony's next-gen robo-dog are slim, but reports say it will be an  internet-of-things (IoT) device: The robot will move and act like a real dog, but will also respond to voice commands — just like Siri or Alexa — and potentially control smart-home appliances.
Given that Sony is a Japan-based company, it's likely the company also sees the potential for incorporating elder-care companionship into the product strategy.
How much do they help?
In the case of the PARO robot companion, the benefits of robot-pets are documented.
As mentioned above, a 2016 study in the Journal of Alzheimer's Disease showed that dementia patients who engaged in therapy with PARO displayed decreased stress, lower anxiety, and reduced medication use over a three-month period. The results showed a 6.8% reduction in antidepressants and 10% reduction in pain medications.
Of course, some say that once a robotic pet's novelty wears off, so too do its benefits.
A Danish study in 2016 found that study participants responded to and communicated with real dogs and PARO equally in the first six weeks of exposure, but over time "the robot seal failed to maintain the attention at the same level."
Further advances in robo-pet technology could create more long-term benefits. Since robot pets have to be turned on and off for play today, they can't provide "spontaneous" companionship with seniors. Nor can they easily spur conversation and interaction among elderly folks in a group as a real companion animal might — which experts say is key to driving therapeutic benefit.
Time will tell how long it takes for "always on" robo-pets to start nipping at seniors' heels for attention, but advances in industrial robotics could get us there sooner than later.
If you aren't already a client, sign up for a free trial to learn more about our platform.