The acquisition of Say Technologies will help Robinhood bring shareholders closer to the companies they own. Here are the top-line bullets you need to know.
Robinhood, a financial services company, has acquired Say Technologies, a shareholder communication platform, for $140M.
WHO ARE THE PARTIES TO THE DEAL?
Say Technologies: California-based Say is a technological platform that gives shareholders access to their full ownership stake. It crowdsources retail investor queries and allows investors to communicate with firms that they own during annual meetings, earnings calls, and other events. Say also provides proxy voting and polling services to its users. According to media sources, the platform was used during Tesla Inc's earnings calls. The company has more than 50 employees.
Robinhood: California-based Robinhood is a financial technology (fintech) firm that runs an online discount brokerage with no commissions. It offers a web- and mobile-based financial services platform that allows users to invest in and trade stocks, exchange-traded funds (ETFs), options, and American depositary receipts (ADRs). Although the company's net loss increased to $1.4B in the last quarter, it witnessed its sales grow more than 3x to reach $522.2M. The rise in net loss was driven by changes in the fair value of convertible notes and warrant liabilities.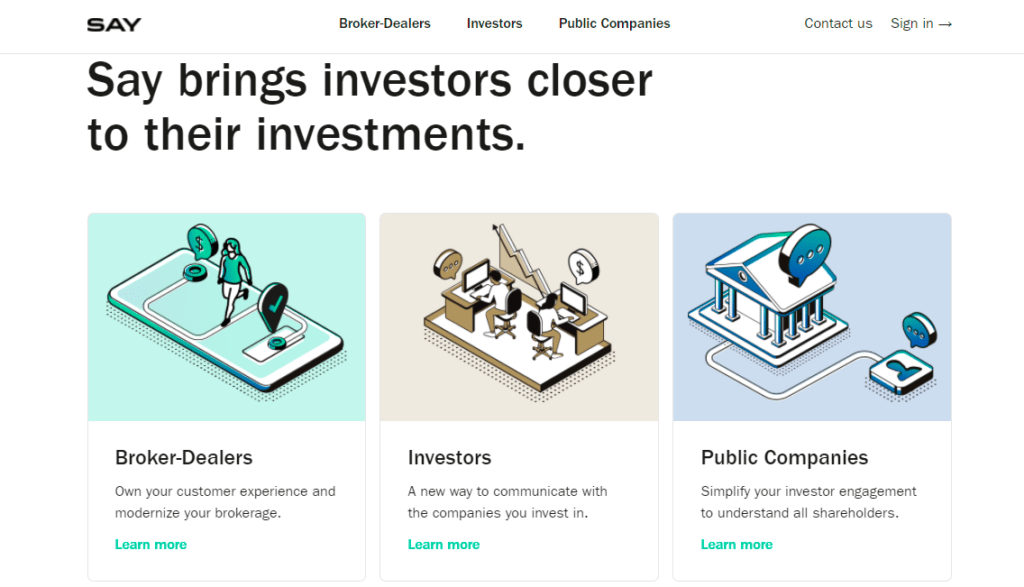 Source: Say Technologies
WHY DOES THE MARKET MATTER?
The acquisition strengthens Robinhood's position in the communications platform as a service (CPaaS) market where:
The global CPaaS market is projected to grow at a CAGR of 34.3% and reach a value of $26B by 2026, according to Mordor Intelligence.
The segment will keep evolving as major companies like Microsoft, Cisco, and AT&T enter and consolidate the market through mergers and acquisitions.
The Covid-19 pandemic has accelerated the shift to CPaaS, as the adoption of this tech has the potential to help boost customer service and operating efficiencies in industries like retail, food delivery services, telehealth, remote learning, and utility services.