Rivian is making headlines for its massive funding rounds and promise to push the boundaries for electric cars. As the company looks to sell its first cars in 2020, we take a closer look to see if Rivian can live up to the hype.
Aspiring automaker Rivian is one of the most high-profile early-stage startups in the US. The company has yet to sell a single electric vehicle, but has raised billions from big name investors including Ford and Amazon.
The company's $700M Series A round (led by Amazon) in February 2019, was the second-largest Series A on record in the US history and the ninth-largest globally.
After that mega-round, the company quickly became a media darling and was dubbed a possible "Tesla killer."
News mentions of Rivian peaked in April 2019, per CB Insights media tracking. This coincided with the company's announcement of a $500M corporate minority investment from the Ford Motor Company, on the heels of the Amazon investment.
Meanwhile, videos of Rivian's "adventure-ready" electric vehicles continue to make the rounds on social media.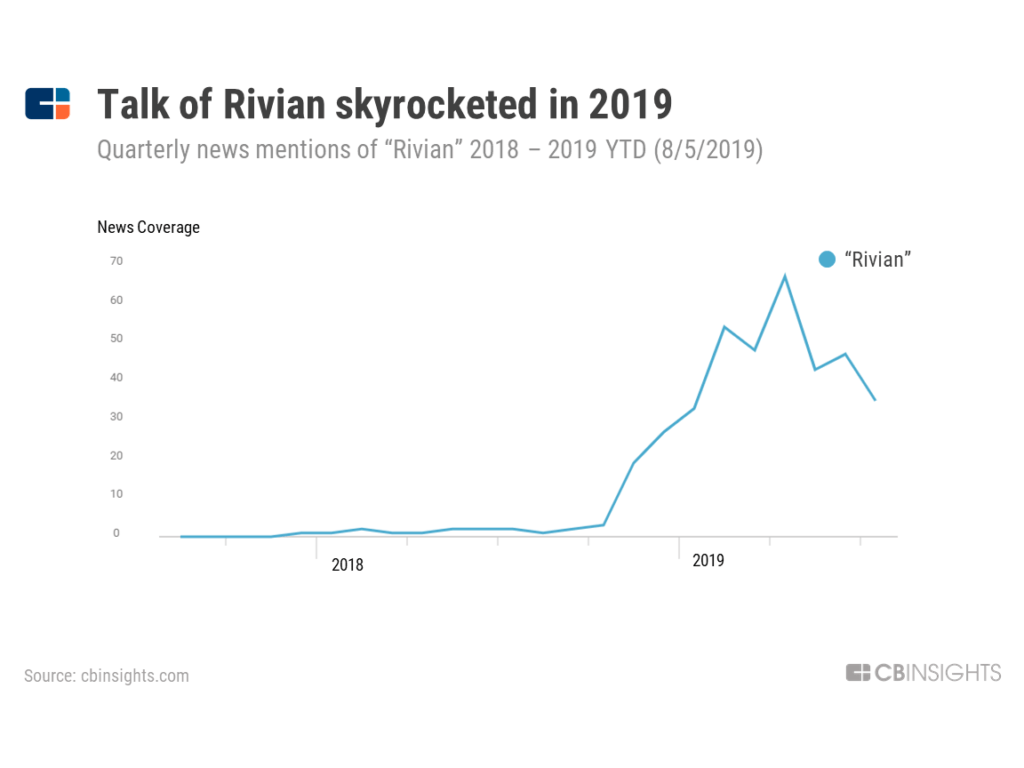 Rivian is partially riding a wave of attention for electric vehicles.
The electric vehicles market could be worth as much as $731B by 2027, according to CB Insights' Analyst Consensus tool. The race is unfolding on a global scale, with startups and incumbents alike jockeying for market share.
In 2011, global electric vehicle sales reportedly reached just 50,000 units; by 2018, sales had surpassed 2M units — a 40x increase.
Of the automakers investing in electric vehicle technology, BMW, Daimler, and Volkswagen have made the most disclosed investments in private EV companies.
As production dates for its vehicles approach, we analyze the data available on the early-stage Rivian to see whether it can live up to the hype and compete against major auto incumbents. We also dig into the company's patent portfolio, and put a spotlight on its investors.
VISUALIZING RIVIAN'S investors
Rivian has disclosed raising approximately $1.9B from investors (as of 8/6/2019) across 6 separate funding rounds since 2011, all without selling a single vehicle.
However, Rivian's 6 disclosed investors also double as its strategic partners, and these relationships could be the key to the company's ability to deliver.
Rivian's partnerships could help it avoid the pitfalls that have historically plagued new players in the auto industry, such as Faraday Future. Despite making waves with its $260,000 FF91 SUV, Faraday has struggled to attract investors for its factory amid layoffs, executive departures, and legal challenges.
Using the CB Insights platform, we visualized all of Rivian's disclosed investors.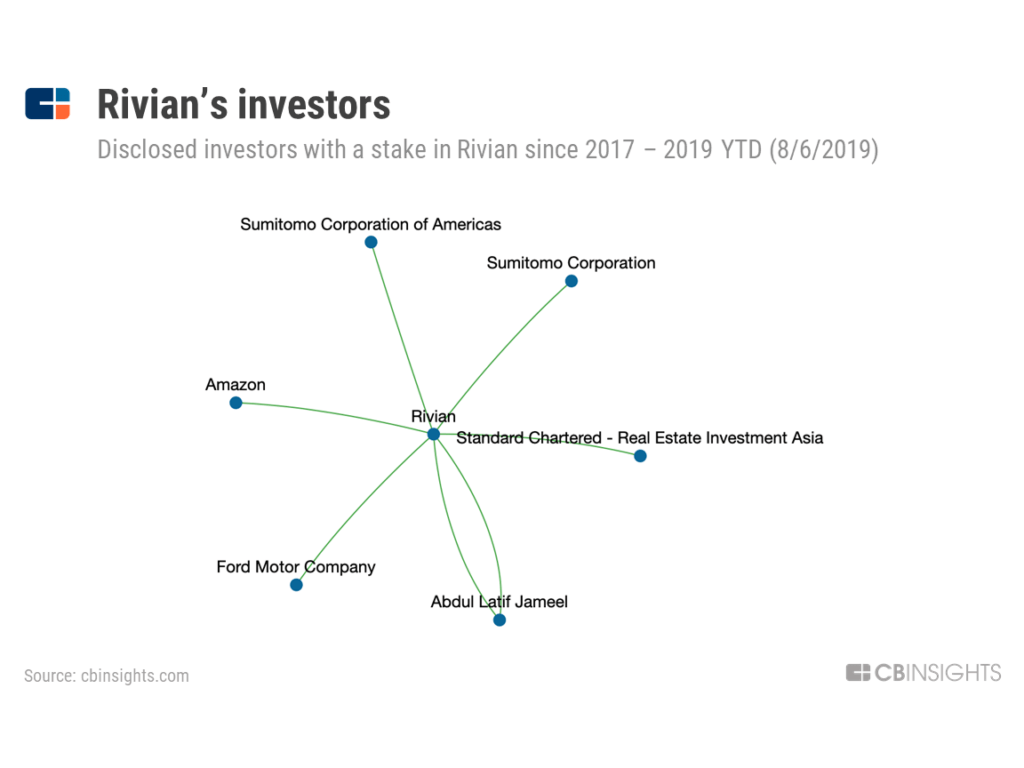 Rivian's investors are globally diverse, ranging from Amazon in North America to Sumitomo Corporation (which is based in Japan but invested in Rivian through its Americas division).
With 3 of the 6 investors headquartered in Asia, Rivian has secured commercial partners that could potentially ease its entry into that market.
Abdul Latif Jameel, a Saudi Arabian transportation investor and auto-distributor, is the only backer to disclose participation in more than one round to Rivian. The firm participated in Rivian's first funding round with Sumitomo Corporation in December 2017, as well as its Series A in 2019, which was led by Amazon.
Amazon and Ford are Rivian's most notable corporate investors.
The Amazon angle: A large trucking fleet & consumer-friendly business model
Amazon could impact Rivian's future in a number of strategic ways. For example, the company could grant Rivian big multi-year contracts in the near-term to help electrify Amazon's trucking fleets for more efficient and environmentally sustainable logistics and delivery operations.
Rivian could lean on Amazon's expertise in building scaled businesses focused on superior customer service. Rivian CEO RJ Scaringe recently said, "The key thing for us that is so exciting about Amazon is really their orientation [of] combining innovation with creating incredible customer experiences. You can imagine there's a lot of other elements of the business that we're quite excited about looking at how we can partner with."
Speaking with Green Car Reports and Motor Authority at the LA Auto Show in December 2018, Scaringe revealed key aspects of his company's retail strategy, including selling directly to consumers. Amazon's expertise in consumer experience could be an asset here.
Much like Tesla, Rivian will build gallery style dealerships where customers can experience the Rivian brand, test drive, and purchase cars. Rivian also plans to open up its own service locations in addition to partnering with existing dealerships and repair networks to fix its cars.
The Ford angle: A supplier opportunity and faster production process
Rivian will be granted access to Ford's industrial expertise and resources in exchange for its so-called "skateboard platform" — a proprietary flatbed frame for an electric car that is capable of housing the batteries, suspension, individual motors for each wheel, cooling system, braking mechanism, and more.
Ford will likely build its future line of electric vehicles on top of Rivian's skateboard technology. The partnership hints at the possibility that Rivian could become an important supplier to auto incumbents that want to skip the R&D investment involved in designing an electric car from scratch.
Rivian could overcome production challenges by leveraging Ford's supply and assembly expertise, and get its trucks fast-tracked to market while generating revenue from the skateboard technology licenses.
After Ford's $500M investment Joe Hinrichs, president of automotive for Ford Motor Company, joined Rivian's board of directors.
Patents AND FOCUS ON 'RANGE-ANXIETY' 
Rivian has filed applications for at least 12 patents since 2016, according to CB Insights' patent search tool.
The company's patent activity is mostly centered around designs for novel battery technology, including enhanced charging capabilities, as well as designs for electric vehicle driving systems, and "modular" or "reconfigurable" parts for customizing vehicles. Rivian was granted one patent for "systems and methods for reconfigurable electric vehicles" in 2019.
Strategically, Rivian has chosen to focus on range anxiety, or the fear that an electric vehicle will run out of power before the driver can reach a charging station. This is a key factor in car buyers' decision on whether to purchase an EV, since charging stations are not as ubiquitous as gas stations.
Tesla cars have a range of roughly 300 miles per charge, with some variation between models. Rivian's entry-level cars hope to offer more range than a top-spec Tesla, which has helped the company gain attention.
The company plans to deliver a massive 180 kWh battery model, which it claims could yield more than 400 miles of range.
Further, Rivian recently filed a patent for its R1T truck, outlining a battery pack that can be attached to extend range by an additional 150-200 miles. The sketch below shows an external battery placed in the cargo bay of the truck, connected directly to the main battery bank for extended range.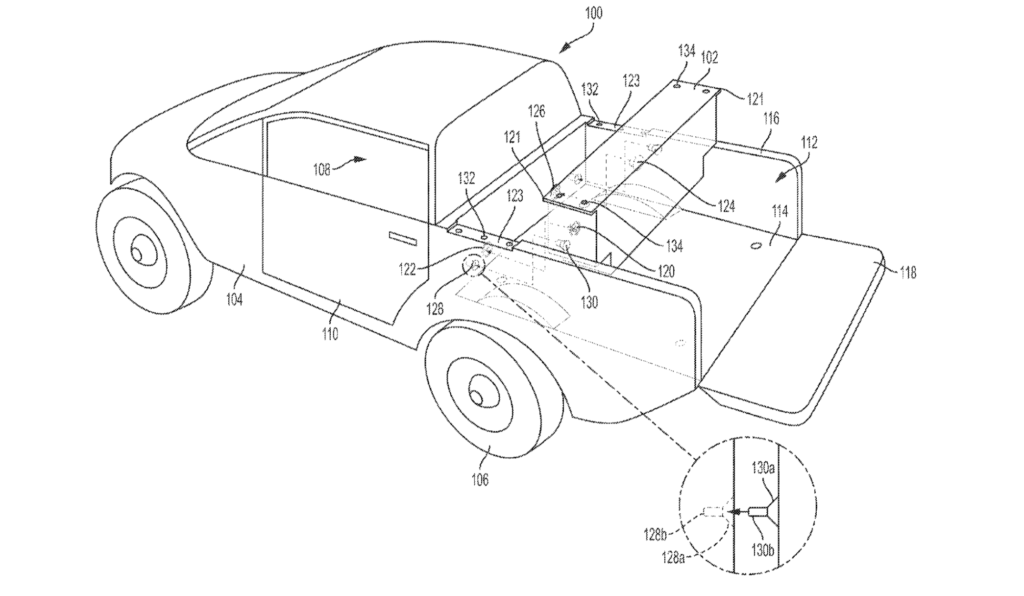 Rivian has also filed a patent for a "configurable battery pack for fast charging."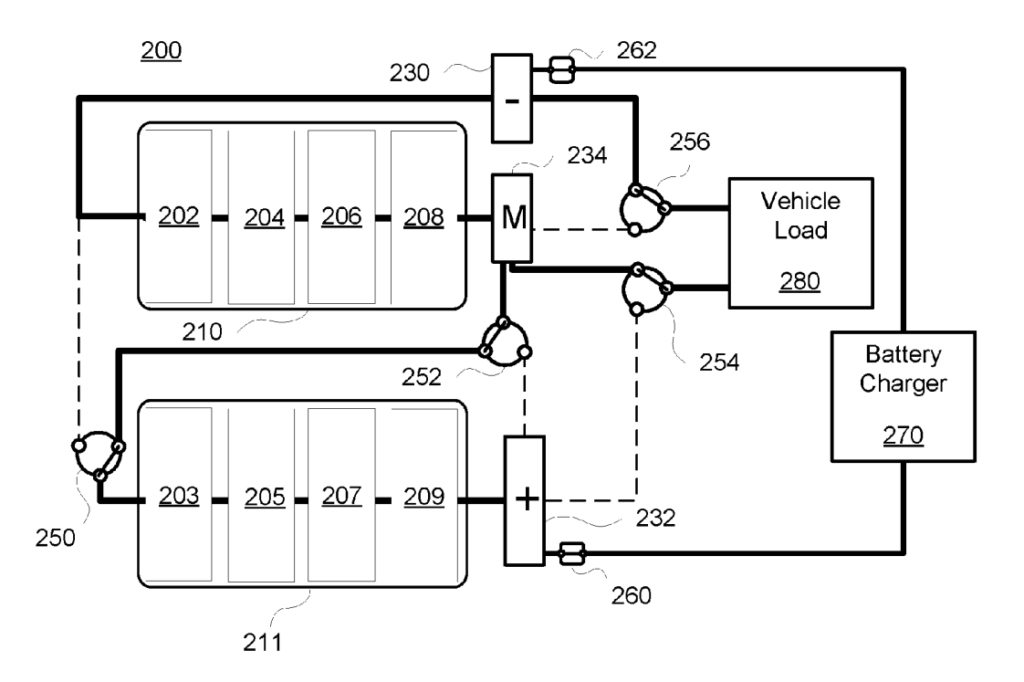 These patents reveal that Rivian's talk of finding new solutions to range anxiety may have some real intellectual property behind it. However, the company still has significant ground to cover if it is to compete with Tesla's diversity of charging options.
Rivian's cars are built with a common electric vehicle charging port supported by ChargePoint, a startup creating a nationwide charging network for EVs. However, Rivian's compatibility with ChargePoint is not a strategic advantage over Tesla.
ChargePoint's website states, "ChargePoint's Open Network makes it easy for any station to be used by any driver accessed through any system." That means Teslas, which come standard with a compatible adapter, are also capable of juicing up with ChargePoint.
But Teslas can also use "supercharge" stations placed between cities and across the country for rapid charging on road trips.
Nevertheless, Rivian seems to be thinking creatively when it comes to tackling range-anxiety. Rivian's SUVs will reportedly come equipped with "vehicle-to-vehicle charging" for drivers in off-grid situations to link up and share a charge.
What's next for rivian?
For Rivian, the next big challenge is autonomous driving.
The company wants to start by delivering "Level 3″ autonomy in its electric vehicles. This involves developing a suite of fully automated safety functions while still leaving a human driver responsible for taking over in a situation that the car's programming can't handle.
Level 3 autonomy is considered controversial by some. These systems depend on drivers remaining alert and aware of what's happening on the road in the event that they have to take over and drive.
Levels 4 and 5 autonomous vehicles are fully automated and require no input from human drivers. Level 4 systems are contextually specific, such as city, highway, etc. Level 5 AVs are capable of operating across any driving situation without a human driver.
Oliver Jeromin, Rivian's associate director of self-driving, said of the company's autonomy plans, "We want to embrace the challenge. There are mobility companies that are working on Level 4, and they're looking at it kind of from the top down, coming from 4 or 5 for more fleet applications possibly… We want to get a feature into our customers hands sooner than possibly some of those other systems might be fully vetted."
Rivian has reportedly been working on its own system to monitor drivers' awareness levels in a Level 3 autonomous vehicle.
CB Insights' patent search shows at least one patent filed by Rivian for "occupant awareness monitoring for autonomous vehicles."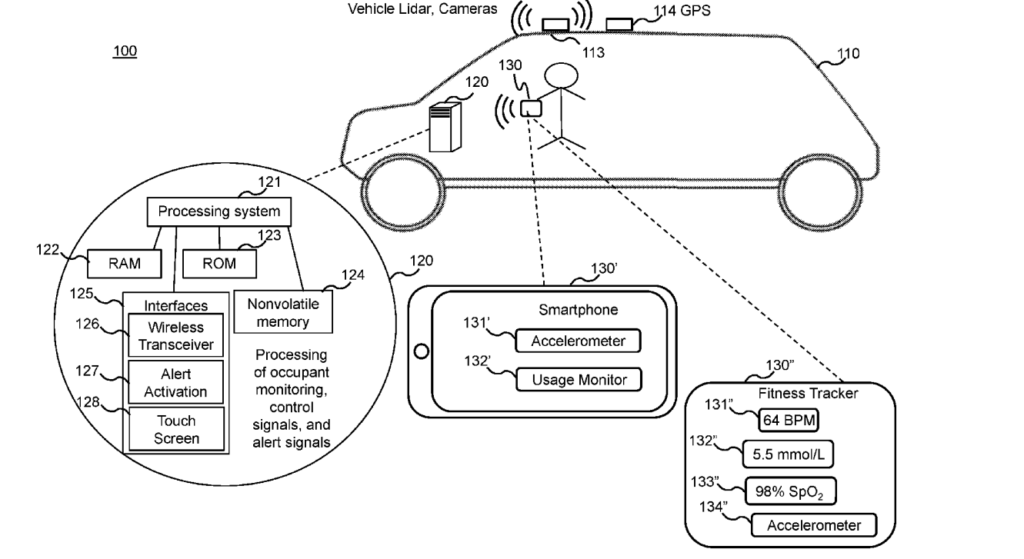 The patent lays out a design for a system that uses smartphones and other devices such as fitness trackers, glucose monitors, blood oxygen monitors, and breathalyzers. These devices would be paired to feed biometric data to the car's on board computer system. If the driver's awareness levels do not meet a certain threshold, the car could take appropriate actions on its own, such as pulling over to the side of the road.
Rivian still has many gaps to close if it wants to compete in the race for autonomous vehicles.
For example, Tesla's "autopilot" feature is already considered to be at Level 3 autonomy and uses steering wheel sensors to detect driver awareness. Additionally, Tesla has billions of autonomous driving miles logged that can be used to troubleshoot and refine its autopilot software for leveling up sooner.
In the near-future, Rivian will have to staff its manufacturing facilities, launch retail operations, build vehicle-service infrastructure, and more to bring its vision to reality. As Rivian approaches its 2020 goal to start selling electric SUVs, expect to hear more about this company and how its plans — if they materialize — impact the landscape for Tesla and other future competitors.
If you aren't already a client, sign up for a free trial to learn more about our platform.