Supply chain is now top of mind for businesses across the consumer space, with Macy's and Walgreens hiring their first-ever chief supply chain officers last month.
Macy's and Walgreens recently announced the hiring of their first-ever chief supply chain officers in April.
Clearly, our March newsletter discussing the importance of supply chain innovation must have resonated with them (kidding).
ALTERNATIVE PROTEINS, FITNESS TECH, AND GAMING SURGED IN Q3'20
Consumer product startup investment activity spiked in Q3'20 as funding reached an all-time high. Download our free report now.
Macy's is hoping to leverage the new role to enhance efficiency across its entire product journey, from sourcing and inventory management to transportation and sustainability.
Walgreens is looking to consolidate its supply chain leadership with a strong focus on digital innovation.
These two retailers aren't alone — businesses across the consumer space are paying more and more attention to their supply chains.
We've mapped out this trend visually via the CB Insights platform.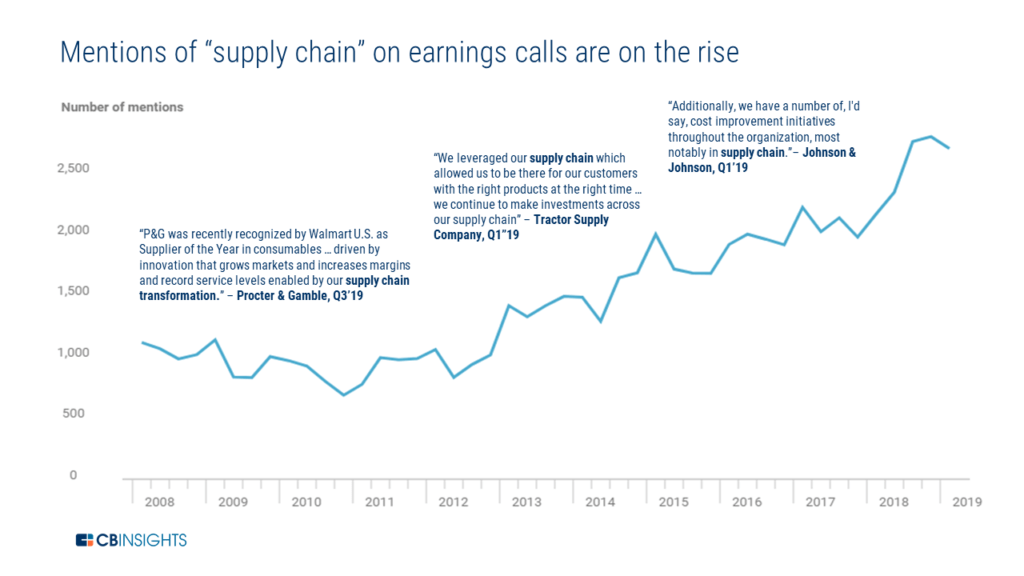 Using our Earnings Transcript tool, we were able to track the number of times the term "supply chain" was mentioned on earnings calls since 2008. TL;DR: it's on the rise.
A sizeable chunk of supply chain chatter on earnings calls comes from consumer goods and retail companies — we've highlighted a few of these in the chart above.
How to shake up your supply chain
So now that supply chain innovation is finally top of mind, what should retailers and brands (some with newly appointed chief supply chain officers) do next?
Invest in visibility: The global shipping space has traditionally lacked visibility for retailers and brands shipping freight globally.
Startups like Flexport are leading the way in developing software to help track and monitor global shipments. Incumbent logistics players like DHL are also following suit to stay competitive.
Invest in connectivity: Many supply chains lack visibility because they lack connectivity. While still in its early stages, blockchain is proving to be a useful technology for global supply chains.
Major retailers, brands, and technology companies including AB InBev, IBM, Alibaba, and more are working together to connect global supply chain players to increase efficiency, security, and transparency.
Invest in automation: While we've previously discussed micro-fulfillment, a form of warehouse automation, a plethora of retailers — including Walmart, JD.com, Kroger, and more — are investing in warehouse automation more broadly.
Beyond incumbents, a number of startups are developing autonomous logistics technology, such as Nuro (for last-mile delivery) and Ike (for trucking).
We mapped out the growing supply chain startup ecosystem below — you can read more on it here.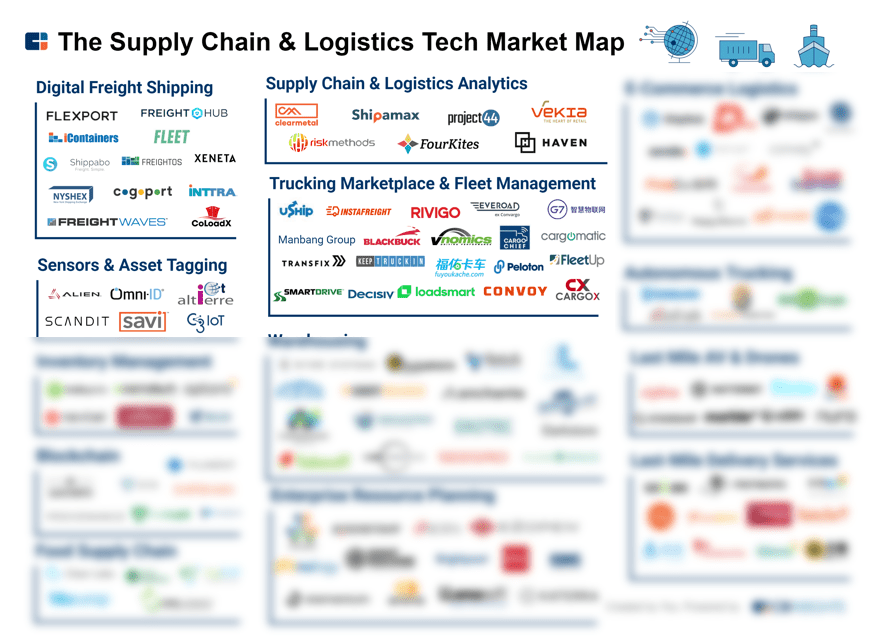 To stay competitive, retailers and brands must keep their supply chains on the digital forefront.
If you aren't already a client, sign up for a free trial to learn more about our platform.