Startups using robotic technology to operate tiny urban fulfillment centers are now directly partnering with retailers to speed up last-mile delivery. We dig in below.
This fall, grocery retailer Albertsons partnered with warehousing robotics startup Takeoff Technologies to pilot a small urban fulfillment center. It is the first partnership of its kind with a nationwide grocer.
Takeoff Technologies bets on the rise of "micro-fulfillment." Micro-fulfillment focuses on leveraging software, AI, and robotics to operate small urban warehouses.
By placing warehouses in urban areas near consumers, retailers can ease the cost of last-mile delivery — a battleground in the grocery space as retailers increasingly move toward online delivery.
Takeoff Technologies is not alone.
In fall 2018, Israel-based CommonSense Robotics partnered with Israel's Iargest drugstore chain Super-Pharm to pilot its micro-fulfillment technology. The startup is also reportedly working with US grocery retailers to open 5 micro-fulfillment installations in the US in 2019. Like Takeoff, CommonSense develops robotic technology that can operate in small urban warehouses.
Read more on micro-fulfillment and why it matters to retailers here.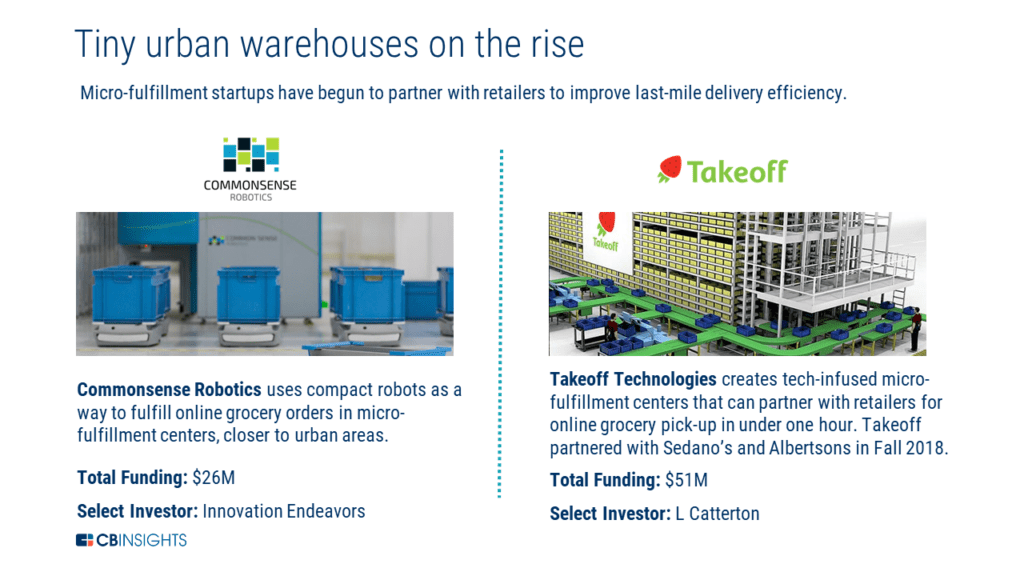 If you aren't already a client, sign up for a free trial to learn more about our platform.