What's next for retail tech? We examined 21 of the biggest retail trends to watch this year, from automated checkout to inventory management.
Amazon may dominate discussions about the future of retail, but a range of technologies are already disrupting the sector. Our analysts looked at signals across the industry to identify the top 21 retail trends to watch in 2019.
ALTERNATIVE PROTEINS, FITNESS TECH, AND GAMING SURGED IN Q3'20
Consumer product startup investment activity spiked in Q3'20 as funding reached an all-time high. Download our free report now.
1. Private Labels
American grocery retailers are expanding their private label assortments in the face of razor thin margins. One of the top retail trends to watch will be traditional third-party consumer goods being supplanted by retailers promoting their own brands.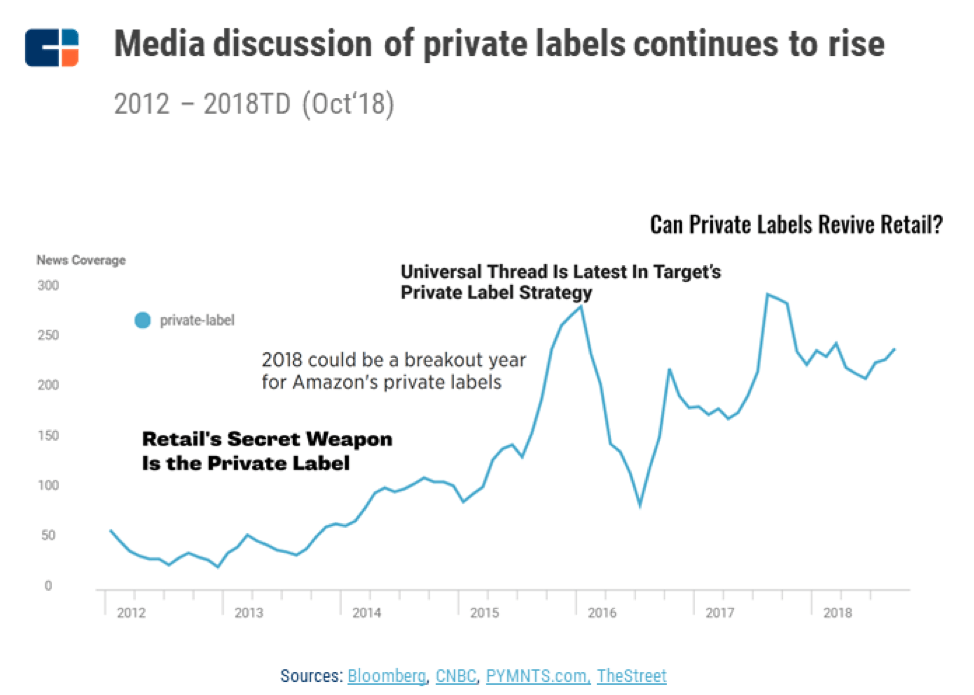 2. Experiential & Destination Retail
Stores are quickly becoming destinations for more than shopping, as they offer new types of experiences and activities. Established and upstart brands are betting that stores focused on experiences, not transactions, will drive sales by increasing brand awareness.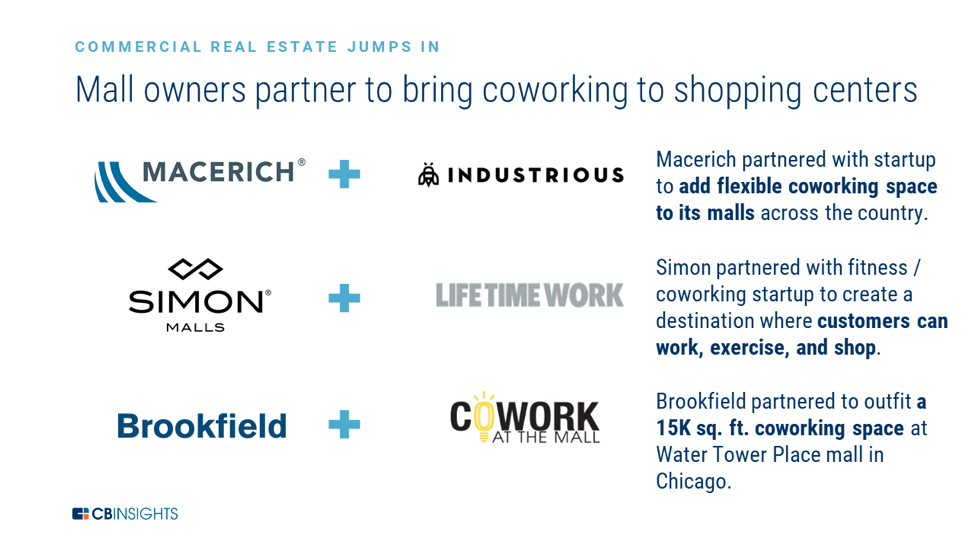 3. Small-Format Stores
The U.N. projects that two-thirds of the global population will live in cities or urban areas by 2050. Major retailers are continuing to shy away from traditional large stores, opting for downsized city-center stores catering to urban consumers.
Smaller stores also offer decreased real estate costs, tightened inventory management, and reduced staffing requirements. This year, look for smaller format stores to leverage their urban location to aid in online order fulfillment and delivery.
4. Inventory Management
Retailers are recognizing the importance of strategic, technology-driven inventory management, leading to greater visibility and control over supply chains. One of the top retail trends of 2019 will be applying AI, IoT, and more to inventory management.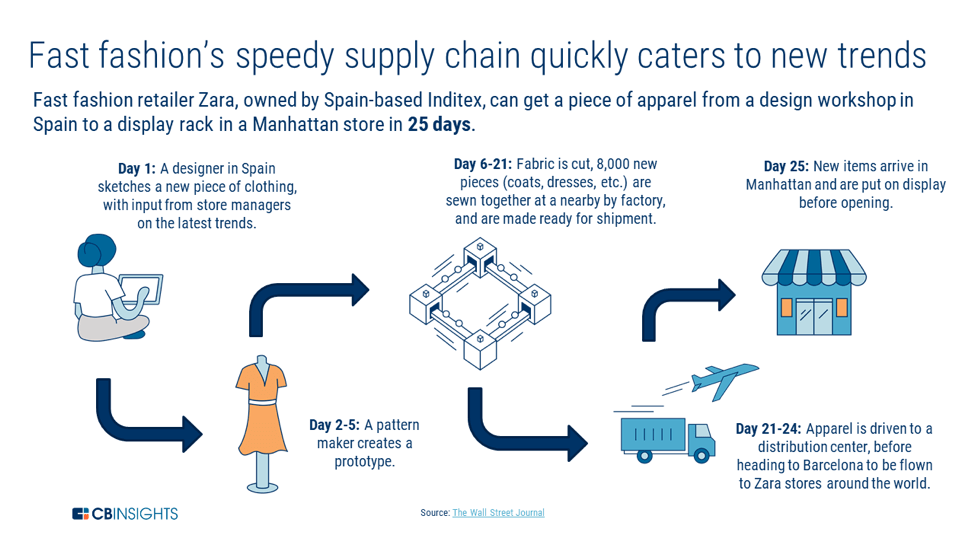 5. Pop-Up Stores
Pop-up stores allow retailers to experiment with new products, technologies, and services, while also acting as a branding tool. Beyond digitally native direct-to-consumer startups, pop-ups have become a staple for all types of retailers. In 2019, look for pop-up stores to shape how commercial real estate owners lease real estate altogether.
6. Personalized Marketing
Retailers are leveraging consumer data collected through mobile apps, e-commerce, and in-store technology to personalize their marketing. Brands like Best Buy, Goat, Sephora, and others are all using data collection to provide customized experiences for their consumers. Retailers continuing to leverage this data to personalize marketing efforts in 2019.
7. Micro-Fulfillment
Micro-fulfillment startups are leveraging robotics to operate warehouses in confined urban spaces, speed e-commerce fulfillment, and reduce last-mile delivery costs. We're also seeing an increase in warehouse automation among retailers globally. One of the emerging retail trends of 2019 could be micro-fulfillment centers co-housed within small urban stores.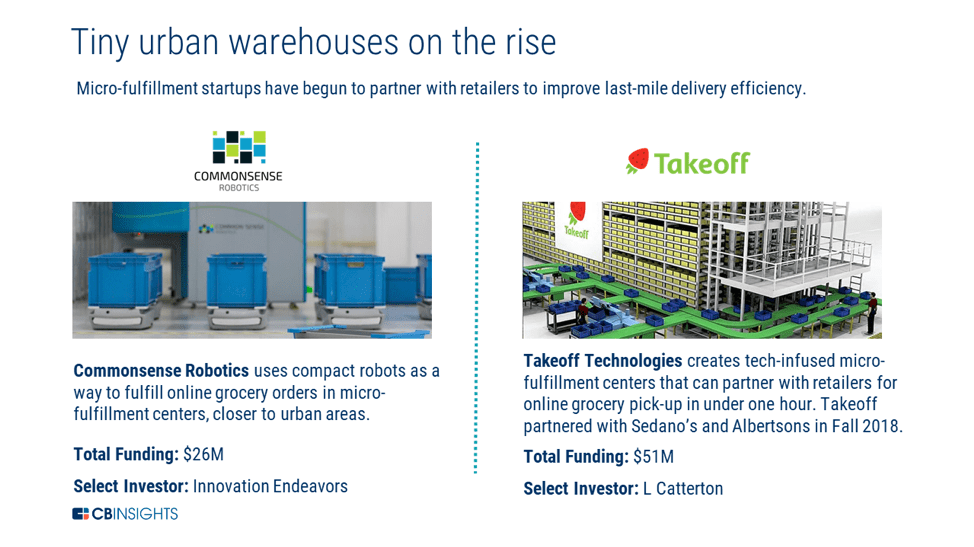 8. Blockchain for Retail Supply Chains
Blockchain could provide greater supply chain transparency for retailers. Despite its potential, fragmentation has been an obstacle to widespread adoption in global trade. Its success going forward will depend on whether global supply chain players can standardize blockchain use on a unified platform.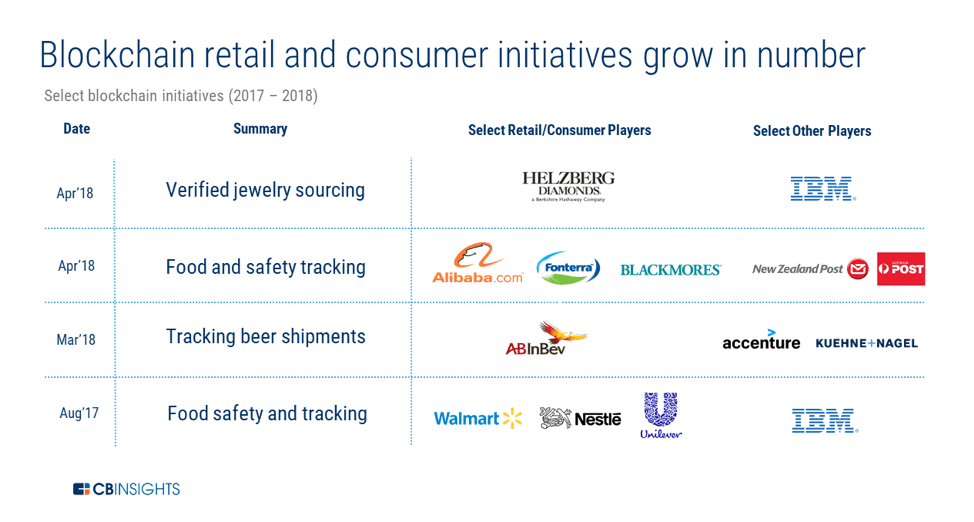 9. Autonomous Last-Mile Delivery
Autonomous vehicles could help enable affordable last-mile food and grocery delivery. While still in its early stages, we may gradually see direct investments or acquisitions of AV startups by grocery retailers.
Track more in-store retail tech startups on our platform
Startups working on tech for brick-and-mortar retail have the potential to upend the industry. Look for In-Store Retail Tech in the Collections tab.
Track retail tech startups
10. Advanced Manufacturing
Major brands and retailers are investing significant capital in new forms of manufacturing. These facilities leverage technology like 3D printing, robotics, and computerized knitting to reduce production time and manual labor. One of the top retail trends of 2019 will be the apparel supply chain gradually transforming into a locally manufactured and personalized ecosystem.
11. In-Store Technology & Data Collection
From beauty scanners to facial recognition platforms, retailers are increasingly able to capture valuable consumer data in-store. While still heavily regulated in the US, new facial recognition technology in China could take personal data collection to the next level. If it ever gains traction in the US, facial recognition could set a precedent for the types of data retailers and other companies could capture.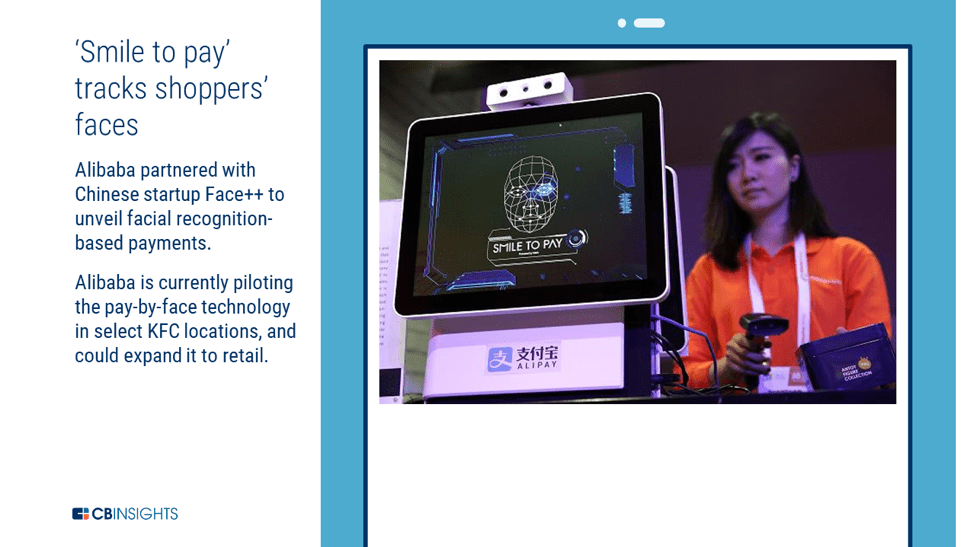 12. Stores As Fulfillment Centers
Retailers are using existing physical stores as fulfillment centers that can support growing e-commerce operations. This allows retailers to unify physical and digital operations, and often make last-mile delivery less expensive. One of the top retail trends of 2019 will be retailers continuing to leverage physical stores as online fulfillment centers.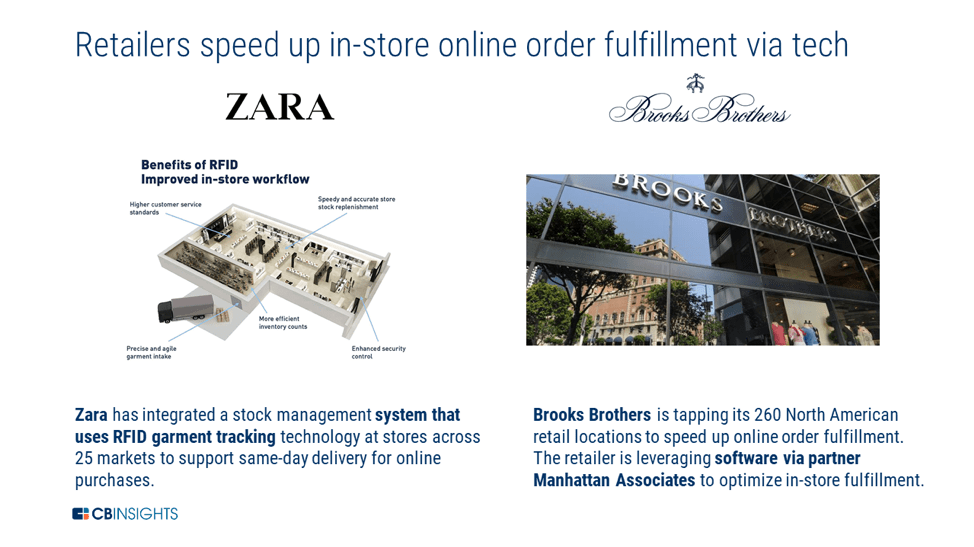 13. Automated Checkout
Automated checkout technology is gaining steam across China and the US. While large companies like Amazon and Alibaba have the upper hand on deploying this technology in their physical retail locations, emerging startups could help democratize access for all retailers.
14. Localization
From snack aisles for co-eds to city-specific running shoes, retailers are tweaking product offerings to meet the needs of local communities. Target has been an early adopter of localization via its small-format stores, and other retailers are jumping on the trend. Going forward, localization may be used as a stepping stone toward complete product customization.
15. In-Store Mobile Commerce
Mobile commerce is obviously instrumental in e-commerce, but it's also becoming a strategic tool in brick-and-mortar stores. Major brands have implemented mobile integration with mixed results, and it may suit some types of retailers more than others. Expect to see retailers explore more ways to implement mobile and smartphone technology into conventional retail.
16. Visual Search
A growing number of retailers are harnessing computer vision technology to explore visual search. As adoption grows, expect to see more retailers jump on the visual search bandwagon. One of the top retail trends of 2019 will be more partnerships with visual search startups and heightened in-house development. The rise of this new data stream will also inform retailers on how to personalize marketing, product assortment, and more.
17. Augmented Reality & Virtual Reality
Augmented and virtual reality are finding acceptance across retail, as they aid in areas from customer satisfaction to store planning. However, high upfront costs remain a barrier to adoption. Retailers will have to continue to experiment with how to best leverage the technologies to generate positive ROI.
18. Chatbots
Retailers could save significantly on customer service costs by using chatbots — if they can convince customers to use them. Facebook has been making moves in the space, but chatbots are seeing broader adoption across retail. However, they still face obstacles to customer adoption due to historically poor customer interfaces. The future of chatbots in retail will depend on how well bots can mimic genuine human interaction.
19. QR Codes
Thanks to smartphone manufacturers including QR code scanning functionality in their devices, adoption of and interest in QR codes have skyrocketed. Major retailers are testing out QR codes once again, and they could become an integral part of connected stores. In 2019, the focus will likely be on QR codes' security to combat fraud and hacking concerns.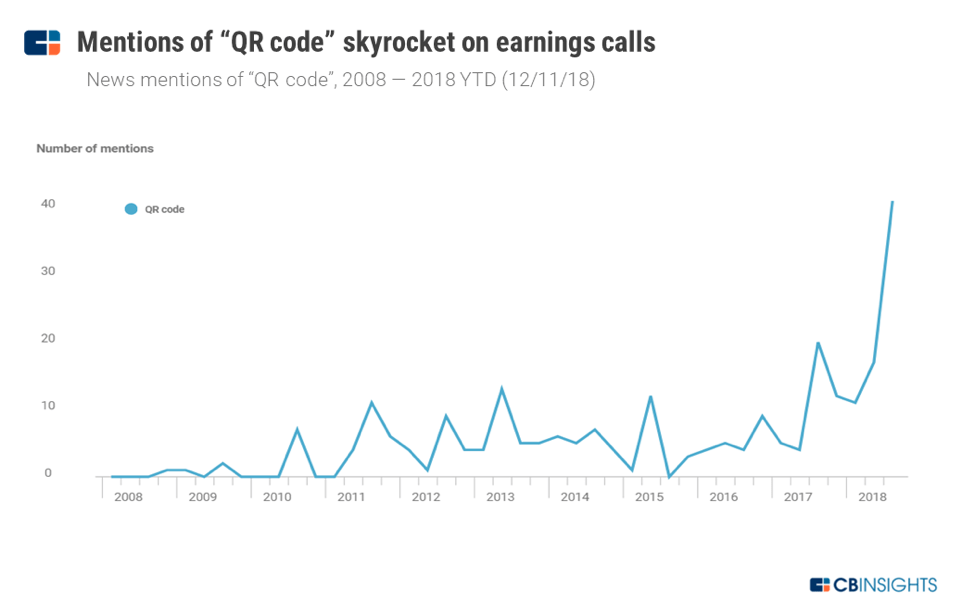 20. Voice Shopping
Devices like Amazon Alexa and Google Home are popular, but few consumers are using them to actually purchase goods. A 2018 report found that only 2% of Alexa users have shopped for products using the voice interface. E-commerce remains a visual experience, but voice shopping could see adoption for replenishing everyday items that require little pre-purchase research.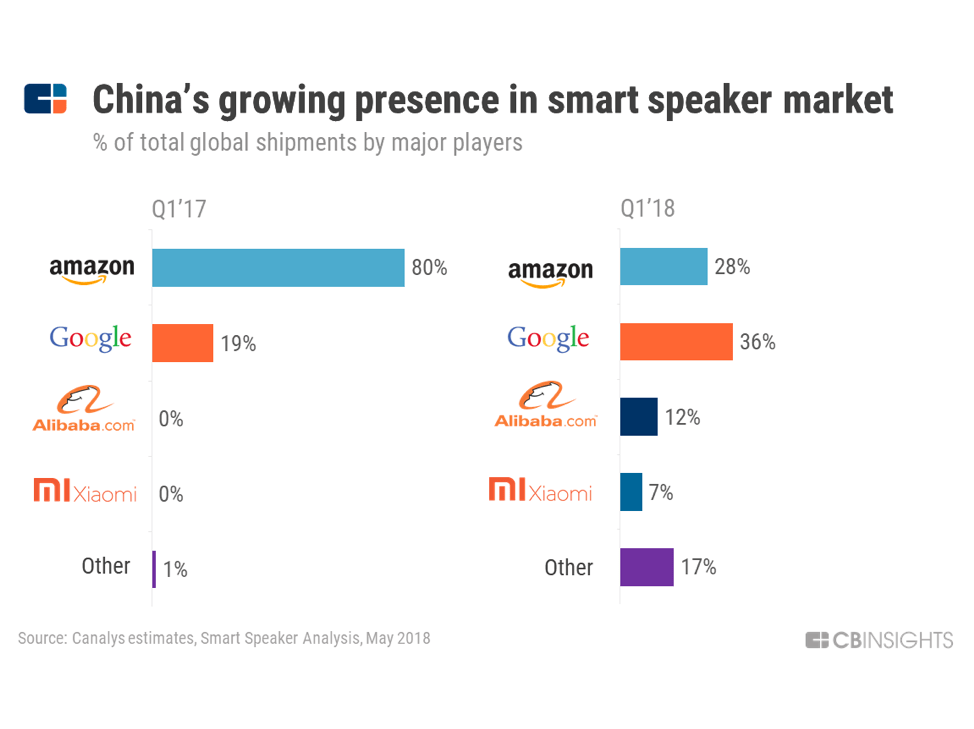 21. Social Commerce
In the US, tech companies and retailers have not been able to crack the social commerce code. Past attempts at social commerce, like Twitter's "buy button," have flopped. But in Asia, social commerce has surged, and Western companies could seek to replicate that success by copying Chinese approaches.
ALTERNATIVE PROTEINS, FITNESS TECH, AND GAMING SURGED IN Q3'20
Consumer product startup investment activity spiked in Q3'20 as funding reached an all-time high. Download our free report now.
If you aren't already a client, sign up for a free trial to learn more about our platform.