The lines between physical and online retail are blurring. We map out 110+ startups bringing technology to brick-and-mortar retail, including artificial intelligence, virtual reality, and more.
Americans do roughly 90% of their shopping in brick-and-mortar stores.
Despite this, the rise of e-commerce is blurring the lines between physical and online retail and some traditional retailers have already fallen victim to the retail apocalypse. However, while some retailers suffer, others are leveraging technology to turn their brick-and-mortar stores into strategic assets.
To help retailers bridge the gap between digital and physical commerce, dozens of startups have developed in-store technologies ranging from shelf-stocking robots to augmented reality displays to new payment systems.
Major retailers have already started adopting these technologies through partnerships with startups.
For example, Macy's recently expanded its partnership with virtual reality startup Marxent Labs, a company allowing customers to visualize furniture in their own homes. Macy's is leveraging the technology to reduce return rates in its furniture department.
Track more in-store retail tech startups on our platform
Startups working on tech for brick-and-mortar retail have the potential to upend the industry. Look for In-Store Retail Tech in the Collections tab.
Track retail tech startups
We used the CB Insights database to identify 110+ tech companies disrupting brick-and-mortar retail.
Scroll down to see an explanation on each category in this graphic.
Please click to enlarge.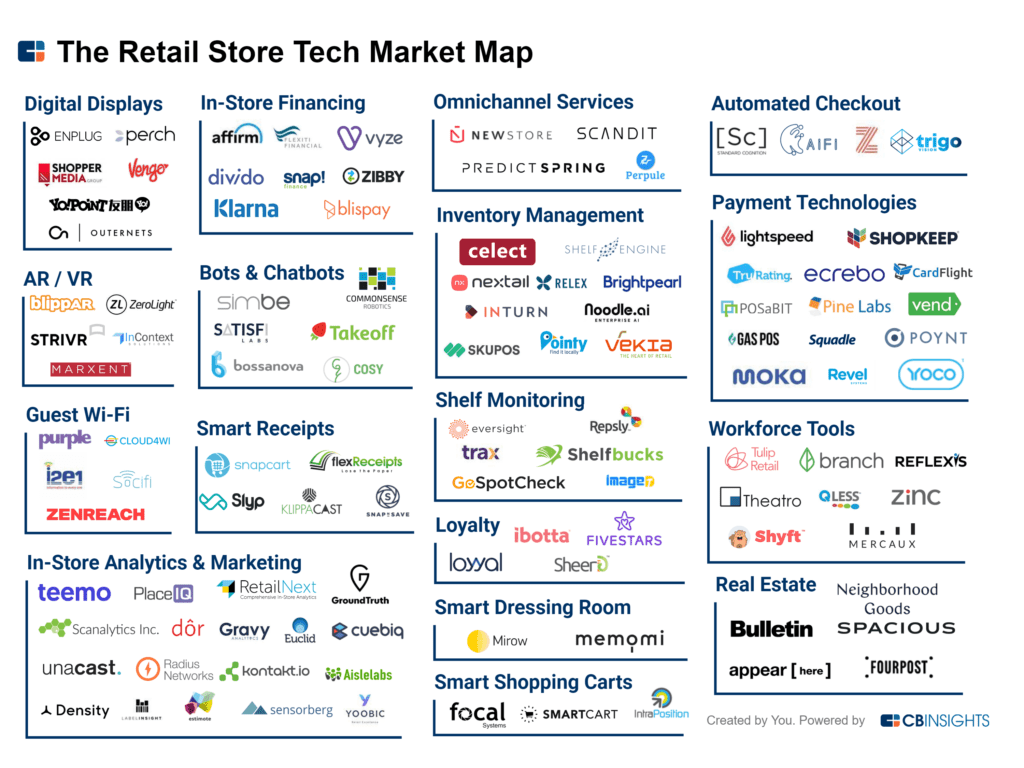 This market map includes private companies only and is not meant to be exhaustive of companies in the space. Categories are not mutually exclusive.
Clients with access to expert collections can download and edit this Market Map using our Collections tool here. 
CATEGORY BREAKDOWN
Digital Displays: Companies in this category provide stores with connected digital signs to advertise products inside stores, provide shoppers with product information, or let stores adjust product pricing in real time. For example, Perch Interactive ($3.8M in total disclosed funding) offers displays that track in-store customer interaction with products via IoT and computer vision technology.
AR/VR: This category is home to startups that use augmented reality and virtual reality to aid retailers.
This includes startups like InContext Solutions ($46.1M), which helps retailers plan out their stores through virtual simulations. Another example, Marxent Labs ($13.8M), mentioned above, helps retailers sell products via in-store VR headsets that help customer's better visualize items like furniture in their own homes.
Guest Wi-Fi: Startups in this category enable free in-store Wi-Fi for retailers. These companies generally use the Wi-Fi to track shoppers and provide stores with customer analytics. Zenreach, for example, has raised $94M from investors including First Round Capital, Bain Capital Ventures, and 8VC.
In-Store Analytics & Marketing: Companies here provide hardware and software to help stores track visitors. Many focus on data collection for internal analytics, such as merchandise tracking, adjusting staffing levels, monitoring promotions, etc.
Well-funded startup RetailNext ($189.0M) offers traffic sensors, customer route mapping, mobile marketing, and more. Others, like Teemo ($17.9M), collect data on consumers via mobile app partnerships. The startup uses this data to find the most valuable customers to market to on behalf of its retail clients.
In-Store Financing: Startups here let shoppers instantly apply for and receive loans or installment plans while shopping in-store. Divido ($18.6M), which raised a Series A round in September 2018, allows consumers to spread out the cost of a new purchase over a period of time by providing instant credit at the point of sale.
Bots & Chatbots: Companies in this category offer robotic technology that aid in retail-related operations. Commonsense Robotics ($26M) creates robots that can operate in micro-fulfillment centers — small warehouses that can be placed in dense urban areas — for more efficient last-mile delivery.
Other startups in the category have focused on customer-facing robotics. This includes Satisfi Labs ($1.5M), which provides a mobile app leveraging artificial intelligence to help shoppers in store.
Smart Receipts: Startups in this space provide digital add-ons to the checkout process for customers in stores through digitizing receipts. FlexReceipts ($5.9M) adds personalized offers and incentives to shoppers' digital receipts, with the aim to attract return visits.
Omnichannel Services: Startups in this category integrate in-store and e-commerce analytics for a more seamless shopper experience. Startup NewStore ($116.8M) offers retailers a platform where they can synchronize orders across all sales, delivery, and return channels; online and offline.
Inventory Management: This category is home to startups that help stores track inventory and optimize supply chain operations, generally using cloud-based software. Some, such as Celect ($15.0M), also use artificial intelligence to provide predictive merchandising analytics.
Shelf Monitoring: Startups in this category help retailers and consumer packaged goods brands monitor the presentation of their merchandise on store shelves, tracking the results of in-store promotions and visual displays. Some rely on in-store cameras and artificial intelligence features, while others leverage crowdsourced intelligence from shoppers and store associates.
Startup Trax ($272.6M) offers visual monitoring of products on store shelves via in-store cameras, robots, and mobile phones to help retailers optimize the organization of their stores.
Loyalty: This category contains reward and loyalty platforms for retailers. Ibotta ($95.9M) has created a platform where customers can earn cash back on their purchases from partner retailers and brands.
Smart Dressing Room: These startups produce technology to be used in the dressing room. Mirow ($0.2M), for example, has created an interactive smart mirror for dressing rooms. The startup's smart mirror allows customers to receive personalized recommendations, call for assistance, or request items in different sizes and colors. The mirror connects to a software platform that can be used by retailers.
Smart Shopping Carts: Startups that outfit shopping carts with digital features. For example, Focal Systems ($2.8M) aims to equip existing shopping carts with computer tablets, which can use machine vision to monitor the shelves as the cart moves through the store, and also display digital ads to the shopper.
Automated Checkout: Startups in this category are democratizing automated checkout technology for retailers. For example, startup AiFi ($4M) plans to sell automated checkout technology to traditional retailers using camera vision and shelf-sensor technology. The startup aims to scale its services to retailers of all sizes, from small conveniences stores to large grocery stores.
Payment Technologies: This category contains platforms that help retailers manage and process payments. Startup Poynt ($128M), which raised $100M in November 2018, provides an open point-of-sale operating system that can power any smart payment terminal, connecting with various other third-party apps like digital ordering systems, gift card programs, and more.
Workforce Tools: A variety of messaging tools and planning platforms are aiding retail store staff. Branch ($10.4M), for example, offers messaging networks for retail employees to communicate internally.
Real Estate: This category is home to startups that are finding new ways to leverage physical real estate for retailers. Spacious ($10M), offers coworking space at restaurants and bars during off-hours. The startup recently partnered with retail landlords to fill 100 vacant street-level storefronts in San Francisco and New York City.
If you aren't already a client, sign up for a free trial to learn more about our platform.