Though retail tech deals and dollars declined in the first half of 2020, areas like online grocery, robotic fulfillment, and on-demand warehousing drew investor attention.
Retail technology deals and dollars have taken a hit so far in 2020.
The Covid-19 pandemic continues to impact investor appetite for retail tech, though there are a few bright spots in the space.
Below, we take a look at some of the key retail tech trends in H1'20.
1. Deals and dollars to retail tech startups fall
Globally, funding to retail tech startups in Q2'20 decreased 20% quarter-over-quarter (QoQ) to $6.5B while deals declined by 2% to 477.
Funding for H1'20 was down 42% from the same period in 2019, falling from $25.4B to $14.6B.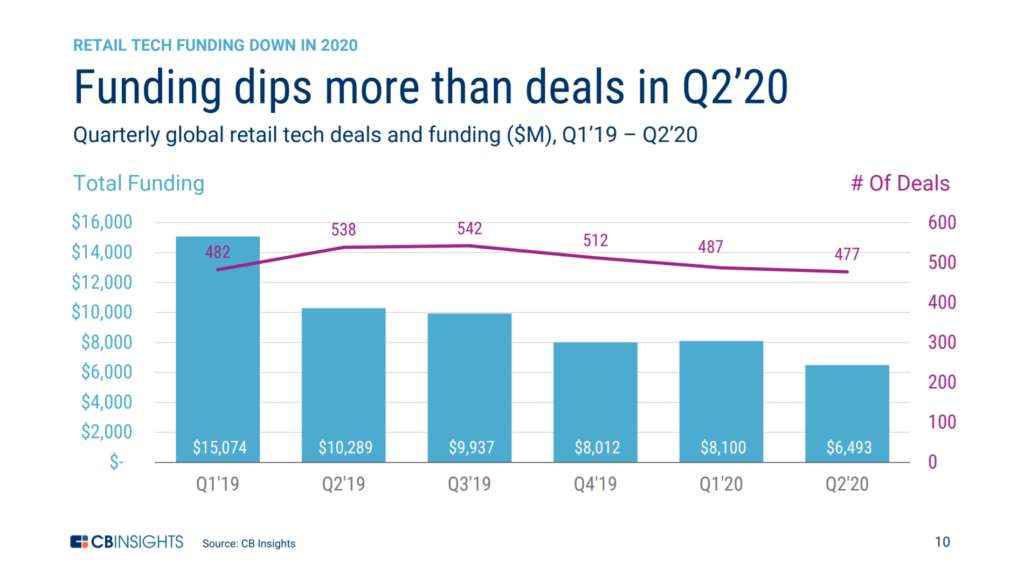 2. Covid-19's impact on retail
The Covid-19 pandemic has changed how consumers and businesses act and spend. Some major changes associated with the pandemic include:
Consumers are stocking up. As consumption patterns become less predictable, demand planning for supply chains is increasingly important. Executives are looking to predictive inventory forecasting tools to help.
Buying is shifting online. E-commerce sales have accelerated across retailers, but sellers still make the majority of their revenues in-store. Many are looking into ways to keep shoppers engaged online.
Online grocery takes off. Grocers are quickly expanding to offer online grocery capabilities. Last-mile fulfillment will likely remain top of mind for executives.
3. Deals to On-demand startups jump
With Covid-19 adding pressure to retailers' delivery capabilities, on-demand tech saw an increase in popularity as retailers looked to increase the speed and efficiency of last-mile fulfillment.
Deals to on-demand startups in Q2'20 increased by 53% QoQ to 72, despite a 36% decline in funding to the space.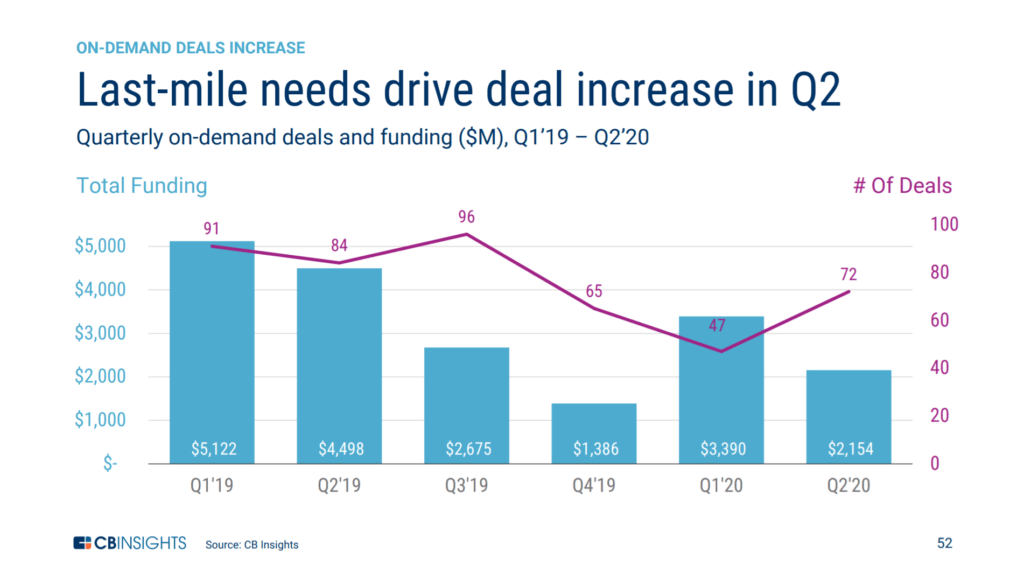 4. Supply chain tech deals and dollars fall after Q1'20 Jump
Funding to supply chain and logistics tech companies declined 31% QoQ in Q2'20 to $2.4B, while deal count fell 15% to 192. This decline is in part due to the rush in Q1'20 that led to a boost in investment activity in the quarter.
Some highlights in the supply chain and logistics tech space include:
Robotic fulfillment. Startups developing robotic logistics products to streamline fulfillment processes saw traction. Examples include Geek+ and Locus, which raised Series C and Series D rounds in Q2'20, respectively.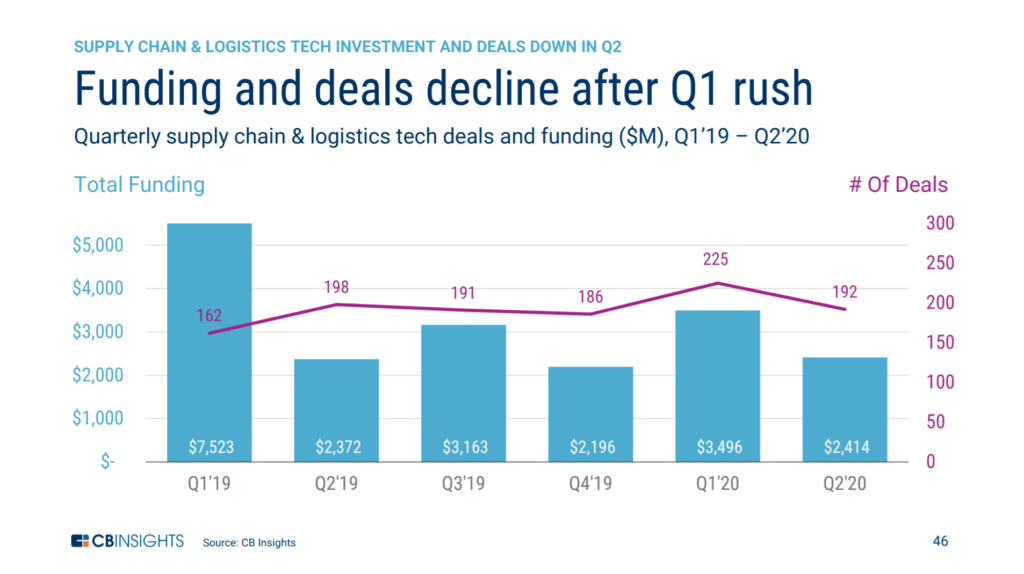 Take a look at all the underlying data and insights in CB Insights' State Of Retail H1'20 Report: Sector And Investment Trends To Watch.
If you aren't already a client, sign up for a free trial to learn more about our platform.