Early-stage activity fell in the first quarter. Here, we look at the early-stage deals in retail sectors to see where investment interest is shifting. 
While early-stage private market deals and dollars are down amid the Covid-19 pullback, certain retail tech categories are seeing growing investor interest.
For example, with new social distancing restrictions in place, companies that aim to help improve online shopping or speed up the supply chain and food delivery are raising rounds.
To get a sense of where investor interest has shifted since Covid-19, we look at venture-backed early-stage (seed & Series A) retail deals since March 11, when Covid-19 was declared a pandemic by the World Health Organization. The focus on early-stage rounds helps us anticipate where we'll see increased activity in the year ahead.
Below, we take a look at which areas are gaining traction and what it says about the future of retail.
What's gaining attention 
Globally, early-stage e-commerce and supply chain & logistics tech companies are attracting relative attention compared to 2019 levels and to in-store retail tech startups. Interest in food delivery is also rising versus last year, though it's a smaller area overall.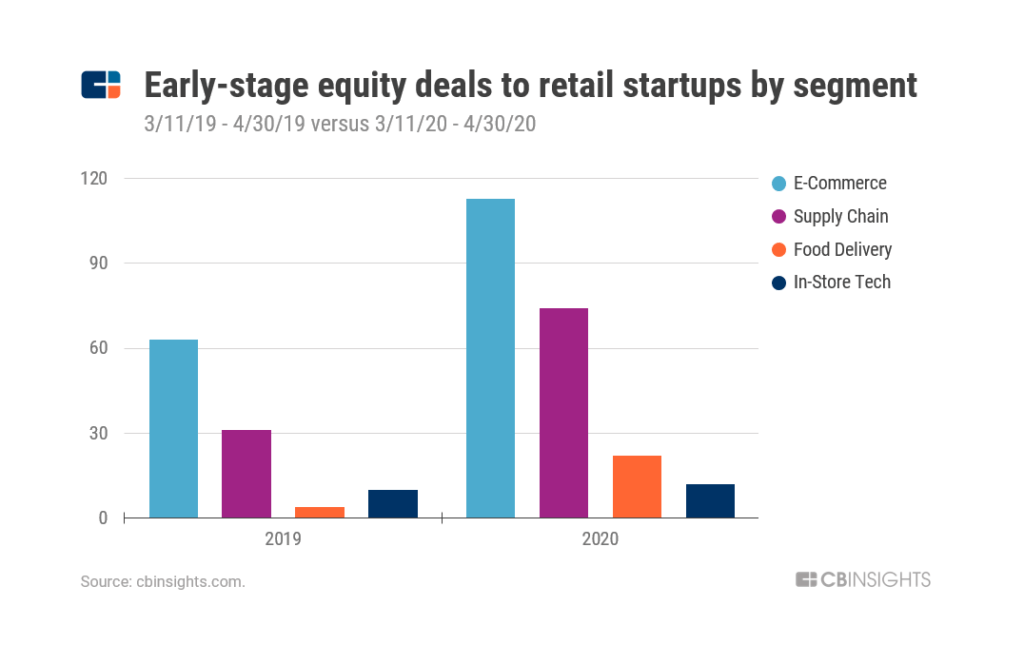 Across growing retail sectors, two main investment themes emerged: digital connection and automation. This includes investments in livestreaming content, digital platforms for wholesale groceries, autonomous delivery robots, and tools for real-time data collection and analytics.   
E-commerce sees a boost as consumers shift online
Early-stage e-commerce deals during our time period focused on serving shopper demands for value, community, and online shopping ease. 
Resale and rental sites saw 17 deals over the time period. This category includes companies dedicated to the resale of refurbished electronics, such as Certideal, as well as resale marketplaces focused on fashion, books, or miscellaneous items.
Rentals deals mainly went to clothing rentals, such as the Spain-based women's dress platform La Mas Mona and the US-based Indian attire platform Riya Collective. It also included other formats, such as an art rental service (Casie) and a platform for renting camper vans (MyCamper).  
Startups focused on community connection via interactive and entertaining content also gained attention. This included funding to the China-based livestream e-commerce sites Tebaobao and Goumee, as well as South Korea's Solo Monster. Other shoppable interaction companies raising financings in this period included chat-based commerce site d.code.  
Platforms focused on helping wholesalers or small businesses sell their products online, either to other businesses or end consumers, were another bright spot. For instance, Shoptimize helps independent sellers make e-commerce websites, while Ezay and Tajir help rural independent shops reach wholesalers online.  
Clients can read more about e-commerce trends in resale, rentals, live streaming, and more in our 2020 e-commerce trends report here.  
Supply chain & logistics automate and simplify
Early-stage deals in supply chain and logistics focused on serving business needs for speed, transparency, and resilience in the movement of goods.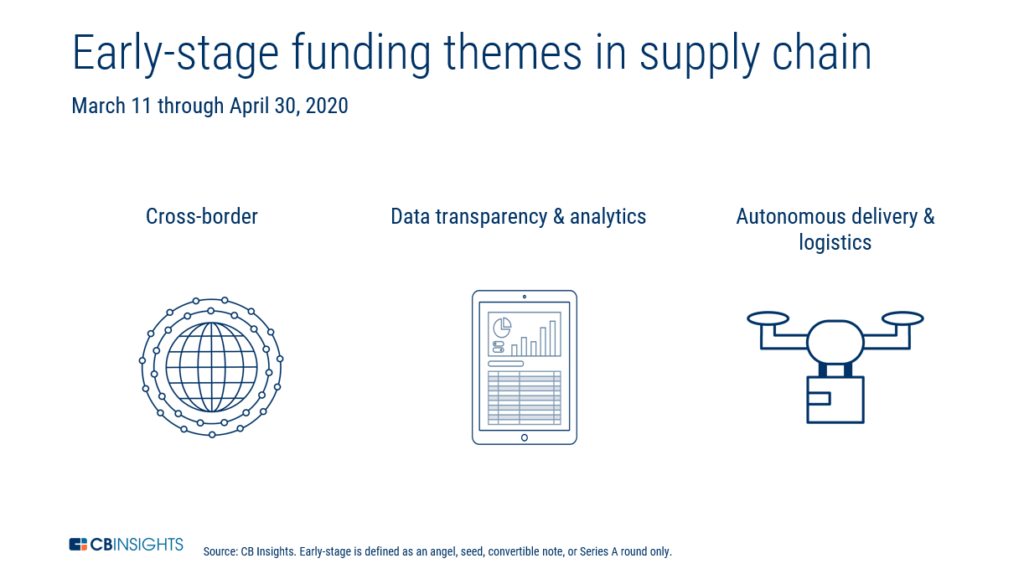 Speed includes companies that offer cross-border shipping facilitation. Nuvocargo and Jiezhou Technology, for example, help businesses manage international logistics and trade, while Amitruck offers a trucking network to help manage shipments across Africa.
Autonomous delivery also allows for added speed. Investments here include the last-mile aerial delivery company Avion, which builds aerial drones for shipping medical supplies, and Neolix, an autonomous vehicle company for deliveries. Others focus on logistics. For instance, Elroy Air is developing autonomous drones for deliver cargo weighing 250-500 pounds.     
Supply chain data visibility tools were also a focus. An example of this across the supply chain is Connecting Food, which offers blockchain tracing from the farm to the end consumer. Companies like Locale.ai and Datapred aim to use analytics to predict outcomes or recommend actions across a variety of inventory planning use cases.   
For more about cross-border e-commerce facilitation, clients can click here. For a market map detailing last-mile delivery solutions, clients can read more here. 
Food & Meal Delivery
Within food and meal delivery, the underlying focus is fresh nutrition, community support, and meal convenience.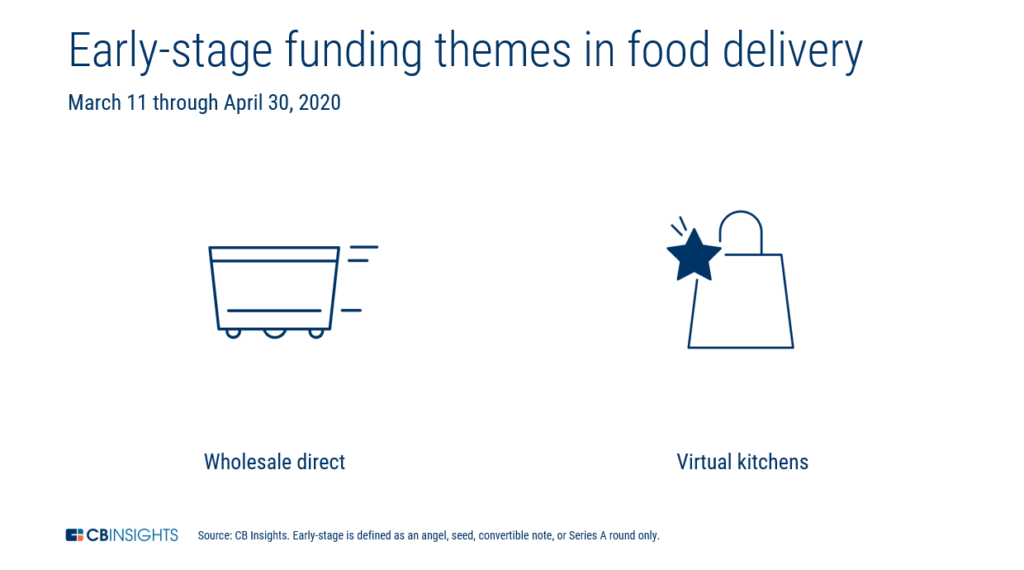 In the fresh produce category, Mera Kisan, Indonesia-based Chilibeli, and Norway-based Dagens each help to connect farmers and suppliers with households for fresh grocery delivery while supporting local farmers.  
We can see the emphasis on convenience in funding for virtual kitchens across markets. India-based BigSpoon, Philippines-based CloudEats, and US-based Hideout focus on a variety of virtual kitchen offerings, whereas platforms like Taker help restaurants set up their own ordering websites. 
For more about rising investments in virtual kitchens, clients can read this brief. 
If you aren't already a client, sign up for a free trial to learn more about our platform.