Corporate investment from big mall owners into non-real estate companies is concentrated among a few big players.
In the face of an existential threat from e-commerce platforms like Amazon and Walmart's Jet.com, mall owners and real estate investment trusts with a core retail focus have explored private market investments in retail technology, e-commerce companies, and direct-to-consumer brands as a way of strengthening their core strategic business position.
Investment activity to-date has been largely concentrated, with Simon Property Group accounting for much of the activity. We used the CB Insights platform to visualize six of the largest mall groups and retail REITs and analyzed their non-real estate investments, categorized below according to their core business function.
Specifically, we looked at investment activity from 2012-2017 year-to-date (9/7/17). The real estate companies included in our analysis included CBL & Associates Properties, Inc., GGP Inc, Macerich, Regency Centers Corporation, Simon Property Group, Inc., and Westfield Corporation. This cohort was based on the largest owners of retail real estate. Investors not included in the graphic have not participated in a publicly disclosed non-real estate startup investment. Simon Property Group includes investments made by its corporate venture vehicle Simon Ventures.
Please click on the graphic to enlarge.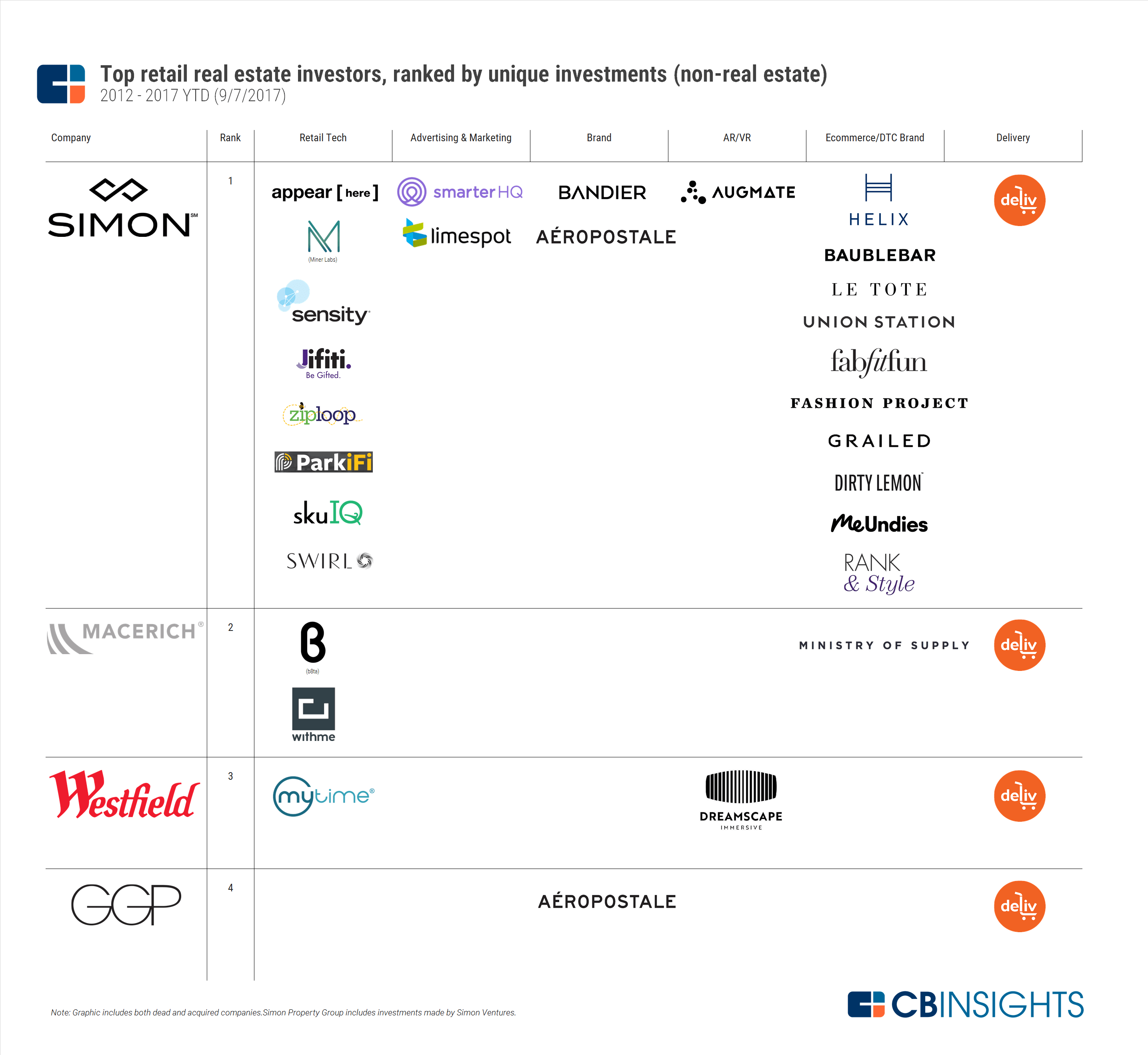 Key takeaways:
Simon Property Group (SPG) is easily the most active investor of this retail-focused investor cohort. Having made venture investment an important strategic focus since launching its CVC fund Simon Ventures in 2014. The company has made a combined 24 unique investments or acquisitions via the SPG parent company or its CVC since 2012.
The company has made investments in technology companies that connect retailers' offline-to-online interactions or vice versa. This includes marketing companies like SmarterHQ and LimeSpot, as well as Swirl, which tracks foot traffic, conducts proximity and online marketing, and provides in-store attribution. SPG also invested in location and parking analytics companies Sensity Systems and ParkiFi.
Interestingly, all four investors have co-invested in Deliv, which provides same-day delivery service for retail stores. Deliv has raised $40.4M through a Series C round. Apart from the retail investors discussed here, other investors in the company include UPS Strategic Enterprise Fund, Upfront Ventures, Redpoint Ventures, and General Catalyst.
The retail landlord's most recent investment is in pop-up shop platform Appear Here, which connects landlords with short-term retail tenants.
What's particularly interesting about the Simon Property Group portfolio of investments however, is its concentration of investments in e-commerce and direct-to-consumer (DTC) brands.
The company has invested in DTC mattress company Helix Sleep, as well as beverage startup Dirty Lemon, and underwear clothing company MeUndies. These investments indicate a recognition of the importance of internet commerce, and also may serve as bets on the e-commerce companies' future distribution needs.
Just as Target flirted with acquiring Casper, and eventually went on to investing/partnering with the D2C mattress brand, internet brands are finding that they eventually need retail distribution channels outside of the internet once they achieve scale. At the very least, these brands have entertained retail venues or pop-up shops where customers explore and interact with the company as a brand.
Separate to its investments, SPG also has an internal innovation group called Simon Innovation Group. The team has worked to build out technology solutions via partnerships within its malls. These include, but are not limited to, digitization of directories and mapping, parking reservations, Facebook Messenger bots, improved returns services via Happy Returns, Snapchat filter campaigns, and an Amazon Alexa skill.
Macerich is the second most active investor in this cohort, having made four investments to date.The company has invested in internet clothing brand Ministry of Supply, and like SPG, has made a concerted effort to explore short-term retail, investing in pop-up startup WithMe, which builds out short-term interactive retail experiences, and B8ta, which operates in the burgeoning retail-as-a-service space. The Macerich-WithMe business relationship has its complications, however, as Macerich wrote off their $10M investment in 2016.
B8ta offers young companies brick-and-mortar distribution and access to their customers without the commitment of a lease. In addition to Macerich, the company has raised money from Khosla Ventures, Comcast Ventures, and Fifth Wall Ventures, among others. B8ta has a core focus on emerging technology brands and serves as a venue to explore and try out new gadgets.
Westfield has made three non-real estate investments to-date, to MyTime, Dreamscape Immersive and Deliv.
In tandem with its corporate investing activity, Westfield has made a concerted effort to develop technology expertise in house. The company has focused on improving its retail experience via its Westfield Retail Solutions division. Originally called Westfield Labs, the team has partnered with R/GA's Connect Commerce Accelerator to stay close to emerging technologies solutions. Their technology efforts, summarized in a Westfield marketing video targeted at retailers, include: smart parking, navigation services, product search from mobile, and digital kiosks.
General Growth Properties (GGP) has made two investments. It co-invested in Deliv with the rest of the investor cohort, and also partipated in a joint asset sale of Aeropostale with Simon Property Group in 2016. Aeropostale was a tenant of both GGP and Simon Property Group.
For a complete landscape of the retail technology space, visit our retail tech market map here.
If you aren't already a client, sign up for a free trial to learn more about our platform.