Market Map
From Whoop to GoPuff to Attentive, the latest retail & consumer companies to hit $1B+ valuations reflect current trends in wellness, convenience, and hyper-targeted solutions.
Throughout the Covid-19 pandemic, lockdowns and global uncertainty have dampened consumer spending — driving hordes of retailers to file for bankruptcy in 2020.
However, the shift in consumer behavior has also created fresh opportunities. Consumers have rapidly adopted new forms of shopping online, while driving demand up for emerging categories like remote health and wellness.
Below, our market map visualizes the 2020 entrants into the retail & consumer unicorn club. We also outline how the new unicorns illustrate the rise in core demands for health & wellness, convenience, and personalized experiences.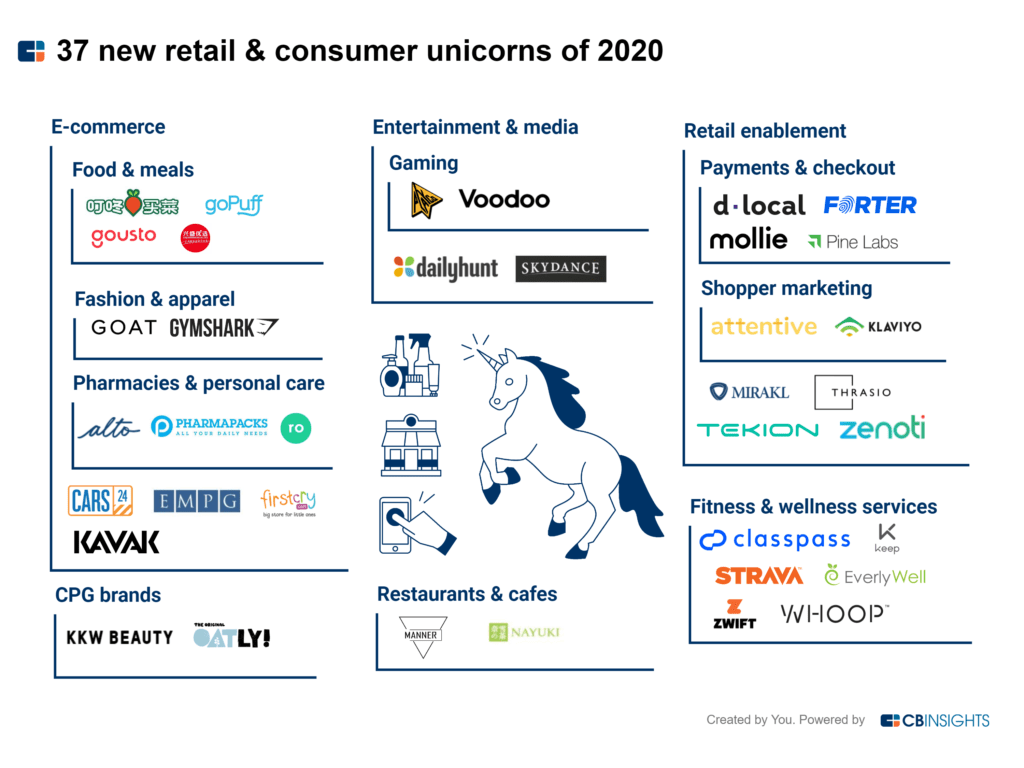 This market map consists of active companies that reached $1B+ valuations in 2020. Categories are not mutually exclusive, and companies are mapped according to primary use case.
Our analysis includes consumer entertainment companies and those that have a primary use case to enable retail, such as shopper marketing. We excluded real estate rentals and companies with core service areas spanning many industries (e.g. cybersecurity and business analytics). 
KEY TAKEAWAYS
Wellness feedback & connected fitness are in focus
Six fitness & wellness services startups reached unicorn valuations in 2020. Half of these wellness companies emphasize social connection and support as part of their offerings. Four of them — Whoop, EverlyWell, Strava, and Keep — provide personalized recommendations using individually tailored fitness or wellness data. 
E-commerce convenience reigns
More than one third of the new unicorns are e-commerce retailers and marketplaces. Among them, online food and pharmacy retailers stand out.
Each of the new food unicorns has a distinctive business model. The cohort includes an on-demand convenience dark store (

GoPuff

), a meal kit provider (

Gousto

), a group-buying produce platform (

Xingsheng Selected

), and a fresh food delivery service (

Dingdong Maicai

).

The new health unicorns are equally diverse, including a telehealth company (Ro), a same-day prescription delivery app (Alto), and a health and personal care marketplace (Pharmapacks).
Hyper-targeted enablement solutions
Within retail enablement, an array of unicorns emerged in 2020, ranging from personalized text message marketing (Attentive) to third-party Amazon brand acquisition and development (Thrasio) to salon operating software (Zenoti).   
Category breakdown
E-commerce
This category includes marketplaces and platforms that primarily operate online. Outside of the below segments, this category features companies like FirstCry, a baby goods specialist, as well as online classifieds operator Emerging Markets Property Group (EMPG).
Food & meals: This subcategory covers a variety of online grocery and convenience business models. The segment saw a notable increase vs. 2019, when no online food unicorns surfaced.
Fashion: This includes 2 e-commerce sellers of apparel, shoes, and accessories. GOAT is a primary and resale marketplace for sneakers, whereas Gymshark is a direct-to-consumer (D2C) workout clothing brand that has benefited from the surge in home fitness amid the pandemic.
Pharmacies & personal care: This category covers online pharmacies and e-commerce players focused on self-care and grooming. Ro, for one, has shifted in recent years from its initial focus on men's health products to offering digital health capabilities across a number of products and patient categories.
Entertainment & media
This category includes companies creating new media platforms and developing content for entertainment, such as news aggregator Dailyhunt and entertainment production company Skydance Media.
Gaming: This subcategory covers mobile games developers and studios, including Playco and Voodoo, both of which aim to make mobile gaming more accessible.
Retail enablement
This category features companies that enable retail sales across channels. Outside of the subcategories below, it includes Amazon brand acquirer and builder Thrasio, which has raised more than $896M (including debt) to date, as well as Mirakl, which powers B2C and B2B marketplaces.
Payments & checkout: These companies specifically focus on helping retailers accept online payments or add to payment security by detecting fraud. This includes Forter, which uses AI to detect fraud across e-commerce payments and related activities, such as returns. The company recently raised $125M to help build out its network and global reach. 
Shopper marketing: This category involves shopper marketing and engagement platforms, and both of the new unicorns focus on personalized messaging. This includes Attentive, a text-based marketing platform that was featured in our inaugural Retail Tech 100 list of promising B2B startups. Meanwhile, Klaviyo, which focuses on analytics and targeted messaging across digital media like email and social, received a $4.2B valuation in November 2020.
CPG brands
This category comprises consumer brands that distribute primarily through retailers. It includes alternative dairy company Oatly, which raised a $200M private equity round in July 2020 to expand its production capabilities and geographic reach. Kim Kardashian West's KKW Beauty, which produces cosmetics and beauty products, similarly raised $200M of funding in June 2020 to help expand globally.
Restaurants & cafes
This category reaches across quick-service eateries and beverage shops. New unicorns include bubble tea chain Nayuki and coffee shop chain Manner. Recent funding rounds have helped both brands fuel expansion across China.
Fitness & wellness services
The companies in this category focus on fitness & wellness solutions and support. Fitness solutions range from wearable-based performance tracking (Whoop) to a subscription service for access to exercise classes (Classpass). Meanwhile, EverlyWell operates a home diagnostic service to test for food sensitivities, allergies, and more.
---
This report was created with data from CB Insights' emerging technology insights platform, which offers clarity into emerging tech and new business strategies through tools like:
If you aren't already a client, sign up for a free trial to learn more about our platform.