From Glossier to StockX to Glovo, here are the 40+ retail & consumer unicorns that emerged in 2019.
More than 9,300 retail stores closed in 2019, a record number spurred by the devastating advent of e-commerce. Changing consumer priorities are also illustrated in our numbers: last year saw the birth of 40+ unicorn startups in retail and consumer-related industries, but only 1 was primarily a brick & mortar retailer, reflecting the overall shift in business models and technologies that can fulfill consumer expectations. 
Below, we dig into how these retail unicorns illustrate new ways to serve core consumer demands for value, convenience, wellness, and experience.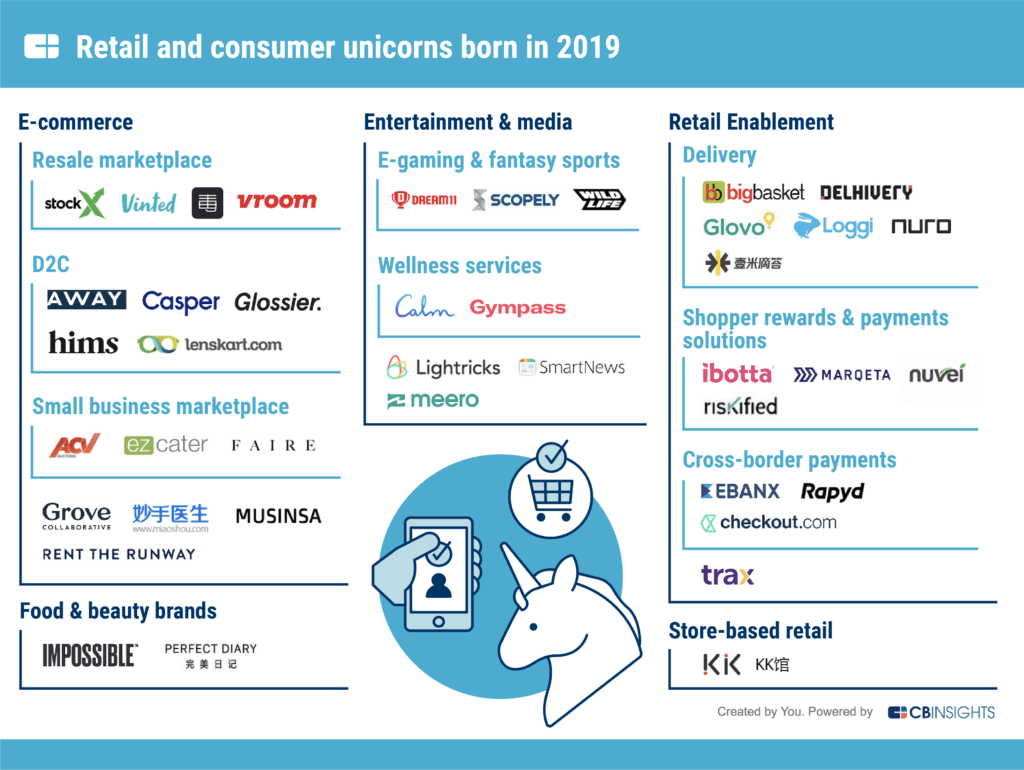 This market map consists of active companies that reached $1B or greater valuations in 2019 only. Categories are not mutually exclusive, and companies are mapped according to primary use case. 
We chose to include consumer entertainment companies and companies that have a primary use case to enable retail, such as package delivery or cross-border payment facilitation. We excluded real estate rentals, car rentals, and companies with core service areas across many industries (e.g., cyber security, business analytics, or branding). 
KEY TAKEAWAYS
E-commerce continues to grow, and will likely go global: This area saw the most unicorns added in 2019, with 6 in delivery and 3 in cross-border payment. This includes autonomous delivery startup Nuro, which is also one of the most well-funded AI startups in the US. 
The resale marketplace market is growing, as consumers search for unique value:  Four resale marketplaces reached unicorn valuations in 2019 — Vinted, StockX, Poizon, Vroom. The first three companies resell clothing, accessories, and sneakers, while Vroom resells cars. 
Similarly, fashion rental company Rent the Runway also achieved a $1B valuation in 2019. 
Wellness, health, and sustainability are emerging priorities for consumers: Mindfulness app Calm also entered the unicorn club. The app focuses on teaching users how to meditate and offers resources that encourage relaxation. 
Hims, a D2C men's health & sexual wellness provider, likewise rose to prominence, as well as Lenskart, an India-based D2C eyeglass competitor to Warby Parker.
Notably, sustainable products also gained traction. Grove Collaborative sells all-natural household and personal care products and refills through a subscription service. Plant-based meat brand Impossible Foods also boasts a $2B valuation; its value proposition is less around personal health than supporting the health of the environment.  
Consumers value experiences and community, fostered through e-gaming and social content: Three of the new unicorns relate to e-gaming and fantasy sports, where larger shares of consumers are spending time and money. E-commerce fashion site Musinsa and beauty seller Glossier blend online shopping with social media to build out community, while Facetune parent co Lightricks helps consumers create content and present their best face on social media.
Category breakdown
E-Commerce
Resale marketplace: This category involves platforms to help shoppers buy and sell used items. Vinted calls itself a community of pre-loved fashion, helping members to list and buy a variety of clothes and accessories. StockX and Poison feature sneakers, and both feature authentication capabilities of products resold to assure shoppers of the quality for money.
Direct-to-consumer (D2C): Startups in this category sell their own products directly through online channels. These brands are increasingly moving to a lifestyle focus. Casper, for instance, has shifted from an exclusive focus on mattresses to a wider sleep-related product suite, including its own CBD gummies.  
Small business marketplace: This involves platforms that sell products to small business, including used autos to dealers, restaurant catering to companies, and products & crafts to local shops. Wholesale marketplace Faire, which reached its unicorn valuation in October 2019, says it uses AI-enabled analytics to help local retailers discover unique products and addresses the risk of unsold inventory with free returns for 60 days.
Other e-commerce: This group includes the rest of the general e-commerce players. This includes natural household essentials and personal care seller Grove Collaborative, as well as fashion rental company Rent the Runway.  
Food & beauty brands: Only 2 consumer brands (apart from the D2C category) made this list in 2019. Plant-based meat company Impossible Foods helped popularize beef alternatives, and is looking to do the same with pork. Cosmetics seller Perfect Diary has quickly emerged as a leading player in China. Though it started as an e-commerce based brand, it now plans to open 600 stores over the next 3 years.  
Entertainment & Media
E-gaming and fantasy sports: This group includes mobile games developers, such as Scopely and Wildlife Studios. Fantasy sports platform Dream11, which is India's first gaming unicorn, is also included in this category.   
Wellness services: Companies in this category provide digital and physical consumer services to aid in emotional or physical health. One prominent example is mindfulness app Calm, which teaches users how to meditate and relax. Gympass is a fitness discovery platform that allows users to get pay-as-you-go gym access.
Other entertainment & media: This covers companies that did not fall into the sub-categories above, and are emerging as new ways to attract consumer attention. This includes Facetune parent company Lightricks, as well as on-demand photography platform Meero, which helps users make money off of their photos. This category also includes the Japan-based news aggregator app SmartNews.
Retail Enablement
Delivery: This includes a variety of last-mile fulfillment enablers for online retail or delivery from store. Spain-based Glovo promises delivery in less than an hour, while Brazil-based Loggi offers real-time tracking for packages. 
Shopper rewards and payment solutions: This category involves shopper marketing rewards platforms as well as payment facilitation for retailers. This includes Ibotta, a shopper-facing cash back rewards app, as well as back-end support tools. Riskified, for instance, helps retailers accept payments that might unnecessarily get declined.
Cross-border payment: These companies specifically focus on helping retailers and marketplaces accept international payments. Brazil-based Ebanx focuses specifically on easing cross-border payments in Latin America and boasts clients such as Spotify and Airbnb.
Other retail enablement: This section includes other companies that weren't categorized into the above, including Singapore-based Trax, an in-store retail tech company that focuses on merchandising optimization and execution at the shelf through monitoring and analytics. 
Store-based retail: The lone store-based retailer on the map is KK Group. This company is based in China and bills itself an offline-to-online (O2O) retailer. It was started in 2014 with a focus on consumables and has since moved into home fashion and cosmetics.
If you aren't already a client, sign up for a free trial to learn more about our platform.