From TD Bank's foray into healthcare AI to BNP Paribas' plan to launch 1,000 AI projects, here's what the top retail banks are discussing on earnings calls.
From strategic investments to product expansion, banks' earnings call discussions shed a light on their AI strategies.
CB Insights recently analyzed the 50 largest American and European retail banks (by market cap) to identify the 3 most innovative banks in AI. As part of the analysis, we used the CB Insights Earnings Transcript Analytics Engine to mine quarterly earnings call data.
The top banks have mentioned AI and related technologies 200+ times on earnings calls since 2017, with 70% of the banks discussing the tech at least once.
Royal Bank of Canada and TD Bank discussed AI-related strategies most frequently on calls, mentioning the tech on 13 quarterly calls each in the last 5 years.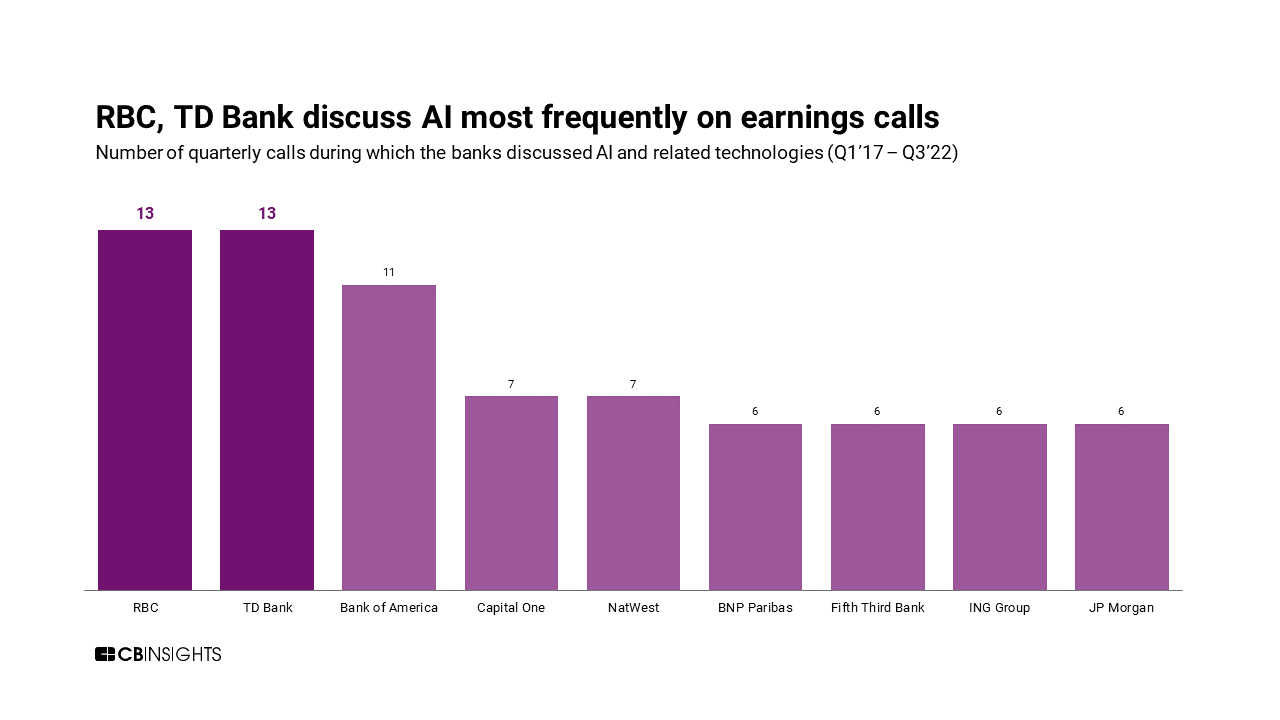 Below, we surface key highlights and announcements from 4 of the top banks based on 2022 earnings call data. (Note: Quarter mentions reflect date of the call.)
1. TD bank is expanding into healthcare with its AI tech

TD is the only bank among the top 50 that is is expanding into healthcare by licensing its in-house AI platform to a startup. CEO Bharat Masrani discussed the bank's decision to invest in hospital tech startup Signal 1 in Q2'22. In return, TD will benefit from improvements made to the AI platform by the Signal 1 team. 
Signal 1 will be headed by Tomi Poutanen, the co-founder of TD's in-house AI division, Layer 6 (an AI startup acquired by TD in 2018 which now forms its applied AI division).
2. JP Morgan saved millions of dollars in fraud losses

Last year, JP Morgan announced plans to expand from 150 major AI projects in production to a thousand in 5 years. In the beginning of 2022, JPM's earnings transcripts revealed that the bank invests $12B in technology annual, including cloud migration to power machine learning applications.
In Q3'22, CEO Jamie Dimon highlighted one specific AI investment —  anti-fraud systems — that has saved the bank millions in losses.
3. Bank of America's AI agent is approaching 1B interactions

BoA first announced the launch of its AI assistant Erica in its 2017 earnings call. Since then, the bank has mentioned "Erica" on 17 quarterly earnings calls discussions.
Erica is approaching 1B user interactions, with the bank announcing a 30% YoY increase in Erica users during its Q3'22 call. BoA plans to integrate Erica with its personalized  financial planning tool, Life Plan, which reportedly has over 7M users since launching in 2020.
4. BNP Paribas PARIBAS DOUBLES DOWN ON AI AND ESG

BNP Paribas went from little to no mentions of AI on earnings calls to becoming the bank that made the most number of mentions of AI-related terms in a single call — 15 times in Q1'22 — discussing use cases ranging from anti-fraud tech to ESG data analytics.
CEO Rim Tehraoui said during the call that the bank wants "1,000 value-creating [AI] use cases in production by 2025." Specifically, AI-powered ESG and sustainable financing are a core focus for the bank, which has a made a number of startup investments and partnerships in this space. The bank mentioned "ESG" 14 times in a single call in Q2'22. 
If you aren't already a client, sign up for a free trial to learn more about our platform.