Dollar General is planning to open 900 new stores in 2018.
Traditional brick-and-mortar retailers are struggling to compete against Amazon and e-commerce brands. In the past few years, retail bankruptcies have hit everyone from A&P to Toys "R" US.
But amidst this overall decline in the brick-and-mortar store, one type of retailer is thriving.
Dollar stores are expanding, with Dollar General, a discount retailer, planning to open 900 stores across the US this year.
Dollar store stocks are currently faring better than larger traditional retailers such as Macy's or Sears, and have witnessed an overall net increase over the past year. Although Dollar Tree's stock fell recently, it has not changed overall growth trends.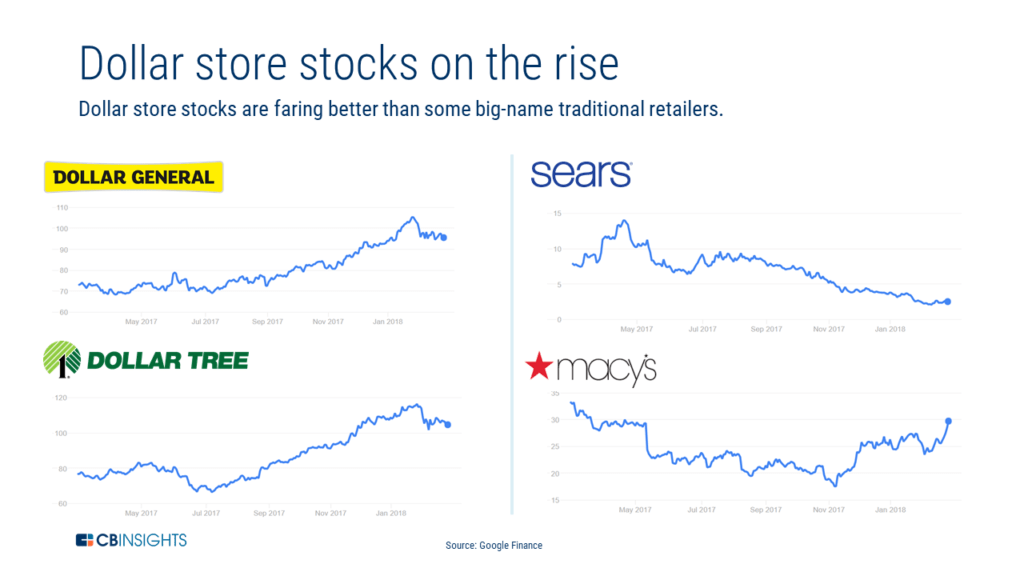 Why are dollar stores escaping the retail apocalypse?
In part due to widening income inequality in the US. The share of US adults falling into a middle-class income bracket (defined as household income ranging from $42K to $126K in 2014 dollars), declined from 61% of adults in 1971 to only 50% in 2015, according to the Pew Research Center.
Dollar General is able to capitalize on a growing customer base of lower-income consumers that are under a greater financial strain and often looking for a deal.
"The middle-class continues to go away, unfortunately, to the lower end of the economic scale … so as this economy continues to create more of our core customer, I think there's going to be more opportunities for us to build more stores." — Todd Vasos, CEO, Dollar General
Moreover, beyond pricing, dollar stores are able to capitalize on convenience. In the case of Dollar General, its stores, which average only 7,000 to 10,000 square feet, take far less time to shop at than a large retailer such as Walmart. Each store is operated by only a handful of employees.
Given the ease and low cost of opening a new store, Dollar General is planning to target rural and low-income areas that are underserved by other retailers, catering to a need for discounted goods when the nearest Walmart is tens of miles away.
If you aren't already a client, sign up for a free trial to learn more about our platform.