We discuss the technologies and trends, from supply chain software to in-store AR technology, that are helping today's brick-and-mortar retailers stay competitive as e-commerce continues to grow.
Foot Locker is closing 110 stores, Abercrombie & Fitch is closing 60 stores, department store Bon-Ton is possibly headed toward liquidation, and Toys R' Us has shut down completely.
And that's just since February.
The retail apocalypse has claimed many victims, with almost 7,000 stores closing in the US in 2017. E-commerce sales growth is pulling ahead of total retail sales (17% vs. 6% for year-over-year in Q4'17), and Amazon is controlling upwards of 40% of online sales in the US, according to the US Department of Commerce and Slice Intelligence, respectively.
In the face of such threats, traditional retail as we have known it for decades is becoming unviable.
Radio Shack, Sports Authority, and Toys R' Us — all once powerful retailers — have succumbed to pressure from e-commerce, changing consumer preferences, and mounting debt from post-financial crisis leveraged buyouts.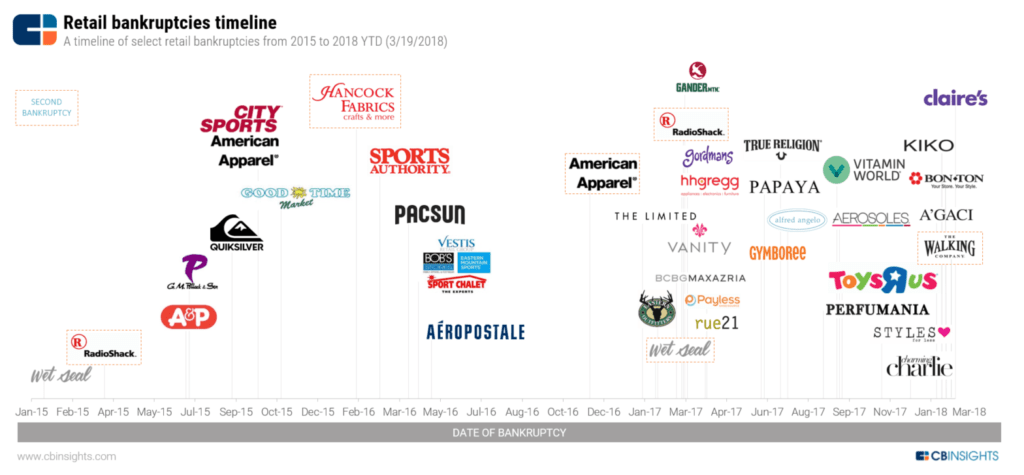 However, this isn't the whole story.
In fact, a whole host of traditional retailers are bucking this trend — many planning to open hundreds of stores in 2018.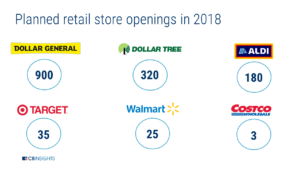 Retailers are leveraging technology, such as artificial intelligence and augmented reality, to enhance operational visibility and personalize their customer service, a new necessity in fast-changing and demanding consumer market.
As a result, an entire ecosystem comprised of hundreds of tech startups has emerged to help brick-and-mortar retailers adapt, working across categories from inventory management to shelf monitoring.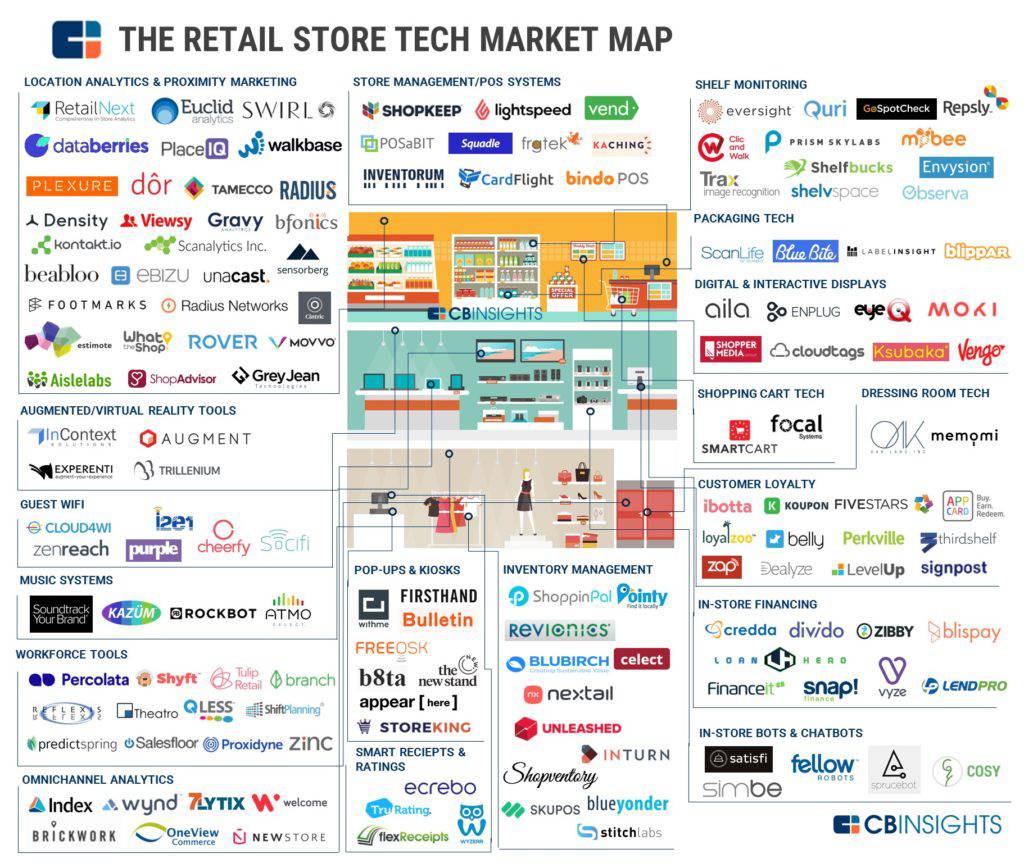 As retail continues to evolve, we look at how "traditional" brick-and-mortar retailers are using some not-so-traditional methods to stay competitive in the face of e-commerce and a rapidly shifting consumer landscape.
TABLE OF CONTENTS
Read on to understand how retailers across these themes and categories are reshaping their business models, offering new services, and leveraging technology to stay ahead of the competition.
1. The new big-box store
Say goodbye to the big-box stores of yesteryear. Big-box retailers can no longer compete solely on low prices and wide selection.
Ikea as a model
For the opening of its newest store near Dallas in December 2017, Ikea partnered with media and technology agency Wavemaker to offer VR games and experiences to customers entering the store.
Nearly 300 people tried out the technology, which allowed them play a "pillow toss" game or hang out with a virtual panda. It was an experiment by Ikea to better understand what types of technology could attract customers, and more broadly to introduce them to the Ikea brand.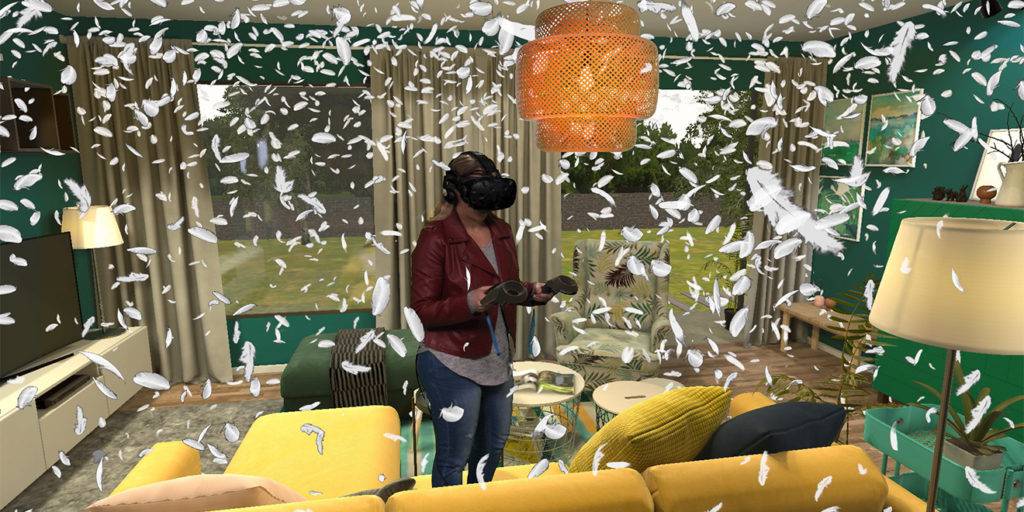 This comes as part of a larger effort by Ikea to test out new technology in its stores and through its e-commerce operations.
"We're in a test-and-learn phase as we consider what other investment routes we should explore. As we continue to meet our customers where they are, especially online, we have to think simultaneously about a lot of different aspects: our stores, logistics, digital capabilities, and services." — Alistair Davidson, CFO, Ikea
And indeed Ikea has made inroads in logistics and technology: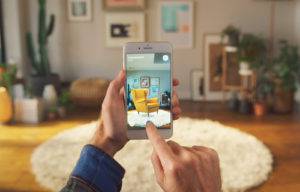 The company has worked with many partners, including ad agency 72andSunny, to develop an AR furniture app to help prospective customers better visualize Ikea furniture in their homes. The app was built using Apple's AR-kit.
In a greater sign of commitment to digitization, Ikea acquired on-demand handyman startup TaskRabbit for around $50M in September 2017.
Starting in March 2018, Ikea plans to expand its TaskRabbit-powered assembly service to more locations. Currently, customers in New York City and San Francisco are able to leverage experienced TaskRabbit workers to assemble furniture; the service will be expanded to stores in Los Angeles, Miami, Houston, Boston, and more this year.
In its quest to go digital and keep up with the rising competition, Ikea is betting that its AR-app and TaskRabbit assembly service will build consumer loyalty by going directly into consumer homes.
Some of these bets may be paying off.
Ikea continues to open stores across the US and is gearing up to open its first-ever store in India, aimed at the country's booming middle class.
Best Buy remakes itself
Ikea isn't the only big box retailer trying to strengthen its customer relationships in-home.
Electronics retailer Best Buy has entered its newly announced growth phase, dubbed "Best Buy 2020," and is looking to "build more predictable revenue streams from recurring revenues and stickier customer relationships," according to Business Wire.
Best Buy has recently launched its in-home consultation service. Best Buy sales representatives will offer a free in-home consultation to customers looking to revamp electronic equipment and technology. In a move that will further stoke competition, Amazon also unveiled at-home tech-related consultations and installations last year.
Like Ikea, Best Buy aims to deepen its relationship with customers — a smart move in an age when brand loyalty matters more and more.

Best Buy's growth phase comes on the heels of its previous "Renew Blue" business revival plan. Over the past several years, the once-declining company turned its fortune around through a focused effort by strengthening core business fundamentals: e-commerce operations, pricing strategy, and employee training and benefits.
The company has already leveraged its big-box stores as fulfillment stores to offer quicker e-commerce delivery to customers.
"You start with improving what you have. Then you work on strategy later, and that's where we are." — Hubert Joly, CEO, Best Buy
Amid these efforts, Best Buy has seen its share price rebound from close to $10 at the end of 2012 to around $70 in the first quarter of 2018.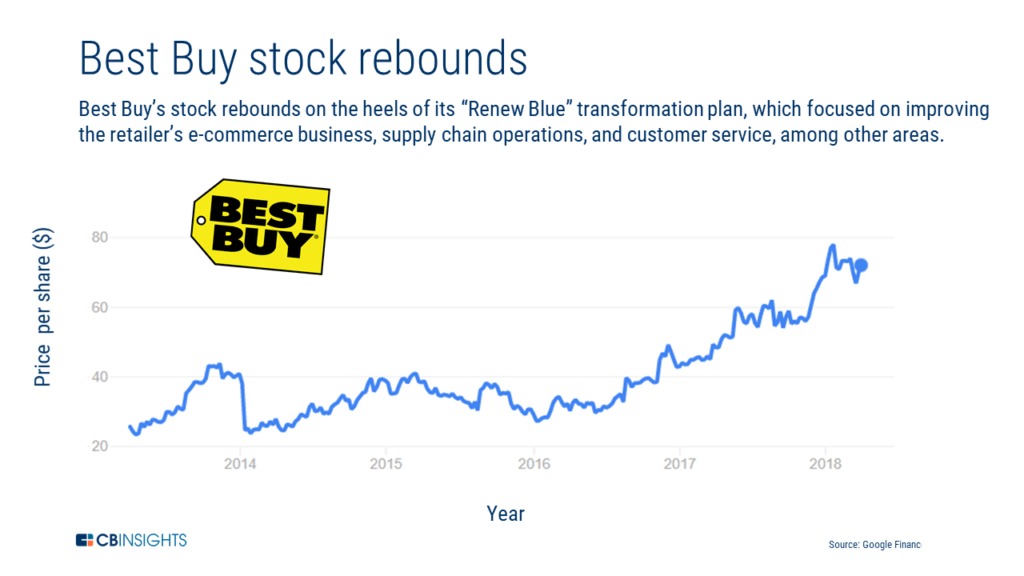 As Amazon barrels down a similar path, both Ikea and Best Buy will have to find a way to make their customer services indispensable to the average consumer to avoid being replaced by the e-commerce behemoth.
Can Costco keep Its Hold On Wholesale?
Costco remains the king of wholesale — for now.
The wholesale giant has largely weathered incoming threats from e-commerce giants like Amazon because its membership-based bulk shipping model is difficult and expensive to replicate online.
Costco's ability to maintain its footing is evident in its topline numbers. Over the last quarter, Costco's same-store sales soared 8.4%. Its membership fee revenue grew 12.6% to $716M over the same period.
But despite the retailer's natural competitive moat in the wholesale space, it has begun to make efforts to compete online to provide more for its customers.
Costco's online sales, an area where it has only recently been putting effort, jumped a whopping 28.5% over its most recent quarter. In tandem, the wholesaler has begun offering two-day delivery through its e-commerce site, and even partnered with startup Instacart to offer same-day delivery for groceries.

Even with its growth in membership renewal and sales, Costco's gross margin has suffered as it continues to lower prices. The retailer has reportedly been squeezing its CPG suppliers for lower prices, in a move reminiscent of Walmart.
The company will have to be wary of its margins going forward, despite its competitive advantages and strong revenue growth. While the retailer's pronounced move online is a necessary strategic move, traditional bare bones e-commerce may not be enough for the wholesale giant going forward.
And while the wholesale space has yet to be fully eaten up by tech, startups will pose a greater threat to Costco going forward.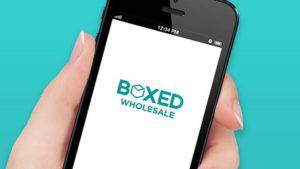 Boxed, a major acquisition target for many retailers, represents one of the first startups to successfully tackle wholesale e-commerce. Boxed recently announced it would introduce an AI-powered chatbot concierge to help personalize customers' online ordering process. The startup also unveiled its new annual membership program, which will offer free priority shipping.
As players like Boxed move into the wholesale membership space, Costco will have to find more ways to personalize its online experience beyond basic e-commerce and delivery if it wants to remain competitive.
2. Kohl's and the smaller, faster department store
Kohl's stock has jumped from around $40 per share last November to just above $60 per share as of April 2, 2018.
Smaller-format stores and a quicker supply chain, among other reasons, have contributed to this spike.
Going smaller to grow bigger
When you walk into one of Kohl's new small-format stores, you can see the entire store from one 360-degree spin.
This is a far cry from Kohl's usual 90,000 square feet stores, and part of the retailer's latest strategy to streamline its physical presence.
The retailer is shrinking hundreds of its 1,000+ stores from 90,000 square feet to 60,000 square feet. It's also developing 12 smaller 35,000 square feet locations.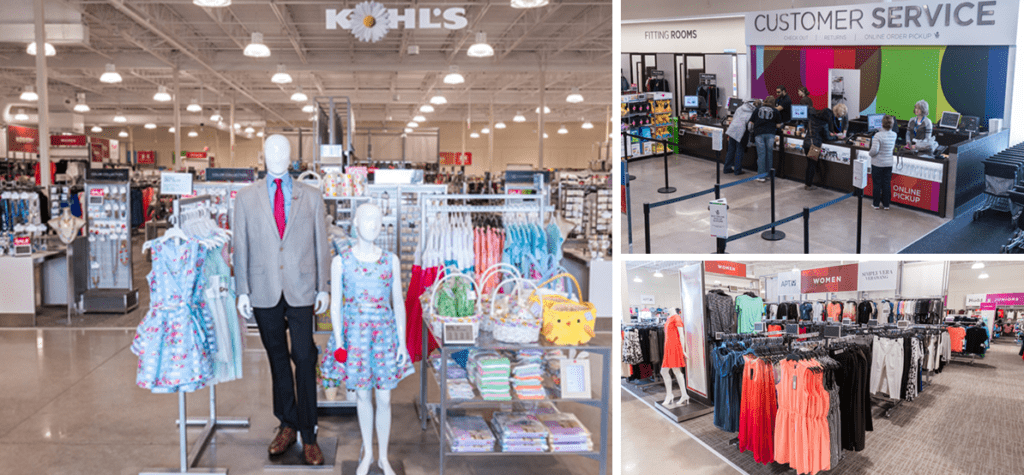 While smaller-format stores offer a speedier, more convenient experience for shoppers, they benefit Kohl's from a number of strategic standpoints:
They are less expensive to operate, and require fewer employees and overhead costs
Many occupy only one large room, allowing for flexibility in the store's format with sections that can expand or shrink as needed
Kohl's can move into smaller markets where a larger store may not fit
They allow Kohl's to streamline and tighten its inventory
streamlining the supply chain 
Kohl's is taking its supply chain seriously.
As far back as 2009, Kohl's challenged a group of six apparel vendors to manufacture 12,000 pieces of apparel in 6 weeks or less, a process that typically takes 24 weeks, according to Bloomberg.
Only one designer, Jackie Wilson, was able to complete the task.
To this day, her firm continues to work as a supplier for Kohl's, where the team gets new designs from the drawing board to the store in eight weeks, which is "literally taking months out of the process," according to Kohl's incoming CEO Michelle Gass.
Other retailers often send design templates based on fashion runway styles to Asia to be manufactured, which are often outdated by the time they make it to the coat rack.
Kohl's understands the value in speeding up its manufacturing supply chain. Now, new apparel can quickly go from design to manufacturing to shipment within days, allowing the retailer to more efficiently adapt their creations to quickly-changing fashion and consumer trends, enabling the fast fashion business.
Additionally, Kohl's is focused on ordering small test samples of inventory that can be adjusted based on consumer demand. This cuts down the risk of ordering too much of an item that doesn't sell.
This mimics that strategy that Spain-based Inditex, owner of fast fashion retailer Zara, has employed for years.
"We were able to cherry-pick and apply the best of [Zara's] model to Kohl's" — Jackie Wilson, supplier for Kohl's
Zara has streamlined its supply chain to the point where it can get a piece of apparel from design to the coat rack in only 25 days. This remains one of its strongest advantages over traditional apparel retailers and department stores.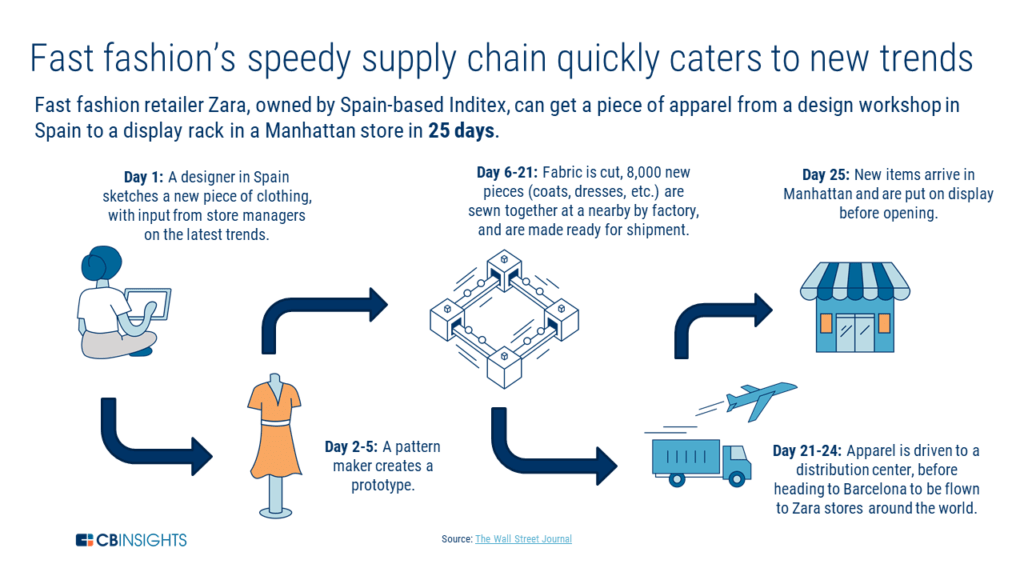 "Think of Zara not as a brand, but as a very speedy chameleon that adapts instantly to fashion trends." — Anne Critchlow, Analyst, Societe Generale
Kohl's new small format stores will mesh well with its streamlined supply chain as both are focused on cutting down on excess inventory.
Both will also help Kohl's trim its overall physical presence, creating a more sustainable brick-and-mortar operation that more efficiently serves customers and caters to their trends.
Kohl's strategy offers hope to middle-of-the-road department stores that are losing out to low-end and high-end retailers. In addition to the strategies mentioned above, the retailer has also partnered with Amazon to sell the online giant's products and accept its returns in-store.
As Kohl's continues to downsize, it is also offering excess space to German discount grocer Aldi (which we discuss below) at 10 of its existing stores.
While mainstream retailers attempt to appeal to everyone, their service and products often remain average or undifferentiated. Kohl's is finding a way to mold its physical presence and operations to remain competitive, while still appealing to a wide range of consumers.
3. Targeting new demographics
Middle-of-the-road retailers that attempt to cater to everyone are appealing to fewer and fewer people.
With little differentiation in their products or services, consumers have no motivation to visit these retailers' stores as they move online.
However, retailers targeting underserved demographics are winning big. Their secret weapon? Price.
catering to tweens and their allowance
At retailer Five Below, a teen or tween can go in with a spare $5, buy an assortment of food, sports, or style accessories, and still potentially walk out with spare change.
They can fill up 10 cents worth of candy from a dedicated in-store candy tower, bounce a basketball that they are interested in buying, or experience one of the retailer's in-store product demos.
The casual and relaxed nature of the store, which often plays popular music, is designed to give young customers and their friends a fun shopping experience at a highly discounted price.
"Five Below has succeeded because we are a differentiated treasure hunt that targets tweens and teens at value pricing. Nobody else is doing it … You need to either be in the value space or the store experience space. We happen to be in both." — Joel Anderson, CEO, Five Below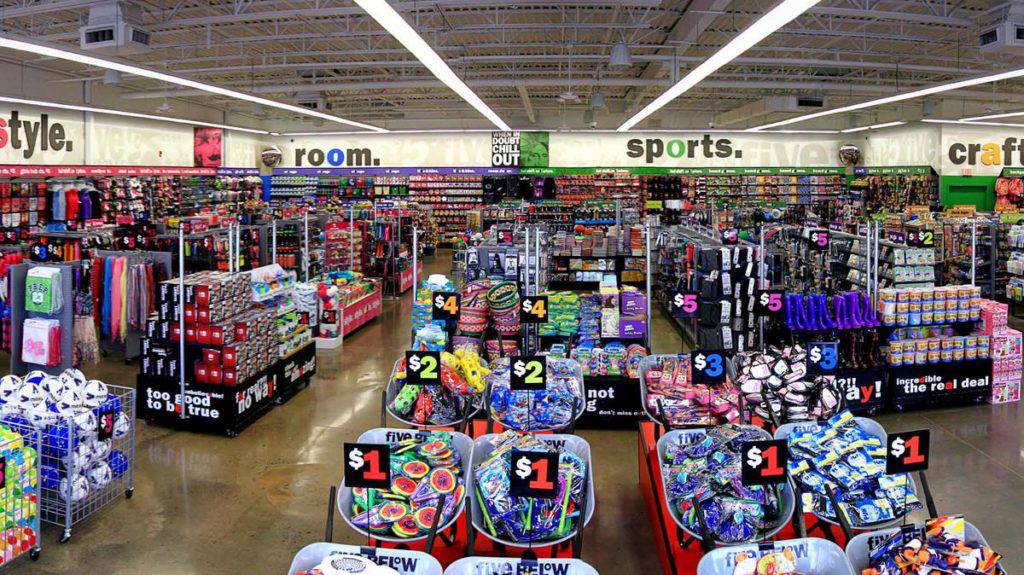 Five Below keeps a close eye on consumer trends for teens and tweens. Through feedback from store managers and customers, Five Below is able to get a product from idea to the shelf in less than six weeks, as it did with the fidget spinner in 2017, according to Stores.org of the National Retail Federation.
To keep prices low, Five Below leverages private labels. For certain items, like basketballs, the retailer drives down prices by "taking out costs that customers don't care about," like shipping the balls deflated sans packaging.
Five Below's focus on low price and experience is working — the store crossed the $1B sales mark last year, riding 20% sales growth.
Five Below had the highest store growth rate of any retailer with a minimum of 500 locations, according to Bloomberg.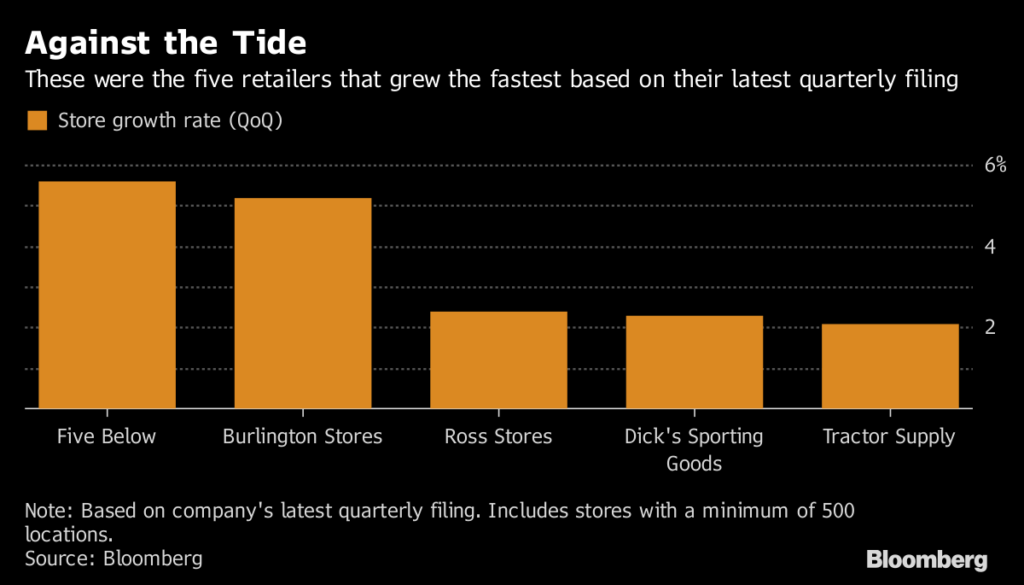 While Five Below has claimed its territory in the arena of non-essential items, traditional dollar stores are taking off in a different direction by appealing to low-income Americans seeking daily essentials like groceries.
The rise of dollar Stores
Wealth distribution in the US is becoming increasingly unequal.
The share of American adults landing in the middle household income range ($42K – $126K in 2014 dollars) declined from 61% of adults in 1971 to just 50% in 2015, according to a study by the Pew Research Center.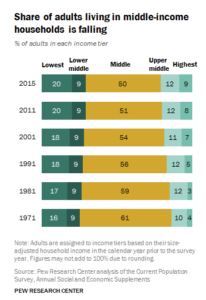 Conversely, the population share in the lowest and highest income brackets of the study grew by 4 and 5 percentage points over the same period, respectively.
Dollar stores selling household essentials, food, and clothing capitalize on a growing population of low-income consumers that are under financial strain and often looking for a deal.
Dollar General, for example, is planning to open nearly 1,000 stores in 2018, while competitor Dollar Tree is poised to open more than 300 stores over the same period.
"The middle-class continues to go away, unfortunately, to the lower end of the economic scale … so as this economy continues to create more of our core customer, I think there's going to more opportunities for us to build more stores." — Todd Vasos, CEO, Dollar General
In addition to pricing, dollar stores can capitalize on convenience. Dollar General's stores average only 7,000 to 10,000 square feet, allowing for a much faster shopping experience than large retailers such as Walmart. Each store is operated by only a handful of employees.

Given the low cost of opening a new store, Dollar General is planning to target rural and low-income areas that are underserved by other retailers, catering to a need for discounted goods when the nearest Walmart is tens of miles away.
The current success of dollar stores is evident in their stock prices. In comparison to Macy's and Sears, both Dollar General and Dollar Tree have seen a much stronger growth pattern over the past five years. This pattern holds true despite a recent stock drop for both dollar stores in March 2018.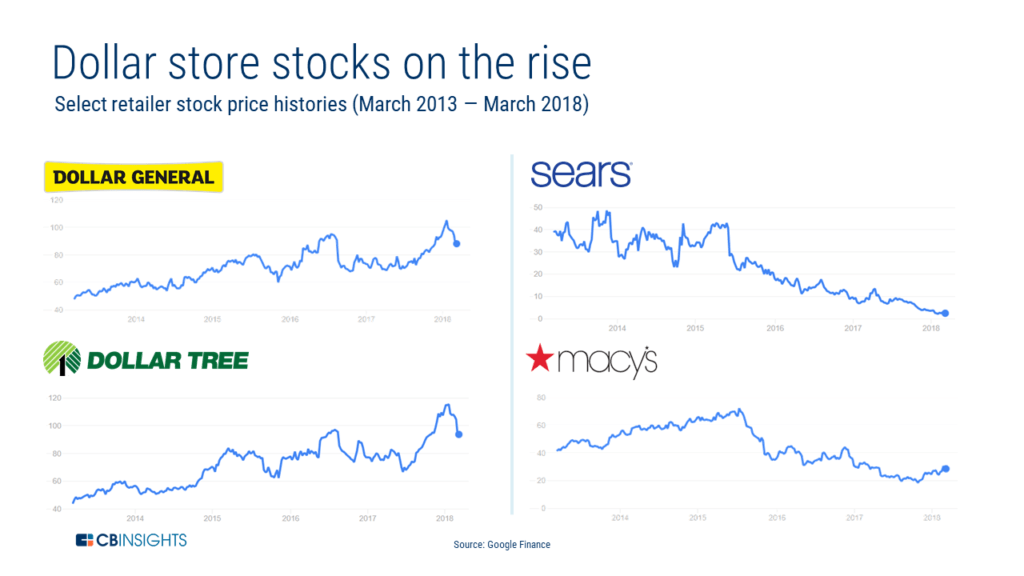 The proliferation of Dollar General and other dollar stores poses a threat to Walmart. Both target rural low-income consumers, yet Dollar General is dotting the rural landscape at at a pace that Walmart cannot keep up with.
While competition between the two is a given, it wouldn't be surprising to see Walmart attempt to partner with or acquire Dollar General as well.
4. Turning grocery on its head
Germany-based discount grocer Aldi is making waves in the US grocery market.
While it has operated in the US since 1976, its newly announced expansion is heating up its competition with established American grocery retailers.
Each store is only 12,000 square feet, much smaller than a standard grocery store like Kroger (67,000 square feet).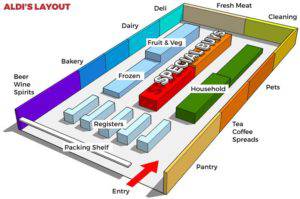 When you walk down the aisles (and there are only a few), you will notice that there aren't many options to choose from for any single product, nor are there many typical brand-name products that you might recognize — in fact over 90% of the products in the store are unique to Aldi.
But if you're not a fan of any of these major distinctions, there is one other difference that has become increasingly attractive to consumers: price.
Aldi streamlines physical stores for lower prices
Price is Aldi's biggest draw.
All of the factors that distinguish Aldi from a typical American grocer are built into its business model to allow for lower prices on its goods.
Its price-lowering strategies include:
Smaller stores: Aldi stores are compact. While there may be less room for an abundance of product variety, Aldi chooses to showcase fewer types of each product in order to squeeze in all essential grocery options. Subsequently, the company saves on rent and utilities, and these savings are then passed down to consumers.
Fewer employees: Aldi also employs a small in-store staff, which helps to reduce labor costs. A forklift operator delivers items directly into large open boxes in aisles, and customers grab the items from there. This largely eliminates the need for employees to restock store shelves. Employees also don't need to collect shopping carts from the parking lot, as customers generally return their carts to retrieve their 25-cent deposit.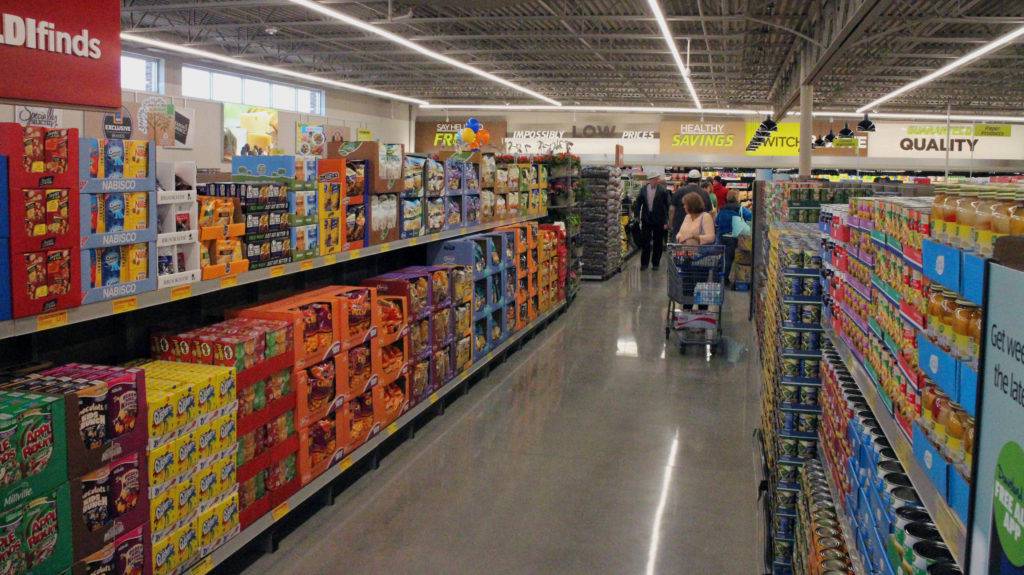 Private labels: One distinguishing characteristic of Aldi is its widespread use of private labels. Mentioned previously, approximately 90% of products in Aldi stores are Aldi private label brands. Private labels allow Aldi to keep costs down by as much as 35% – 40% on certain products. They also allow Aldi to cater its product offering to current consumers trends — such as organic and non-GMO foods — building stronger consumer loyalty and independence from third-party brands.
Fewer options: Unlike traditional grocery stores, which might offer ten distinct brands of the same product, Aldi typically only offers one or two versions. By focusing on select top-selling items, Aldi can negotiate larger bulk discounts from suppliers.
Aldi has recently invested $5B into its American physical expansion, planning to become the third largest grocery in the US by 2022.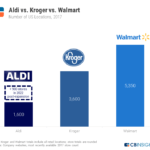 Can traditional grocers emulate Aldi?
Short answer — yes, and no.
Aldi's entire brick-and-mortar operation is built from the ground up to embody efficiency. That efficiency translates to lower prices. The existing stores of traditional grocers are not designed with such efficiency in mind, and it would take considerable time and money for retailers to redesign all of their stores — though a few retailers are dabbling in small-format stores, like Target or Kohl's (mentioned above).
Nevertheless, traditional grocers can emulate Aldi far more quickly in other ways — specifically, with private labels.
Like Aldi, by cutting out third-party brands from the equation, retailers can get products to their shelves at a much lower cost. Lower costs can mean better control over operating margins, and lower prices for consumers at the store. This can attract more business and help retailers build consumer loyalty.
Albertsons' private O Organic line, which added over 200 products to last year, reached $1B in sales in 2017. Kroger announced it would invest more heavily in its 1400+ organic product line Simple Truth in 2018.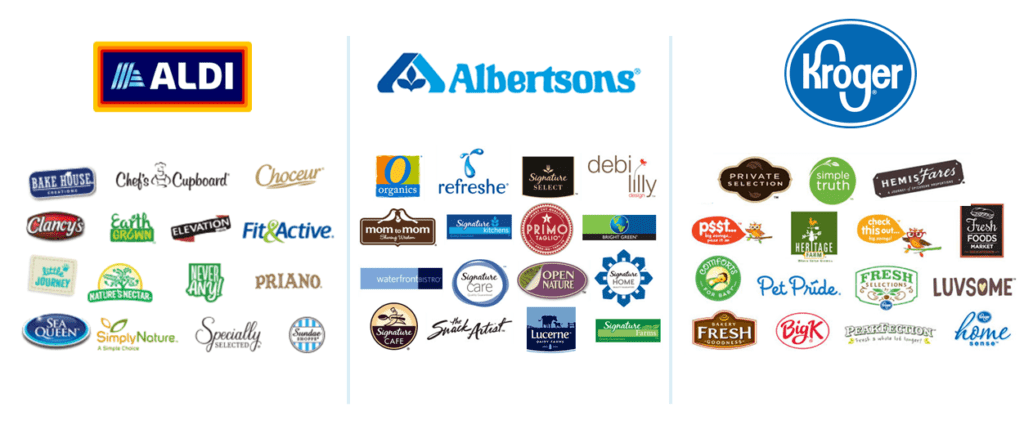 E-commerce retailers have also jumped on the private-label train. Emerging direct-to-consumer startups such as Brandless, Public Goods, and Thrive Market bypass retailers by offering curated private label products that also aim to build consumer loyalty.
Many of these startups have gained investor traction, with Thrive Market raising more than $150M from Greycroft Partners and Brandless raising over $50M from New Enterprise Associates, among other investors.
Amazon has also quietly expanded its army of private labels, with 80 brands across grocery, home goods, apparel, and more, according to Gartner L2. While grocery products currently account for only 3% of its private brands, this could change as Amazon continues to expand in this sector, and attempts to lower Whole Foods (which it acquired for $13.7B) prices even further.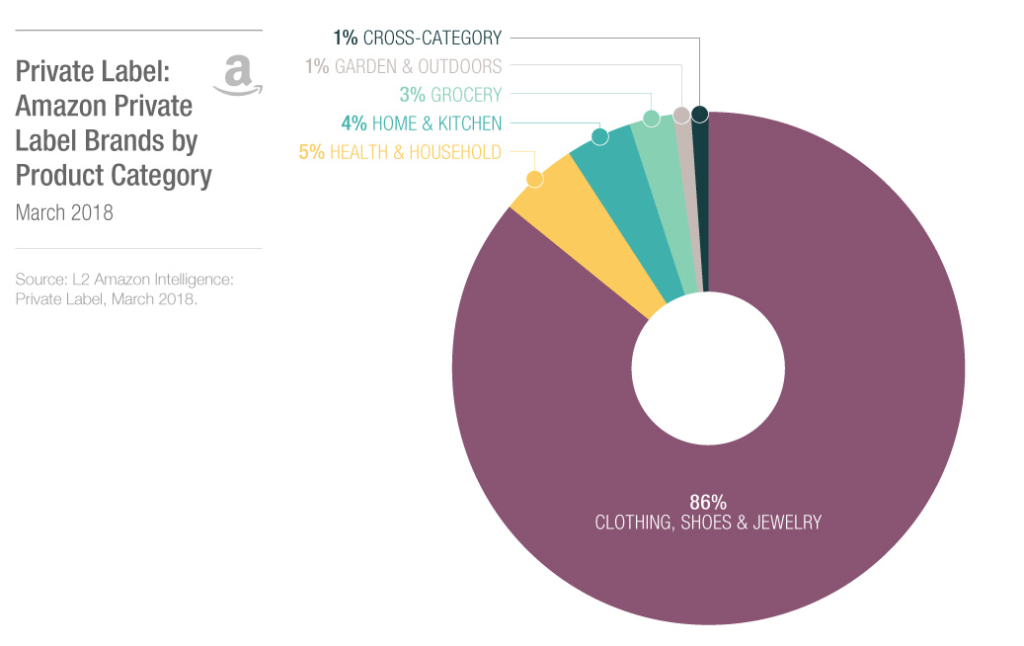 Online retailers will undoubtedly provide another battleground of competition for traditional grocers as they both attempt to build consumer loyalty.
Lucky's market capitalizes on health and community
Organic and cheap. These two words are not usually associated with one another.
Lucky's Market, a small grocer that launched in Colorado in 2003, is attempting to lower the barrier on healthy food for consumers by providing affordable, organic, and natural produce.
"Our slogan is 'Organic for the 99%,' meaning we try to make shopping for healthful foods more affordable to more people." — Ben Friedland, VP of Marketing, Lucky's Market
The company has expanded to 33 locations across the US since 2003. Recently, the retailer has reportedly focused its growth in Florida, where it's expected to have 22 locations by 2019.
Even Kroger has made a strategic investment in Lucky's, allowing the all-natural retailer to leverage its supply chain to accelerate growth.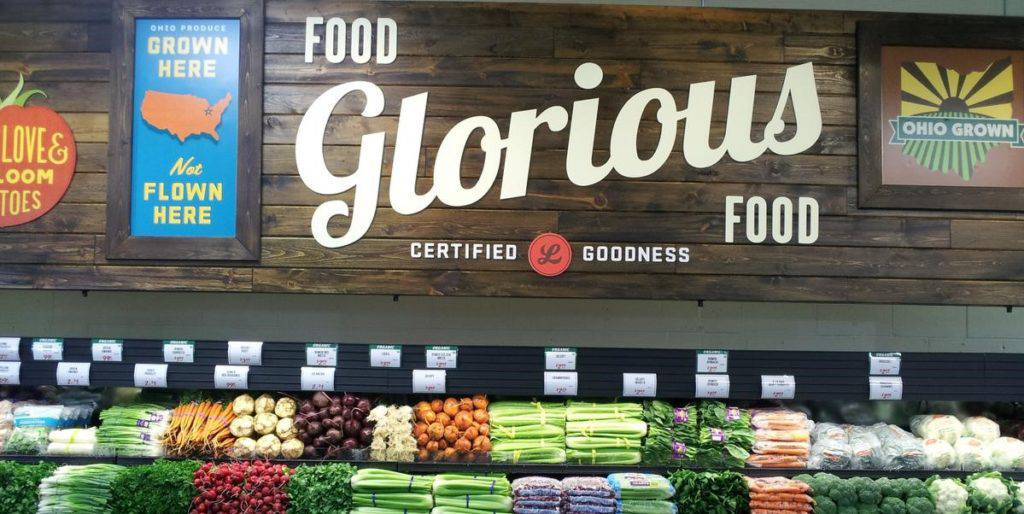 Lucky's Market is attempting to have its stores double as community gathering places where customers can come to socialize. Twenty-five percent of the floorspace is devoted to nonretail activities, with tables in a café, performance areas for local musicians, and a designated community room for neighborhood groups to meet, according to The Wall Street Journal.
Lucky's Market is betting that it can continue to attract customers through its natural yet affordable food and its authenticity as a neighborhood market invested in community health. Given the retailer's backing by Kroger, it could be well positioned to compete against its larger competitor Sprout's Farmers Market in Florida.
Last mile scramble
In the wake of Amazon's acquisition of Whole Foods, American retailers are racing to improve their logistics capabilities.
Retailers are partnering with delivery startups to compete. Most notably, Kroger and Aldi have recently jumped on board with Instacart, which is now positioning itself as a savior for grocers with little to no e-commerce or delivery capabilities. Instacart also delivers groceries for some of the largest retailers in the US, including Albertsons and Costco.
Albertsons, Target, and H-E-B have all recently acquired food delivery startups to improve their delivery capabilities and digitize their operations. Through its acquisition of startup Shipt, Target was able to begin offering same-day delivery in February 2018.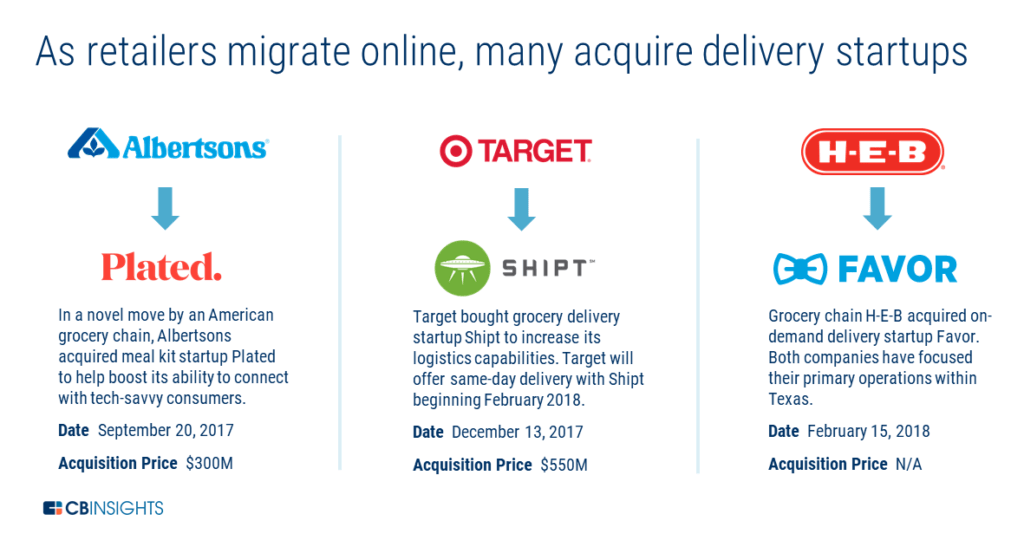 As Amazon recently unveiled its two-hour grocery delivery service from Whole Foods for Amazon Prime members, these acquisitions have not been made in vain — but they may not be enough.
Case in point: Amazon is already thinking of new ways to streamline its e-commerce fulfillment supply chain. The company was recently granted a patent for a fulfillment center for last-mile delivery drones. The fulfillment centers would be stationed in urban areas to shorten the distance needed to travel to most consumers.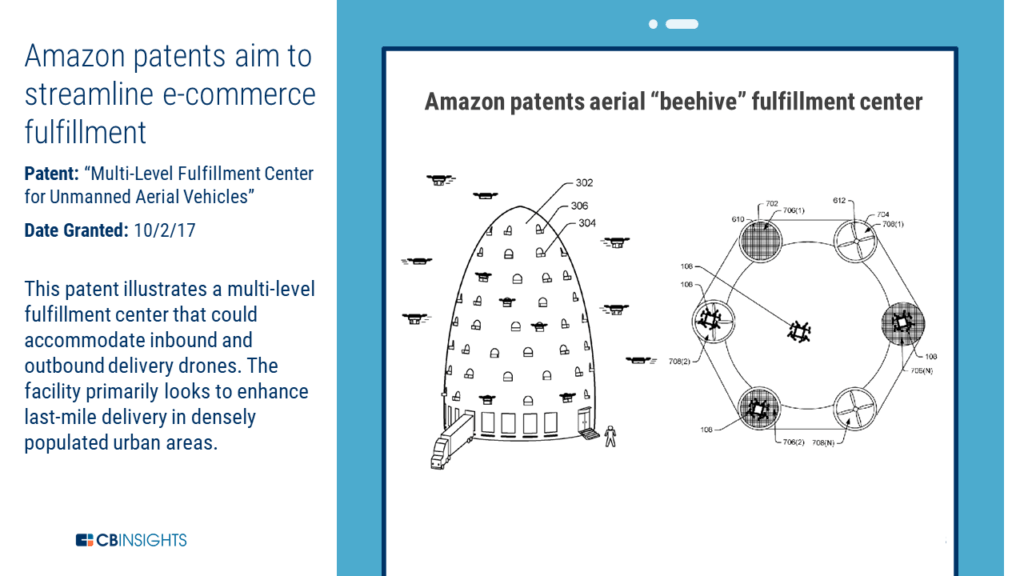 As Amazon continues to push the boundaries of logistics, retailers will have to think beyond traditional forms of last-mile delivery.
Micro-fulfillment centers, for example, focus on compact forms of warehousing in urban areas. Startups that specialize in different forms of micro-fulfillment centers, such as CommonSense, Darkstore, and Takeoff Technologies, offer retailers a chance to reduce last-mile cost and complexity.
Going forward, grocers may find acquisitions or partnerships in the micro-fulfillment space to be another weapon against Amazon.
5. Cultivating new niches
Retailers are seeing growth in obscure categories like RVs, arts and crafts, and even farming equipment — thus enabling brick-and-mortar shops to thrive across these spaces.
Niche retailers on the up and up
A number of niche retailers are increasing and enhancing their physical store presence.
Retailer Camping World, which went public in 2016, wants to be the one-stop shop for everything RV.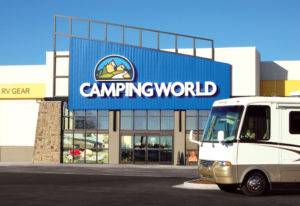 The company has gone on an acquisition spree of RV dealerships around the country. Its latest acquisitions include Dixie RV Superstore in Virginia, B & B RV Center in California, and Spader's RV Center in South Dakota — all taking place in Q1'18.
In addition, Camping World bought bankrupt outdoor equipment retailer Gander Mountain in 2017. The company is reopening the chain as "Gander Outdoors" and is focusing on opening smaller-format stores in fewer locations.
Beyond its acquisitions, Camping World is quickly amassing a reputation as "the place" to go for anything RV-related by offering RV and camping gear, RV maintenance, protection plans, product advice, and an e-commerce site.
Another niche retailer on the brink of expansion is arts and crafts retailer Hobby Lobby, which has over 800 stores around the US. The company added 63 locations in 2017 and plans to open 60 more stores and hire an additional 2,500 employees in 2018.
Hobby Lobby defies traditional retail convention by closing at 8pm and never opening on Sundays. Additionally, all workers begin with a starting salary double the minimum wage. The company's treatment of employees has attracted long-term employees, according to CEO David Green in an interview with Investor's Business Daily.
Hobby Lobby's stores contain approximately 100,000 items each — a treasure trove for crafts enthusiasts.
"Customers just love coming here … It's like a retail Disneyland and they can browse for hours." — William Castro, Senior Assistant Manager for 17 years, Hobby Lobby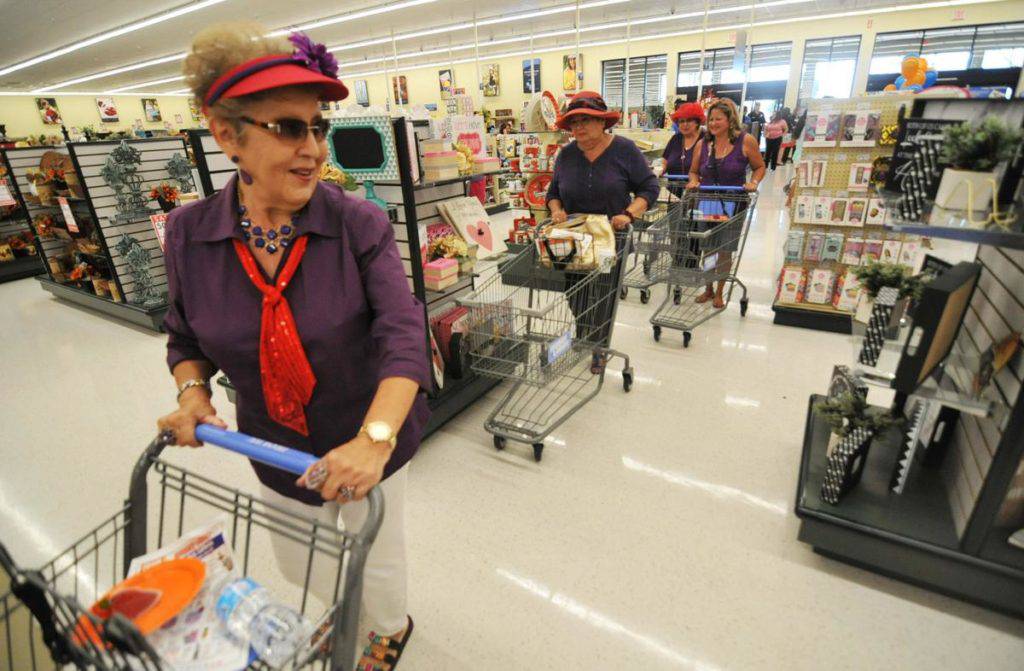 Given that all the stores carry the same inventory, Hobby Lobby sources all of its items from a single 9 million square feet warehouse, a move that Green claims streamlines the retailer's logistics costs.
Another example is Tennessee-based rural lifestyle products retailer Tractor Supply. The organization is opening its 1,700th store, and saw its same-store sales increase 4% in Q4'17.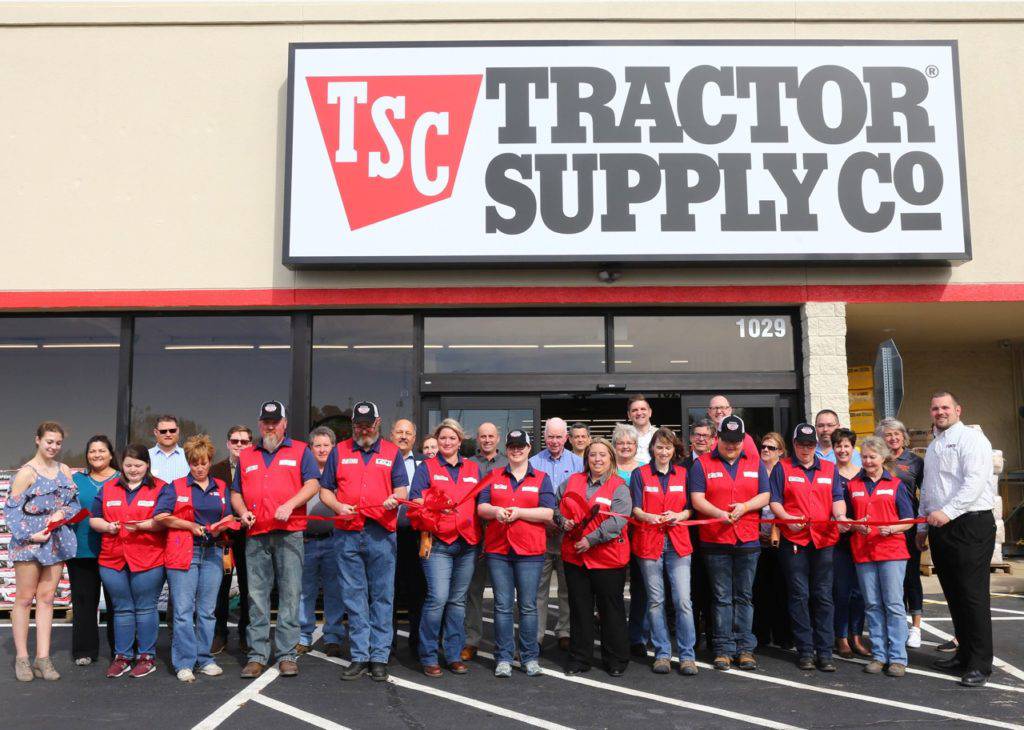 While the company started as a tractor supply catalog, it has morphed into one of the largest retailers dedicated to rural lifestyle products, selling pet and livestock products, hardware, lawn and garden products, clothing, toys, and gifts.
Tractor Supply has focused on integrating technology into its in-store operations, launching programs such as its Buy Online, Pick Up In Store service. The retailer has invested in "arming store associates with mobile point-of-sales devices and deploying a tool called Stockyard that allows store associates to offer customers currently out-of-stock items from vendors' inventories," according to DigitalCommerce360.
The power of expertise and authority
Niche retailers have an inherent advantage: they can build brand loyalty and authority by solely focusing on the vertical in which they sell.
For particularly niche areas such as RVs or farming equipment, this rings especially true, as consumers are likely to find items that cannot easily be found online on a broader site like Amazon. The expertise provided in-store by employees is another factor that can incentivize consumers to shop brick-and-mortar.
Once authority is established over a niche domain, it can act as a strong and wide competitive moat, even in the face of e-commerce.
6. Repurposing the physical store
At Build-A-Bear, children — or anyone, for that matter — are taken through the entire stuffed animal creation process.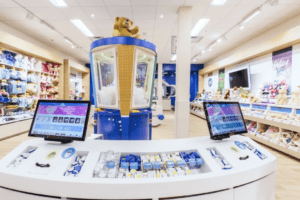 At each and every step, customers have the chance to personalize their stuffed animals. They can pick the type of animal, decide its body mass index, personalize its outfit, and even give it a heartbeat.
More importantly, Build-A-Bear's stores represent not just a retail transaction, but an experience that builds "memories," according to The Wall Street Journal.
These memories and greater emotional attachment are what drive customers into the physical store, keeping Build-A-Bear afloat despite a rise in e-commerce. This is something Amazon does not compete in.
The retailer's strategy is working — it has expanded its physical footprint by 12% over the past five years, debt-free.
"We've been around for 20 years now, in a space where people have a reason to go to retail for something other than transacting … Build-A-Bear was on the forefront of experiential retail. We created it, to some degree." — Sharon Price John, CEO, Build-A-Bear
Stores as destinations
Apple has perfected its brick-and-mortar game. The company consistently ranks as the top retailer in the US based on sales per square foot, topping out at over $5500. The average retailer in the US only sells $325 per square foot by comparison, according to CNBC.
Apple has put a strong emphasis on turning their stores into community spaces, acting a gathering place for people to spend time, shop, and bring gadgets in for repair, without the hassle of long lines and cash registers.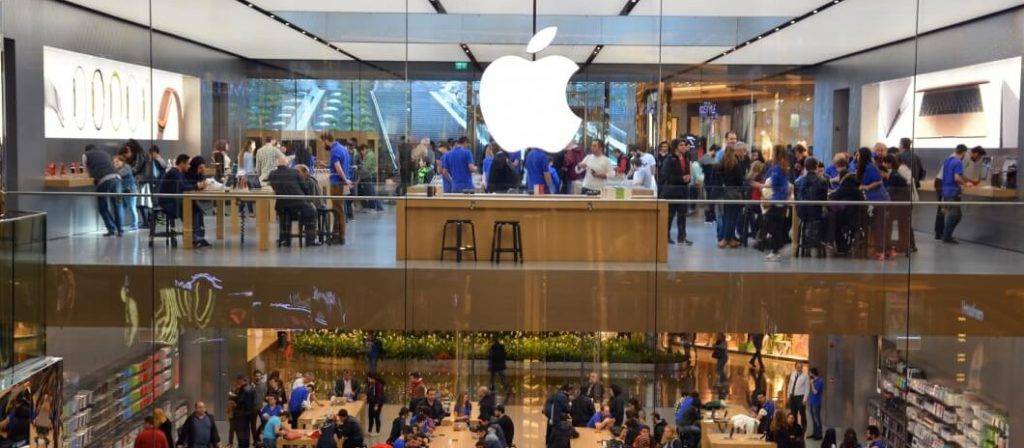 Other brick-and-mortar retailers are catching on. 
Nike is doubling down on "experiential" retail. One of its locations in New York City features a basketball court and a treadmill where customer can test out Nike apparel as they play and exercise. Store employees use in-store cameras to analyze the action and recommend the best type of footwear and apparel to the customers.
Nordstrom and Sephora are also testing out new store formats. Both have opened small-format stores named Nordstrom Local and Sephora Studio. Customers can walk into these smaller shops to interact with professional stylists, get items tailored, or test out make up products with the help of beauty stylists.

Sephora, in particular, is using its small-format stores to leverage technology. The beauty retailer partnered with AR startup ModiFace to create an augmented reality mirror for customers to test products in store.
THe Rise of the showroom
In April 2018, sneaker brand and retailer GREATS will open a store in Manhattan.
Unlike a typical shoe store, GREATS wants its stores to "feel more like showrooms, with artful displays and exclusive products to drive people into stores, and regular community events," according to Fast Company.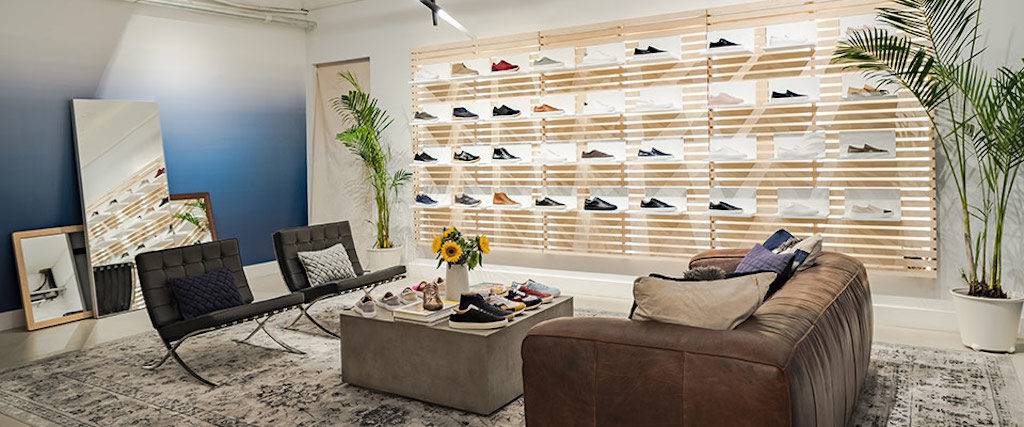 GREATS isn't looking to just use stores as a potential source of revenue, but sees the physical spaces as marketing tools. In a showroom-style store, retailers have a chance to educate consumers on the ethos of their brand, spreading the word in real life.
There are plenty of prior examples that prove this strategy has been successful.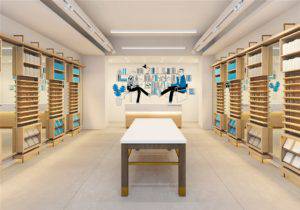 From Warby Parker to Harry's Razors, digitally native direct-to-consumer brands have perfected the showroom style brick-and-mortar store. Warby Parker was recently valued at $1.75B, and plans to expand to grow its number of stores from 65 to 100 over the next year, according to CEO Neil Blumenthal in an interview with CNBC. Even Google's new pop-up stores take on a showroom style format.
The use of pop-up stores, often used to test out brick-and-mortar viability in certain locales, has become commonplace among forward-thinking retailers.
Startups are even catering to the showroom style phenomenon. UK-based startup Appear Here helps connect landlords with startups looking to rent out temporary retail space. Mall developer Simon Malls also recently launched the Edit, a program designed to offer emerging retailers short term retail space within malls and shopping centers.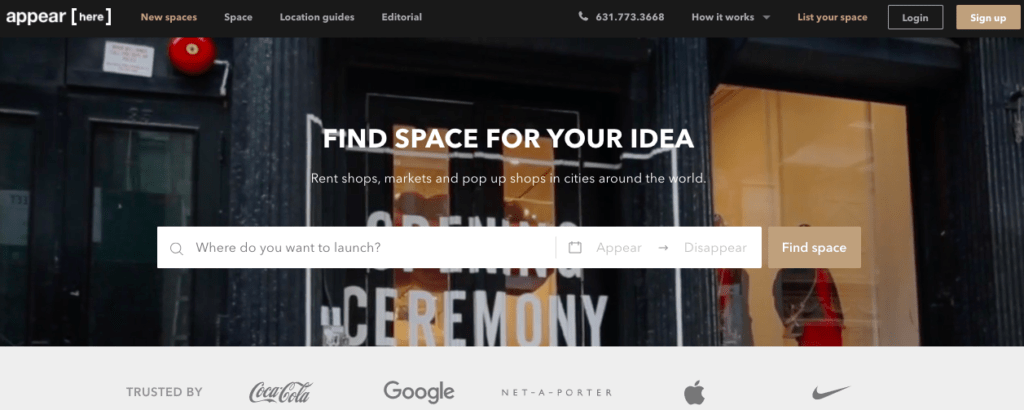 7. Automation and why it matters
Everyone is talking about Amazon Go.
The Amazon-developed cashier-less store uses camera vision technology to identify and track shoppers so that they can purchase items in-store by simply picking them off the shelf and walking out the door.
Understandably, this is concerning other retailers.
Startups like Standard Cognition and AiFi have emerged, attempting to give "normal" retailers the power of Amazon Go's cashier-less technology.
And while Amazon might steal the headlines for now, brick-and-mortar retailers are also employing other forms of in-store automation.
Automation beyond cashier-less checkout
The Lowe's Innovation Lab partnered with startup Fellow Robots to build retail robots OSHBot and LoweBot, which can assist customers with finding specific products in store, among many other tasks. The lab is also experimenting with AR/VR solutions for customer assistance.
Walmart announced this month that it will roll out shelf-scanning robots in 50 of its stores to manage inventory. The robots, which can scan shelves and assist employees, are being developed by California-based Bossa Nova Robotics.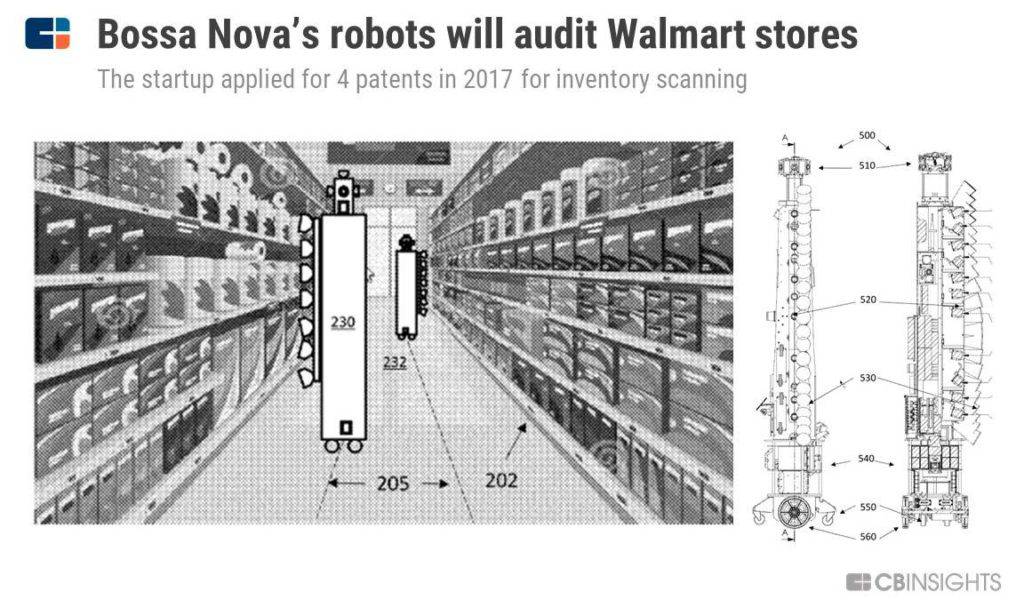 Walmart is also using technology to automate its supply chain.
The retailer recently unveiled "Eden," a food safety inspection technology that automatically screens product for defects.
The retailer also applied for a series of farming-related patents in March 2018. The patents include machine vision and drone technology designed to monitor damage to crops and identify pests. The drones could be used to spray pesticides where necessary, or help pollinate crops given the decline in the bee population.
By taking more control over how its produce is grown, Walmart could potentially save on costs by vertically integrating its food supply chain, managing crop yields more effectively, or increasing its emphasis on transparency and sustainability to attract shoppers.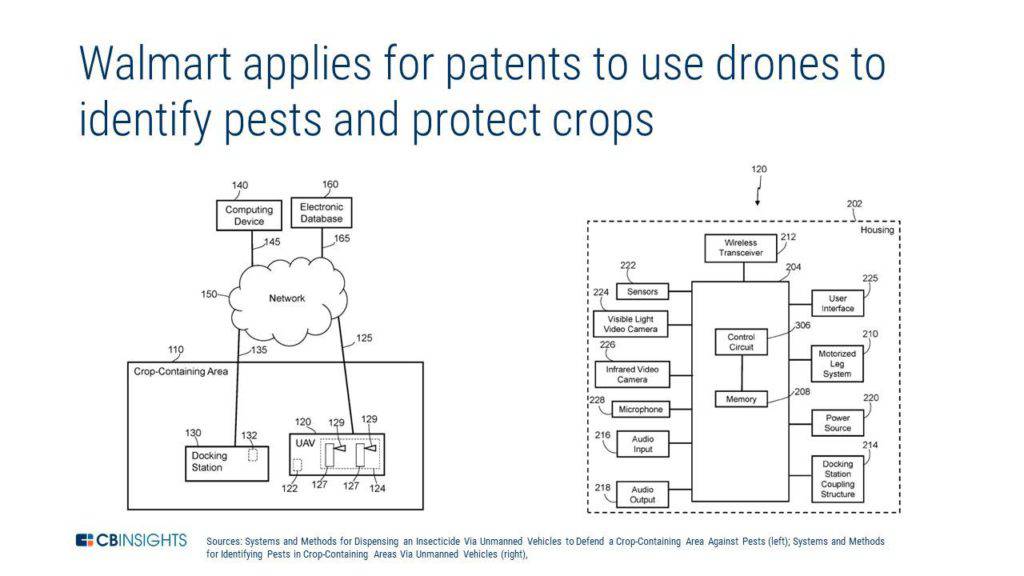 Walmart's efforts to automate its supply chain are not isolated.
A host of startups are catering to back-end supply chain automation, specifically for retailers. Startups such as France-based Vekia offer AI-powered supply chain management software for retailers that aims to improve operating margins through optimization of inventory and logistics forecasting.
While less flashy than cashier-less checkout, supply chain digitization is crucial for retailers that are looking to streamline their businesses.
"I would say, a lot of the value that we're getting from machine learning is actually happening kind of beneath the surface. It is things like improved search results, improved product recommendations for customers, improved forecasting for inventory management, and literally hundreds of other things beneath the surface." — Jeff Bezos, CEO, Amazon
Automation propels A better understanding of consumers
Retail automation can be fun and flashy, but it serves a useful purpose beyond offering speed and convenience — it gathers data.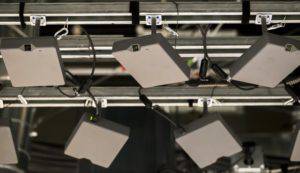 Amazon Go's cameras never take their eyes off of customers while they're in the store. Through its camera vision technology, Amazon has the ability to better understand consumer habits and preferences in-store as its studies its customers over time.
Even without camera vision, retailers are leveraging data from automation to further personalize their services.
Luxury bag and luggage retailer Tumi has partnered with AI-driven platform AgilOne to help automate its marketing processes.
In the process, it has been able to collect data on its customers' purchase history and online browsing habits. While no doubt helpful to the retailer's marketing department, this data has also been instrumental to Tumi's in-store customer service.
In the past, Tumi's customer-service business, an integral part of the luxury retailers in-store strategy, used black books to keep track of high-paying repeat customers, according to Glossy.
However, store employees are now able to surface a product recommendation tool for customers coming into the store. Leveraging data about a customer's online browsing history and past purchases, store employees can make more informed decisions about what products to recommend to customers in-store.
As retailers continue to automate, they will be able to collect an increasing amount of data on their shoppers — further propelling their ability to personalize services in store.
The road ahead for retailers
Retail isn't dead.
However, the retail landscape as we have known it is under massive pressure from the rise of e-commerce, macro-economic changes, and shifts in consumer trends.
"I think the day of the pure play [retail] is dead … Consumers want that choice — they don't want companies' operational complexity thrust upon them, pushing them to only one way to do business." — Liza Landsman, Former President, Jet.com
To survive, traditional retailers will have to continue to integrate technology into their brick-and-mortar operations. Specifically, technology will have to be leveraged to optimize overall operations, supply chain and logistics, as well as the customer journey.
Retailers that can seamlessly integrate digital and physical commerce, leveraging their physical locations as showrooms for their e-commerce and logistics operations, while still maintaining personalized customer service, will have the best shot at powering through significant changes in the retail and consumer landscape.
If you aren't already a client, sign up for a free trial to learn more about our platform.