Two restaurant management software platforms raised $100M+ rounds in July, as restaurant tech startups head toward record financing highs.
July 2017 saw the two largest-ever restaurant tech deals: a $151M private equity investment by Vista Equity Partners to Providence-based Upserve, and a $101M Series C (with participation from Bessemer Venture Partners, Generation Investment Management, and Lead Edge Capital) to Boston-based Toast. Both startups provide software for restaurant management.
Previously, the largest restaurant tech deal had been a $79M deal in Q4'15 to Meiwei Buyongdeng, a Shanghai-based reservation and management platform backed by Baidu, Dianping, and Matrix Partners China.
While these two recent mega-deals may signify investor interest specifically in restaurant software, the restaurant tech sector encompasses much more. Using CB Insights data, we took a look at the investment trends in the industry at large — and we previously mapped out the diversity in the sector here.
We define restaurant tech to include any startup that aims to improve operations for brick-and-mortar restaurants. We do not include food delivery startups or consumer-focused restaurant comparison apps/websites.
Annual Financing trends
In 2017 YTD, investors have participated in 80 deals to restaurant tech startups, totaling $594M in disclosed equity funding. Funding to the sector previously peaked in 2015, but if investment continues at its current pace, 2017 may see a new high for annual funding dollars.
Deals are also on track to grow from last year, when restaurant tech startups attracted 119 deals (tied with 2014, and slightly behind the 2015 high of 130 deals).
The two largest restaurant tech deals in 2017 so far have both taken place in this quarter: the aforementioned Upswerve deal, which boosted the startup's total disclosed funding to $191.5M, as well as the Toast deal, which raised Toast's total funding to $138M.
Dinova, a platform that helps restaurants work with corporate clients, raised the third largest deal so far — a $40M growth equity round backed by Frontier Capital in Q2'17.
A number of restaurant robotics startups have raised funding in 2017, including Momentum Machines, Dishcraft Robotics, Miso Robotics, and Chowbotics. This year has also seen several deals to startups helping restaurants boost their online presences, such as Slice and BentoBox.
In another notable move, Airbnb recently made a restaurant tech play, participating in a $13M Series A to CRM app Resy in January.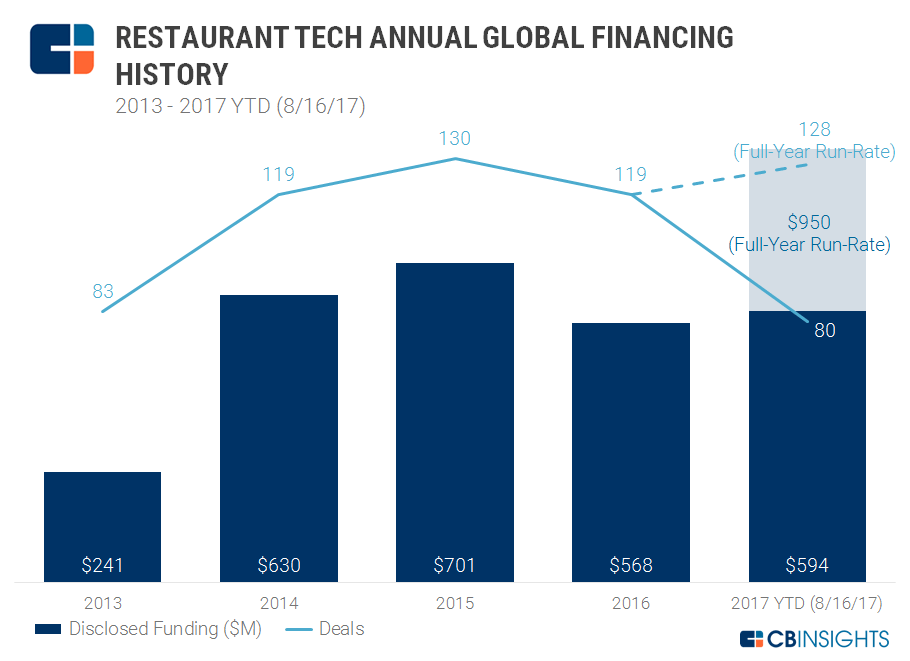 Track all the restaurant tech startups in this brief and more on our platform
Startups adding technology to every aspect of restaurant operations are transforming the industry. Track restaurant tech startups in real time on the CB Insights platform. Look for Restaurant Tech in the Collections tab.
Track restaurant tech startups
Quarterly financing trends
Restaurant tech startups raised $161M across 27 deals in Q2'17, down 29% in deals but up 5% in funding from the previous quarter (Q1'17 saw $154M across 38 deals).
Georgia-based Dinova raised last quarter's largest deal with its $40M growth equity round. Dinova connects restaurants to its network of corporate clients, helping restaurants to attract business diners and major companies to manage their employees' dining.
LevelUp, which powers mobile payment and loyalty apps for restaurants like Chop't, Potbelly, Sweetgreen, Hale and Hearty, and more, raised the second-largest disclosed equity deal with a $37M Series F. LevelUp has raised over $103M to date, from JP Morgan Chase & Co., Google Ventures, Highland Capital Partners, and others.
In third place, an entirely different kind of company — Momentum Machines, which aims to design burger-making robots — raised $18.4M from Google Ventures and Khosla Ventures.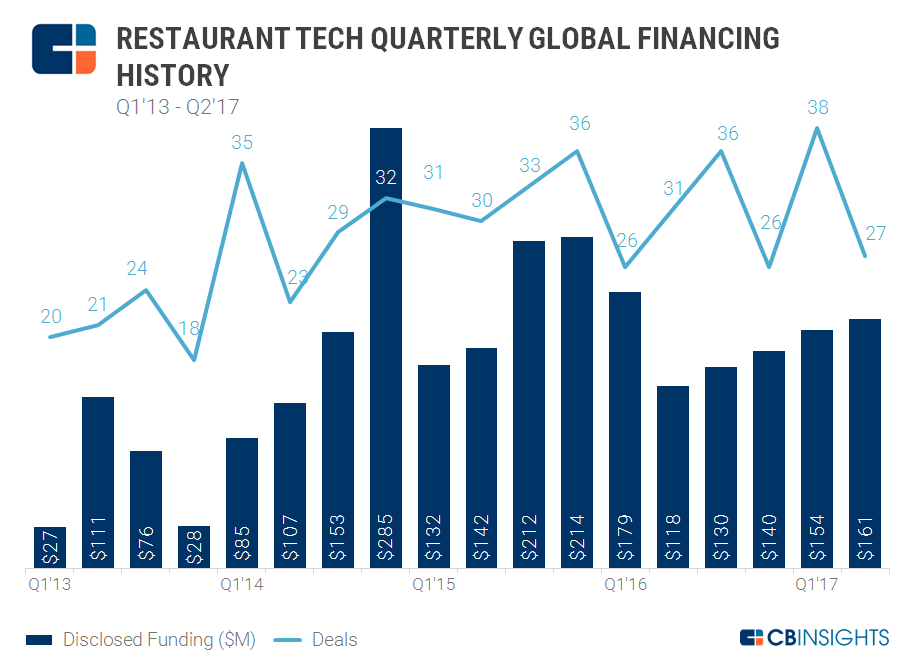 If you aren't already a client, sign up for a free trial to learn more about our platform.