By leveraging intellectual property, internal expertise, and/or legal protections, these companies have built durable business moats based on resource-related advantages.
Resources unique to a company — whether in the form of intellectual property gained through R&D, internal knowledge, or a monopoly — have created some of the world's strongest competitive advantages (or business moats). 
Pfizer turned cholesterol medication Lipitor into the best-selling drug in the world by purchasing the company that had a patent on Lipitor, which meant no other company could sell the drug or a generic version. Disney has established its media dominance by spending billions acquiring companies with valuable intellectual property like Lucasfilm, Pixar, and Marvel.
At the same time, patents and copyright can expire (Pfizer's patent protection on Lipitor ended in 2011), which is why Disney, for example, has engaged in extensive lobbying efforts to protect its vast IP library from having its copyright expire.
Below, we look at what resource moats are and how companies — from Pfizer to Disney to AT&T — have used them to fuel growth and dominance across their respective industries.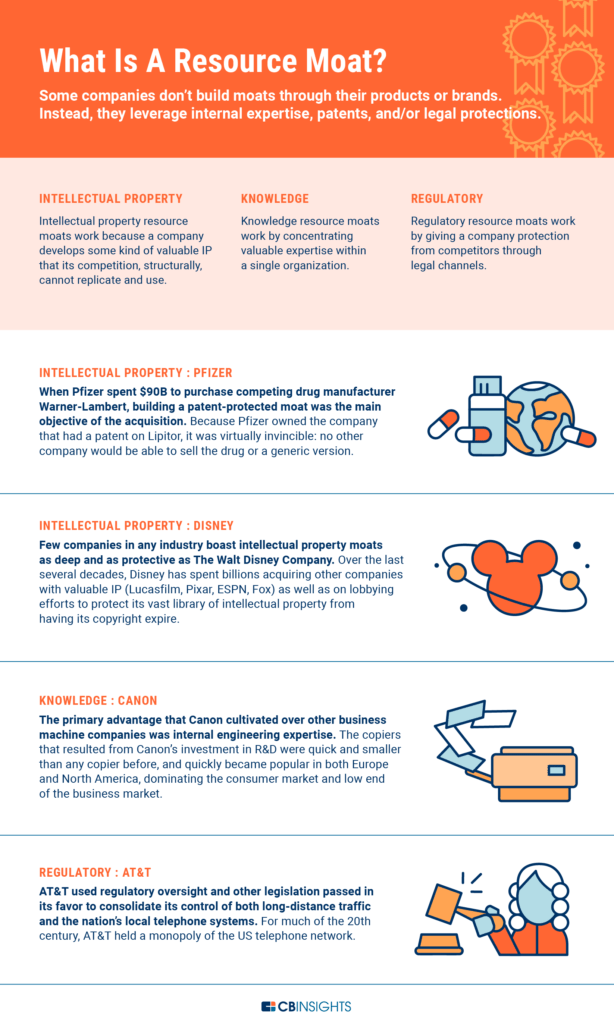 For more on business moats, check out CB Insights' report: 19 Business Moats That Helped Shape The World's Most Massive Companies.
If you aren't already a client, sign up for a free trial to learn more about our platform.