Evaluating marketing automation vendors? We spoke with current customers of Braze, Klaviyo, Iterable, and more to determine the key questions you should be asking during your evaluation.
We mined Yardstiq's interviews with software buyers to understand the decision criteria they use when evaluating marketing automation solutions.
Download the buyer's guide to see our overview of this software category, including the key considerations, buyer thoughts processes, and the questions you should be asking. Questions like:
What level of personalization & segmentation can the vendor enable?

What are the key drivers of pricing?

What is the vendor's product roadmap?
"One of the key questions for us was, will this platform grow with us? Will this platform evolve with us? Because we're not just looking at what it is now. We want to see will this still be the right platform in 2 or 3 years, even more actually."— Head of CRM, fintech with $1B+ valuation 
Buyers interviewed for this report include:
President of Global E-Commerce, retailer with $1B+ market cap
CMO, European travel site

Head of CRM & Loyalty, online grocery startup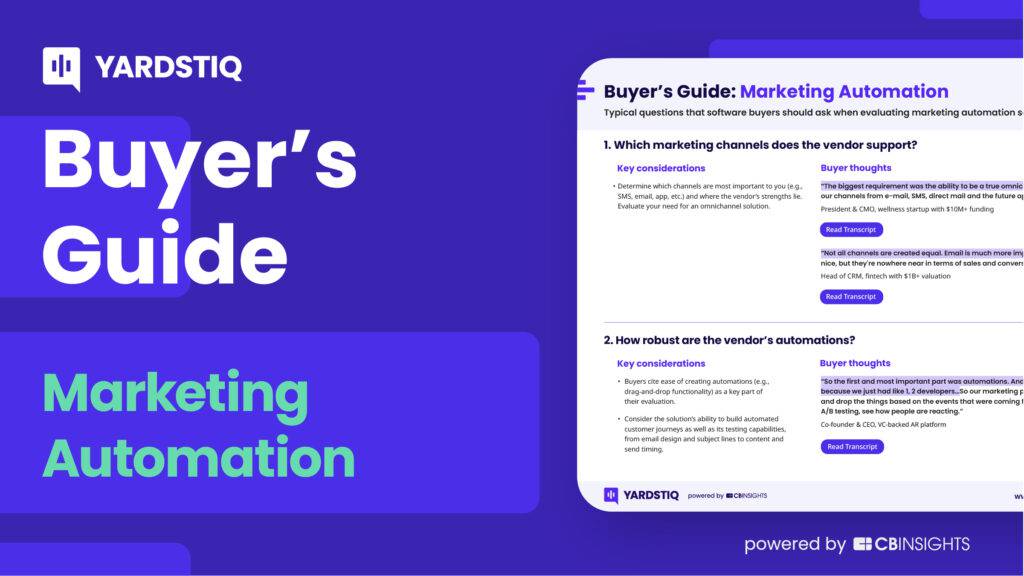 Get access to thousands of detailed, analyst-led interview transcripts with Yardstiq, powered by CB Insights. Reserve your Yardstiq subscription here.
If you aren't already a client, sign up for a free trial to learn more about our platform.