From "digital" birth control to a wearable breast pump, the women's health market is gearing up to see an unprecedented wave of innovation. We explore the current landscape and what technologies are taking off.
Innovations in women's health are rapidly transforming the health space.
Just this last August, the FDA cleared the first-ever digital contraceptive: 

Natural Cycle's fertility tracking app, which couples with a basal thermometer to allow women to better plan for or prevent pregnancy through temperature logging.
This is just one of many examples of how reproductive health is emerging as a central focus for new startups looking to improve women's healthcare.
It's a market that could appeal to women of all age demographics, especially as they navigate key transitions and health issues throughout their lives.
And now, new technologies are making it possible for women to manage their health and well-being on a more precise and personalized level than ever before. Ranging from fertility tracking apps to post-menopausal medications, new platforms are giving the women's health market a long-overdue makeover.
In this report, we dive into women's health and the technologies disrupting the space, with a specific focus on reproductive health.
For more in our Body Series, read about the disruption of eye healthcare and how technology is reimagining brain research and disease treatment.
TABLE OF CONTENTS
The state of women's health
The women's health market is estimated to be worth over $50B by 2025 globally, with recent investment and regulatory activities showing growing interest in the space.
In July, the FDA approved AbbVie's endometriosis pain-reducing drug — the first of its kind in over 10 years. (For more specifics on women's fertility, CB Insights clients can check out our post here.)
Then in August, it cleared Natural Cycle's fertility tracking app, the first-ever digital contraceptive.
Track all the women's healthcare startups in this report and many more on our platform
A growing crop of startups are helping improve women's healthcare. Look for the Women's Health Startups in the Collections tab.
Track Women's Healthcare Startups
Now, new startups are constantly emerging to provide unprecedented accessible, smart healthcare solutions for women.
As this market continues to grow, it presents a new opportunity here for technology to transform the future of women's healthcare.
FINANCING TRENDS
Women's health is still a relatively young industry. Nevertheless, the area is opening up new avenues for women to better understand their health, especially via digital health apps and portable diagnostic tools.
Funding trends show rising interest
Overall funding activity shows a general increase in the women's health market over the last 5 years.
This year (as of 11/12/2018) has already bypassed $500M in funding (compared to $350M in 2013), and seen about double the number of deals since 2013.
In September alone, women's health companies raised nearly $150M in equity funding, boosted by uBiome's $83M Series C. uBiome is a microbiome diagnostics company, and offers a women's HPV & STI screening test called SmartJane.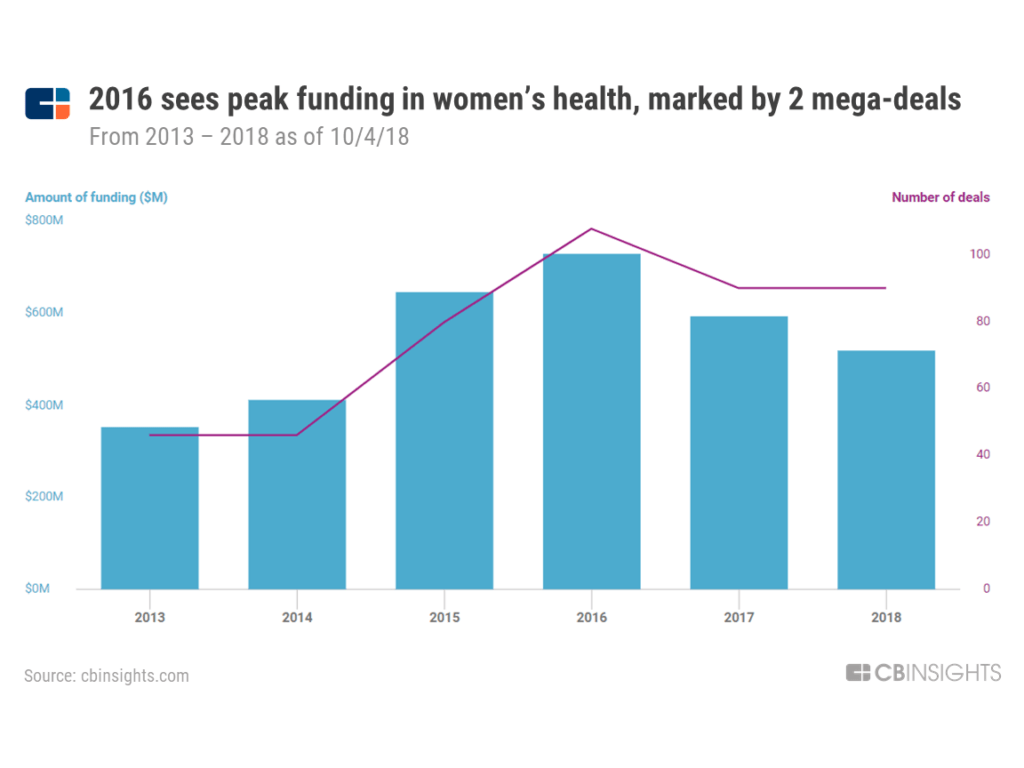 2016 was a peak year for both funding and deals in the space, largely due to two mega-deals. Fertility service provider Prelude Fertility raised a $200M financing round in October 2016, while China-based women's health mobile app Meet You raised a $151M Series E round in August.
(Without these 2 deals, 2016 would have seen less total funding than 2015, but the number of deals still would have surpassed any other year.)
While funding activity has tapered off slightly since then, it still shows a growing interest in the market compared to 5 years ago.
Early-stage deals dominate
The majority of investments being made in women's health are early-stage (seed/angel, Series A) deals. In fact, seed or angel financing rounds made up 55% of all equity deals in 2016, and have reached 62% in 2018 YTD (as of 11/12/18).
This indicates the relative immaturity of this emerging market, as many startups in the space are borne out of incubator or accelerator programs and have yet to mature to later stages.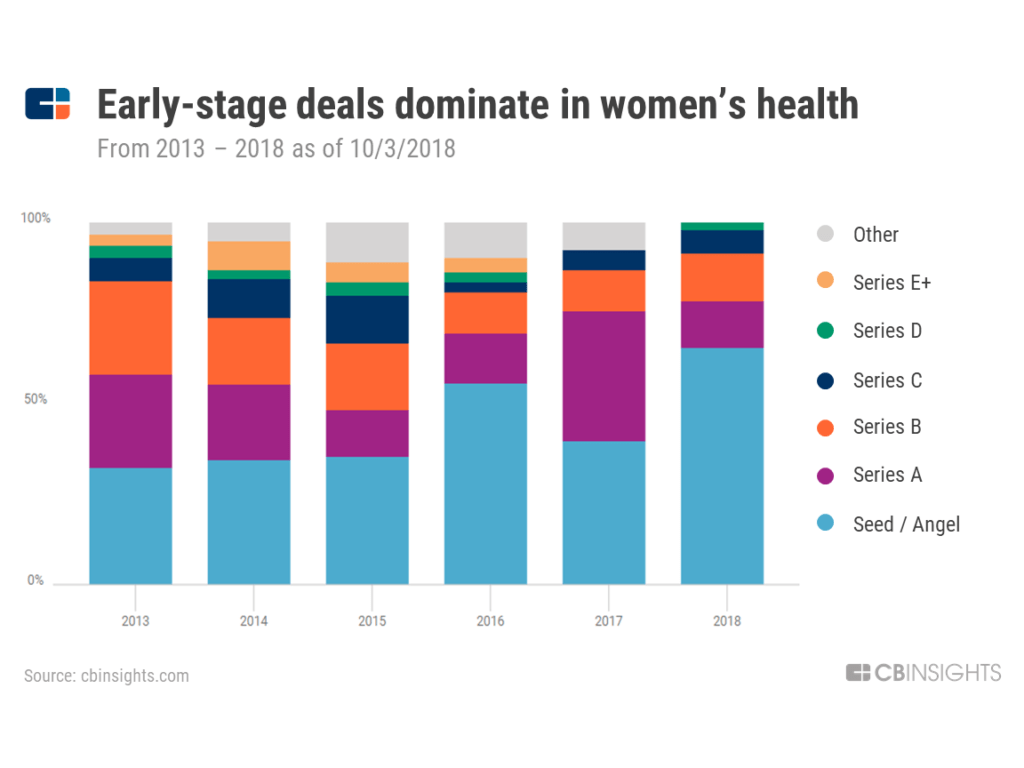 Y Combinator tops most active investors
As the trend toward early-stage deals suggests, incubators and accelerators are among the most active investors in the space, along with venture capital firms with an early-stage portfolio focus.
Currently, Y Combinator leads with 15 investments in women's health startups over the last 5 years, with VC firm SOSV and its hardware-specific accelerator HAX following with over 10 deals each.
We're also starting to see major healthcare VC firms invest here, including New Enterprise Associates and OrbiMed Advisors.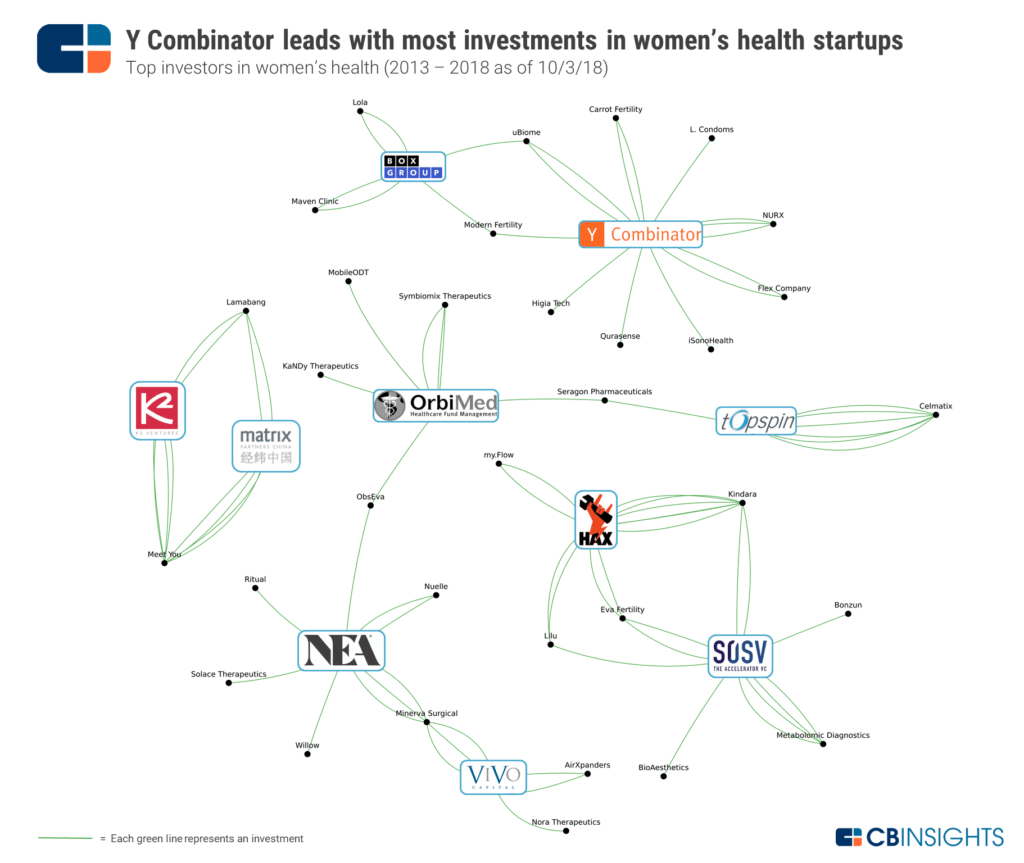 And while funding has seen a general trend upwards since 2013, a recent analysis of earnings calls from the last 5 years shows a pretty steady level of interest with regards to women's health topics.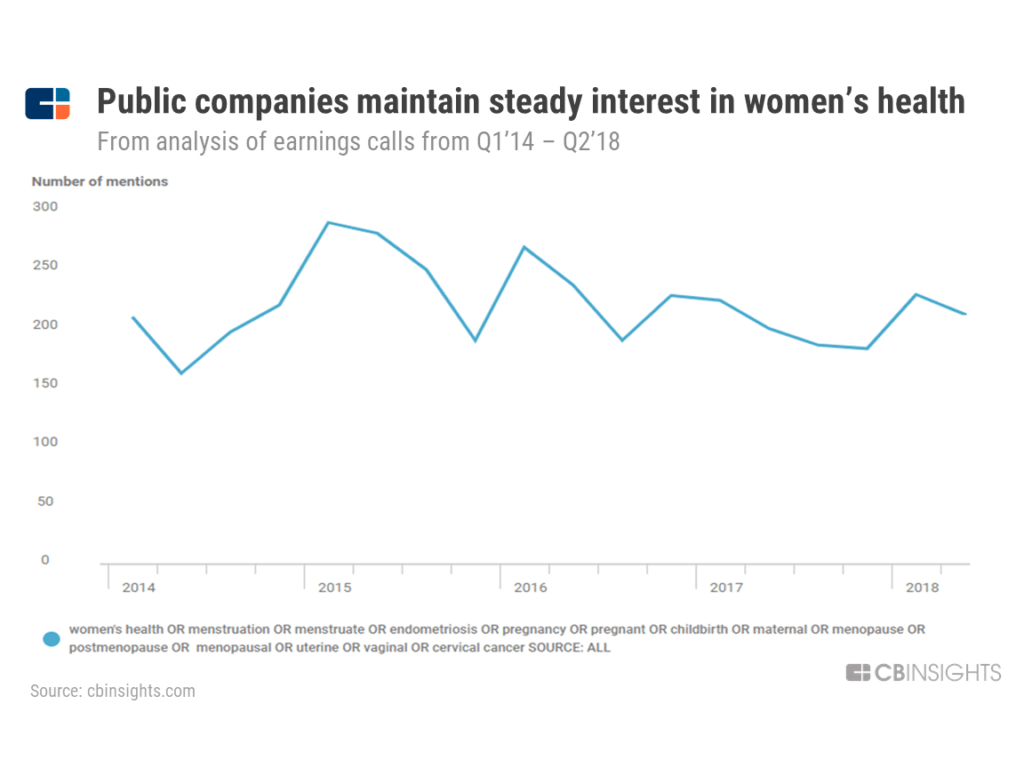 This is consistent with major medical device and pharmaceutical companies continuing to discuss their respective women's health portfolios and how they may be influenced by the influx of new smaller entrants in the space.
MARKET MAP: THE WOMEN'S HEALTH LANDSCAPE
The women's health market includes a wide range of technologies aimed at addressing the specific health needs of women. There are several areas where we're seeing a lot of activity, namely reproductive health.
Using the CB Insights platform, we surfaced 75+ companies focusing on women's health.
This market map consists of private, active companies only and is not meant to be exhaustive of the space. Categories are not mutually exclusive, and companies are mapped according to primary use case.
Please click to enlarge.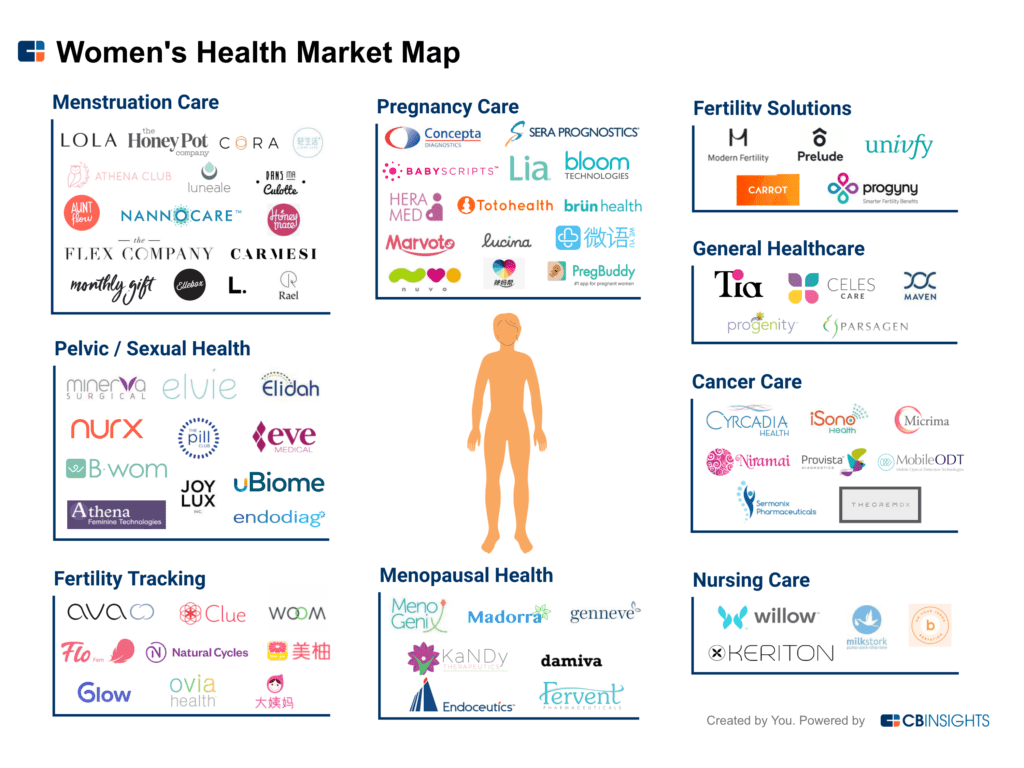 Menstruation Care: Companies in this category are developing period care and feminine hygiene products, as well as increasing accessibility and transparency around the materials they use.
Lola develops subscription-based period products that are delivered directly to consumers. Its line also includes wellness products for cramps and a First Period Kit targeted at younger women. Rael, which offers a line of period care products along with other wellness products, raised a $17.5M Series A in September.
Pregnancy Care: Companies here develop products that help women with both pre- and post-natal care. Sera Prognostics develops diagnostics tests for predicting a woman's risk of preterm birth and other pregnancy complications. It has raised $100M in funding and its last round was a $40M Series C round from LabCorp. Bloom Technologies makes a sensor patch that connects to a mobile app for tracking contractions.
Fertility Solutions: These companies offer fertility services such as in-vitro fertilization (IVF), egg freezing, and other medical treatments (e.g. diagnostics) for female infertility.
Khosla Ventures-backed Prelude, with $210M in funding, offers services like egg freezing, IVF, and donor eggs. Another startup, Progyny, partners with employers to allow them to offer coverage for IVF, egg freezing, and other fertility services. It's backed by Kleiner Perkins Caufield & Byers, SR One, and Merck Ventures, among others.
General Healthcare: Companies in this category seek to improve both the accessibility and experience of healthcare services for women. For example, Progenity offers diagnostic testing services across women's health concerns spanning cancer risk, genetic carrier testing for hereditary disorders, and prenatal screening for chromosomal disorders.
Cancer Care: Companies here are working on both diagnostics and treatments for cancers that disproportionately affect women, such as breast, ovarian, and cervical cancers. Examples include iSonoHealth's automated ultrasound and AI platform to detect for early breast cancer.
Nursing Care: These companies offer products that assist new moms with nursing care. For example, Willow makes cordless "smart" wearable breast pumps that are integrated with a mobile app, which records metrics such as milk volume. Additionally, Chiaro's Elvie (which also offers a pelvic trainer) released its smart wearable breast pump in September.
Menopausal Health: Companies in this category develop products that help women navigate perimenopause (transition period), menopause, and post-menopause (a more symptom-prone state). They also strive to provide education to help women better understand their symptoms.
KaNDy Therapeutics develops drug therapies for female sex-hormone-related conditions with an initial focus on menopause symptoms. The company raised a $32.2M Series C in August from investors including OrbiMed Advisors, a key healthcare VC firm.
Fertility Tracking: These companies offer products and tools for women to track their menstrual cycles to see when they're ovulating (within their most fertile window). These include mobile apps as well as other at-home monitoring devices.
Germany-based Clue offers a mobile app that allows women to track their period, pain, mood, and sexual activity.
Pelvic/Sexual Health: Companies in this category focus on women's pelvic and sexual health. Pelvic floor muscles that support the pelvic organs (uterus, bladder, rectum) can be weakened over time after events like childbirth or menopause. Athena is one startup working to help women strengthen their pelvic floor muscles.
Other startups in this category promote sexual health through preventative and diagnostic tools (e.g. contraceptives and at-home testing kits). Canada-based Eve Medical has two key products, HerSwab and EveKit, which provide diagnostics products for HPV and STIs. Microbiome diagnostics company uBiome launched its SmartJane vaginal health testing kit in November 2017.
The diagnosis and treatment of diseases and conditions commonly affecting women
From infertility to gynecologic cancers, there is a wide range of diseases and conditions specific to female physiology.
Below, we discuss some of the most prevalent ones that affect women today — and the current treatments available.
(Some of the below conditions may not exclusively affect women, but affect women to a disproportionate extent or pose health risks unique to women.)
CANCER
In general, cancer causes cells in the body to grow out of control. Where these cells originate defines the type of cancer an individual has. In the more advanced stages, cancer cells spread to other parts of the body in a process known as metastasis.
Cancer is the leading cause of death in the US after heart disease, prompting a big push to find curative treatments.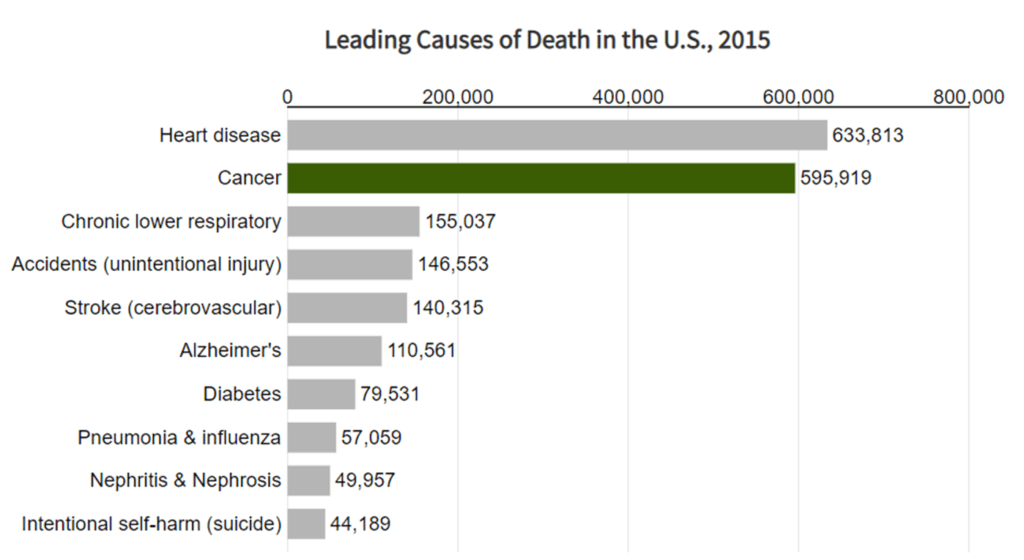 Source: National Cancer Institute 
And some of these cancer types are specific to women's reproductive system, or tend to be more prevalent in women, such as with breast cancer.
Below, we take a look at some of the most prevalent cancers affecting women.
Breast cancer
Breast cancer is the #1 cancer affecting women globally, with nearly 1.7 million new cases diagnosed in 2012. Female breast cancer makes up 15.3% of all new cancer cases in the US.
There are two main types of breast cancer:
In situ or non-invasive: This type is when cancer cells are contained to specific milk ducts or lobules within the breasts. As the name suggests, it doesn't spread to other tissues.
Invasive: This type makes up roughly 80% of breast cancer cases and can spread into other tissues. The American Cancer Society estimated a diagnosis of 252,710 new cases of invasive breast cancer in women and 2,470 in men in 2017 alone.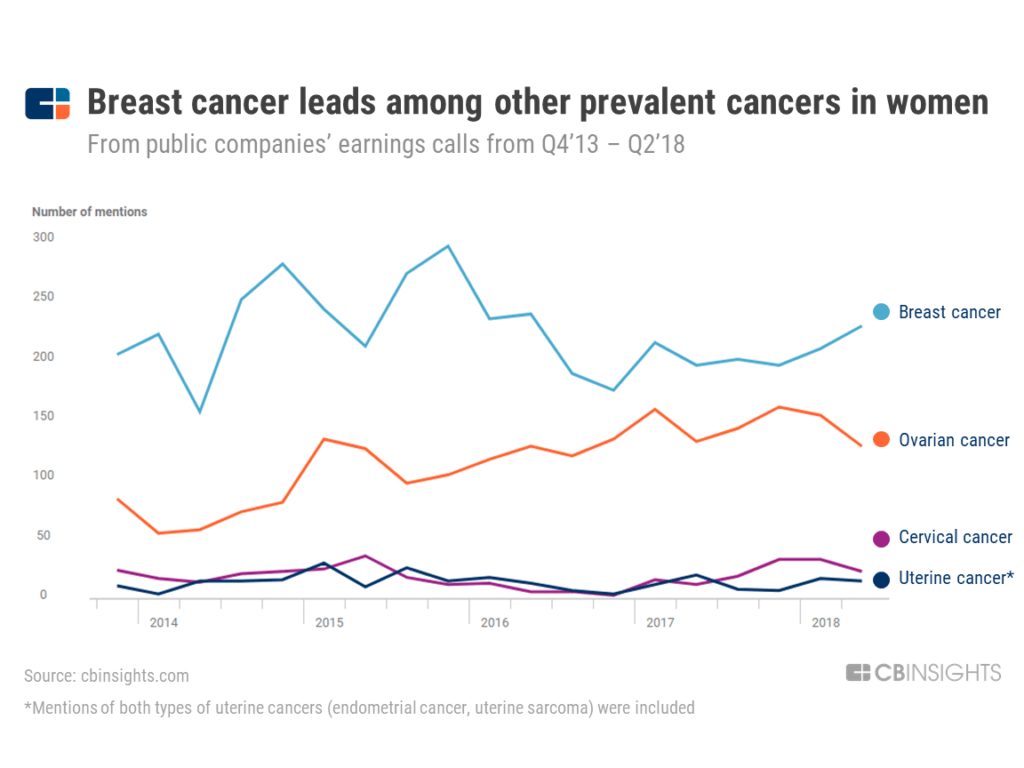 Most often, breast cancer is diagnosed after a lump is found in the breast. This is where many startups are focused now: early detection through non-invasive methods before the cancer spreads.
After the breast lump is detected and deemed abnormal, a microscopic analysis of the lump is conducted to confirm both the cancer type and the extent to which it has spread throughout the body.
One of the challenges in treating breast cancer is the varied nature of the disease. There are 21 histological (tissue) subtypes and 4 molecular subtypes associated with this cancer, and each one plays an important role in how patients respond to certain treatments.
Treatment options depend on key factors such as the type and stage of the individual's cancer and can vary across a range of therapies.
For tumors contained to a specific area, surgery and radiation are two common treatments. For tumors that have spread throughout the body, chemotherapy, hormone therapy, and targeted therapy tend to be more common.
Uterine cancer
Uterine cancer — cancer that originates in the uterus — comprises of 2 distinct types.
The more common type is known as endometrial cancer, where abnormal cell growth occurs in the endometrium (the lining of uterus). More than 90% of uterine cancer falls in this category. This type has better outcomes for treatment. The current go-to treatment is surgery if it's localized, with radiation and chemotherapy being a better option if it has spread.
The less common type — uterine sarcoma —is known to be harder to treat and more aggressive. These start in the muscle layer or supporting tissues of the uterus. Treatment options are similar to that of endometrial cancer.
Among the 5 main gynecologic cancers (cancers that originate in a woman's reproductive system), uterine cancer ranks highest in estimated new cases in 2018 — leading with 63,230.
Ovarian cancer
Ovarian cancer affects the ovaries — the two glands that produce eggs, located on each side of the uterus. The ovaries are also responsible for producing the hormones estrogen and progesterone.
There are 3 types of ovarian cancers depending on the type of cell where the cancer originates. The most prevalent one is known as epithelial tumors, where tumor cells start in the outer lining of the ovaries.
Common treatment options are traditional methods such as surgery, radiation, and chemotherapy.
Cervical cancer
Cervical cancer affects the cervix, the lower part of the uterus that connects to the vagina. Some strains of the human papillomavirus (HPV), a sexually transmitted infection, can cause cervical cancer. In fact, over 90% of the cervical cancer cases are attributed to HPV strains.
Treatment options for cervical cancer depend on the stage, location, and type of cancer along with general factors such as age and overall health. Choices also vary based on whether or not a woman wants the option to have children later.
Options can include hysterectomy (surgery to remove the uterus) or chemoradiation (when both chemotherapy drugs & radiation are used together).
Others
The two remaining gynecologic cancers include vaginal and vulvar cancers, which both tend to be rare.
Vulvar cancer, a cancer of the outer part of the female genitals, has a higher incidence among older women. The main treatment plan is surgery, and it's estimated that vulvar cancer will cause roughly 1,200 deaths in 2018.
Vaginal cancer is more rare with the probability of 1 in 1,100 women developing it in the US. A common treatment option includes radiation therapy along with surgery or chemotherapy depending on the stage and type.
Early detection is crucial in starting treatment before cancer starts spreading throughout the body. And this is what many startups are looking to tackle — creating more accessible diagnostics tools that can detect cancer before it begins spreading.
REPRODUCTIVE HEALTH
Aside from cancer, these health disorders and conditions also affect the women's reproductive system (vagina, cervix, uterus, Fallopian tube, and ovaries).
Infertility
In the US, an estimated 7.3M women ages 15 to 44 have used infertility services, according to the CDC.
Female infertility occurs when a woman is unable to become pregnant or presents fertility issues after 1 year of trying to conceive.
Many startups are looking to provide more accessible fertility solutions (e.g. in-vitro fertilization (IVF) treatments) along with genomic diagnostics tests, to name a few examples.
Endometriosis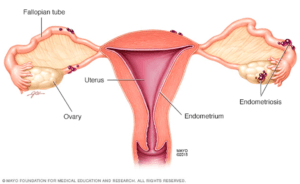 Endometriosis is a chronic condition caused by excess uterine tissue that grows in the wrong places and can't shed properly, causing pain. It can also lead to infertility. About 1 in 10 women globally and an estimated 11% of women in the US between ages 15 — 44 are affected.
Endometreosis is usually diagnosed by laparoscopic surgery, which makes it more difficult to confirm diagnosis. Symptoms include pain, bleeding, infertility, and stomach issues. There are no known causes or cures for this condition, only ways to manage symptoms.
In July 2018, FDA approved the first oral drug — AbbVie's ORILISSA (elagolix) — for managing moderate to severe pain associated with endometriosis.
Others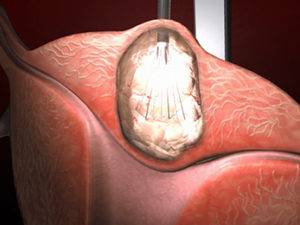 Other fertility conditions involve abnormal growth of tissue or fluid-filled sacs (cysts) in the female reproductive organs.
Uterine fibroids are the most common non-cancerous tumors among women of reproductive age. Sometimes, these show no symptoms until a gynecological exam is done. These fibroids are composed of muscle cells and other tissue types that grow in and around the walls of the uterus. There are no known causes.
Current treatments include medications that can shrink the fibroid, known as Gonadotropin-releasing hormone agonists, along with surgery options to remove the fibroids. Both drug and device companies are looking to innovate this space by developing novel products.
For example, Acessa Health is developing an FDA-cleared minimally invasive radiofrequency ablation system for treating these fibroids. In April 2017, it acquired Halt Medical, another medical device company that focuses on uterine fibroids.
Polycystic Ovary Syndrome (PCOS) results in the formation of cysts on the ovaries when they (or the adrenal glands, the hormone-producing glands on top of kidneys) make more male hormones than usual, causing a hormonal imbalance. It also causes irregular or a stop in monthly periods. This condition affects 1 in 10 women of reproductive age and can lead to infertility.
Current treatments include a healthy lifestyle focus with an emphasis on nutrition and exercise, along with birth control pills.
PELVIC HEALTH
The female pelvic floor muscles help support the pelvic organs, which include the uterus, bladder, and bowel. When these muscles — often referred to as a "hammock" — become damaged or weakened, certain health issues can arise.
These conditions are most commonly due to pregnancy or childbirth. They can also occur with the onset of menopause, where a decrease in estrogen affects pelvic health.
Urinary incontinence is the loss of bladder control. Depending on the cause and type, treatments may vary from pelvic floor muscle exercises, to medications, and even to surgery.
Vaginal prolapse is when organs fall out of their normal structures when the supporting tissue structures become weakened. Treatments here are similar to that of incontinence: pelvic floor muscle exercises, surgery, and weight loss.
PREGNANCY-RELATED CONDITIONS
There are a host of conditions that may complicate pregnancies.
Examples include gestational diabetes (high blood sugar caused by placental hormones), anemia (lack of healthy red blood cells to carry oxygen), urinary tract infections, and morning sickness nausea.
An increasing number of startups are working to predict the likelihood of pre-term labor complications.
Switzerland-based ObsEva develops drug therapies specifically for pre-term labor. Before going public in 2017, it raised a total of $95M in disclosed funding from investors including Merck Ventures, Novo Holdings, Sofinnova Ventures, and OrbiMed Advisors.
Maternal mortality is recently getting more attention in the US. New statistics of deaths from childbirth complications are highlighting healthcare inefficiencies.
In the US, 50,000+ women are severely injured during childbirth, with roughly 700 mothers dying in childbirth each year. Pre-eclampsia (high blood pressure) is a leading cause of this.
Postpartum conditions are also an area of focus. After childbirth, there are many changes that take place in women's bodies that may cause depression, hemorrhage, pain, or infections.
After birth, hormone levels of estrogen and progesterone drop. This may result in a change of mood or emotions that manifest as postpartum depression (PPD). Another condition related to the postpartum period is hemorrhage (heavy bleeding).
MENOPAUSAL & POST-MENOPAUSAL HEALTH
Companies are now starting to target the older age demographics that are experiencing menopause and post-menopause. This transition period is primarily marked by the ovaries not releasing eggs anymore. Hormone levels are dramatically affected as well, as estrogen levels dip.
"Menopause is a huge space… how is technology serving women's needs when they go through menopause? There is nothing — it's really, really just this open space."

— Ida Tin, CEO & Founder of Clue
Women enter the post-menopausal period after years of menopause, when they've stopped menstruating for 12 consecutive months.
The resulting symptoms include vaginal dryness, hot flashes, and frequent urination. Low estrogen levels can also result in a higher risk of conditions like osteoporosis (where bones become weaker) and cardiovascular disease.
We're starting to see new ways to target these symptoms observed in post-menopause.
One example is Madorra, which develops a non-invasive device to treat vaginal dryness in post-menopausal women. It raised $4M in financing earlier in September.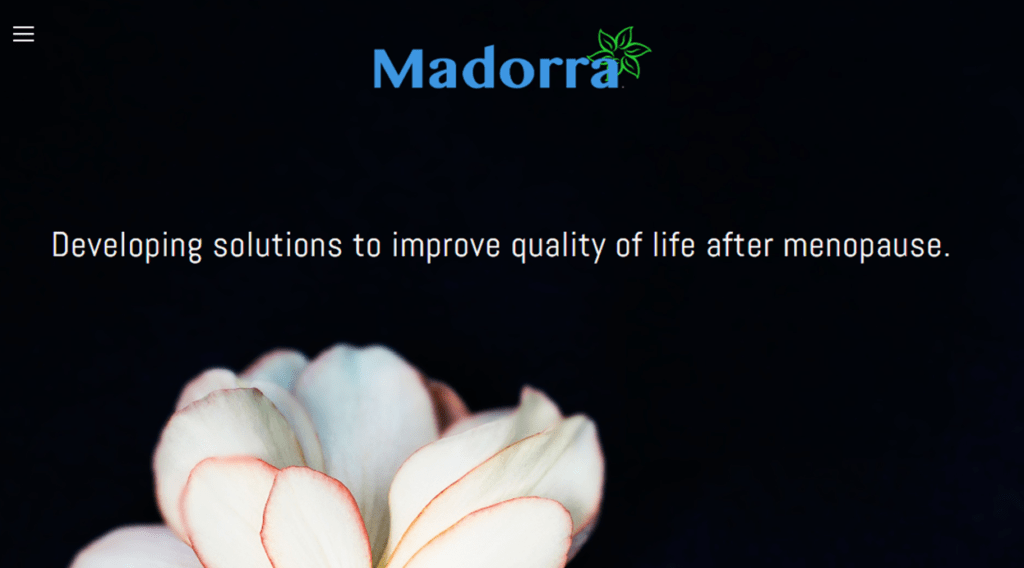 Even from a regulatory perspective, there is a push to understand menopause better as overall lifespans increase.
This month, the FDA cleared a diagnostics test that doctors can use to measure a woman's menopausal status. The hope is that this test will serve as a preventative tool for discussing potential health conditions on the horizon.
This PicoAMH Elisa diagnostic test measures the amount of the Anti-Müllerian Hormone (AMH) levels in a woman's blood — the same hormone that's used to measure how many eggs a woman has left in fertility tests. In this case, AMH can be used to assess whether a woman is approaching her final menstrual period.
Research & innovation
The women's health market is seeing new entrants bringing novel solutions in everything from fertility to breast cancer, appearing in the form of mobile apps, devices, and therapeutics. Meanwhile, key emerging technologies like AI and IoT are being harnessed as women's health grows into a bigger market.
More direct-to-consumer (D2C) solutions are cropping up to increase accessibility to women's health services like birth control or STI testing kits. On the pharmaceutical side, novel drug candidates are going after conditions specifically related to women's health.
Another trend is an increasing focus on preventative health — the intersection where health and wellness meet. Solutions here help promote daily well-being with the goal of preventing disease down the road. As a result, health-adjacent areas promoting wellness are also helping this market grow.
FERTILITY DIAGNOSTICS
Startups are working to educate women about their fertility status and options. Solutions include diagnostic tools that reveal individualized insights into understanding one's fertility.
Celmatix, for example, offers the Fertilome genetic test, which is coupled with advanced analytics to help combat female infertility. It combines clinical and genomic data to get a more precise analysis for individual women to maximize their fertility.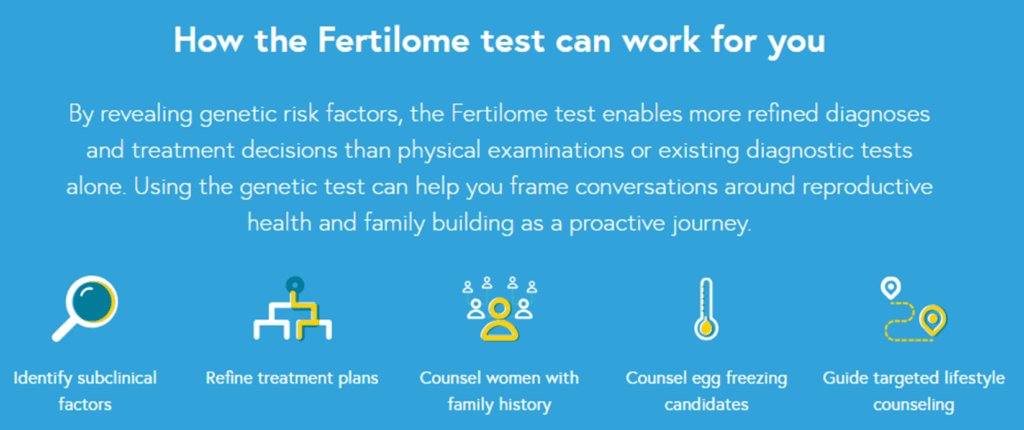 These types of fertility tests are becoming more prevalent, helping women better understand their reproductive status as they consider potential future treatments such as IVF or egg freezing services.
Another test currently available to consumers is Modern Fertility's test, which measures fertility hormone levels. The startup has raised a total of $7M from investors such as Y Combinator and First Round Capital.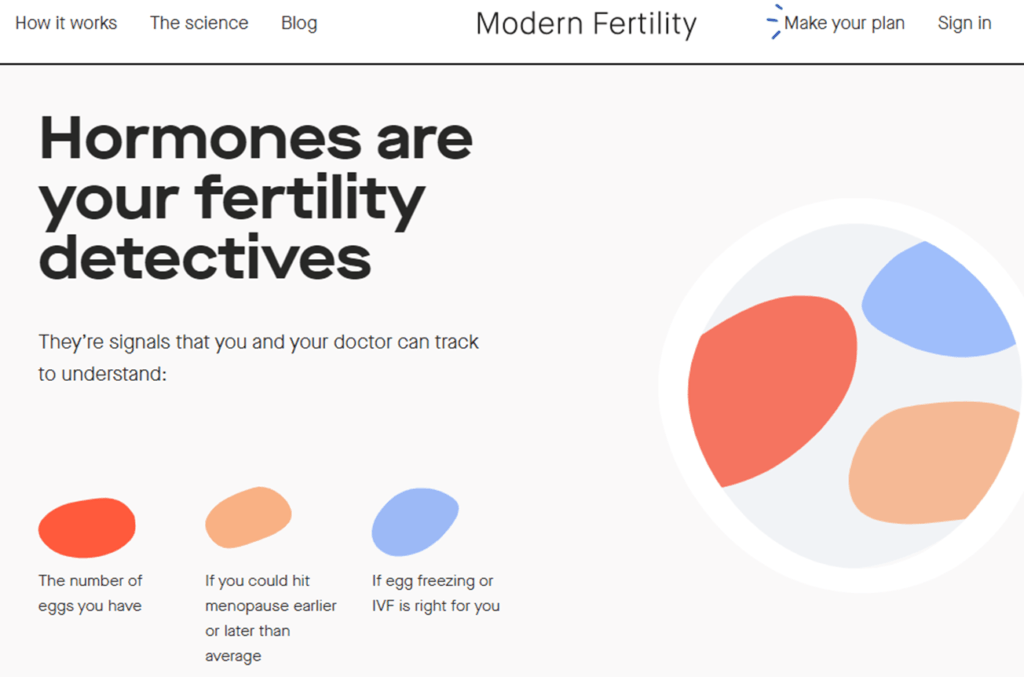 Using a finger prick — which women can do at home or have done by Quest Diagnostics — the test gives women information such as:
Fertility hormone levels
How many eggs a woman has left (ovarian reserve)
Expected time frame of reaching menopause
How successful IVF or egg freezing may be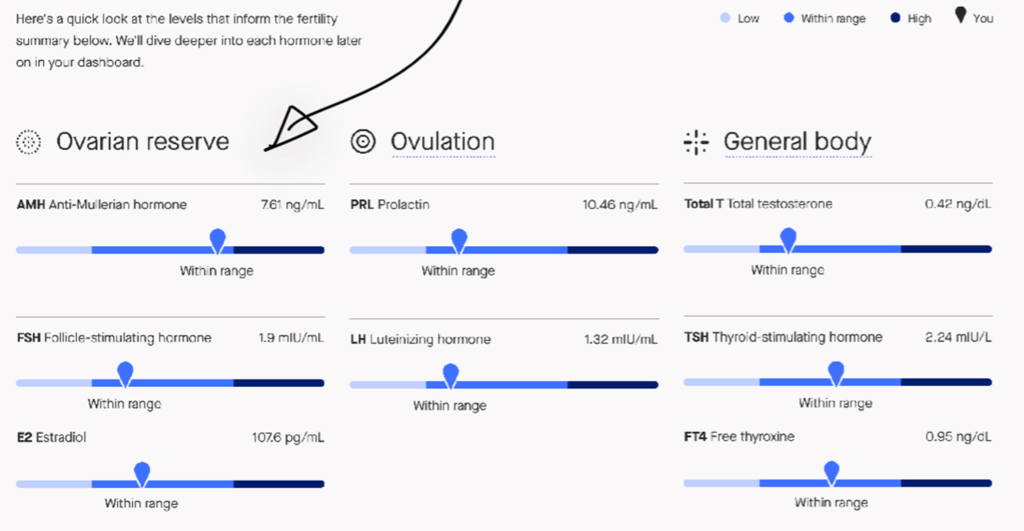 Sample fertility test, Modern Fertility
The company also provides services like follow-up calls with a nurse and weekly webinars.
While the two above test types — genetic testing and hormone testing — involve mailing samples to outside laboratories for results, we're also starting to see products that give users results at home.
Quanovate's Mira product, for example, uses disposable strips to test urine samples for hormone analysis. The strip is inserted into a device that records fertility hormones levels. Over time, it can give a predictive window into a user's fertility.
WOMEN'S HEALTH CLINICS
Women's health clinics, whether virtual or brick-and-mortar, are starting to emerge in the market.
This is largely due to the demand for women's health services and products, as women seek out more personalized levels of care.
Virtual clinics
Women can access Maven's digital health clinic for instant video appointments and private messaging with different types of healthcare professionals, ranging from nursing practitioners to therapists. In September, Maven raised a $27M Series B led by Sequoia Capital and Oak HC/FT.

Maven works with individuals, employers, and health plans to bring its women's health services to a wider audience. Its telemedicine platform presents a new way for consumers to approach healthcare with added accessibility and convenience. It could even encourage more women to seek out more healthcare services in a timely manner.
Another example here is India-based Celes Care, which offers an online clinic for women in India, connecting them with female doctors for consultations.
Brick-and-mortar clinics
Brick-and-mortar women's health clinics are also popping up, targeting various aspects of women's health to draw in clients.
Tia, developer of a women's health adviser app, plans to bolster its presence in women's health with its very own clinic in NYC soon. Referred to as Tia Clinic, it will serve as a "one-stop-shop for all things female health," covering gynecology, primary care, and wellness services.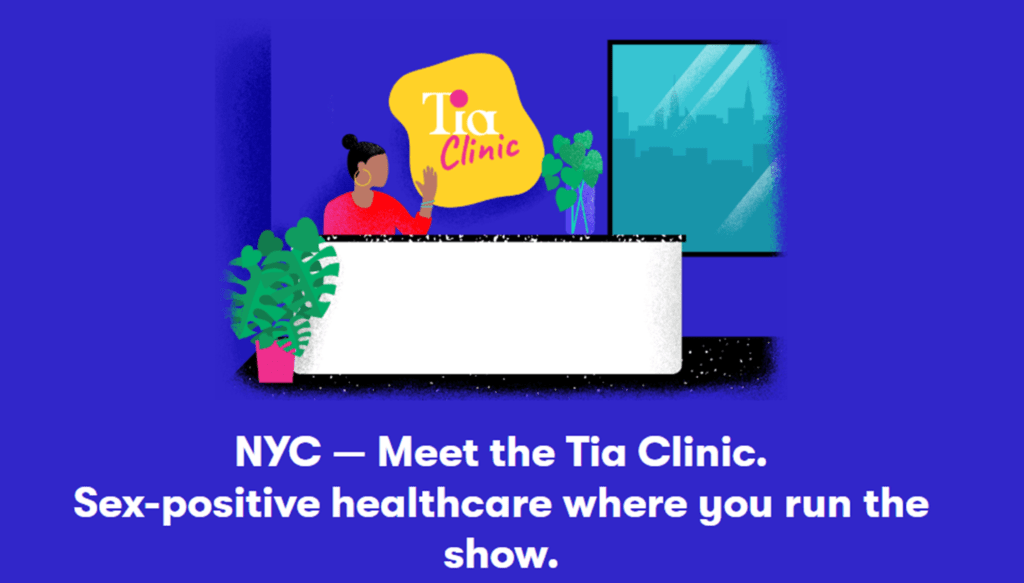 By integrating its mobile app (which offers a fertility tracking feature) with its own physical location, Tia plans to offer women a holistic level of care that ties in wellness benefits with healthcare.
Newly launched company Kindbody also has plans to build women's healthcare clinics, with a particular focus on fertility and egg freezing services. Dubbed the "SoulCycle for fertility," it targets millennials with a focus on empowerment.
Kindbody's mobile fertility pop-ups launched in NYC in early August, with the goal of educating more women of their fertility status and options.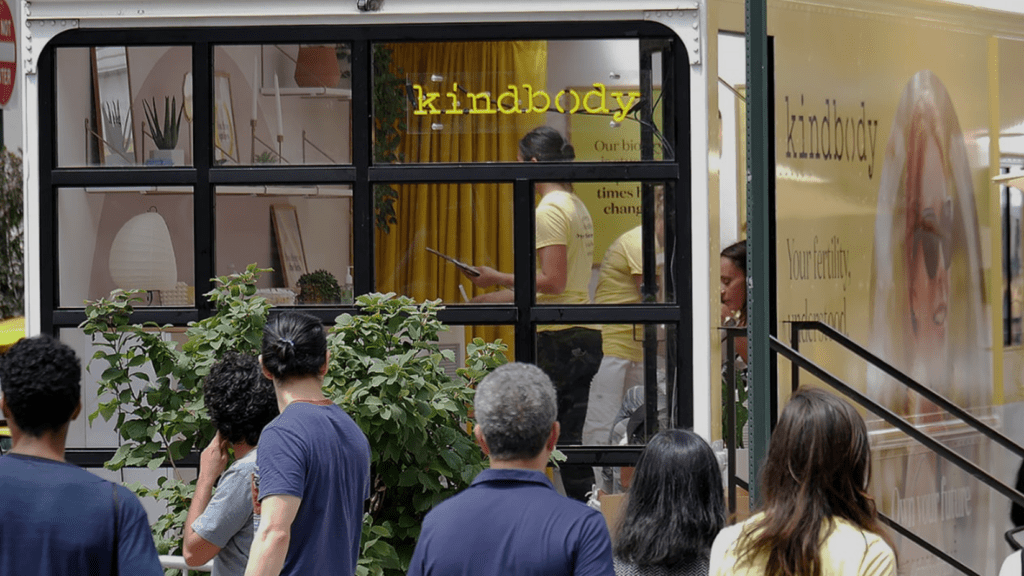 Eventually, Kindbody plans on expanding to mental health, nutrition, and gynecology services.
The company was started by Gina Bartasi, founder and CEO of fertility company Progyny. Kindbody also counts executives from Google, Oscar Health, Flatiron Health, One Medical, and Mount Sinai Health System.
MEDICAL DEVICES
Medical devices targeting specific women's health needs are becoming a large component of the entire market.
From device incumbents like Hologic (a women's health device and diagnostics company) to newer startups developing accessible diagnostics, this area is seeing a new wave of products.
Examples here include new contraceptive tools, pelvic floor trainers, and diagnostics devices for many of the diseases described above.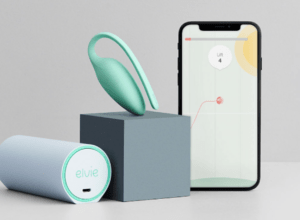 Partnerships are emerging between device companies and key health institutions.
For example, UK's National Health Service (NHS) initiated a strategic partnership with Elvie to make the pelvic floor exerciser device, Elvie Trainer (shown left), available to all women in the UK for free.
This device aims to help women strengthen their pelvic muscles in order to prevent urinary incontinence, a common occurrence among women who recently gave birth.
We're starting to see more accessible and faster diagnostics options emerge, especially around early-stage cancer detection.
One example is iBreastExam, an FDA-cleared wireless handheld device from UE LifeSciences that can detect breast tumor tissue in less than 10 minutes without pain or radiation.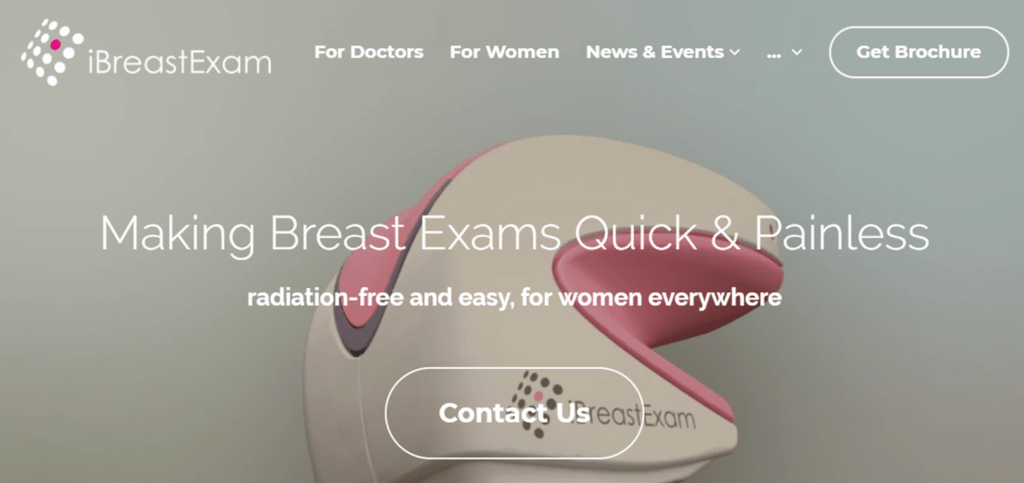 While this device isn't available for consumers to use at home, it provides a hassle-free way to check for tumors at a participating doctor's office, without the high costs or the radiation involved with traditional methods of detection. It also gives younger women who may not get regular mammograms a more convenient and inexpensive option.
PHARMACEUTICALS
Drug therapies focused on women's health issues are gaining more traction, targeting everything from contraceptives to breast cancer treatments to postmenopausal osteoporosis. 
For example, Antiva Biosciences — borne out of Johnson & Johnson's innovation accelerator, JLabs — develops drug therapeutics for diseases caused by HPV, such as precancerous lesions in the cervix. This type of treatment would be crucial for women to avoid the traditional methods of treating such conditions like surgical procedures.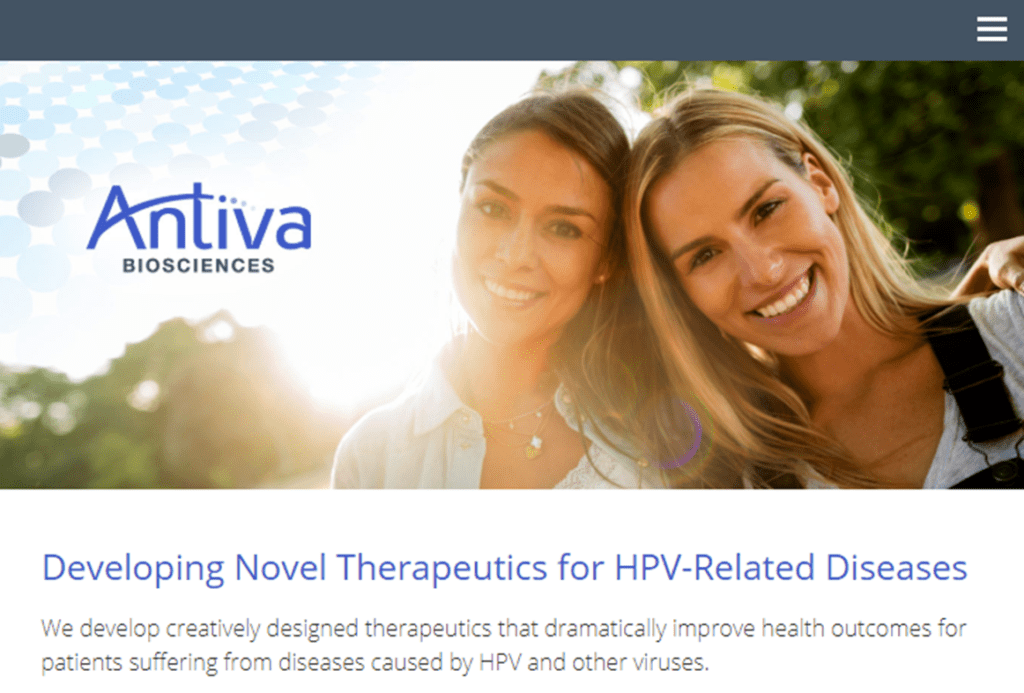 The company raised a $15M Series C-II round in July from key healthcare investors including Canaan Partners and Sofinnova Ventures.
DIRECT-TO-CONSUMER SOLUTIONS
Direct-to-consumer solutions are increasing accessibility of contraceptives, at-home fertility tests, and discreet diagnostics tests like pregnancy tests and STI testing kits. They also may offer products like supplements tailored to women's specific nutritional needs, as Ritual does.
They offer women more freedom to seek out these resources themselves, without necessarily having to visit a doctor or other in-person healthcare professionals.
Services like contraception pill delivery service Nurx are transforming how women can seek out affordable birth control. Nurx has raised $41M in total funding from notable investors including Kleiner Perkins Caufield & Byers.
ARTIFICIAL INTELLIGENCE
Companies are harnessing artificial intelligence to improve many aspects of women's healthcare. Many startups are employing machine learning to personalize each woman's experience, whether in fertility tracking apps or diagnostic services.
One major potential use case for AI may be in the early detection of cancers that affect women.
Mexico-based Higia Tech is developing a breast cancer detection bra, EVA, that connects to a mobile app. The bra is used to determine a person's individual level of risk for breast cancer by mapping the surface of the breast & surrounding areas, taking into account details such as texture, color, and temperature.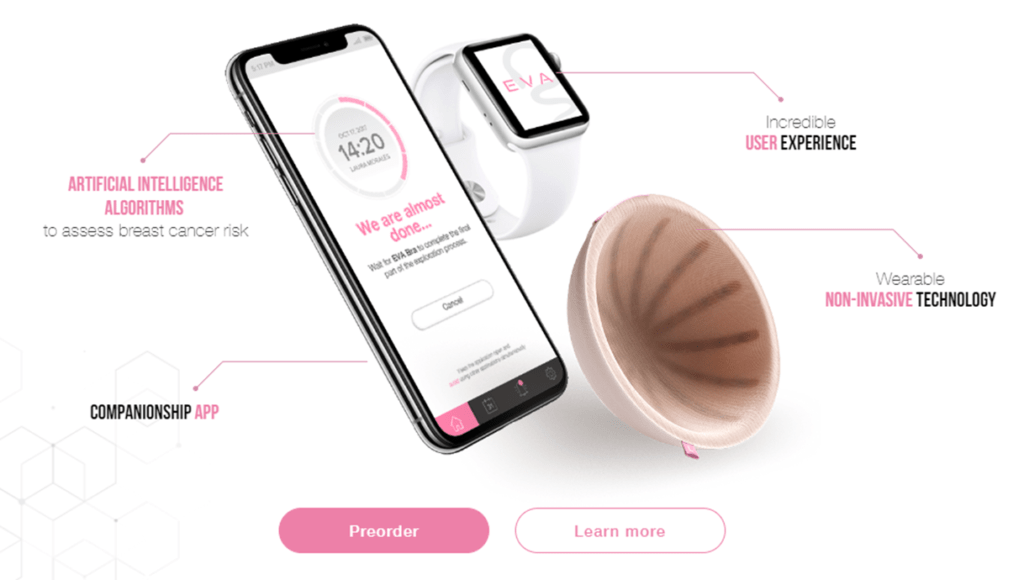 Currently, Higia Tech is training its machine learning algorithms with data compiled from volunteers. Though EVA is in the early stages of development, it presents one way that tech innovation can drive faster disease diagnosis to allow treatment to begin as soon as possible.
Higia received $120K from Y Combinator in July.
A similar company is iSonoHealth, mentioned above, which combines an automated ultrasound along with AI for accessible, personalized breast health monitoring and breast cancer screening. It was also previously backed by Y Combinator in 2016.
While it's too early to tell if such startups can bring their tech platforms to market, there are also scientists pursuing this effort.
In 2017, researchers at Lehigh University created an algorithm for recognizing signs of cervical cancer, trained on data from 1,000+ visits by patients with lesions that were likely or not likely to develop into cancer. The researchers used noninvasive photos of the cervix to do this, using image recognition capabilities.
INTERNET OF THINGS (IOT)
Consumer electronics related to women's health are on the rise. Some examples here include fetus cameras using ultrasound technology, smart thermometers, and smart baby bottles.
Connected platforms with hardware and software components are becoming more prevalent in women's health, especially to help users better understand their fertility.
Switzerland-based Ava Science's ovulation sensor bracelet and connected mobile app provide women with a detailed look into 9 health parameters that can be measured to optimize or avoid conception.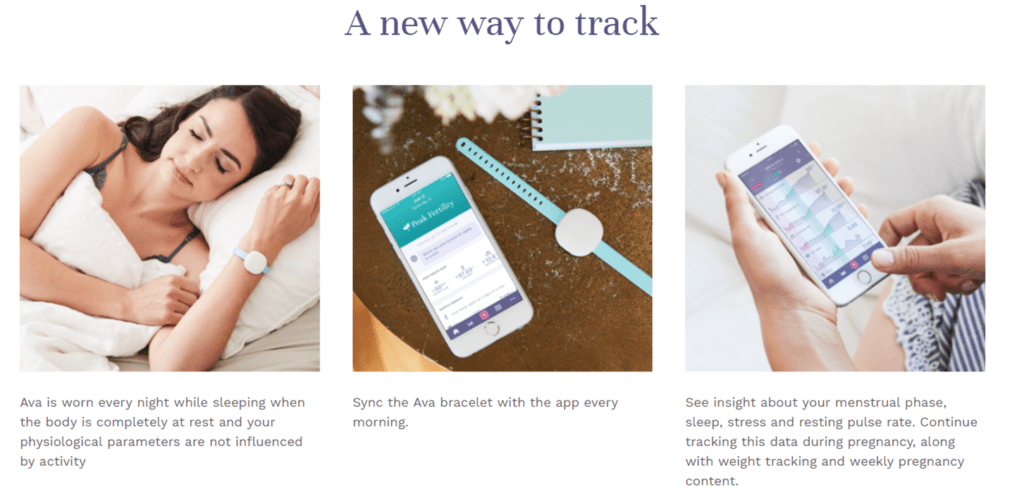 These physiological parameters — which include metrics like breathing rate & skin temperature — are measured during sleep and used to predict a women's next fertile window. Ava last raised a $30M Series B in May 2018.
This area is seeing an increasing overlap with medical devices, as more consumer electronics get approved or cleared for marketing as devices. Going forward, there may be an even bigger overlap as more IoT tech drives innovation in women's health.
Looking forward
Women's health startups are gaining more momentum than ever before.
From the types of new technologies being used to the uptick in regulatory approvals in the space, it is undoubtedly becoming an area to watch.
Companies are increasingly blending women's health offerings with tech, as platforms like connected devices and digital health apps leverage technologies like artificial intelligence and IoT sensors.
As players in the space begin targeting new areas within women's health, they'll focus not only on developing innovative products, but also on increasing education and accessibility to reach a larger consumer base.
For more in our Body Series, read about the disruption of eye healthcare and how technology is reimagining brain research and disease treatment.
If you aren't already a client, sign up for a free trial to learn more about our platform.