Venture debt is heating up as more entrepreneurs look for alternative ways to access capital. We explain what it is, how it stacks up against venture capital, and why a private company might consider it.
More companies are turning to venture debt to raise additional capital.
Venture debt can be attractive as it offers young companies a way to get an influx of cash without giving up too much ownership, provides a relatively fast way to access new funds, and can help startups extend their runway between equity rounds — sometimes helping them hit performance milestones set by VC backers.
Amid the economic uncertainty stemming from the Covid-19 pandemic, a number of companies have also turned to venture debt to help them quickly adapt to new market conditions or as a way to avoid raising from VCs at a reduced valuation (a down round).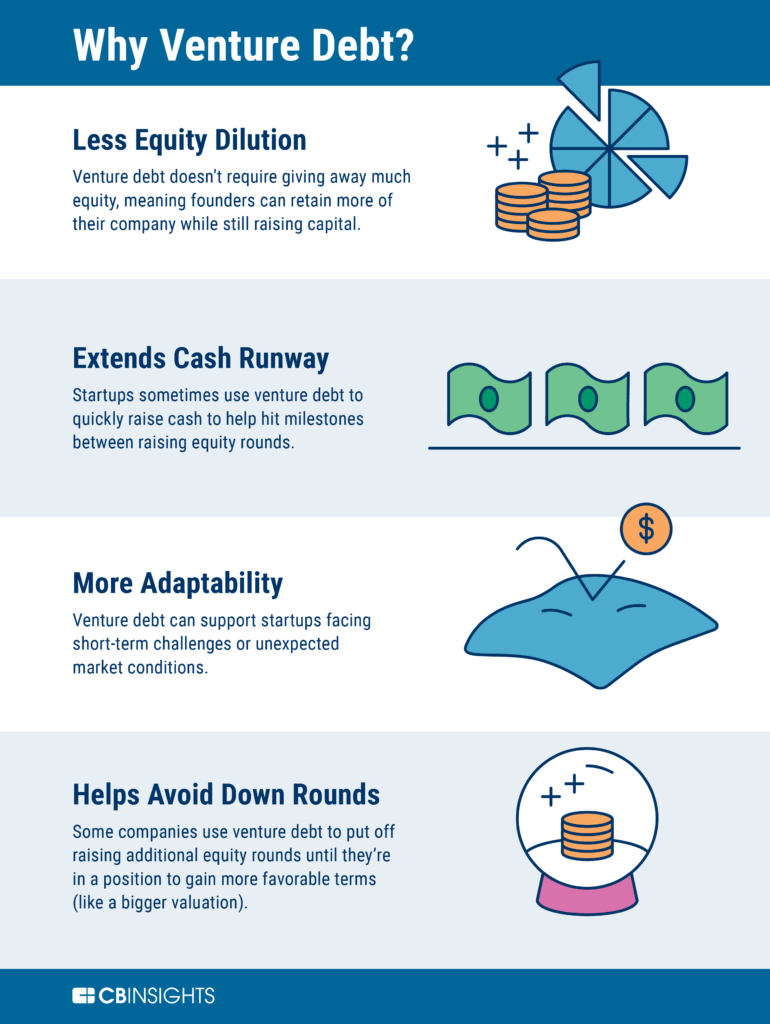 Despite these potential benefits, venture debt is not a direct replacement for VC-backed equity rounds and it poses a number of major considerations — and some disadvantages — for startups contemplating it.
In this report, we look at what venture debt is, how it compares to venture capital, why a company might raise venture debt, and the outlook for the venture debt industry.
TABLE OF CONTENTS
What is venture debt?
Venture debt vs. venture capital
Why would a startup raise venture debt?
The future of venture debt
What is venture debt?
Venture debt offers a way for VC-backed startups to raise funding by borrowing money.
Venture debt differs from most other forms of credit, like conventional business loans, because it is less contingent on factors like accounts receivable, inventory held, or cash levels. Instead, the venture debt model is more focused on the relationship with entrepreneurs and a company's VC backers.
For example, the amount of venture debt a company can raise is typically set between 20-35% of its most recent equity round, according to Silicon Valley Bank, whereas the size of a conventional loan will reflect a company's projected ability to repay the loan based on metrics tied to its current performance.
What is venture debt intended for?
Venture debt is typically used for equipment financing or growth capital. Equipment financing is used to buy equipment — like machines for a factory — that is secured by those assets alone. Growth capital can be used for any purpose and is secured by company assets.
Venture debt loans are intended for fast-growing, VC-backed startups and are often negotiated around the same time a startup receives an equity round. Reflecting this, startups normally use venture debt funding for growth purposes — similar to how they would use VC financing. This could include building out sales teams, marketing, investments in R&D, and much more.
The majority of venture debt financing is provided by entrepreneurial-focused banks like Silicon Valley Bank and specialized venture debt funds like Trinity Capital, Western Technology Investment (WTI), and TriplePoint Capital. Most commercial banks don't offer venture debt. Other sources of venture debt can include hedge funds, private equity firms, and business development companies (BDCs).
How do venture debt Lenders make money?
Venture debt lenders primarily make money through interest payments, fees, and warrants.
Warrants allow a venture debt fund to participate in the upside that a VC fund has by taking options in the business (which are typically priced at the most recent round's valuation) and are later converted into shares during an exit — like an IPO or acquisition. This approach contrasts with typical business loan lenders, which generally are not interested in taking an equity stake in a company (and often see young companies as too risky to lend to).
How do venture debt lenders evaluate startups?
Venture debt lenders select investments by going through an intense underwriting process. Factors that need to be considered during underwriting include the management team, the product, investors, market traction, and other value drivers. The ultimate repayment source for venture debt is typically through future equity rounds and therefore venture lenders must assess if a company is well-positioned to raise future rounds.
Underwriting criteria are also based on a company's life stage and capital strategy.
For example, early-stage companies with limited operating history are often judged based on investor quality, recent equity rounds, and projected cash burn rate. Companies with high burn rates are considered riskier because they are more dependent on external capital.
Later-stage companies tend to be considered by their ability to attract non-dilutive capital from new investors. A track record of non-dilutive capital also indicates that a company has hit milestones linked to product development and financial performance — which may make them more appealing to lend to.
Venture debt vs. venture capital
Venture debt isn't a direct substitute for venture capital. The purpose of venture debt is not to fully fund an early-stage company as it grows and moves toward an exit, but to complement equity funding from VC firms — startups usually can't even access venture debt without having received venture capital first.
However, venture debt differs from equity financing in many ways, and some companies may opt for venture debt to delay or avoid raising another VC round.
How does venture debt differ from venture capital?
One major differentiating factor is that VCs take a significant stake in a company in exchange for providing capital, whereas venture debt is paid back over time with an agreed-upon interest rate. Venture debt deals do tend to involve warrants — which can convert into equity at a later time at a pre-agreed price — but these will typically represent much less equity than a VC would ask for. On balance, this means that more equity can stay with the company, allowing founders to reap bigger rewards in the event of an exit.
Another consideration for startups is factoring in how to pay back venture debt over time while also investing in growth — unlike venture capital, which doesn't have to be paid back directly. In some cases, a company with hefty venture debt repayments risks facing a more difficult time raising from VCs as investors may balk at funding debt repayments as opposed to growth opportunities.
Venture capital also offers a number of value-adds that venture debt doesn't typically provide. These include facilitating partnership opportunities, providing access to networks, offering business advice, assisting with filling key roles, and helping increase exposure to the media.
Both financing options can be used for any kind of corporate purpose and typically don't have financial covenants.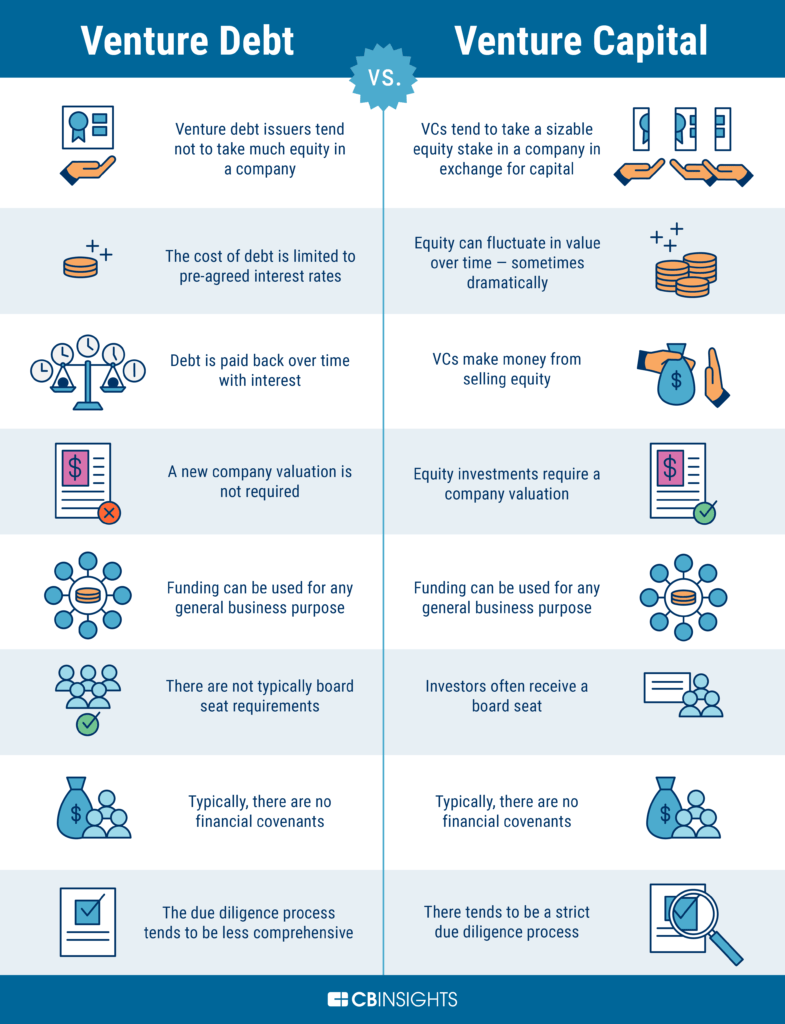 What's the difference between VC and venture debt business models?
The venture capital business model roughly follows the Pareto principle, where 80% of returns come from about 20% of startups. Since most of a fund's return comes from the top performers, the VC model relies on a few big wins to offset a lot of losses. Venture debt, on the other hand, is quite likely to be paid back by startups but lenders don't benefit as much from outsized IPOs or acquisitions. Overall, this means that average venture debt returns are lower than VC returns, but individual investments are less risky.
The main differences between the venture debt business model and venture capital business model include:
Venture debt's failure rate is much lower – around 1-8% of invested capital is written off, according to Kruze Consulting. This is likely in part due to borrowers having already raised VC funding, which includes an exhaustive due diligence process.
Venture debt's internal rate of return (IRR) is driven by interest rates, fees, repayment schedules, and warrants. Capital lent to startups is expected to be returned back to a venture debt fund in the first 15-18 months of a 3-year loan. In contrast, VC funds normally have holding periods of between 5 to 8 years before they expect to make a return on their investment by selling equity.
Venture debt lenders usually assess a startup based more on near-term viability as opposed to growth potential. Venture debt lenders are focused on a company's ability to pay back a loan over the course of a few years, as such, they put less emphasis than a VC might on a company's future growth trajectory.
Why would a startup raise venture debt?
As discussed above, one of the distinct advantages of venture debt from a startup's perspective is that it can provide access to additional capital without the need to give away that much equity. But startups may also look to venture debt as a way to quickly get an influx of cash to counter unanticipated events like operational glitches, challenges with fundraising, or short-term market downturns.
What's the best time to raise venture debt?
Companies often raise venture debt alongside, or soon after, a fresh round of equity. This is because a startup's creditworthiness and bargaining leverage are likely to be strongest after it has closed a new equity round.
For example, Cedar, a patient payment and engagement platform, raised $102M in Series C funding in June. The deal included $77M in venture capital funds led by Andreessen Horowitz and $25M from JPMorgan in the form of venture debt.
What do startups use venture debt for?
Companies use venture debt for a variety of reasons, but it is often intended for some combination of extending cash runway, splurging on large capital expenditures, or to cushion themselves from unexpected challenges.
A company looking to extend its cash runway with venture debt is likely hoping to limit its equity dilution at its next VC raise — betting that an influx of cash can help it reach milestones linked to a higher valuation.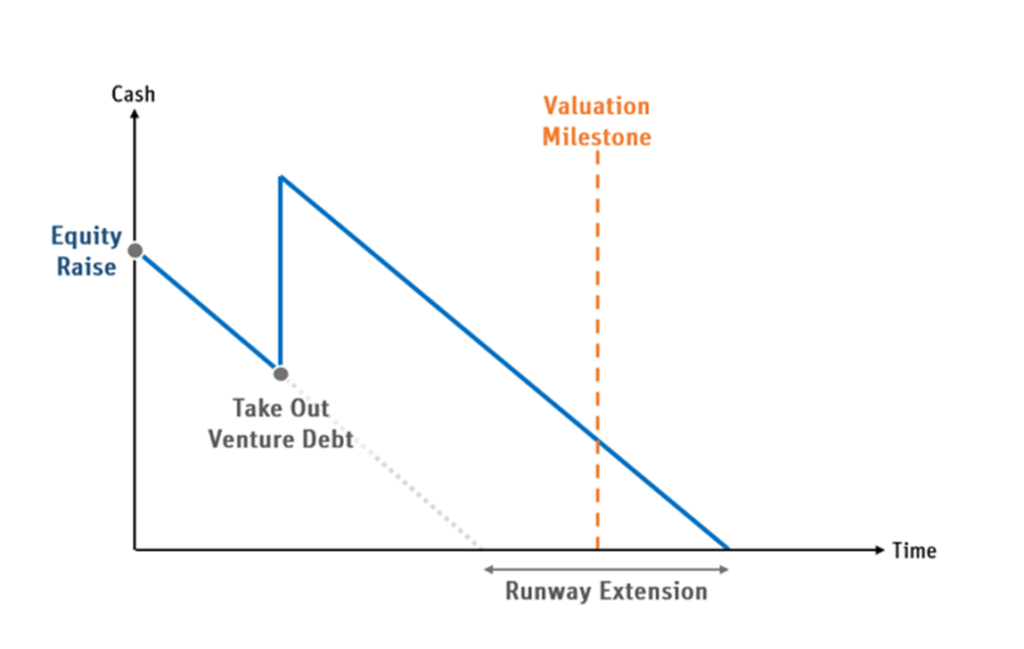 Source: The Startup
A company that wants to fund large capital expenses may use venture debt to avoid completely depleting its cash balance. Facebook, for example, raised debt from venture debt fund WTI to purchase some of its first servers.
A startup facing market challenges, especially if it judges these issues to be temporary or sees an opportunity to adapt, may raise venture debt to avoid the need to raise VC funding from a weakened negotiating position — which could result in giving up a sizable equity stake at a reduced valuation.
For example, India-based digital lending startup Lendingkart raised $11.5M in venture debt from Alteria Capital in June 2019, a time when VCs were reportedly wary of financing lending startups due to a liquidity crunch caused by the default of nonbank lender giant IL&FS in India.
What do VCs think of venture debt?
VCs do not necessarily view venture debt as a bad sign for a startup — most specialized venture debt funds work closely with VCs. That said, each company will be judged individually and VCs may view some debt situations unfavorably. For example, investors may be put off if a startup wants to use equity funding to repay pre-existing debt or is facing hefty loan repayments that could be a drag on growth.
Furthermore, venture debt is likely not well-suited for startups facing deep business challenges like highly volatile revenue streams, being unable to raise additional equity, or elevated cash burn rates, among others.
The future of venture debt
The modern venture debt market emerged after the 2008 financial crisis as an influx of new market entrants helped foster competition. Over time, the market has become more borrower-friendly — as the number of venture debt lenders went up, interest rates, loan structures, and terms became more favorable.
Within the last decade, an increasing number of companies have raised capital in the form of venture debt from a broadening range of investors.
Although venture debt is not set to replace venture capital, it looks like it's here to stay — and the pandemic has added to this traction.
Covid-19 has forced startups to explore more cost-cutting measures and look for ways to increase their cash runway. Some founders have signaled that they plan to skip venture capital funding to avoid down rounds that would dilute their ownership. Adding to these considerations, the current period of low interest rates, partly stemming from coronavirus-related economic uncertainty, has made debt more appealing for startups eager to hold out for a more favorable business environment.
Even as venture debt becomes more popular, companies should remain cautious when considering it as an option. Adding debt to a balance sheet may not be a big issue when capital is free-flowing, but debt can quickly become a burden if a company's performance lags or the market takes an unexpected turn.
If you aren't already a client, sign up for a free trial to learn more about our platform.