The creator economy has seen a record $1.3B in funding in 2021 alone. We dig into how startups are building across the value chain, top investors and companies in the space, and what's next for the industry.
Big tech platforms are fighting to keep creators on their platform in an effort to drive engagement.
But creators, once at the whim of these gatekeepers, are looking for ways to monetize their posts more directly and earn a bigger slice of the overall revenue pie.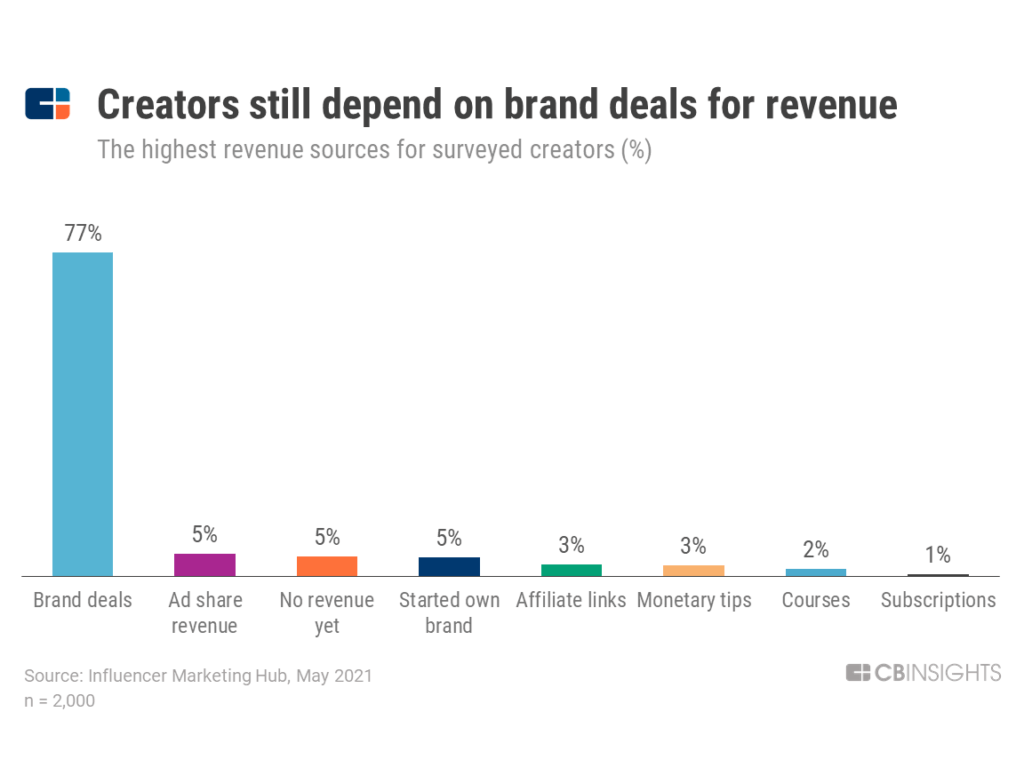 Whether they're busking with hot tub or gaming streams, paywalling analysis on niche internet memes, or selling feet pictures, these creators are pursuing alternative ways of monetization. A flourishing ecosystem of startups is emerging to meet that demand, from app-specific editing tools to multi-channel analytics to merchandising tech. 
"With the internet and YouTube, there's always the concern of being demonetized and having your channel canceled, so people are always looking for alternative ways to earn money," YouTuber Joshua Wanders said in an interview with New York Times. "You never know where the platforms are going to take you at the end of the day."
The creator economy refers to the numerous businesses built by independent creators, from vloggers to influencers to writers, to monetize themselves, their skills, or their creations. It also encompasses the companies serving these creators, from content creation tools to analytics platforms. 
The current robust creator economy is propelled largely by the tools that allow smaller accounts to monetize their own work more directly. These include tip jars like Ko-fi, content-sharing platforms like Gumroad, and course-launching platforms like Thinkific or Teachable.
To help understand the creator economy and the opportunities it unlocks, we dig into:
What is the creator economy?
The creator economy refers to the independent businesses and side hustles launched by self-employed individuals who make money off of their knowledge, skills, or following.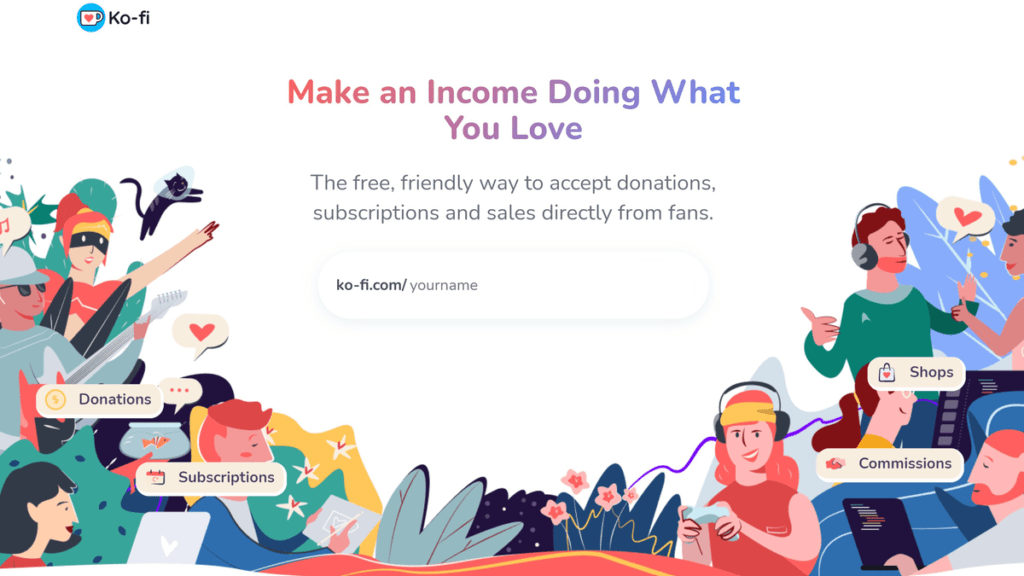 Source: Ko-Fi 
The rise of digital platforms like YouTube, Instagram, and Vine gave way to the influencer economy as we know it — from sponsored posts (sometimes even fake, for clout) all the way to Instagram Story shout-outs to branded wedding engagements. 
Social giants allowed individuals to amass large followings, but left them with few, if any, avenues for direct monetization. (YouTube was the exception, giving creators 55% of ad revenue rather than no revenue sharing at all. It's paid out $30B to creators in the last 3 years.)
The now-shuttered short video app Vine was an early example of this. Vine, which was acquired by Twitter in 2012, drew as many as 200M monthly active users at its height in 2015 and helped incubate top creators like Thomas Sanders, Zach King, and Shawn Mendes. But lack of product direction and infrastructure for creator support caused creators to leave the platform in droves. 
"Three and a half years is a long time to have us posting on your platform for free," a top Vine creator told BuzzFeed News in 2016. "We've had a lot of our top creators find a lot of successes on YouTube, a lot of success on Facebook right now."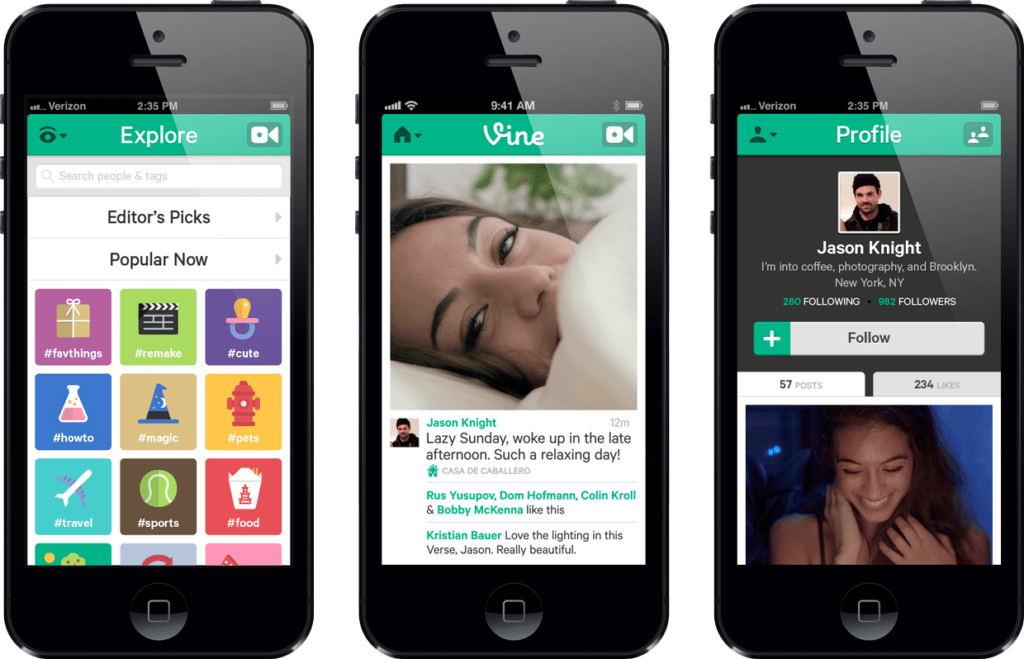 Source: FastFwd
As being an influencer/creator evolved into a more full-fledged career, indirect monetization proved insufficient. Ad deals depend on the whims of brands, come with strings attached, can fluctuate largely from month to month, and force creators to cater to broad audiences, making it difficult for them to double down on specific niches or demographics. Basing business around largely free content also deflated the value of creators' work. Why pay for content you're used to getting for free? This has driven today's growth of more insular communities where creators strive to own their audience. 
"Part of what we want to do is not just create a model of how audio can be transformed, but also make a push forward for creator-driven culture so that this culture isn't being shaped by the platforms and technologists, but the artists and creatives and talent," Audio Collective co-founder and creator Catherine Connors said in an interview with The New York Times. 
Now, newer platforms are emerging to try and supplant the media giants, and — recognizing the value of user-created content — they're paying up. The largest creators are also now influential enough to draw users to new platforms, further incentivizing platforms to reward them: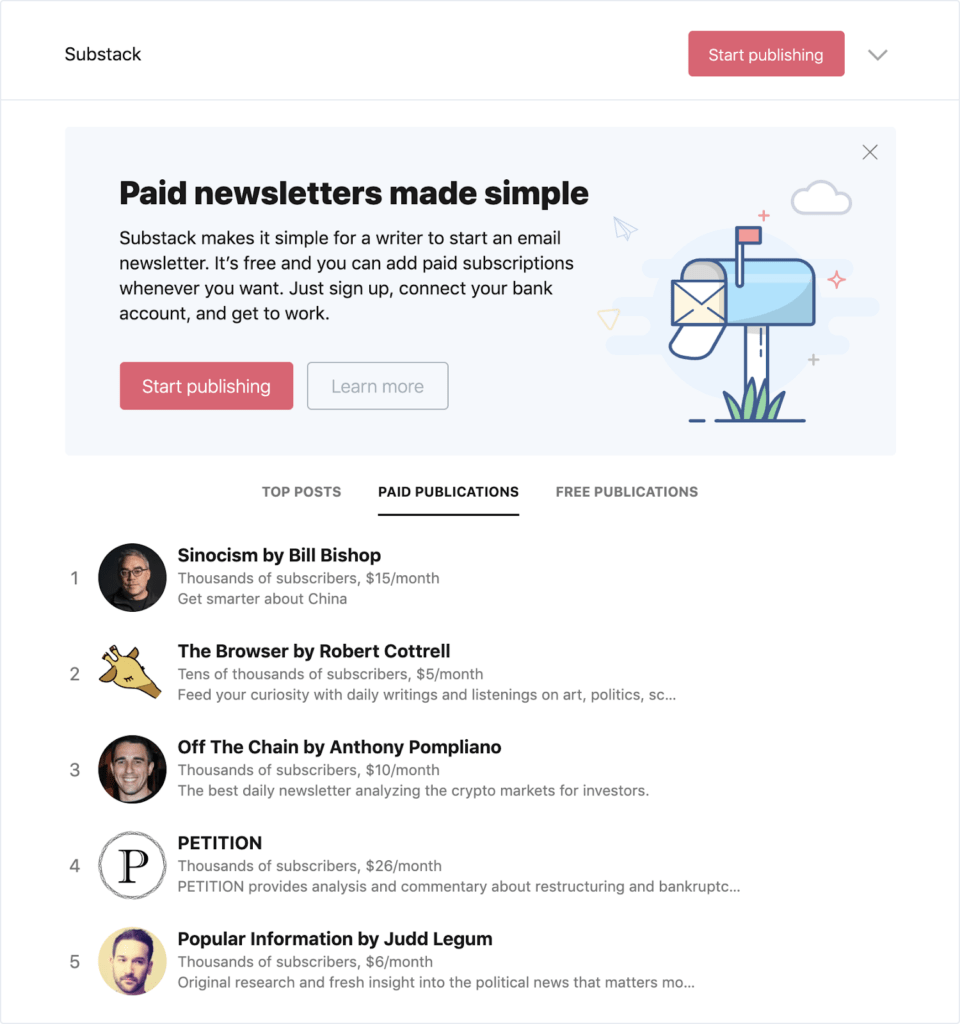 Source: Substack
There has been a verifiable shift toward creators amassing influence and monetization on their own terms. Traditional distribution platforms — from social media giants like Facebook, Instagram, and Clubhouse to media platforms like Bilibili, SoundCloud, Twitter, and Medium — were invaluable for gaining an audience, but the greenfield opportunities lie in building out the ecosystem around creators as founders.
The creator economy value chain and opportunities 
Creators have mostly had to cobble together a variety of tools to manage diverse revenue streams. Traditional B2B and B2C companies have yet to fully address these microentepreneurial needs: B2C apps like TikTok aren't primed for collecting revenue, nor are B2B tools like HubSpot or Zendesk suited for supporting individual creators. 
Today, corporates are realizing that there's money being left on the table and are fighting to keep creators on their platforms: 
Facebook CEO Mark Zuckerberg recently announced that Instagram would build out a suite of influencer tools, including creator shops, native affiliate links, and

a marketplace to connect influencers with brands,

to capitalize on these opportunities. 

Clubhouse recently rolled out its first monetization feature —

tips for audio creators

— as did

Twitter

.     

Twitter is also rolling out a

Super Follow feature

to let avid Tweeters charge for their exclusive tweets and

paid ticketing for its audio chat rooms

.

TikTok has already built out a

native marketplace to connect advertisers with creators

and has also launched

a $200M fund

to invest in its top creators. 

On top of paying out ad revenue, YouTube is taking the creator fund route as well, introducing

a $100M fun

d for creators on its TikTok clone, Shorts. 

To lure podcasters to its podcast subscription service, Spotify said it won't take any cuts of their profits until 2023,

when it will start charging 5%

. 

Even companies like GitHub are getting into

sponsorships

, which operate similarly to Patreon's recurring tipping model.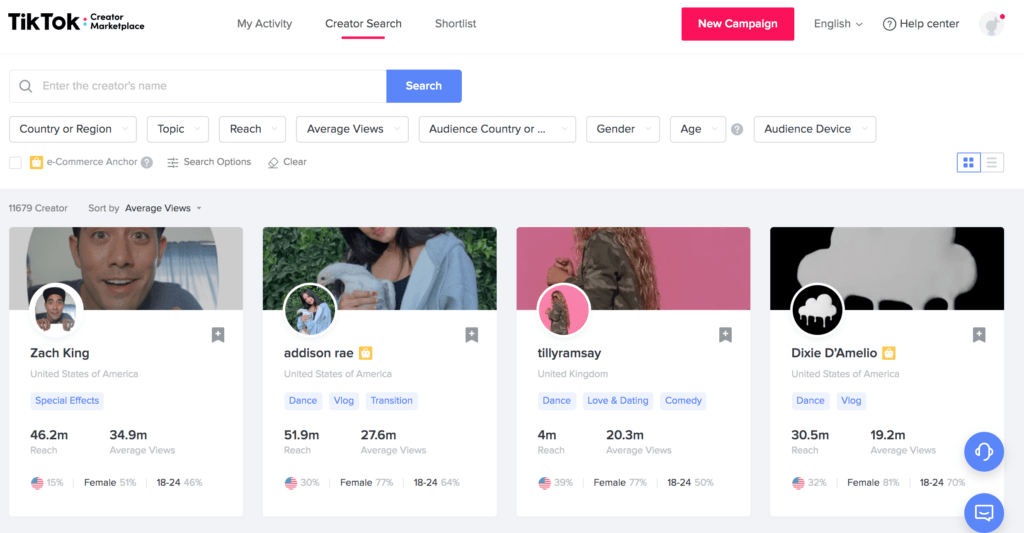 Source: TikTok
However, a slew of startups are looking to disrupt the way creators make content, develop their audiences, or grow their businesses beyond advertising. Examples include video editing software Kapwing, personalized video app Cameo, and creator credit card startup Karat — companies spanning use cases like content creation, fan interaction monetization, and financing solutions. 
The value chain is broad. Whereas traditional employment brings together production, income, and benefits into one package, creators are operating in a more splintered environment. They have to aggregate various editing tools, disparate revenue sources, back-end platforms, and more on their own.
The creator economy market map 
Using CB Insights data, we identified 125+ creator-focused companies that are capitalizing on each step of the creator work cycle, from content creation to off-platform monetization to audience management. For a deeper dive into the categories, check out our creator economy market map here.
This market map includes private, active companies only and is not meant to be exhaustive of companies in the space. Categories are not mutually exclusive. Clients can see more companies in our Influencer & Content Creator Tech Collection.
Please click to enlarge.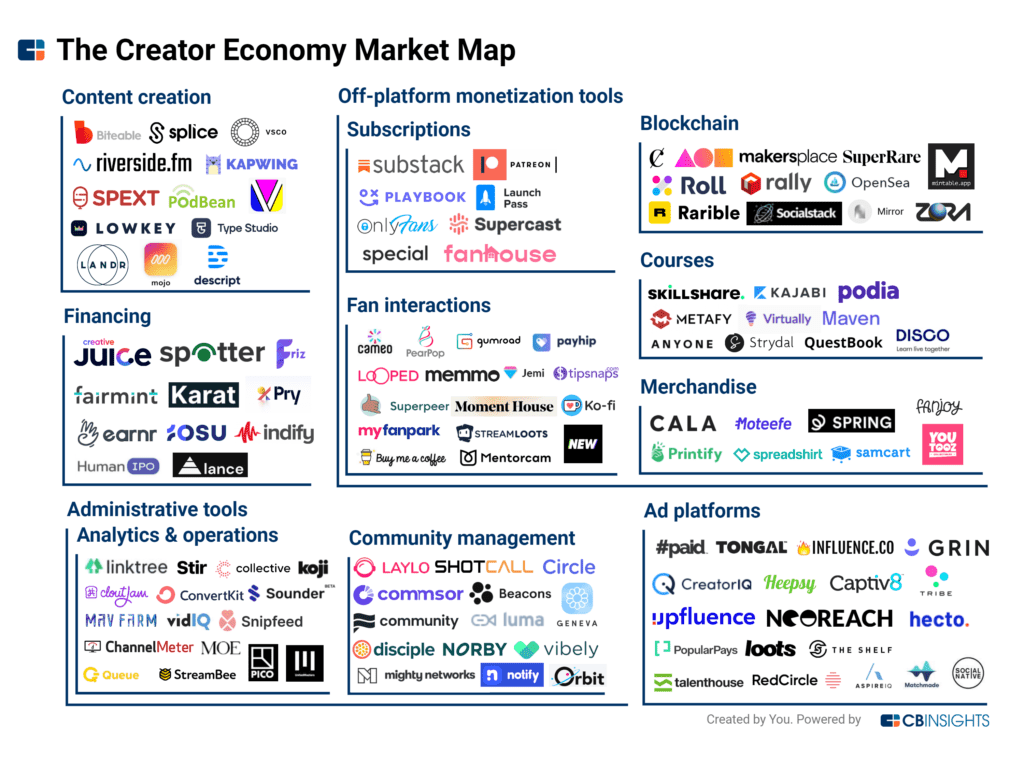 How big is the creator economy?
The numbers surrounding the creator economy are difficult to estimate in full, given the sprawling reach of the term "creator," which can refer to anyone from hobbyists selling PDFs on the side to professional vloggers, and the multitudes of ways to sell one's work. There are approximately 50M creators today, according to SignalFire. 
On the creator front, each platform has seen money flow into the space: 
The top-performing YouTube channels reaped $211M between June 2019 and June 2020,

Forbes reports

.

Famous Instagram influencers like Huda Kattan or Eleonora Pons can net up to 6 figures

per post

. 

The top writers on Substack can rake in as much

as $1M annually.

Since 2011, Gumroad's creators have

earned more than $460M

selling their content on the platform.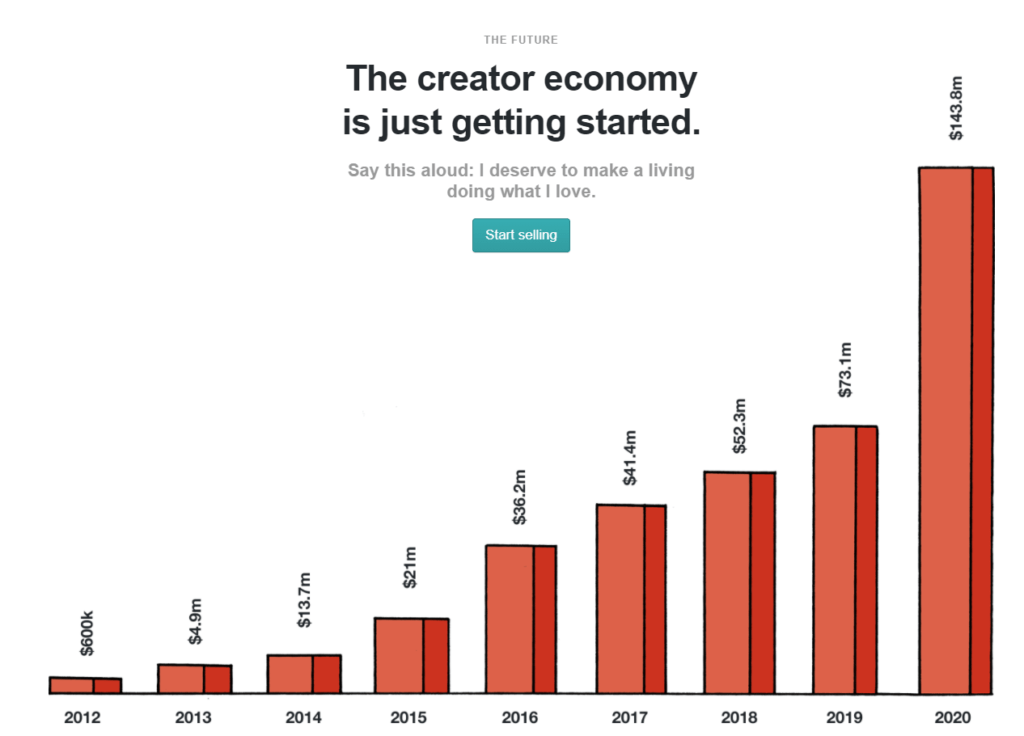 Source: Gumroad
On the corporate side, brands are expected to spend up to a whopping $15B on influencer marketing by 2022, per Mediakix.   
What are the biggest creator economy companies, and who are the biggest investors in the space? 
Creator-focused companies featured in our creator economy Collection have reaped $1.3B in funding in 2021 alone, nearly triple last year's $464M.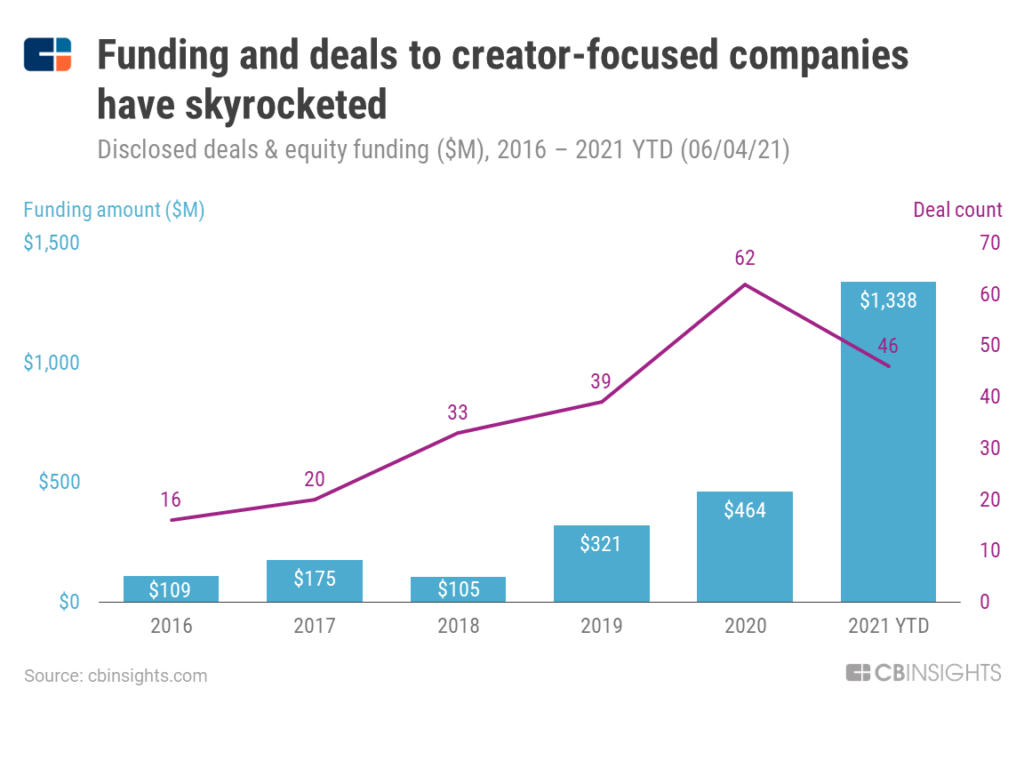 As investment to the space has swelled, some companies have catapulted to unicorn or near-unicorn status, including: 
Patreon

:

The membership platform last raised a $155M Series F at a $4B valuation. 

Kajabi

: The online course platform is the top-funded company on our market map, having drawn $550M in investment at a $2B valuation. 

Cameo

: The personalized video shout-out app has garnered more than $166M in total funding for a $1B valuation. 

Substack

:

The newsletter platform has raised a total of $82M at a valuation of $650M. 

VSCO

: The photo-editing app is valued at $550M, after raising $85M in funding. 

Splice

: The audio-editing platform is valued at $500M, with backers like Union Square Ventures, True Ventures, First Round Capital, and Lerer Hippeau Ventures.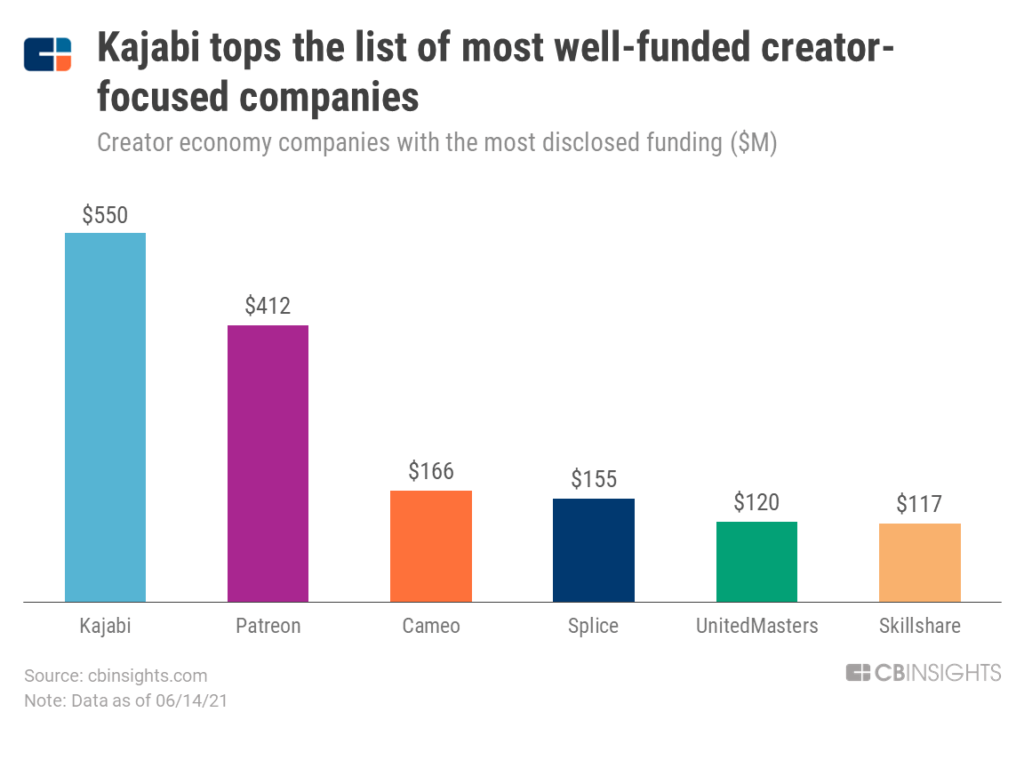 Traditional venture funds are looking to get a slice of the pie. Generalist and consumer-focused funds alike have infused cash into the bigger names of the space, such as Substack and Patreon. 
Andreessen Horowitz is the most prolific backer of creator-focused companies in our Collection, infusing cash into 18 different companies, such as UnitedMasters, Lowkey, and Beacons. Trailing behind are Union Square Ventures (11), CRV (9), and Index Ventures, SV Angel, Social Starts, and Thrive Capital (7).
New funds have emerged as well with theses specifically focused on the creator economy.
Li Jin's Atelier Ventures focuses on cultivating a community for creators, including through a Slack community and TikTok creator database. It doles out checks between $100,000 and $300,000. Its portfolio companies include Substack, Stir, Luma, and more. 
Another name investing in the creator space is Next 10 Ventures, founded by Benjamin Grubbs, which has invested in companies like Trash, Stir, and Stage Ten.  
What is the creator middle class? 
As the top creators on platforms amass ever-growing audiences, the overconcentration risk looms. 
For example, the top Roblox game accounted for up to a quarter of all users on the platform in 2020, according to former EA lead product manager Ran Mo.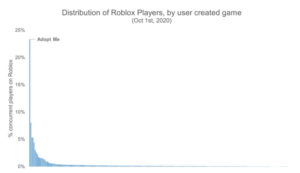 Source: Roblox, via Ran Mo
This becomes unsustainable in the long run for platforms. While their top creators are getting cut checks that run the gamut from 6 to 8 figures, most creators — the "middle class" — are scraping by with much less. On OnlyFans, the top 1% of creators reap a third of the profits, while most see less than $145 a month. In 2017, just 2% of Patreon creators earned more than the federal minimum wage. 
"Creator platforms flourish when they provide opportunity for anyone to grow and succeed," Atelier Ventures' Li Jin writes. "Less wealth concentration means less risk that a would-be competitor could poach top creators and threaten the entire business." 
Companies have an opportunity to help creators flourish in the "long tail" of content creation. Journalist Craig Morgan was laid off last year, but he now has more than 1,000 people paying him $5 a month for his Substack newsletter, The Economist reports. Not all creators are going to be bringing in eye-popping amounts of wealth. But they can potentially earn a living on their own terms.  
This sort of promise — self-employment and financial freedom — is familiar. 
Gig economy companies like Uber and Lyft presented similar success stories, but the advantages and disadvantages of gig employment are hotly debated even years after these companies emerged. Gig workers argue they're at the mercy of algorithms over which they have no control, and stories emerged amid the pandemic describing the plight of the gig workers left behind with few traditional protections. 
"And while there's always the vanishingly small possibility of becoming a runaway success in investments or stardom, most of the time we have no choice but to play to lose," writer Emilie Reed argues for Real Life about the rise of creators and the rhetoric of self-financialization amid the non-fungible tokens (NFTs) boom.
To make the creator economy more sustainable, Jin argues for a few different strategies, including more funding, different content strategies, and creator training.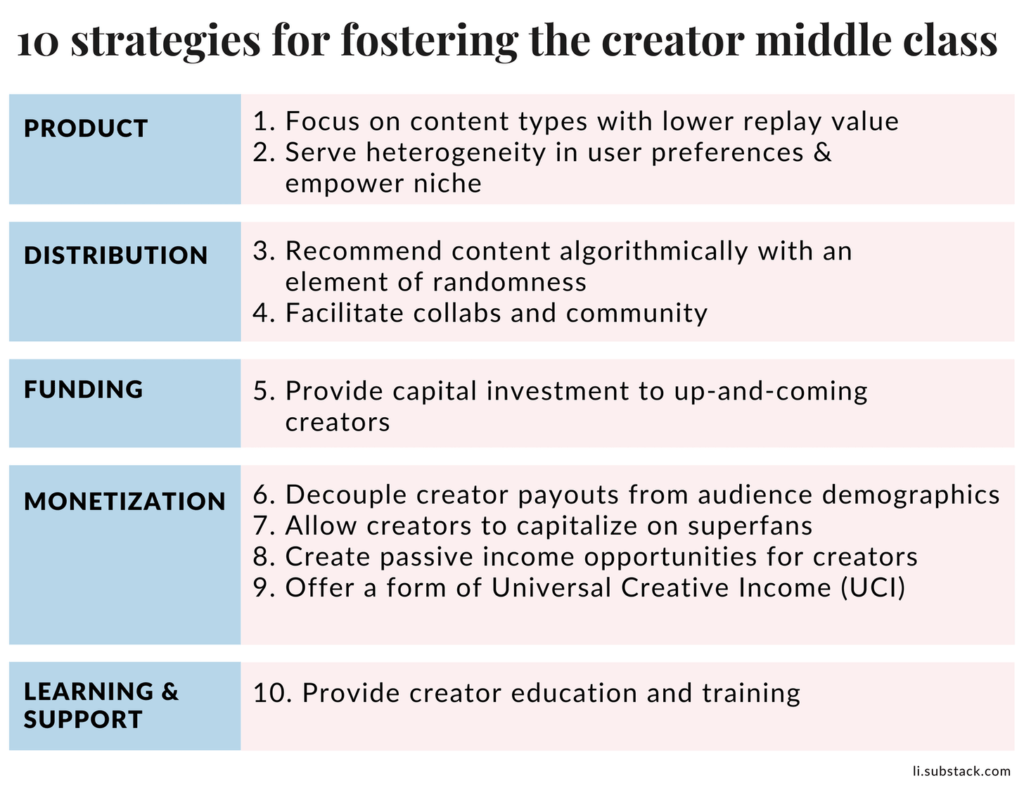 Source: Li Jin
As new tools emerge, however, questions remain about the power creators will eventually hold — and the ensuing shift in power structures on platforms themselves. The mega-famous influencers and creators may gain the power to escape today's largest platforms, but where does that leave the rest of the "middle class" creators? And will "casual" users, or "lurkers," feel more of a compulsion to create?
The shift to the creator economy, much like the rise of the influencer and gig economies, has ramifications beyond immediate monetary return for individual creators.  
"To be a person online — at least, to be more than a lurker — requires building an avatar of yourself, out of identification with the content others produce and the content you produce yourself," journalist Jennifer Schaffer-Goddard writes for Study Hall.
What's next?
At this stage, the creator economy remains fairly nascent, but investors and corporates alike are taking note given the rising investment in the space.
Media giants are certain to roll out more monetization tools in an effort to keep creators and their respective fanbases engaged on their platforms, but creators are likely going to favor becoming platform-agnostic and becoming independent brands to ensure less dependence on any one platform. 
The development of the creator economy has implications for broader industries as well: 
Fintech companies like Karat are seeing the gaps being left by traditional financial institutions in financing and lending for creators specifically. 

For retailers, the shift toward more independent brands could make it marginally more difficult or costly for them to reach top influencers — but, ultimately, brand deals aren't going away anytime soon. E-commerce companies need to readjust, focusing on the social component of shopping — perhaps in the form of collab drops to give creators more agency.

Media companies need to double down on the advantages they have to prevent creators from flocking to other platforms. Income is a huge point of contention here: as we've seen with big tech's scramble, this can encompass everything from creator funds to in-app monetization features. But other features can include production tools, admin services, community and mentorship opportunities, and more. 
The broader opportunity here lies in the rebundling of all of these disparate services specifically for creators. Much like the rise of content houses and influencer marketing agencies, this burgeoning industry will drive demand for end-to-end solutions that handle everything from content creation to analytics and management. 
"These are not people who had a lot of money and decided to start a business," said Mike Bienstock, who founded Semaphore, which offers tax and business solutions for YouTubers. "This is pretty much first-generation wealth across the board." 
The tools that can help them with their specific brands and niche business needs will emerge as the winners in the long run. Going forward, expect to see more companies that focus specifically on creators' needs vs. a catch-all service for all freelancers. 
If you aren't already a client, sign up for a free trial to learn more about our platform.