Scientists and researchers are exploring geoengineering, a strategy that could help avert global warming through the intentional, large scale modification of the climate. We examine the business opportunities, major risks, and potential in these technologies.
Recent climate findings paint a grim picture of the next 20 years and beyond.
The world has already warmed 1 degree Celsius beyond pre-industrial levels, and it's warming faster than ever before.
By the UN Intergovernmental Panel on Climate Change's (IPCC) present estimates, we're going to breach the 1.5 degree of warming mark by 2040. Tens of millions of people, especially in small island countries, will be exposed to flooding. Extreme heat will become more common for as much as 14% of the population.
As we approach 2 degrees, millions will lose their homes. Forty percent of all amphibian animal species will disappear, along with a third of all marine mammals.
Four degrees of warming would lead to the flooding of coastal cities around the world, significantly increased water scarcity, malnutrition, and unprecedented heat waves, according to a World Bank report.
Even if governments transition their economies away from fossil fuels and reduce emissions, that won't be enough to avoid the negative consequences of warming.
In response, governments, corporates, and startups are looking to geoengineering, a tech-driven solution to fighting change climate that removes greenhouse gases from the atmosphere.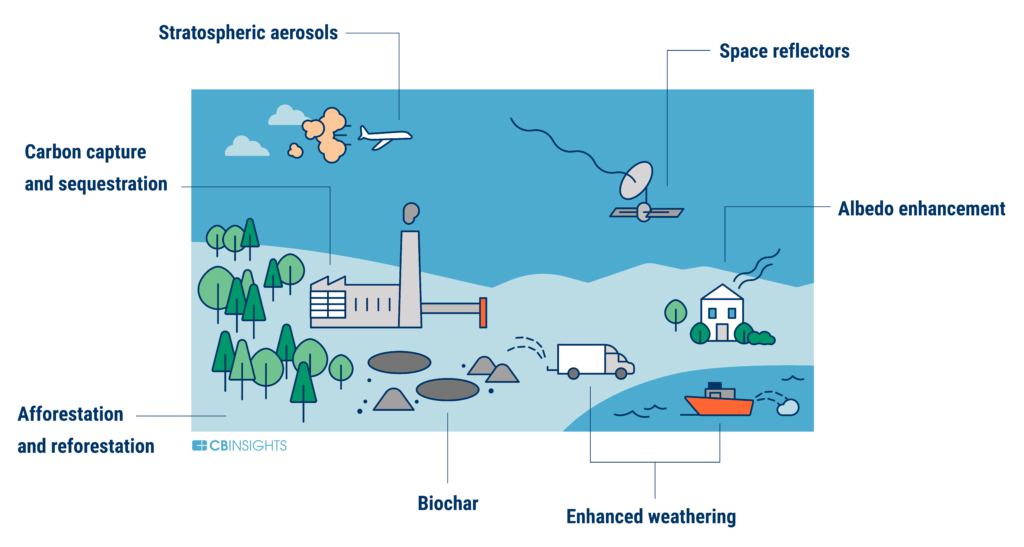 Geoengineering has the potential to make some large-scale changes to the amount of greenhouse gasses in the atmosphere, but it is not without risk. Critics say that geoengineering could disincentivize a transition away from fossil fuels, and some techniques could introduce even greater harm to humans and to the environment.
In this report, we outline some of the main approaches to geoengineering, highlight some business opportunities as tech companies, corporates, and VCs become more interested in the space, and assess where the technology stands today in the fight to protect the planet.
Table of Contents
The basics of geoengineering
Geoengineering is a large-scale, human-driven attempt to counteract climate change, which includes removing greenhouse gases from the atmosphere and deflecting solar radiation from the Earth.
Many different kinds of technologies fit under the umbrella of geoengineering, including afforestation and enhanced weathering, which leverage natural guardrails on the greenhouse effect to absorb emissions, and approaches such as biochar and carbon capture, which "un-mine" fossil fuels by pulling carbon out of the air and storing it safely in the ground.
Some, like reforestation, have already yielded results on a smaller scale. Others, like the idea of building massive mirrors in space to deflect the sun's rays, are risky, expensive, and potentially not feasible. And others still, like ocean fertilization — a technique which proposes injecting thousands of tons of iron sulfate into the world's oceans — are farfetched enough to have been roundly abandoned by most serious scientists.
Researchers don't believe this kind of intervention can fully substitute other forms of climate change mitigation. Some argue it could even ultimately hurt efforts against climate change, by offering excuses to corporations and governments that want to continue emitting greenhouse gases and by their own potentially damaging effects on our environment. Most of these techniques carry risks, and many are serious.
According to the 2019 IPCC report, however, there is simply not enough time to stop climate change by reducing emissions alone. To avert flooding, water scarcity, bouts of extreme heat, and crop failures, changes must be made over the next 12 years to transportation, infrastructure, and towards the development of technologies designed to reverse the effects of climate change.
Climate models predict that if we continue "business as usual" (BAU), temperatures could increase by 5 degrees Celsius by 2100. However, models predict that we can keep temperatures under worst-case scenario levels with the use of global emission cuts, greenhouse gas removal, and solar radiation management.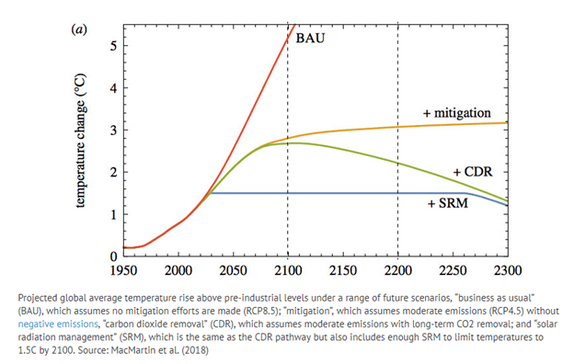 Source: CarbonBrief
Corporates and startups in geoengineering
While governments have generally been the largest players when it comes to addressing climate change, a number of corporates and private companies are beginning to get involved.
In 2018, business leaders from around the world signed an open letter calling for governments to step up their response to climate change. Startup accelerator Y Combinator also put out a request specifically for entrepreneurs interested in implementing profitable geoengineering technology, like carbon removal, at scale.
When Y Combinator announced that it was interested in funding geoengineering techniques, it focused on 4 greenhouse gas removal technologies: carbon sequestration via ocean phytoplankton, electrochemical enhanced weathering, carbon fixation, and creating desert reservoirs that retain carbon.
While those technologies are mostly still in the research and pre-commercialization phase, Y Combinator has funded several more conventional projects, including:
Prometheus, which uses emission-free solar and wind power to turn sequestered carbon dioxide into fuel
Wren, which lets companies offset their carbon emissions by investing in other greenhouse gas removal projects
Saratoga Energy, which turns carbon dioxide in the atmosphere into carbon nanotubes for use in electric vehicles and energy grids
These geoengineering projects aim to reduce emissions — or even create negative emissions — while producing a profitable byproduct that can be the foundation of a business. Low carbon industries are projected to reach a market size of more than $2T by 2030, according to CB Insights' Industry Analyst Consensus.
Many geoengineering strategies offer direct benefits to companies such as valuable byproducts or boosted agricultural yield, but others do not have a straightforward profit opportunity. In those cases, implementation of the tech would fall mainly to governments and NGOs, which could fund research or offer incentives to companies through subsidies or tax breaks.
Some of the commercial opportunities around geoengineering rely on capturing the value of carbon credits.
Carbon credits are intended to give polluting companies that want to improve their reputation or meet environmental standards the opportunity to pay other companies that undertake geoengineering projects. For example, reforestation soaks up carbon dioxide, so in theory, a company paying for trees to be planted could offset the effects of its own carbon emissions.
Most efforts to make this kind of carbon economy work have been controversial with environmental researchers so far, mainly because of the immature science of accurately measuring carbon and the uncertainty over how much is truly being offset by any given project. Proponents, however, claim that the concept is valid, but it needs vastly more institutional backing and resources to work.
One potential way to institutionalize carbon offsetting would be a national cap-and-trade policy — a system in which the government sets an overall limit on yearly carbon emissions, and companies that exceed their allowed levels can purchase emission permits from other companies with low emissions, potentially funding carbon negative projects in the process. So far, 9 states have already agreed to create their own cap-and-trade programs, and 3 more are in the planning stages.
Other commercialization opportunities for geoengineering revolve around capturing harmful industry byproducts and selling them to other industries where they can be used as fuel and resources. Carbon dioxide extracted from the atmosphere, for example, can be sold for use in commercial enhanced oil recovery operations, to potentially produce aviation fuels, or even to make carbonated drinks.
Furthermore, as consumers and employees increasingly value environmentally friendly behaviors, some companies are turning to geoengineering to offset carbon emissions from daily operations. For example, payments startup Stripe recently announced that it will invest at least $1M per year in direct carbon capture to get closer to negative emissions as a company.
Geoengineering strategies
Two main methods of geoengineering are gaining traction:
Greenhouse gas removal (GGR) technologies would reverse the runaway greenhouse effect by removing carbon dioxide from the atmosphere.
Solar radiation management (SRM) would add a cooling effect to surface temperatures by reflecting more sunlight back into space, rather than reining in the greenhouse effect. Rising CO2 levels would then make less of a difference to average temperatures.
Both approaches have considerable risks, but GGR is generally less expensive and less hazardous, and has more methods that are close to real-world deployment, making it the geoengineering method of choice for private companies and most governments.
Below, we look at the variety of techniques that make up GGR and SRM, ordered by their general progress and feasibility for helping to reverse climate change.
Greenhouse gas removal
Greenhouse gases are gases — including carbon dioxide, methane, and ozone — in the earth's atmosphere that absorb infrared radiation from the sun. The gases then emit that energy, causing the earth's surface to warm.
Carbon dioxide is naturally absorbed during processes like photosynthesis and released when plants burn or decay. The problem with man-made greenhouse gas emissions is that they tend to happen too quickly for this natural absorption cycle, leading to an excess of greenhouse gases in the atmosphere.
Greenhouse gas removal (GGR) would speed up natural means of absorbing greenhouse gases, or artificially capture and store them. The result, engineers hope, would be "negative emissions" to counteract the effects of burning fossil fuels.
Each GGR method stores the pulled carbon in different ways, each of which comes with its own set of environmental risks and opportunities.
forestation
Forestation is one of the simplest forms of geoengineering. It focuses on using trees to capture carbon dioxide as a way to offset emissions from fossil fuels.
What it is
Forests soak up CO2 and improve air quality, making them a natural counterbalance to industrial pollution. Forestation efforts fall into 2 categories:
Reforestation aims to restore woodlands where they have shrunk or disappeared entirely.
Afforestation involves creating new forests by planting trees on previously barren land.
Both strategies help address the problem of deforestation, which has been a growing problem over the last several decades. Shrinking woodlands not only accelerate climate change, but create a host of other negative effects such as more frequent droughts and habitat destruction.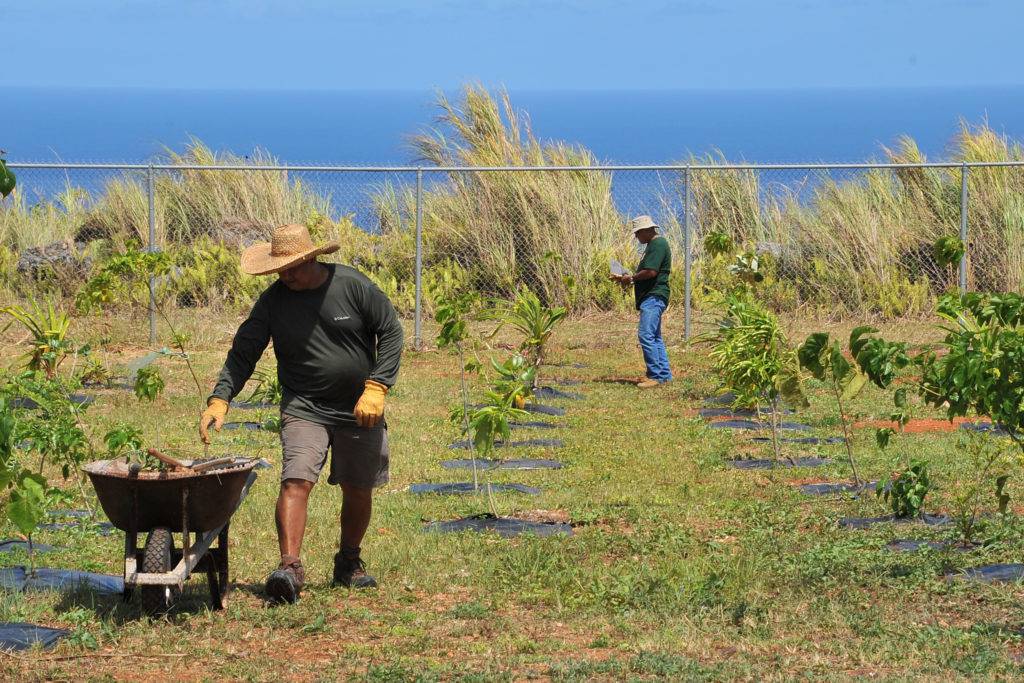 A military reforestation project underway in Guam. Source: Pacific Army
By some estimates, deforestation accounts for as much as 25% of global greenhouse gas production. Reforestation alone is unlikely to achieve the level of emissions reduction that countries need to prevent climate disaster. Afforestation could help.
There are 3 different afforestation techniques:
Natural regeneration: This process involves creating what looks and functions like a naturally-occurring forest.
Commercial plantations: Companies here grow new woodlands to periodically chop down trees for lumber or for products like paper pulp.
Agroforestry: This practice involves planting trees on land that is being used for agricultural purposes. Farmers do this to supplement their crop with fruits, grains, and other products of the trees. On top of that, planting trees on farmland can help protect it from hazards like soil erosion.
Environmental impact
The positive impact of afforestation on carbon dioxide levels depends on what type of technique is used and which trees are planted.
Natural regeneration soaks up the most CO2 and does the most to promote biodiversity, mainly because the plants are not harvested and a wide variety of plants are used.
Since commercial plantations are harvested periodically, they are not as effective at reducing carbon; however, they have a revenue upside, which could help incentivize companies to invest.
Commercial plantations' positive impact also depends on what the harvested wood is used for. Wood for construction will continue holding on to CO2, but lumber used for fuel will spit it right back into the atmosphere.
Similarly, the amount of CO2 absorbed by agroforestry depends on which crops grow, but even the crops that soak up the most carbon will pack less of a punch than natural forests do.
Afforestation may come at a significant environmental cost. In some cases, the process requires restoring topsoil where overgrazing or other processes have made it inhospitable to trees. The process would also require a considerable amount of land, and could include the use of nitrogen-based fertilizers. Producing those fertilizers would release a number of greenhouse gases, including nitrous oxides and CO2, into the atmosphere.
The USDA estimates that an afforestation project could sequester 200M tons of carbon annually for a price of $1B, though those don't figures don't account for knock-on effects like the release of greenhouse gases from fertilizers.
Still, because all of the technology necessary to carry out reforestation and afforestation at scale already exists, and new forests themselves do not pose any significant risk, forestation is one of the more viable geoengineering options.
Current initiatives & business opportunities
Governments have taken the lead on afforestation efforts.
In India, for example, a bill signed in 2016 allocated more than $6B to the country's forest departments to plant trees in areas deforested by mining and other industries. (It's worth noting that this law has been opposed by activists, who say it encourages officials to cut down natural forests and replace them with commercial teak and eucalyptus plantations.)
In China, facilities producing coal, metals, and chemicals were forced to plant trees as part of a program intended to cut down on pollution and meet improved environmental standards.
Commercial methods have also attracted companies to afforestation projects in the US and elsewhere. The World Resources Institute released a report in 2018 that analyzed over 100 companies working in the tree restoration industry. Their strategies vary, but they generally aim to make money by bolstering agriculture and producing other plant-based goods like paper pulp.
Biocarbon Engineering, which raised a $2.5M seed round in 2018, uses drones to spread tree seed in Myanmar and other areas. Its main focus is helping companies fulfill regulatory obligations. The company plans to let corporations license their drone technology in the future.
TerViva Bioenergy grows and sells a durable tree called pongamia, which can be used as biofuel. The tree can be planted in exhausted farmland, making it a good choice for abandoned areas where no fertilizer may be available. TerViva raised a $20M Series D to accelerate its product development and expand its operations in Florida and Hawaii.
Challenges
Natural regeneration does not offer much profit for companies. The land where "natural" forests are grown cannot be used for farming, ranching, or other profitable pursuits, which may make it more difficult to enact on a widespread basis. This technique would need to be spearheaded by governments and NGOs, or at the very least heavily subsidized.
Planting monoculture plantations of profitable plants, on the other hand, could ultimately be counterproductive. A 2019 study in Nature found that 45% of all new forests promised by governments around the world were to consist of fast-growing, highly profitable plants like eucalyptus and acacia. Eucalyptus, which is mainly used in paper pulp and for medicinal purposes, has been a controversial reforestation tool because of its aggressive water consumption, which can interfere with local water tables.
Monoculture plantations can also have a significant dampening effect on forests' potential to sequester carbon, mainly due to their reduction of biodiversity. Leeds University's Simon Lewis estimates that replacing forests with monoculture plantations, even in a wide-scale reforestation effort, would mean removing only about 16B tons of carbon from the atmosphere — far less than the 200B tons the IPCC estimates are needed to keep warming at 1.5 degrees.
Biochar
Biochar is a low-risk form of geoengineering that creates soil fertilizer, stores carbon, and produces energy. The technique has attracted a fair share of interest over the last several years.
What it is
Biochar takes organic waste and turns it into a charcoal-like substance by burning it in a container with very little oxygen in a process called pyrolysis.
When plants decay, the carbon that they absorbed and stored is released into the atmosphere. Pyrolysis reduces the amount of gas emitted, storing the carbon in biochar instead.
Biochar can then be buried in soil, where it acts as a fertilizer.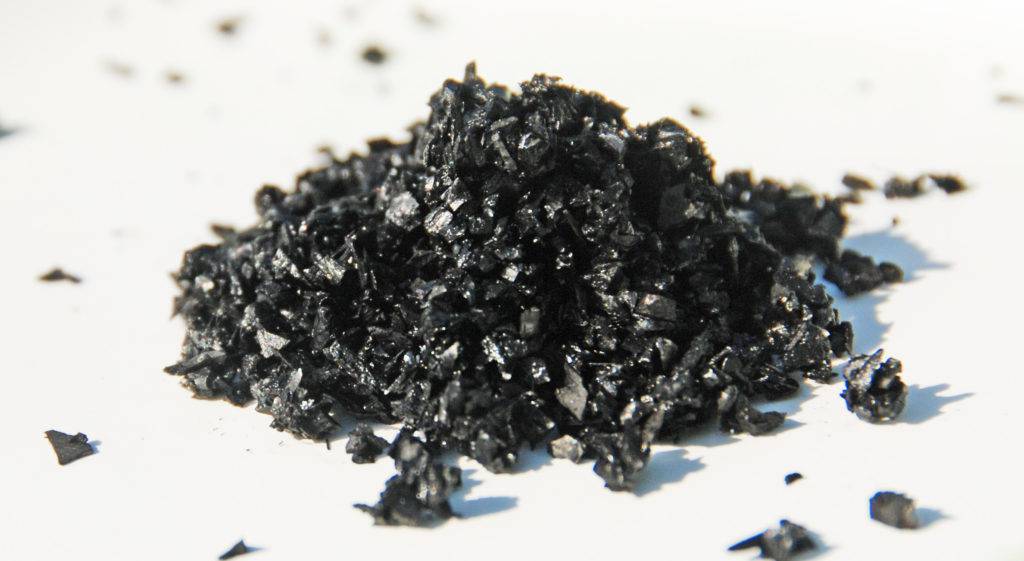 Biochar is a safe way to store CO2 in the soil. Source: Cool Planet
Environmental impact
Research on the environmental impact of biochar is in early stages, but scientists have already proposed promising estimates for its potential to combat climate change.
Johannes Lehman of Cornell University has shown that biochar made from "sustainably obtained biomass" could offset 12% of global greenhouse gas emissions. Other estimates have shown that biochar could sequester as much as 1B tons of carbon dioxide each year.
Putting biochar underground means storing carbon in stable form. In other words, biochar could keep carbon dioxide from leaking into the atmosphere and contributing to the warming of the planet.
In addition to pulling carbon out of the atmosphere and enriching the soil, biochar can bolster resistance to drought and flooding in the areas where it is implemented. It can also absorb certain pollutants like heavy metals.
Researchers still have important questions to answer about the effects of sequestering carbon with biochar. It remains unclear how long carbon stored this way will remain in the soil, and what the effect of land use and other resources requirements will be.
Current initiatives & business opportunities
The $2.4B worldwide biochar market is expected to expand to $3.1B by 2025.
The main biochar projects today use the material as a fertilizer to increase soil efficiency and boost crop yields.
For example, Cool Planet creates gasoline from organic materials including trees, grass, and corn cobs, and biochar is produced in the process as waste. Cool Planet's biochar promises to increase soil's water retention and diminish fertilizer runoff. The company raised a $19.3M Series A in 2017 to pursue commercialization of its product.
Another use case for biochar is as an energy source for cook stoves. Biochar stoves reduce harmful emissions like carbon monoxide, and require the use of less overall fuel, saving both money and forests. One case study found that a biochar stove would pay for itself under 3 years.
Challenges
The main obstacle to biochar's wide-scale commercialization is cost. The price of compost, a common substitute to enrich soil, hovers around $30 to $50 per ton, while the average price of biochar in the US is $2,580 per ton.
The costs involved in large-scale biochar production can also be offset by selling the electricity that is generated as a byproduct in the process; though experts expect that electricity prices will need to rise to make overall wide-scale production viable.
For large-scale initiatives to succeed, governments around the world may need to adopt carbon credits or other forms of carbon pricing mechanisms, subsidizing biochar production.
Biochar also poses potential risks to the environment, mainly to the health of the soil used for carbon recycling. While many advocates point to its potential to increase crop yields and the effectiveness of fertilizer, in some cases biochar can actually reduce soil's ability to provide water and nutrients to crops. Pesticides and herbicides may also become less effective as they are absorbed by the biochar.
Biochar can also bring contaminants into soil, including dissolved organic carbons, polycyclic aromatic hydrocarbons, volatile organic compounds, and heavy metals. Additionally, the extremely fine ash of most biochar substances can be let off into the air and cause respiratory illnesses.
Other concerns include emissions from land use conversion for biochar storage, habitat and biodiversity reduction, and biochar loss between production and soil storage.
Researchers also have yet to establish how effective biochar will be at trapping carbon in the soil long term. Some or all of the CO2 stored in biochar-based fertilizer might be released again as new plant matter is burned or decays over time.
Carbon capture and sequestration
While large companies like Exxon have shown interest in carbon capture, the costs and possible risks of the technology make it one of the less feasible methods of greenhouse gas removal today.
What it is
Carbon capture is a form of GGR that goes to the source to block fossil fuel emissions from entering the atmosphere.
One way to achieve this is adding technology to existing fossil fuel plants to capture the CO2 they emit. The carbon product that comes out of that process is then shipped offsite, usually through a pipeline, and either stored or injected into the ground to help extract oil.
Carbon capture can take several different forms. Point source capture gathers CO2 at particular bottlenecks at fossil fuel plants, while direct air capture pulls CO2 directly out of the air.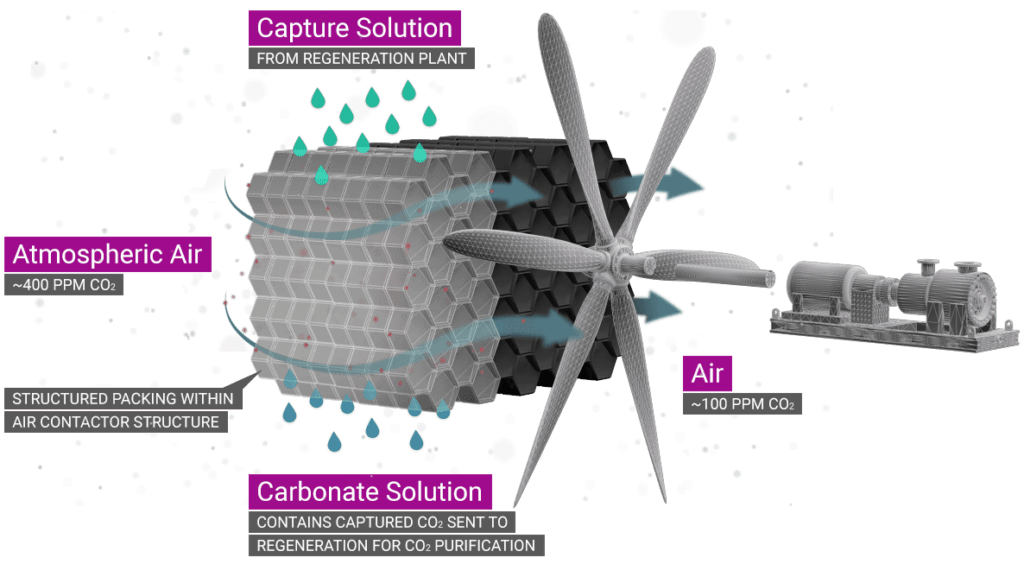 A model of a carbon capture technique. Source: Carbon Engineering
Environmental Impact
Although personal vehicles are big contributors of greenhouse gas emissions, factories and coal-fired power plants have been the primary drivers.
While reducing emissions from these kinds of facilities is a high priority for climate change scientists, the 2019 IPCC report made clear that economies across the world are unlikely to transition away from fossil fuels fast enough to meet the goals and warnings laid out by researchers.
Carbon capture could take a big bite out of industrial emissions. Some advocates claim that carbon capture technology could keep more than 90% of CO2 emissions from fossil fuel plants out of the atmosphere. That would give much needed slack to economies around the world that are looking at a frighteningly short timeline to transition away from fossil fuels.
However, the technology needed to make carbon capture work is far from foolproof. In one study, implementing carbon capture caused energy output in the affected plant to drop by 24%. If this is a common issue, carbon capture on a large scale would cut emissions but require companies to open more plants to make up for the loss in output.
If carbon capture advocates are right, the drop in emissions from each plant would outweigh the demand for more plants, but given that the technology is still in its infancy, it is hard to say.
Direct air capture gives engineers a bit more flexibility, as some emissions, such as exhaust from cars and planes, do not have a point source where that type of carbon capture can work.
Current initiatives & business opportunities
Carbon capture technology is on the rise. The EPA estimates that at least 600 years worth of emissions could be stored underground in the United States. The US already has 120 facilities currently using carbon capture, and that number is expected to increase over the coming years.
So far, private enterprise has taken the lead on making large-scale carbon capture a reality.
Big players like Exxon have taken the most public action on this front, but startups are joining in as well. Companies like Global Thermostat and CO2 Solutions are working on industrial scale point source carbon capture. In fact, Global Thermostat and Exxon signed a joint development agreement in June 2019 to advance carbon capture, although actual pilot programs are still a ways off.
Meanwhile, companies like Antecy, Carbon Engineering, and Climeworks have been leading the way developing tools for direct air capture. Antecy and Carbon Engineering both aim to use the captured CO2 as an input to create clean, synthetic fuels. Carbon Engineering, however,  has claimed that its aviation fuels and kerosene will not be economically viable without a tax on conventional gas consumption, as its synthetic fuels will begin selling for about $1 per liter compared to $0.6 per liter for conventional fuels.
Climeworks, on the other hand, plans to sell the captured CO2 gas directly for use in other products like carbonated drinks. Its efforts have, so far, been relatively small scale. Climeworks currently operates only 3 plants, only 1 of which contributes to negative emissions. The other 2 recycle carbon dioxide, delaying its release into the atmosphere.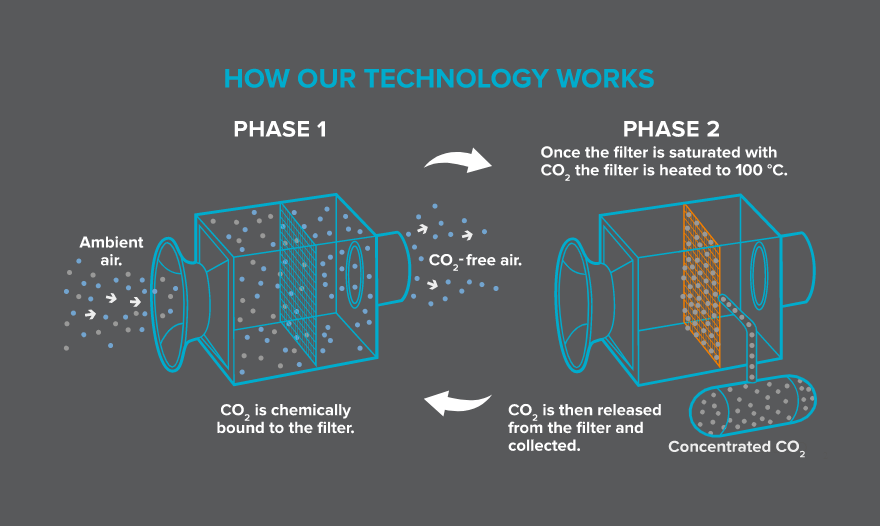 Climeworks uses direct air capture to reduce the CO2 in the atmosphere. Source: Climeworks
While carbon capture methods are too expensive for true commercialization today, costs are decreasing significantly. Since 2011, the price to pull a single ton of carbon dioxide out of the atmosphere has fallen from $600 to between $94 and $232, and both Carbon Engineering and Climeworks expect that figure to fall even further in the coming years.
With additional tax subsidies for carbon capture and sequestration on the horizon in California specifically, this technology could have real potential for commercial success — at least, as Nature reports, in markets where carbon dioxide "can be sold at a premium, or converted into a useful product like fuel."
Challenges
The main argument of opponents of carbon capture is that simply burying or recycling carbon dioxide does not solve the core problem driving climate change. The IPCC does argue, however, that "some" carbon capture is generally safe in its models of future efforts to fight climate change.
Carbon capture could also create perverse incentives around future fossil fuel use. If the captured CO2 is used to extract more oil, the emissions from burning that oil could end up cutting into the reductions from carbon capture, or wipe them out entirely. On top of that, carbon capture could sap some of the urgency around switching to renewable sources. Over the long term, that would be an unsustainable approach to climate change.
Many forms of carbon capture do also bring along with them the danger of carbon leakage. Sequestered carbon is generally captured and stored underground, but cracks in the earth's crust can allow that carbon dioxide to escape, creating a risk for local residents. In Italy, natural carbon seeps have emerged along the country's volcanic crust, causing at least 11 accidental deaths between 1990 and 2010. A controversy over the potential of carbon leaking ended a carbon capture project run by Royal Dutch Shell in the Netherlands in 2010.
Enhanced weathering
Engineers did not invent carbon sequestration — carbon also naturally gets pulled out of the atmosphere and stored in the planet through a process called chemical weathering.
The natural process of weathering does not happen fast enough or on a large enough scale to make up for the volume of greenhouse gas emissions caused by humans. Enhanced weathering would magnify natural chemical weathering.
What it is
The idea of enhanced weathering is to take the basic mechanics of chemical weathering and speed them up using artificial means.
Chemical weathering happens when slightly acidic rainfall breaks down rocks. Carbon trapped in the raindrops washes out as a bicarbonate, which then gets dissolved in seawater or stored on the ocean floor.
In terrestrial enhanced weathering, silicate materials like olivine — one of the most commonly proposed minerals for enhanced weathering — are crushed and spread across agricultural soil. There, absorbed into the microbes and plant roots, the high surface area of the pulverized powder can absorb and store a large amount of carbon dioxide, resulting in negative emissions.
In oceanic enhanced weathering, the same kind of silicate materials are dissolved on the ocean's coasts, taking advantage of the tide's natural propensity to take up sand particles from the beach.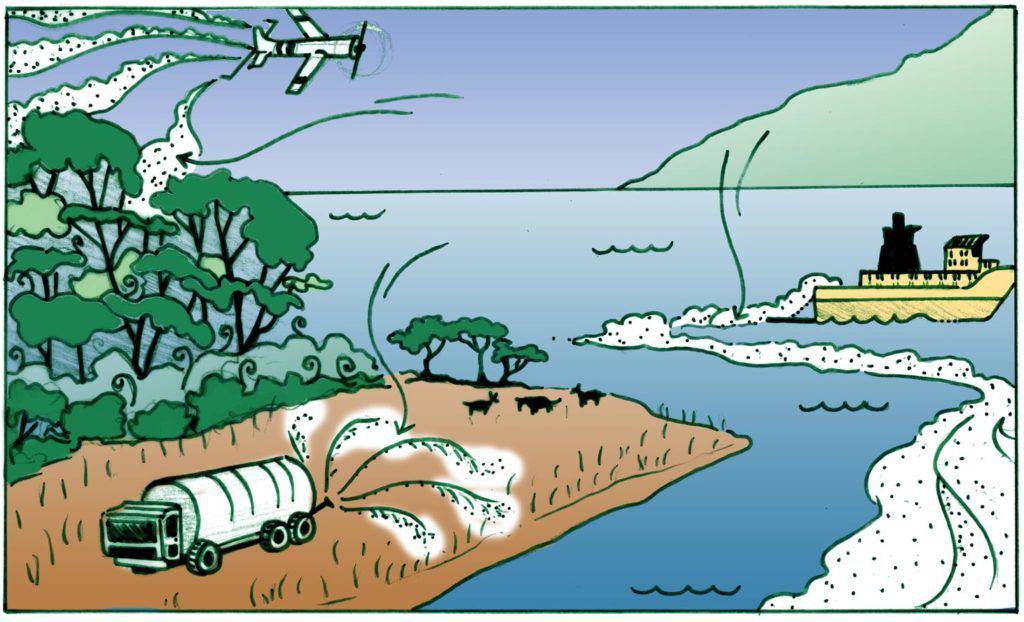 Enhanced weathering would coat soil and water with carbon dioxide-absorbing minerals. Source: Geoengineering Monitor
Environmental impact
The environmental benefits of enhanced weather could go beyond slowing climate change. The bicarbonates resulting from oceanic enhanced weathering would raise the pH of seawater, meaning the process could help reverse ocean acidification. Scientists have been warning for years that falling ocean pH is threatening marine ecosystems. Having a means to reverse course on that process would be immensely valuable.
Terrestrial enhanced weathering could also add nutrients to the soil. That could solve the immediate problem of agriculture degrading soil quality and create an incentive for private enterprise to get involved.
Current initiatives & business opportunities
Although enhanced weathering has shown potential, researchers will have to dig a bit deeper before companies or governments can start rolling it out at scale or in commercial projects.
The main costs for companies that want to commercialize enhanced weathering are mining appropriate silicates, the crushing necessary to create a fine, spreadable powder, and moving the powders to the soil or coast where they are to be distributed.
As the cost of the technology comes down, the primary commercial opportunity for enhanced weathering is likely to be selling the process to agricultural areas to increase crop yields.
In spite of the risks and costs involved, engineers have been looking for ways to make this strategy work. The Leverhulme Centre for Climate Change Mitigation, for instance, has been doing enhanced weathering experiments in the US, Australia, and Malaysia.
In one high-profile enhanced weathering project, geothermal energy plant Reykjavik Energy started dissolving some of its carbon dioxide emissions in water and injecting them into volcanic, basaltic rock at its Iceland site. Over the course of 2 years, a later report found, virtually all of the dissolved carbon had turned into rock, storing it safely in the earth.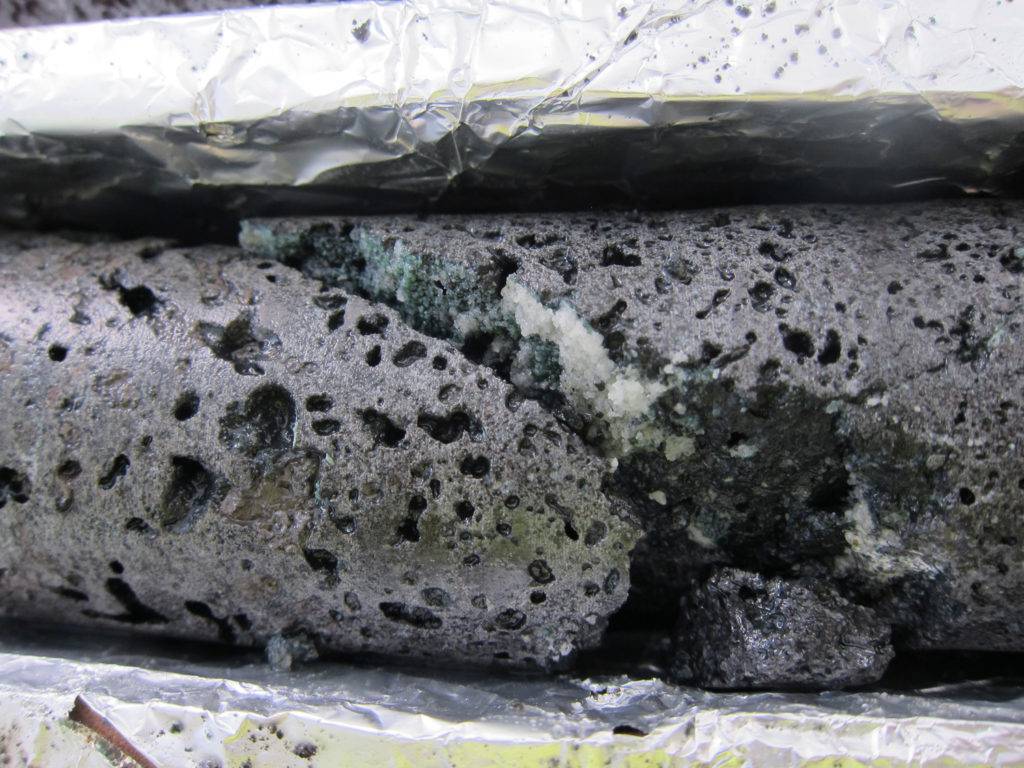 Reykjavik Energy's CarbFix project injected carbon into basalt rocks as a way to store the emissions. Source: CarbFix
Challenges
Enhanced weathering carries serious environmental risks. Most of the proposed methods involve using silicates like basalt. The precise effects of disbursing those types of minerals in the ocean, on land, or in freshwater, are only dimly understood.
Further, the method could be extremely expensive — some estimates say that a layer of olivine nearly a half-centimeter thick, spread all over the surface of the earth, would be needed to bring the carbon in the atmosphere to zero, costing about $600T in total.
Additionally, collecting enough minerals to carry out the process on a large scale would involve a major increase in mining. At least for now, that mining could cause more greenhouse gas emissions and other environmental damage.
Solar radiation management
Even the most aggressive GGR strategies would take time to come effect, during which time rising temperatures could inflict escalating damage across the globe. Given the urgency around climate change, some engineers are looking to methods beyond decreasing carbon dioxide levels — including Solar Radiation Management (SRM).
Instead of addressing the root cause of warming temperatures — increased levels of greenhouse gases in the atmosphere — SRM aims to alleviate the immediate effects of climate change with varying degrees of severity.
Engineers are exploring multiple strategic approaches to SRM, all of which have tradeoffs in complexity and efficacy. Doing work on the earth's surface is safest method, but the least ambitious. Working in the atmosphere is much more dangerous, but could see more results. Finally, going beyond the atmosphere gives engineers their most impactful options, but costs the most and involves the most risk.
Albedo enhancement
Perhaps the safest and cheapest approach to SRM is albedo enhancement, or making surfaces more reflective.
While researchers tend to agree that will not be enough to avert climate disaster by itself, albedo enhancement could help counteract climate change in areas where the effects on temperature will be especially severe — and it has some clear pathways to commercialization as well.
What it is
Albedo is a measure of how much light is reflected off a surface. The more reflective a surface, the higher its albedo.
More reflective surfaces absorb less solar radiation, which in turn can lower air temperatures and reduce water evaporation. By increasing the reflective quality of buildings and other surfaces, engineers could offset some of the local impacts of climate change.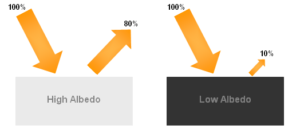 This effect is especially strong in cities, where heat-absorbing buildings and lower air circulation create "heat islands." Surfaces like asphalt and brick tend to have fairly low average albedo, absorbing heat and increasing temperatures for city-goers.
While there are many methods used to reflect light back into the atmosphere, there are three main approaches to albedo enhancement: urban, agricultural, and water body.
Urban enhancement: Albedo enhancement in cities is essentially just painting rooftops and roads white. Making surfaces more reflective can make the heat island effect less severe.
Agricultural enhancement: This involves genetically engineering crops to absorb less non-productive light (or light that does not activate the photosynthesis required for plants to grow). Absorbing less of this radiation can help reduce water evaporation and lower temperatures around crops.
Water body enhancement: Engineers have also tried to alter the albedo of bodies of water by using materials like chemical foaming agents to spread microbubbles across water surfaces, much like a boat wake. This can make the surface more reflective, cooling the water to help maintain the marine ecosystem and reduce water evaporation. Some researchers believe that clouds over the ocean could be "brightened" or condensed to reflect away more sunlight.
The agricultural and water body approaches are less straightforward than urban albedo enhancement, and will likely take longer to implement.
Environmental impact
Some of the technology needed to make albedo enhancement work already exists, and early efforts to use it are promising.
Lower temperatures in cities would create a host of environmental benefits — for example, lower temperatures would mean less energy use from air conditioning, and in turn lower greenhouse gas emissions. One study found that large-scale implementation of "cool roofs" across Andalusia, Spain, could lower carbon emissions by 136K metric tons, or the equivalent of removing 29,000 cars from the road for a full year.
Lower air temperature would also improve air quality, slowing down the chemical reactions that produce smog.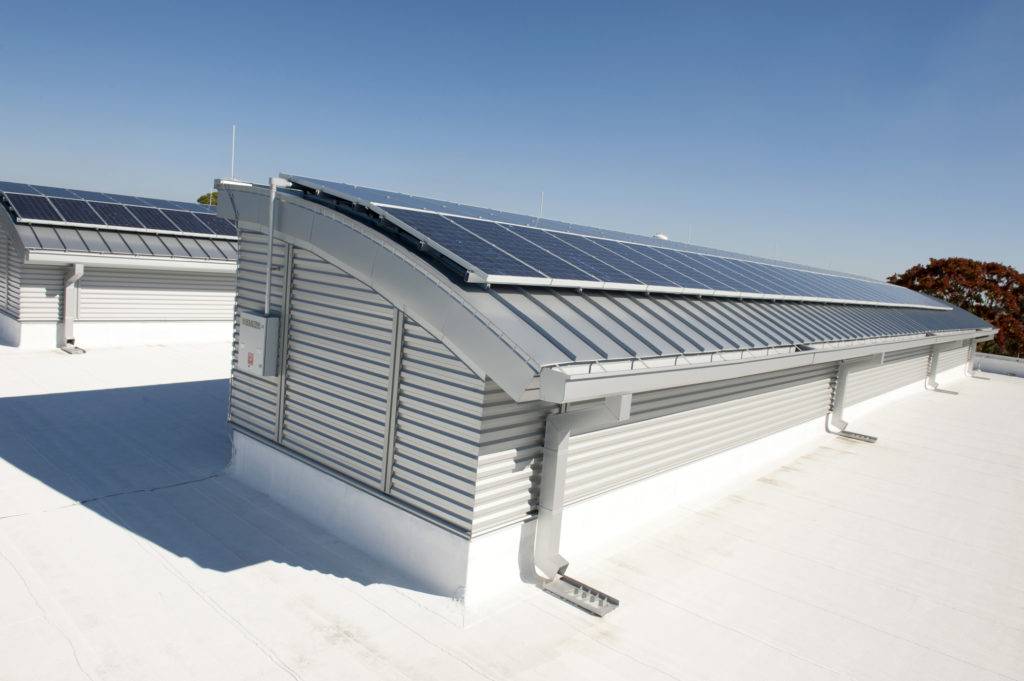 A cool roof, including solar panels, on a building owned by the Air Force. Source: Air Force
In cities, albedo enhancement could also help decrease incidences of heat-related illness and death. One MIT study found that decreasing the average temperature by just 1.5°C (2.7°F) through urban albedo enhancement could decrease dangerous heat advisory days by 50% in the summer.
Agricultural albedo enhancement could help to reduce the amount of water required to grow food and other crops. It could also increase agricultural efficiency — agriculture saw more than 120B hours of lost labor due to high temperatures in 2017, according to Scientific American.
Current initiatives & business opportunities
Many of the pioneering experiments in albedo enhancement have focused on urban areas, which are expected to attract even more residents in the coming years and where increasing temperatures are set to have a significant impact. One experiment in Athens found that painting concrete and asphalt white decreased average temperatures in the city by between 6.1 and 7.5 degrees Celsius respectively — and decreases of this magnitude could drastically improve life in cities.
Governments would likely shoulder the relatively high cost of painting streets white. In Los Angeles, the city worked with asphalt company GuardTop to distribute a white seal coat across many of its streets at a reported cost of $40K per mile. In a city like New York, with over 6K miles of road, this could cost more than $240M to implement. One 2009 report estimates that covering about 1% of land surface on earth would cost about $300B per year.
Commercial adoption of albedo enhancement is gaining traction as well: the global cool roof market, where buildings and houses have their roofs painted or retrofitted to be more reflective, is worth $5.4B, according to CB Insights' Industry Analyst Consensus.
While cool roof installation has upfront costs, increased roof albedo could lower a building's energy use by 20%-40% by some estimates, paying for itself within a few years. Some companies also offer a form of cooling roof restoration that provides the benefits of cool roofing without the expense of a full replacement.
Furthermore, 11 states within the US currently offer rebates for businesses that construct or retrofit their roofs to increase albedo, which lowers the cost of installation.
As more states and countries implement more strict laws and requirements for new buildings, high albedo roofing and "cool roof" installation provide an opportunity for materials and construction companies.
Challenges
The risks of albedo enhancement are generally small. Certain surfaces such as highways should not be painted white for safety reasons, but otherwise, albedo enhancement does not come with the environmental baggage most other geoengineering strategies do. It is a relatively low-touch and low-risk method.
That said, the costs of techniques like albedo roofing could prove too high for some municipalities, especially absent government support and subsidies, despite estimated yearly cooling cost savings of 7% to 15%.
Stratospheric aerosols
While controversial, the idea of spraying chemicals into the atmosphere to block the sun's rays and reverse warming does have a natural basis, a low price tag, and some early scientific research around getting it to work on a global scale.
What it is
Researchers know that stratospheric aerosol injection can work as a way to cool the planet because it has happened naturally in the past.
Volcanic eruptions have pumped large amounts of gases into the atmosphere many times before, resulting in measurable drops in global temperature as a result. One example is 1816's "year without a summer," which saw global cooling caused by the eruption of Mount Tambora in Indonesia.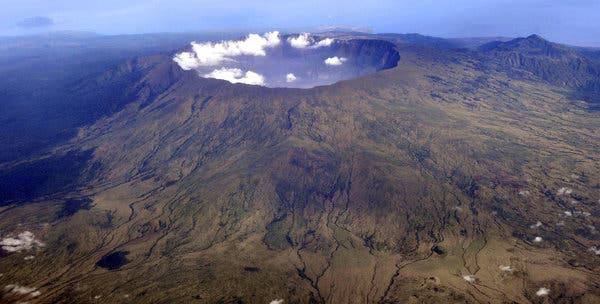 Indonesia's Mount Tambora eruption more than 200 years ago gives us a look into how to use certain gases to cool global temperatures. Source: New York Times
Some engineers hypothesize that applying a controlled version of this kind of event could reverse the runaway greenhouse effect currently threatening the climate.
The process of stratospheric aerosol injection creates a barrier against sunlight in the upper layer of the earth's atmosphere. When the sun's rays come into contact with the blocking particles, they bounce off back into space, resulting in a cooling of the earth's surface below.
Environmental impact
A team of Harvard and Yale researchers found that injecting "solar dimming" aerosols — most notably, cheap sulfur dioxide — into the atmosphere could cut humanity's annual contribution to warming temperatures in half, buying us time to take other steps to mitigate climate change.
However, the technique is not without significant risks.
Because sending aerosols into the world's atmosphere may have severe unintended consequences, there are relatively few experiments looking into this technology. Two previous tests took place off the coast of California and in Russia, but on a global scale, only one experiment has been planned so far.
In late 2018, Harvard announced a plan to test the injection of calcium carbonate particles into the stratosphere as a means of replicating the cooling effect of volcanic eruptions. As of 2019, the team is working on setting up an advisory committee to help coordinate this and future experiments into solar radiation management — so it could be years before we understand the full benefits and risks of aerosol injection.
Current initiatives & business opportunities
Stratospheric aerosol injection would be relatively cheap to implement. One estimate puts the upfront monetary cost at $2B to $2.5B per year for the first 15 years. Those estimates could move as researchers get a better idea of the technology requirements needed to get to scale. But even if the price doubled, or tripled, it would still fall towards the bottom of the price range for methods to entirely halt climate change.
Because the cost of the technology is so low, the main obstacle to implementation is not finding a company or government willing to undertake the expense, but finding consensus that it is safe.
The most significant commercialization avenue for stratospheric aerosol injection will likely revolve around building aeronautics equipment once the regulatory hurdles are cleared.
Most existing aircraft are not fit with the deployment capabilities to make stratospheric aerosol injection work. Building the required aircraft would cost about $1B to $2B, creating a significant opportunity for external hardware vendors and contractors.
However, because of the judicial and regulatory framework issues around injecting aerosols into the atmosphere, stratospheric aerosol injection is unlikely to find a viable route to commercialization in the near term.
Challenges
While stratospheric aerosol injection is cheap, it also brings with it a concerning level of environmental risk.
The technology could cause harmful ozone depletion over time. Less ozone in the atmosphere means more UVB radiation could reach the earth's surface, which could cause cancer in humans and disrupt development in plants.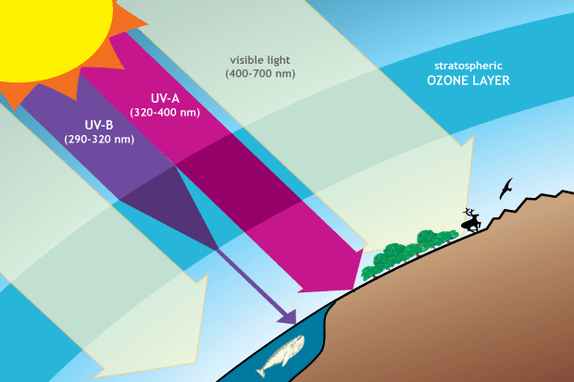 Source: NOAA
The aerosols themselves could also harm people's health. Most approaches to aerosol injection would use sulfate particles, and so far researchers have not been able to conclusively determine the health effects of spraying these particles into the atmosphere at a large scale.
If engineers can find a method that achieves a positive level of cooling without having to frequently spray more aerosols into the atmosphere, ozone depletion and toxicity will be a smaller problem.
That said, some of the problems with aerosol injection cannot be minimized by an efficient delivery system. One problem is that putting aerosols into the stratosphere cannot repair issues caused by emissions closer to the earth's surface: carbon emissions may still acidify oceans and change how water and air move across the lower layers of the atmosphere.
Another large problem is that the effects of stratospheric aerosol injection would not be evenly distributed across the globe. While the melting of arctic ice sheets might slow, the downward push on average temperatures in the Arctic would be smaller than in the tropics. In addition, global average precipitation would likely decrease, especially in summer monsoon regions — a change that could cause agricultural and ecological disruptions that do irreparable harm.
Lastly, aerosols that need to be renewed too often could push up the annual price of this geoengineering technique significantly, maybe even though to make the strategy untenable.
Space reflectors
When it comes to mitigating the earth's warming, the space reflector is by far the most direct approach. The method involves sets of mirrors sent into in earth's orbit, where they can physically reflect or dampen the sun's rays, therefore cooling the planet.
What it is
Climate engineers have discussed using space mirrors to fight climate change since the 1980s.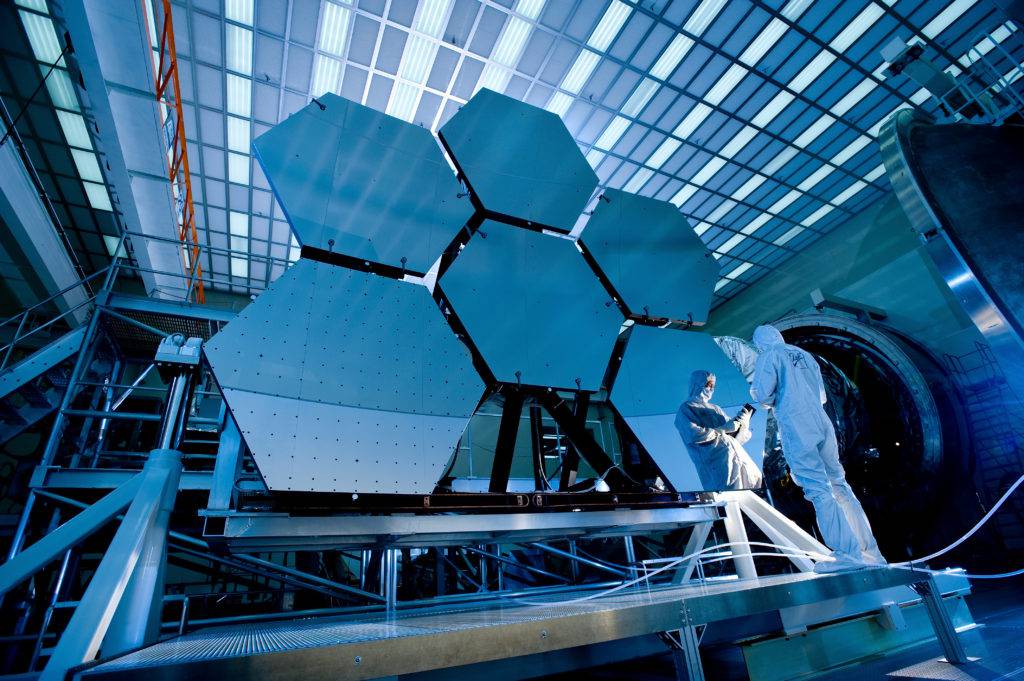 A space mirror, like one that might be used as part of a geoengineering project. Source: Wikimedia
The first space mirror design, pioneered by engineer James Early, consisted of a 2,000-kilometer-wide shield. Early recommended the shield be built on the moon, using lunar materials.
More modern proponents of space reflectors have proposed models that include thousands of small mirrors, or even parasol-like spacecraft kept in orbit mainly to shade parts of the earth.
This kind of "solar shield" could be made of a variety of different substances, including sulfur, and would likely have to be regularly nudged back into orbit by helper satellites to prevent individual reflectors from crashing into one another or back into earth.
All rely on the same basic idea: by mitigating the physical ability of the sun's rays to hit the earth, these devices would cool the earth and help us avoid future effects of climate change.
Environmental impact
At a government roundtable in 2001, scientist Lowell Wood proposed building wire-mesh mirrors and putting them in orbit around the earth to deflect sunlight. Deflecting 1% of the sun's rays, he said, would be sufficient to halt global warming. More recent estimates put the figures at 2% to 4%.
If the "space reflectors" strategy works, it would be one of the most impactful approaches to geoengineering — not just to slow climate change, but to entirely reverse it, bringing the earth back to pre-industrial temperatures.
Current initiatives & business opportunities
The barriers to implementation for the space reflector method are immense. Unlike smaller scale projects, this type of technology has no solidly applicable tests to demonstrate the reflectors would work as hoped.
Building space reflectors would be extremely expensive, with low-end estimates giving it a price tag of at least $1T. No private company is likely to have enough cash on hand to foot that bill, and most governments will be unlikely to get involved when they have not seen enough testing to estimate their chances of success.
However, there are commercial opportunities that a business could reap from working towards building and installing an orbiting space reflector system. One way a business could help cover the costs of installing such a system would be by selling the solar energy absorbed by the mirrors.
Overall, space reflector technology could be profitable. As the cost of moving a space mirror installation into orbit continues to fall, selling off energy will become an even more viable means of commercializing space reflector technology, possibly making it a cost-effective alternative to other power sources.
Challenges
There are myriad risks around establishing a space reflector program, including that no proposed space mirror would be able to evenly lower temperatures across the planet.
A study from the Max Planck Institute for Meteorology observed that 4 different models of space reflectors still allowed the earth's poles to warm, ultimately lowering rainfall totals and cloud formation around the world. These effects could mean droughts in certain parts of the world and flooding in others.
Because of the risks and the expense of space reflectors, scientists tend view them as a last resort. That said, many accept that the idea has scientific merit. If countries around the world fail to transition away from fossil fuels, and other geoengineering solutions fail, this approach might be the best option left — though for now, the consensus is that other strategies should be considered first.
Geoengineering: realities & risks
To date, geoengineering solutions like afforestation and biochar have shown the most progress. While no companies or governments have given a timeline to implement any geoengineering technology on a scale to match the problem of climate change, these approaches have already been deployed on a limited basis. That said, it is unlikely that the earth can be cooled quickly enough to avert disaster without the use of larger solutions like carbon capture or stratospheric aerosols.
Some geoengineering technologies have a systemic advantage in that they promise to generate a profit from their use, allowing them to operate without the assistance of government grants. Biochar, for example, can be used to create fertilizer, while direct air capture can create fuel. So far, many other solutions, like stratospheric aerosols, have only proven viable with government contracts or philanthropic donations.
As promising as some geoengineering strategies are, many researchers are still treating them with caution, and for good reason. Each method under the umbrella of geoengineering carries its own risks, and the field at large also involves a few overarching hazards.
There are international concerns around the use of large-scale technologies like space-based reflectors, which could raise criticism over the potential weaponization of the outer atmosphere. There are also environmental risks, such as the concern that filling the atmosphere with sulfate aerosols could induce acidic rain or have other currently unknown side effects on people's health.
The simple prospect of effective geoengineering could sap political will around transitioning away from fossil fuels. In the last few years, high-profile natural disasters have pushed climate change toward the forefront of voters' and policymakers' minds. Policies like carbon pricing are becoming more realistic, even in countries like Canada where fossil fuel extraction is a major part of the economy.
That said, a new technology that promises to avert the crisis could restore a sense of complacency, even though most scientists advise against executing geoengineering without also transitioning away from fossil fuels.
Geoengineering will almost certainly need to be a part of a larger climate change response — and governments and private companies alike will need to do the hard work of making decarbonization and geoengineering happen in tandem.
---
This report was created with data from CB Insights' emerging technology insights platform, which offers clarity into emerging tech and new business strategies through tools like:
If you aren't already a client, sign up for a free trial to learn more about our platform.