Scientists and researchers are exploring geoengineering, a strategy that could help avert global warming through the intentional, large scale modification of the climate. We examine the business opportunities, major risks, and potential in these technologies.
Recent climate findings paint a grim picture of the next 20 years and beyond.
The world has already warmed 1 degree Celsius beyond pre-industrial levels, and it's warming faster than ever before.
By the UN Intergovernmental Panel on Climate Change's (IPCC) present estimates, we're going to breach the 1.5 degree of warming mark by 2040. Tens of millions of people, especially in small island countries, will be exposed to flooding. Extreme heat will become more common for as much as 14% of the population.
As we approach 2 degrees, millions will lose their homes. Forty percent of all amphibian animal species will disappear, along with a third of all marine mammals.
Four degrees of warming would lead to the flooding of coastal cities around the world, significantly increased water scarcity, malnutrition, and unprecedented heat waves, according to a World Bank report.
Even if governments transition their economies away from fossil fuels and reduce emissions, that won't be enough to avoid the negative consequences of warming.
In response, governments, corporates, and startups are looking to geoengineering, a tech-driven solution to fighting change climate that removes greenhouse gases from the atmosphere.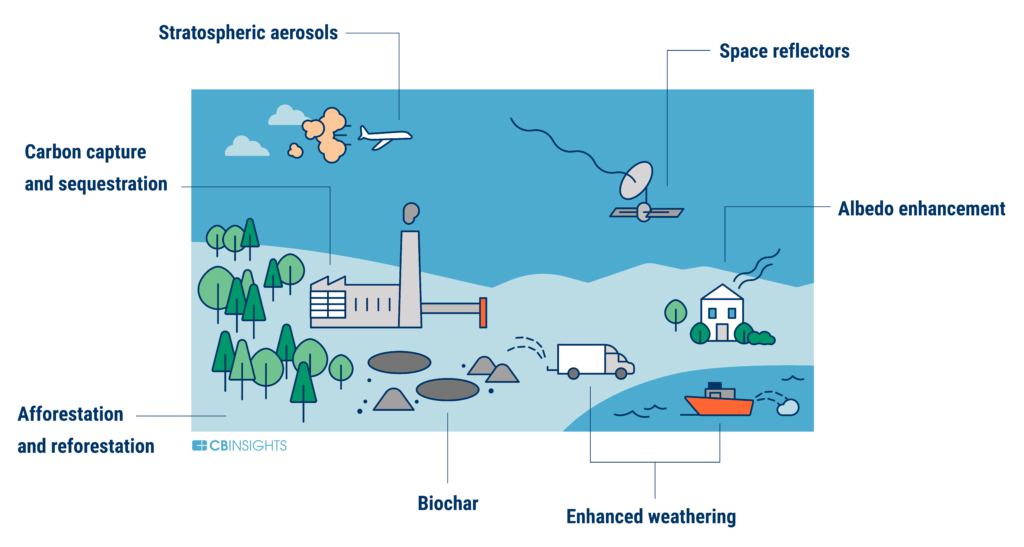 Geoengineering has the potential to make some large-scale changes to the amount of greenhouse gasses in the atmosphere, but it is not without risk. Critics say that geoengineering could disincentivize a transition away from fossil fuels, and some techniques could introduce even greater harm to humans and to the environment.
In this report, we outline some of the main approaches to geoengineering, highlight some business opportunities as tech companies, corporates, and VCs become more interested in the space, and assess where the technology stands today in the fight to protect the planet.
If you aren't already a client, sign up for a free trial to learn more about our platform.