With $6.5B in equity funding, WeWork is expanding aggressively at home and abroad and pursuing diverse investments that have raised eyebrows. But its real-estate-as-a-service offering and trove of data on optimal office design could make the company's value prop far more than a marketing ploy.
WeWork is a real estate company valued like a tech company.
At least, that's the rap on WeWork from critics who think it can't support its $47B valuation in private markets.
Backed by Japanese tech and telecom giant SoftBank Group, WeWork specializes in rent arbitrage — leasing and developing properties at one price, then turning around and renting them out at much higher prices. Its recent run-up in funding — raising some $4B in 2018 alone — has given the company the firepower to expand quickly without worrying too much about fundamentals.
Companies traded in public markets that follow the same business model trade at much lower sales multiples than WeWork. Detractors say WeWork has earned its valuation by putting hipster touches on formerly drab spaces and positioning itself as a startup incubator, then charging sky-high rent.
On top of that, critics point to WeWork's investments in seeming distractions — like its WeGrow elementary school and a wave pool company — as more examples of a tech company with overreaching ambitions. Furthermore, its recent rebrand to The We Company sets the stage for expansion into more sectors including banking, housing, and even sailing.
But WeWork's shift to safer real estate commitments and its emphasis on longer-term renters and enterprise clients suggest the company could have legs.
WeWork claims it's amassing a trove of data on ideal office locations and layouts, and using software to determine everything from ideal desk layout to optimal conference room size.
The company is leveraging this data not only to improve its own locations, but also to become an outsourced facilities manager, at a time when big enterprises are trying to shed real estate management from their portfolios. WeWork has already secured IBM and Verizon for its Powered by We offices in Dock 72, a high-profile commercial property in Brooklyn.
WeWork is also pursuing new lease agreements that could help it shed some of its biggest risks, and purchasing high-profile properties outright, giving it much more visibility and real assets. However, recently the company has come under fire for renting properties owned by CEO Adam Neumann, prompting concerns about conflicts of interest.
In this report, we'll show you how WeWork is:
Shedding risk by shifting from long-term leases on its properties to real estate deals with much less risky commitments.
Using its data and tech advantage to create a blueprint for optimal office design and superior worker productivity that can't be easily replicated by other real estate companies.
Turning itself into a real estate services company targeting enterprises.
Below, we analyze WeWork's strategy and the health of its business to better understand whether it is another overvalued unicorn, or an innovative company that has taken an existing business — commercial real estate — and updated and scaled it for the tech age.
Table of contents
How WeWork aims to dominate co-working
Since opening the first WeWork location in New York in 2010, co-founders Adam Neumann and Miguel McKelvey have grown the company into a national and global brand.
The company's corporate marketing centers strongly on an ethos of entrepreneurialism. Slogans cover the walls of rented WeWork office spaces, urging workers to "do what you love" and "create your life's work." The company's executives position WeWork not as an office provider, but a community.
But underneath this aspirational culture is a fundamental business truth. The company makes money primarily through rent arbitrage: charging its members more than it has to pay its landlords.
The principal means of accomplishing this is by packing a lot of people into its locations.
In WeWork's buildings, the average square footage per person hovers around 50 square feet. This compares to 250 sq ft for commercial offices industry-wide. Despite this small footprint, each member generates an average annual revenue of $6,641.
WeWork has touted frequent engagement with other co-working colleagues as a perk of working within a creative community, and less a reality of just how crowded its workplaces are.
At an event celebrating WeWork in 2014, Steven Roth, the chairman and founder of Vornado Realty Trust (one of WeWork's landlords), toasted WeWork's CEO, saying,
"Adam always says, 'No schmucks and no assh*les,' but the definition of a schmuck is someone who rents a property at .5x and then turns around and rents it at 1.5x."
Neumann reportedly held up two fingers, indicating he actually charges members double.
WeWork's rapid growth
Despite its high membership costs and crowding, WeWork has successfully grown its membership base, positioning itself as a home to new-economy business activity.
Through a combination of amenities, partnership agreements, and, of course, office design, WeWork has provided a compelling "starter kit" to entrepreneurs and small companies seeking a place to work.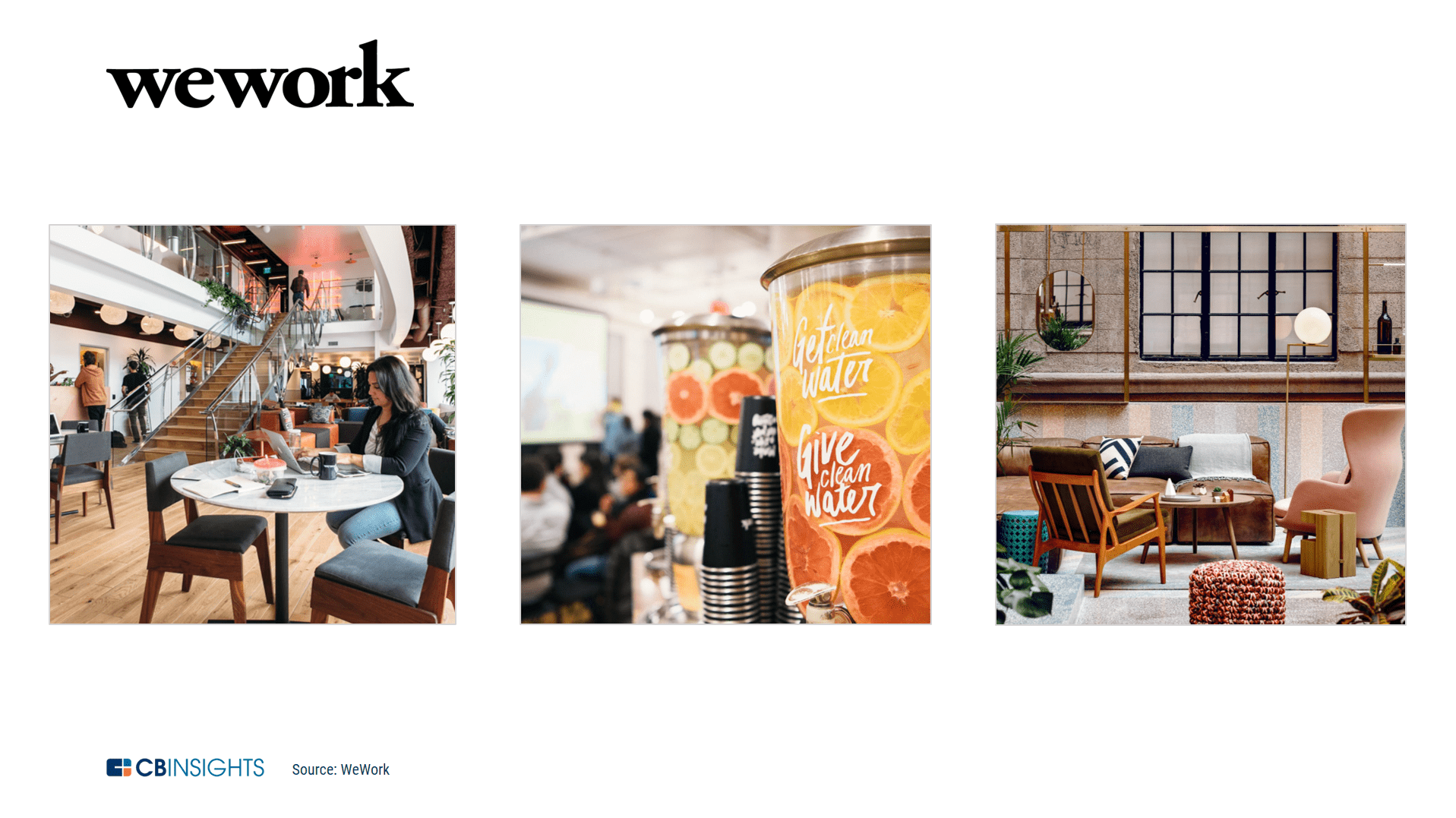 In May 2017, Adam Neumann reported that WeWork employed 2,200 people, 800 of whom were based in New York City. A Forbes article published just 5 months later reported that the company's headcount had increased to 2,900, and today a simple search on LinkedIn shows more than 8,000 employees.
In the beginning of February 2018, WeWork welcomed its 200,000th member, compared to 130,000 members in May 2017, representing 54% membership growth in 9 months.
With a huge funding jump (largely driven by SoftBank investments) last year, WeWork has been able to significantly scale up square footage, which has in turn provided capacity for correspondent membership growth.
The company adds between 500,000 to 1,000,000 square feet of new space every month. As of May of 2017, the company managed 180 locations. Today, WeWork manages more than 500 locations worldwide.
Notably, the company can add space so quickly due to its construction chops and operational efficiency. After a location has been scouted and vetted, and a lease or co-management agreement is in place, the company can accept tenants in as few as 4 months, and on average does so within 9 months.
In 2017, WeWork's top line revenue reportedly surpassed $900M. For 2018, the company reportedly had a full-year run rate of $2.3B in revenue.
Shedding lease Risk
While WeWork may seem like it's found a magic formula in real estate, its model is actually quite risky. The long-term leases it signs with landlords can last 10 – 15 years and require WeWork to pay hundreds of millions of dollars in future rent, even during economic downturns and down cycles in the real estate market when the company may struggle to fill its buildings.
Over the course of a decade-long lease, there may be phases when small businesses and entrepreneurs find WeWork to be unaffordable, or competitors with lower rent obligations are able to provide a similar offering for less money to the customer.
In this regard, WeWork's big selling point of office space flexibility is also one of the greatest threats to the long-term stability of its business. Members can pick up and leave if they want to, leaving WeWork on the hook.
The company has taken steps to reduce its overhead risk by focusing on the four strategic measures below:
WeWork is targeting more enterprise clients for its office space and expanding into third-party office management via its Powered by We solution. To date, around 29% of WeWork's clients are enterprises, with some locating in WeWork buildings and others locating in real estate tailor-made by WeWork's construction, design, and Powered by We management tools.
WeWork is shifting from leases to co-management deals. In this scenario, landlords might pay for the renovation and buildout of offices and/or split membership profits 50/50, similar to the management agreement popularized by the hotel industry. Neumann says WeWork has followed this strategy nearly 100% of the time in markets like India and Israel.
WeWork has begun purchasing properties. The company formed a real estate investment fund called WeWork Property Advisors in partnership with the Rhone Group. The fund was reportedly used to purchase the former Lord & Taylor building in New York City for $850M, and negotiated the complete purchase of a 12-building campus in London's Devonshire Square from the Blackstone Group for a reported $826M.
The company is moving towards longer lease terms for its members. WeWork has restructured the incentives of its broker referral program to reward brokers who place members for a year or more instead of month-to-month, according to The Information.
It's worth pointing out that according to research conducted by Emergent Research, the co-working industry more broadly is also changing, moving away from individual entrepreneurs and towards small businesses and companies employing fewer than 100 people.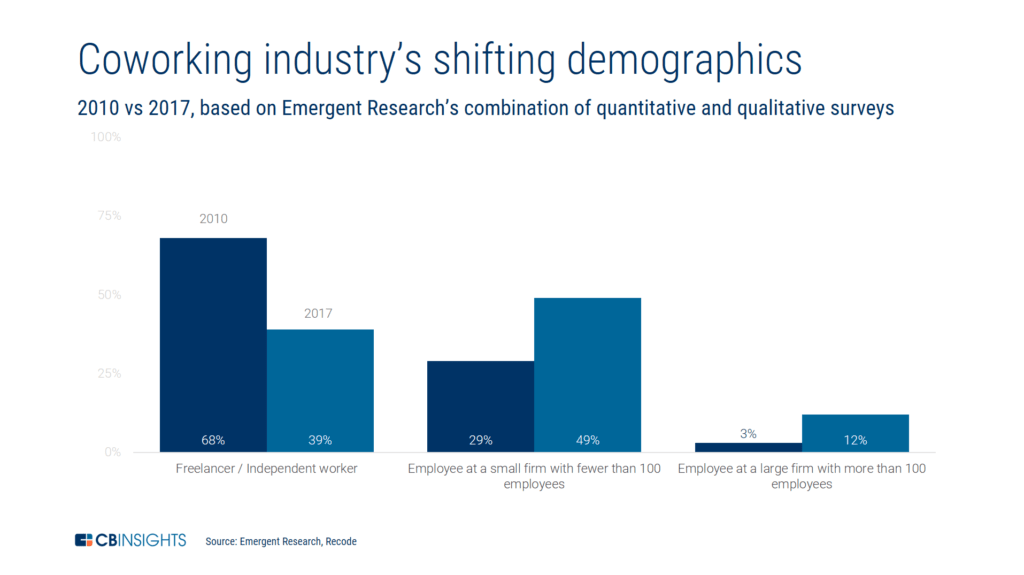 Many analysts have been preoccupied with the risks faced by WeWork, particularly in the context of a potential economic downturn. On paper, WeWork has plenty to be concerned about.
The company's business model of securing longer-term leases before renting the space to emerging companies appears to be at greater risk during periods of economic contraction. Rising interest rates, stagnating prices in the commercial real estate market, and the likelihood of another prolonged downturn or outright recession are all significant threats to WeWork as a commercial real estate business.
In practice, however, WeWork is in a much stronger position than its detractors have bargained for. WeWork's footprint has increased significantly in recent years, particularly in perennially hot real estate markets such as London and New York City.
Critics have argued that an economic downturn could spell disaster for the rapidly expanding company, but they have failed to account for the breadth of WeWork's portfolio and its ubiquity in international cities.
WeWork currently manages more than more than 5.2M square feet of commercial real estate in New York City alone. This puts the company in a unique bargaining position. Although it may not be healthy for the economics of the business, it's hard to imagine that WeWork would be allowed to rapidly fail without some external help, according to the New York Times' Andrew Ross Sorkin.
With so much space under its management, if WeWork were to fail, its sudden departure could cause commercial real estate prices in key markets such as London and New York to plunge. This would be more problematic for investors and other interested parties — like the government — than helping prop up the company.
Signing & designing with data
Data speeds new lease agreements
Aaron Fritsch, WeWork's Head of Product Systems, has said that the "single biggest blocker to our ability to expand is plainly and simply how many leases we can sign."
Given the importance of a fast-paced global expansion, WeWork has a calculated way of scouting its locations for buildings.
WeWork addresses the bottleneck in location vetting by leveraging data on a target neighborhood's business composition. In a partnership with Factual, a location data provider, WeWork rates locations based on proximity to amenities and businesses, including coffee shops, shopping, restaurants, bars, hotels, and gyms.
Factual claims its partnership with WeWork drove a 95% increase in WeWork locations in a 12-month period between 2016 and 2017.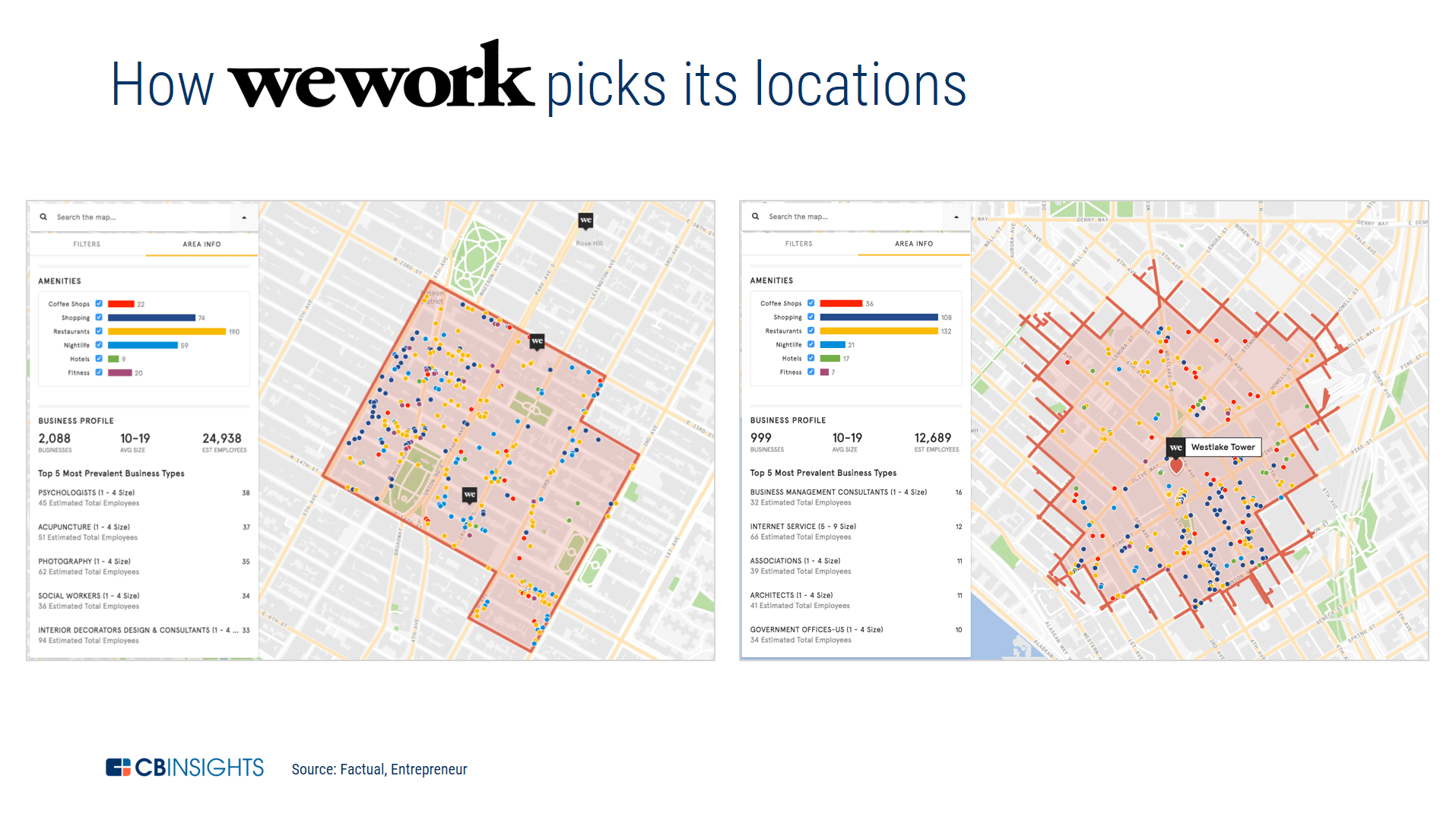 Interestingly, the proximity of other WeWorks is also a factor. In cities where there are numerous WeWork locations, each additional location serves to drive down membership churn. Artie Minson, WeWork's former COO and current President, has noted, "in cities where WeWork opened more locations, membership cancellations declined."
While the vast majority of WeWork's membership plans assign its members to a location, it does let members switch between locations.
Architecture & Construction
Once WeWork signs a lease and begins building out its office to maximize revenues and office culture, technology takes an even bigger role.
The company's acquisitions of architecture technology firm Case Inc. and of construction management platform FieldLens to form its Physical Products team have been essential to improving the design and build out phase.
Before being acquired by WeWork, Case was a technology consultancy for the architecture industry. Its team specializes in building information modeling (BIM), in which buildings are scanned and shown in 3D to provide insight into the time and cost of projects. WeWork acquired the company in August 2015.
In June 2017, WeWork acquired FieldLens. FieldLens offers a platform for communication between stakeholders in the construction of buildings. Its technology allows project managers, foremen, architects, owners, and supers to manage construction sites in real time on their phones, documenting conversations and tracking and assigning issues.
WeWork has integrated FieldLens into its building management lifecycle, including post-construction management.
WeWork's goal is to maximize space usage while also providing ample common space, meeting rooms, and natural light. The company measures the usage of its offices so each new location is informed by data from prior offices.
Using Case's core technology, one of the first things WeWork does after signing a lease is 3D scan and map a space. The process, which takes an hour per floor, lets the physical products team capture square footage, window mullions, door sizes, slab flatness/thickness, and ductwork and piping.
Small decisions in space usage can lead to a large financial return. According to David Fano, WeWork's chief growth officer, "these old buildings might have drawings, but they might be off by a foot or two. If that happens, a desk might not fit, and that changes our performance; we make revenue projections on that."
Fano argues the BIM process has increased space efficiency between 15 and 20% while saving 10% of building cost. After all, just one extra desk can add up to $80,000 in sales over 10 years, according to Forbes.
Fano also likes to point out that WeWork "is in a unique position as one of the only true end-to-end solutions that is involved in every phase of a building's life cycle — from identifying, leasing, and designing to building and managing."
The below graphic shows a BIM plan script mapping frames and assemblies. Notably, WeWork tests different layouts and office sizes, using information from existing locations to predict where members will gather in a new location, how many phones should be installed, etc.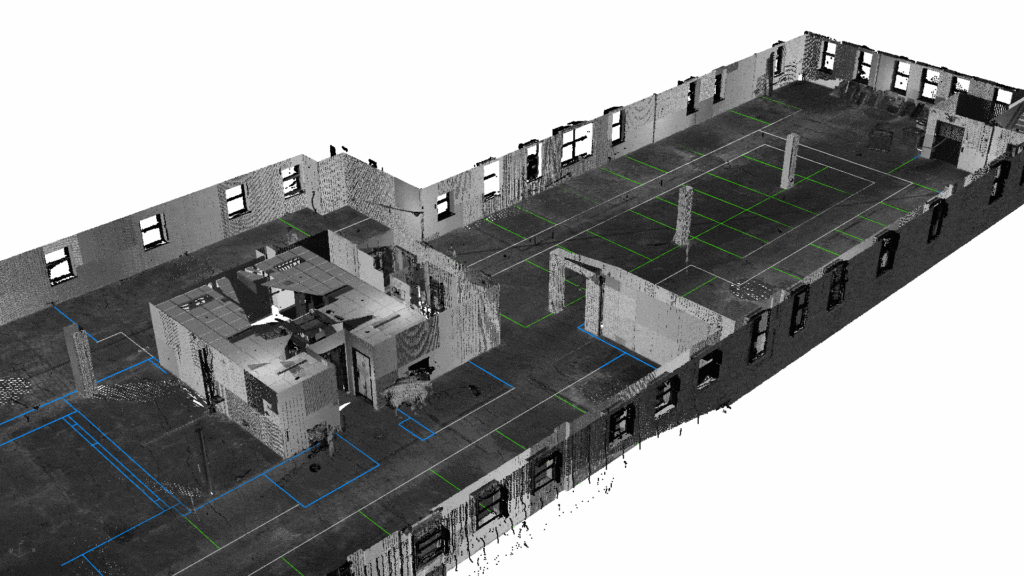 One of the ways WeWork achieves maximum efficiency in planning is through its use of machine learning. To decide how many meeting rooms to construct, researchers at WeWork created a neural net that collects information on its existing buildings' layouts and meeting room usage.
Based on knowledge of its building layouts and meeting rooms utilization, the company can predict meeting room usage for a layout that has yet to be constructed.
In a test of the neural net system, the program estimated room usage 40% more accurately than WeWork's human designers did. The graphs below show the number of hours a meeting room was utilized vs. its predicted hours, with the neural net achieving far more linear correlation.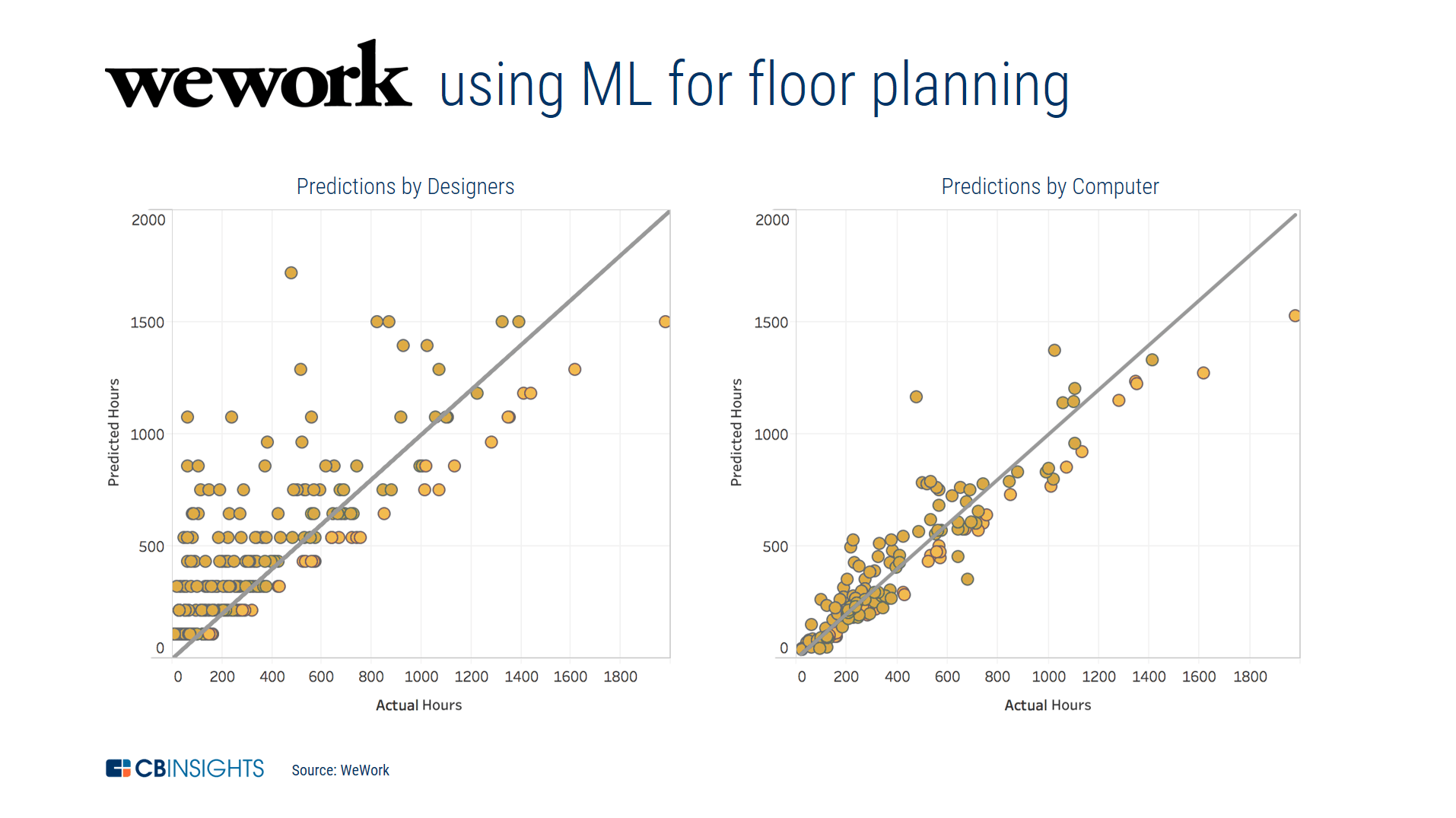 According to Nicole Phelan, the design researcher who wrote WeWork's blog post on its neural net, "The most powerful implication of this study is that before we begin construction, our teams can plan a space that fits the needs of the members that will one day occupy it. Using machine learning to uncover patterns in the interactions between people and space is information that can make better design and programming decisions."
The end result is floorplans that are packed with a mix of private offices, meeting rooms, single-person rooms, open desks, and common areas.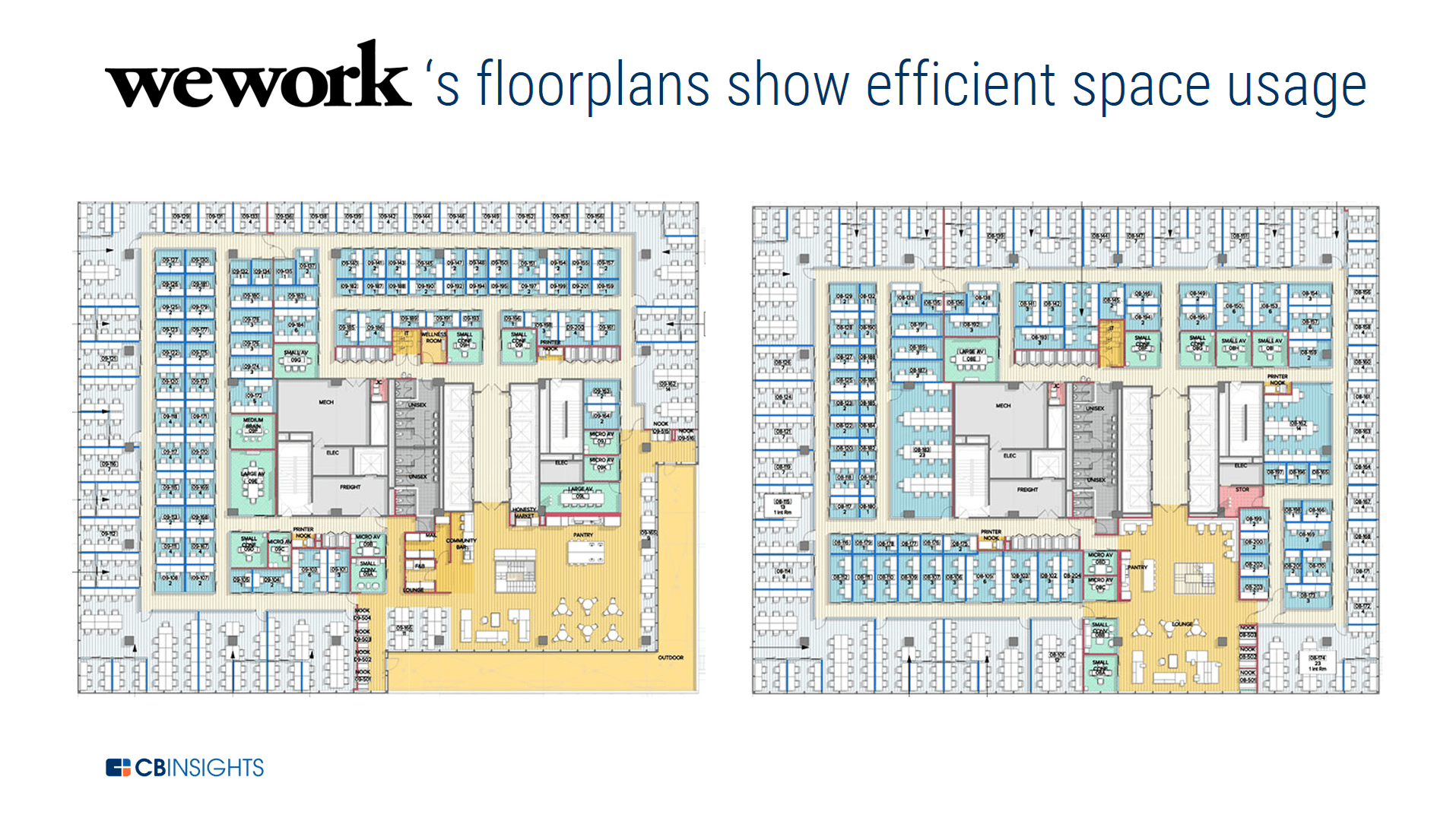 The more buildings WeWork opens, the more data it collects, and the more its process improves — providing a strategic advantage over other co-working startups and incumbents.
This technology, combined with increasing buying power from constructing at scale, lowered the cost of adding a new desk to $9,504 in September of 2017, from $14,144 a year prior, representing 33% savings.
This data advantage in building and managing office space is one of the major selling points to enterprise customers.
Enterprise initiatives, Powered by We
To folks in the venture capital industry, the prospect of getting a slice of the commercial real estate industry via an office management technology platform play is attractive. What's more, major headwinds are blowing in the company's favor.
Corporations across the globe are searching for ways to lower their total square footage to cut costs. In addition, a rule mandated by the US Financial Accounting Standards Board set to go into effect in January 2019 requires public companies to add real estate lease obligations as a liability to their books.
The rule is likely to make companies with large leased footprints appear significantly more leveraged than their reporting currently reflects, and thus will spur companies to lower their real estate footprints.
But workspace design isn't just about tax efficiency and cost savings. Workplace design is increasingly correlated to measurements of employee health and productivity. Subsequently, companies are installing measurement tools to ensure office spaces are well-ventilated, receive enough natural light, are not noisy, and are optimized for other aspects of productivity and well-being.
Some buildings are being retrofitted with HVAC systems that automatically respond to high CO2 and pollutant levels in the air, preventing employees from becoming drowsy. Renowned architecture firms like Zaha Hadid Architects are installing wall sensors like the one below to measure and monitor offices, producing "evidence-based design."
"Buildings are literally becoming giant computers," Joshua Emig, WeWork's product director, told Fast Company.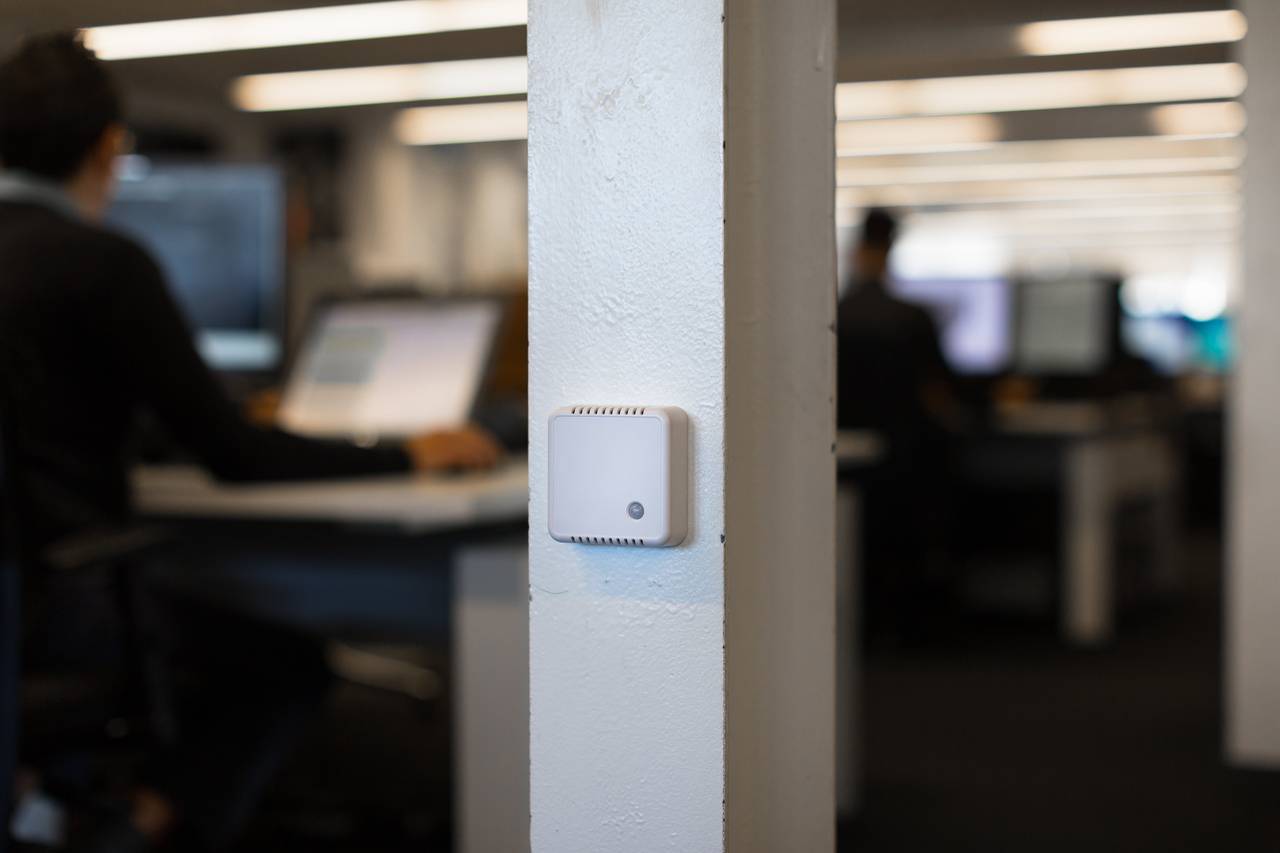 WeWork's building design team knows how to maximize square footage and amenities so that employees do not feel crammed. From a cost-savings perspective, WeWork estimates this saves enterprise clients between 25% to 50% in operating expenses, according to The Atlantic.
Sensors and other measurement tools like facial recognition software let WeWork track how its office space is used, down to data as granular as how members adjust their desks and what parts of the office see the highest foot traffic. Eventually, these tools might even be able to track how focused members are in meetings.
WeWork designs its own spaces for enterprise clients and redesigns enterprises' existing office space. Corporations that use the Powered by We solution are offered WeWork office management software to help book conference rooms, host guests, etc.
A community manager also sits within the space, to assist as needed. Fast Company reports that its enterprise solutions are designed for companies with at least 1,000 employees taking up 50,000 – 60,000 square feet.
Doug Chambers, vice president and global head of client solutions, told Wired that clients "want to know how their space is being utilized, how they cut down on that space in places where it's not being utilized efficiently, and at the same time get that cultural community aspect happening inside of their buildings."
The below graphic includes some of the notable corporates that are using WeWork for office space.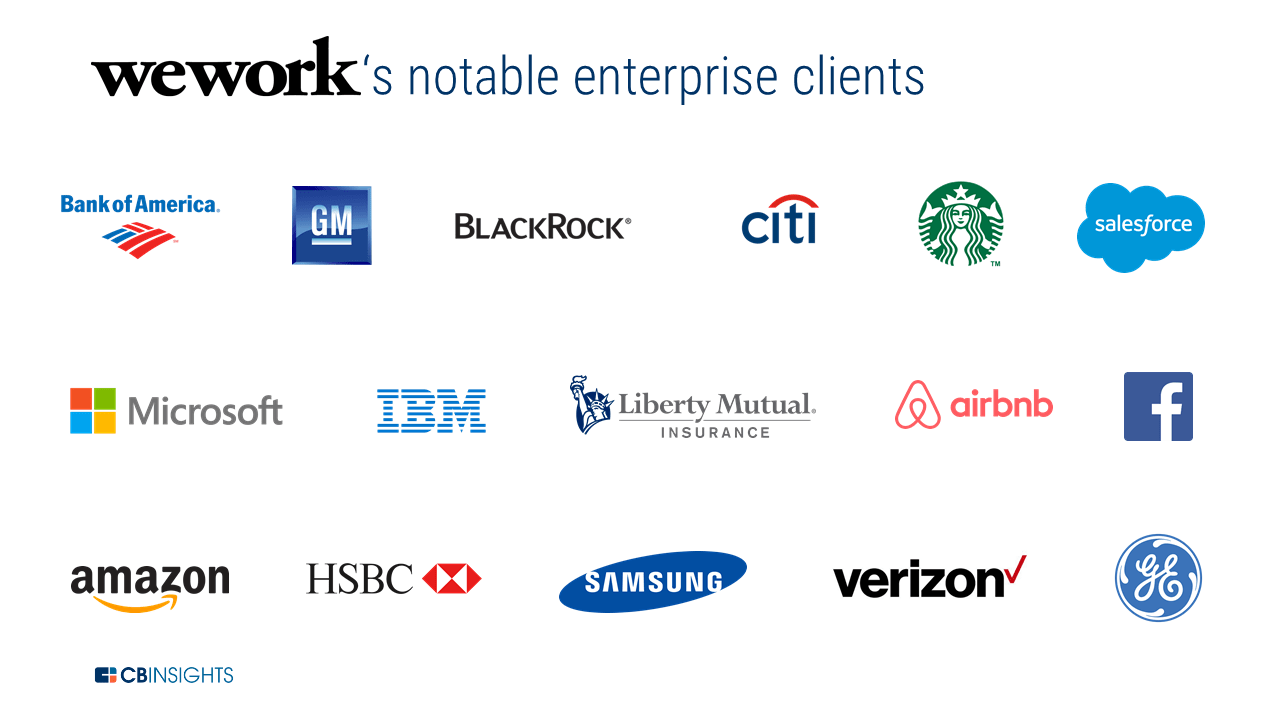 WeWork's acquisition of Unomy, an Israeli enterprise sales tool that lets salespeople track leads, aligns strategically with its goal to increase enterprise customers. Unomy had previously raised from AltaIR Capital, JANVEST Technologies, Leta Capital, and Microsoft Accelerator.
WeWork's early 2018 acquisition of marketing services company Conductor also shows a focus on enterprise clients. Conductor offers search engine optimization (SEO) services to companies intent on increasing their profile and visibility on the web. WeWork president and CFO Artie Minson described the acquisition as "an opportunity to offer another product and service our member companies can use to grow their business."
That said, Conductor will also operate as a separate business for WeWork with the intent to "cross-sell their brands." Minson emphasized that Conductor's existing client base offers an opportunity to engage with and sell to large enterprises.
More recently, in September 2018, WeWork acquired Teem, a meeting management platform. While the company will continue to operate independently, it will also be incorporated into WeWork's Powered By We offering.
WeWork strategic initiatives
Armed with heaps of capital from its $6.5B in equity funding, WeWork is rapidly expanding across the world, adding new locations and amenities in a bid to scale its membership count and diversify its brand.
The company has added amenities and service offerings to its core customers (individuals and companies alike) via M&A and partnerships. It is also developing new types of WeWork brands, including dormitory housing and fitness facilities (some more promising than others).
WeWork president and CFO Artie Minson described WeWork's investment scope as including companies that "make WeWork stronger or can make our member companies stronger," according to the WSJ.
Chief growth officer David Fano is optimistic about the company's M&A future, saying that WeWork is actively looking to "buy, build, [and] partner," and noting that "at the pace we're looking to scale and the expertise we're looking to bring on, I would imagine we'll be looking at companies that could potentially come on board."
This is increasingly true given its new plan to expand as The We Company.
Services & expanding Core Wework
Services Store
WeWork's services store offers members discounts on software and office services, including basics like Microsoft Office, Slack, and InVision. The store can be accessed with the lowest WeWork membership package, which lets customers pay as they go for co-working space. The store underscores the company's intent to position itself as an office services provider.
Flatiron School
WeWork's acquisition of the Flatiron School, a coding academy, offers its members an educational amenity. Flatiron School had to close a number of its coding boot camps prior to the acquisition. Its courses and programs are being integrated into WeWork locations and online.
2U
WeWork partnered with 2U in 2018 to further enhance its menu of amenities. 2U is an education technology company that offers customers online courses from top universities and colleges.
The partnership terms include $5M in scholarships paid for by 2U to WeWork members over 3 years. Additionally, 2U will be licensed Flatiron School's Learn.co technology.
SoFi
WeWork's partnership with fintech startup SoFi is a service offered within the WeWork Services Store. WeWork members in the United States receive a 0.125% rate discount on student loan refinancing or Parents PLUS loans.
Meetup
The company's acquisition of Meetup, a platform that connects groups of people with similar interests, ties in with WeWork's core offering of networking space. Since 2013, more than 100,000 have attended a meetup at a WeWork.
Techstars
WeWork's partnership with Techstars gives the global accelerator office space and access to WeWork services in Toronto, Kansas City, Boston, and New York City. Techstars and alumni are offered discounted membership.
WeWork CFO Artie Minson commented on the partnership:
"Techstars entrepreneurs represent some of the world's best innovators on the front lines of the industries of the future. By welcoming more of this next generation of creators into the WeWork community, our members — everyone from entrepreneurs, freelancers, and small businesses to middle-market and Fortune 500 corporations — will have new opportunities to connect and collaborate."
Extending the WeWork brand
WeWork's rebranding effort to become The We Company initially will focus on three business units: WeWork, the co-working unit; WeLive, its residential arm; and WeGrow, which includes an elementary school and coding academy.
The company also shared its long-term vision from 2009, which incorporates travel, social life, and health into the WeWork ecosystem.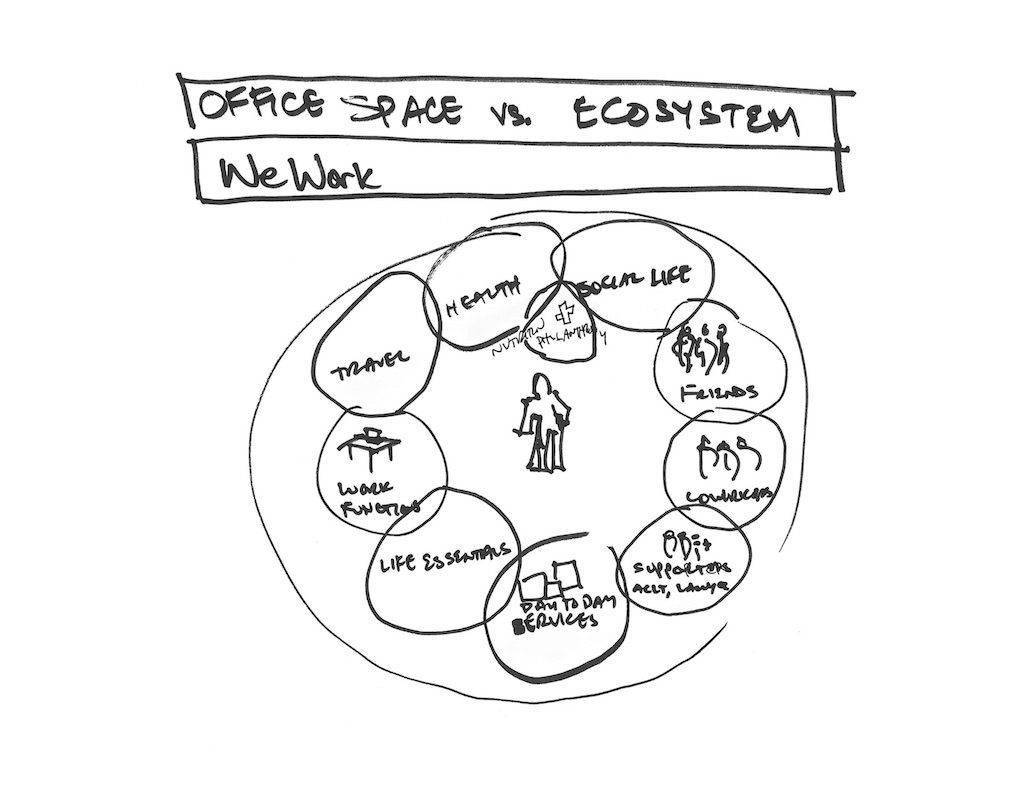 Below, we take a look at some of the ways that WeWork is expanding its reach.
WeLive
WeLive is WeWork's vision for membership-based housing. Like WeWork's office, WeLive offers dorm-style apartments that can be rented on a month-to-month basis. TV, internet, concierge, housekeeping, access to community events, refreshments, and communal kitchens are all included in the pricing.
Unlike WeWork's office locations, WeLive has not seen much growth. The company currently has two WeLive locations, well short of its goal to expand to 68 locations.
Private studios start at $3,050 per month in New York City and $1,500 per month in Washington DC, while four-bedroom apartments start at $7,600 in NYC and $3,700 per month in DC.
Rise by We
In October 2017, WeWork announced the opening of its spa and gym, Rise by We. The facility, currently only offered at one location in New York City, is open to WeWork members, with a non-WeWork members fee starting at $100/month for access to four studio classes. WeWork intends to build out similar gym/spa offerings in other locations.
The addition of exercise facilities seems like a well-timed decision, as fitness companies like Equinox are blurring the lines between recreational spaces and hotels, with plans in the works to launch an Equinox hotel in New York City's Hudson Yards development in 2019.
WeGrow
One month after its announcement of Rise by We, WeWork announced plans to start a private elementary school called WeGrow.
The WeGrow school opened in the Chelsea neighborhood of New York City in September 2018. At launch, 46 children were enrolled in the school's classes ranging from pre-K to 4th grade. Tuition costs between $36,000 and $42,000.
The school's mission is centered around "a conscious entrepreneurial approach to education." Students are also able to connect with WeWork members for mentorship in career fields of interest. The initiative has drawn quite a bit of press — and a fair amount of skepticism.
WeWork Labs
WeWork Labs is a partnership program with local accelerators and incubators that assists small companies with "space, community, and programming" for a fee (not an equity stake). Currently, the program is available in Manhattan, Brooklyn, Washington DC, Seattle, and Dallas, as well as 14 other cities around the world.
WeWork's tertiary businesses make up one if its greatest potential competitive advantages. WeWork Labs in particular has become increasingly important to the company, and seems poised to make further inroads in an already crowded market.
WeWork has doubled down on its burgeoning accelerator program. In November 2018, the company announced it had hired Prabhdeep Singh, former head of enterprise at Uber Eats, as the global head of operations for WeWork Labs. Singh's appointment is a clear indication that Labs will continue to be a primary focus for WeWork, which could be a strong driver of growth for the company.
"If you go to New York or Silicon Valley, there's already 100 incubators or accelerators," Singh told TechCrunch. "If you go to the middle of the country, or China, or go to a place like São Paulo where we have four spaces already, this is really filling a market need."
Part of what makes WeWork Labs compelling is that it does not accept equity from the startups participating in its incubator program. Instead it earns revenues off of renting out discounted office space, following its main business model.
Global expansion
WeWork is quickly expanding in the US and abroad, with more than 550 office locations worldwide and counting.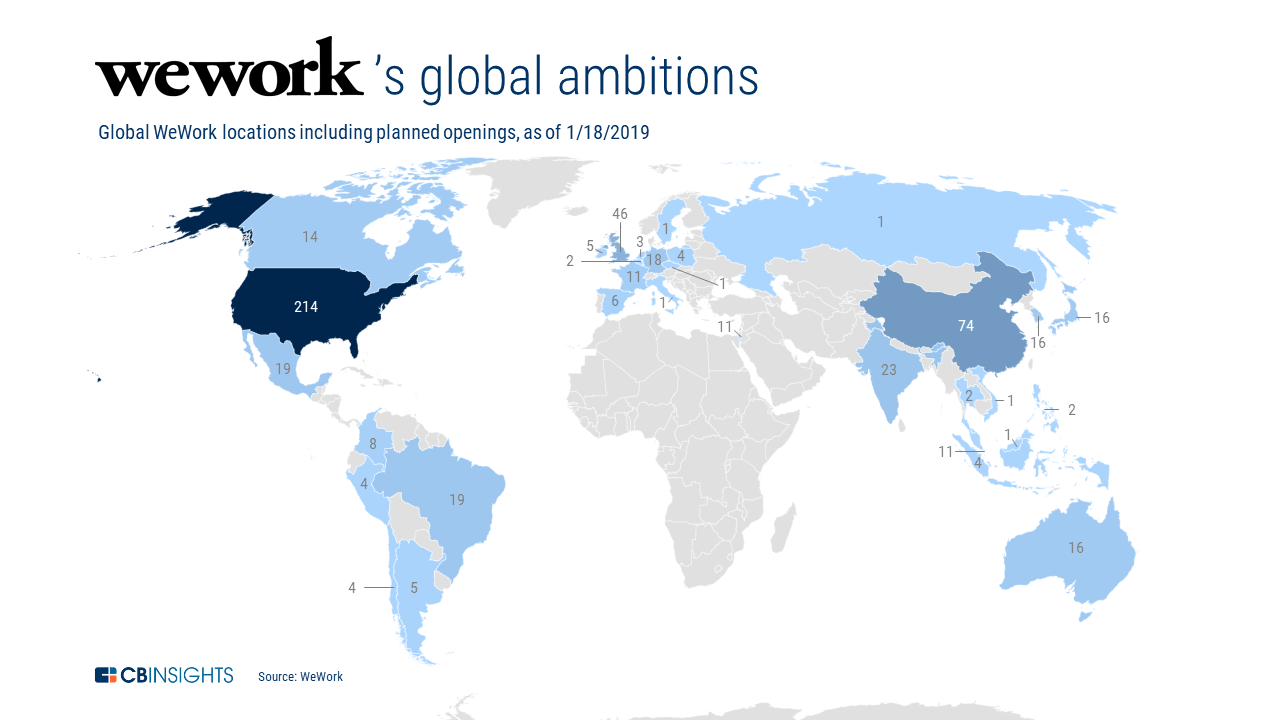 The US is still home to most WeWork locations
WeWork has focused on the United States, with 212 locations nationwide as of January 18, 2019. The company's US locations are largely concentrated within New York City, which is home to 59 of the 212 offices. WeWork also has 19 locations in Los Angeles, 13 in Washington DC, and 12 in San Francisco.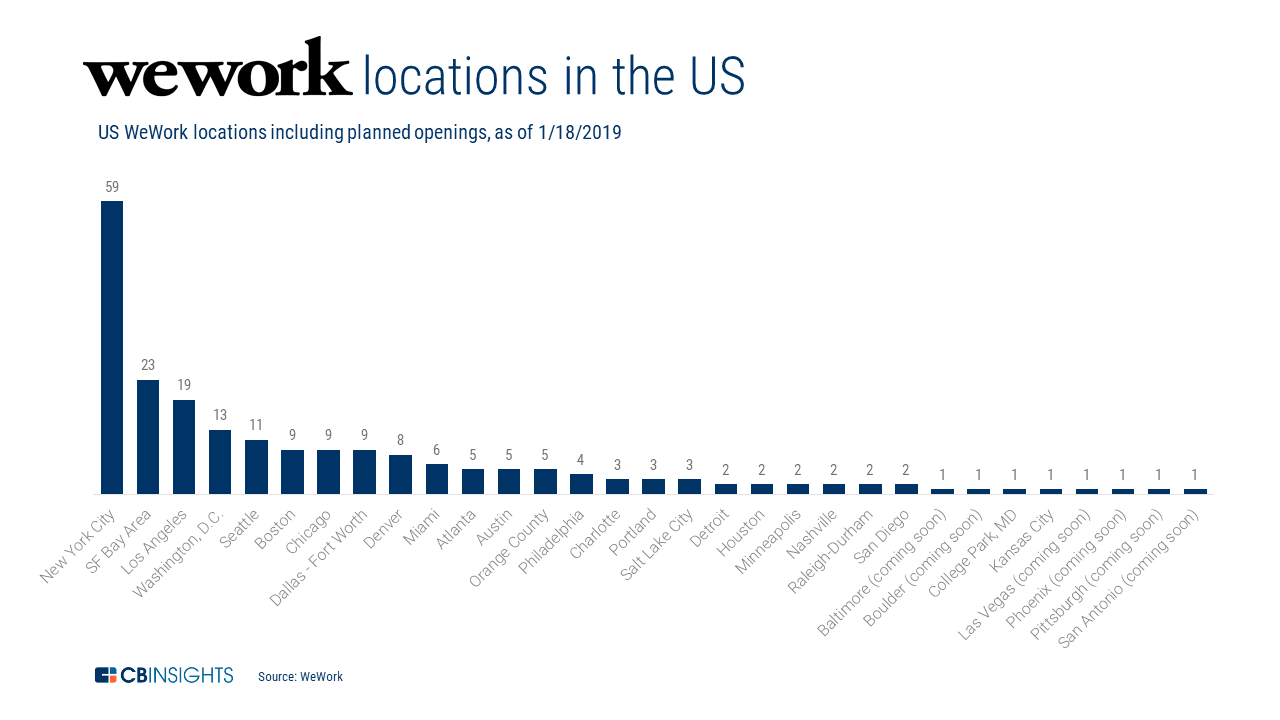 We analyzed the cost of membership throughout the US to see how prices stack up in each city, based on the city-wide average of WeWork's starting membership fees for a "hot desk" (an unassigned seat somewhere within a common area) as well as starting prices for a private office at a WeWork. As of January 2019, the average monthly price for a hot desk in NYC was $463, and the average monthly price of a private office was $1018.
New York City and San Francisco lead as the most expensive in the US, while Austin, Boston, and Chicago round out the top 5.
WeWork recently announced it plans to open an additional campus location for its Flatiron School brand of intensive coding academies in Denver, Colorado, a city that has seen dramatic investment in its technology sector in recent years.
The company is also investing in additional commercial space in Denver. In November 2018, WeWork signed two new leases: one at the Circa Building in the city's LoHi neighborhood, and one at Revolution 360, a five-story office and retail building in development in RiNo. Both locations are approximately 60,000 square feet.
WeWork signed a third Denver lease in January 2019. The company will occupy three floors, adding up to 61,064 square feet, in Denver's Civic Center Plaza. The space will reportedly be available in Q3'19 and will accommodate 1,000 desks.
London is a focus point for the company
Looking beyond the US, London has the second most WeWork locations after New York City. The average starting cost of membership in London is 25% higher than New York City.
WeWork has certainly made London a central strategic focus. WeWork has become one of the largest office space tenant in central London, second only to the government offices of the United Kingdom, according to the Financial Times.
Moreover, based on filings made by WeWork's UK units, the company owes a minimum of $1.1B of future rent in London, some $318M of which will be paid out in the next 5 years.
WeWork and two other companies purchased a 12-building warehouse campus in Devonshire Square from the Blackstone Group in April 2018. The buildings were originally owned by the East India Company. The property was purchased for $826M, according to Bloomberg — and WeWork reportedly now owns 10%.
Expansion in emerging markets
WeWork is also expanding in emerging markets with burgeoning tech scenes, especially China and India. We took a look at average prices in cities in these countries to see how they compare to other markets.
China's country-wide average of $757 for a private desk aligns with major US cities like Chicago or Los Angeles, but when you remove Hong Kong — with a city-wide average of $975 for a private office and $455 for a hot desk — averages in locations like Beijing and Shanghai fall significantly, dropping down to $648 for a private office and $341 for a hot desk.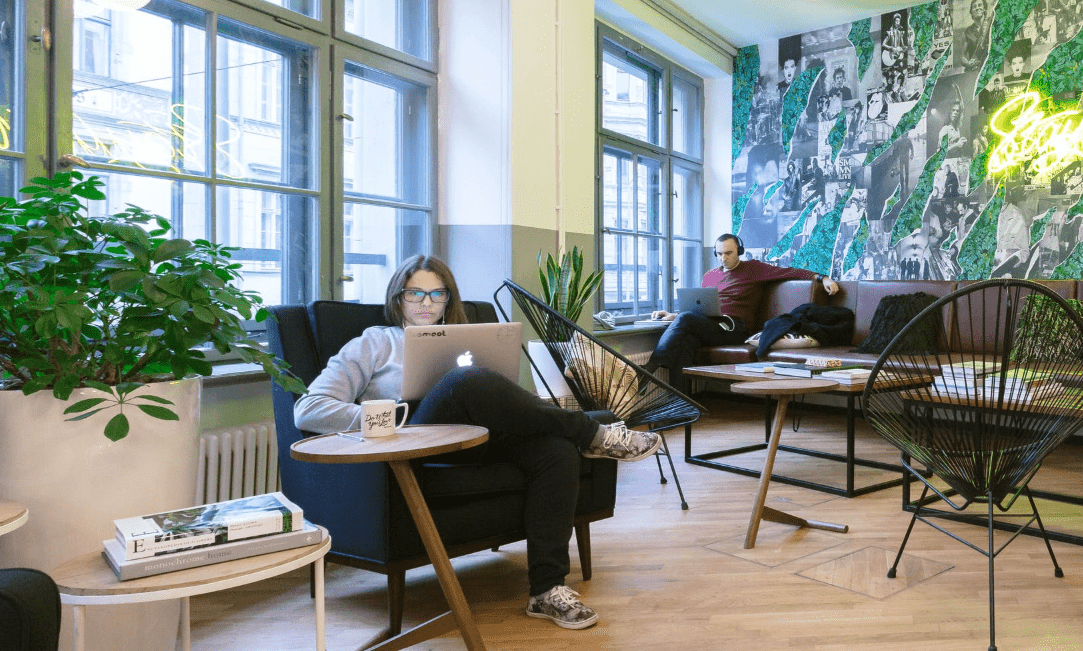 WeWork's office in the China Overseas International Center, Shanghai
This has not deterred WeWork from expanding within Shanghai, likely because margins in the city are still favorable for WeWork, in addition to considerable expansion potential. WeWork has 35 locations in the city, and in 2017 it leased the largest Class-A office in Shanghai, a 290,000 square foot building in Huangpu District. (Class-A is highly prestigious office space.)
Compared to China, India has significantly lower membership fees, with a $358 country-wide average for a private office, and $145 for a hot desk.
To boost expansion in Southeast Asia, WeWork also purchased co-working startup Spacemob in August 2017. The Singapore-based company had previously raised $5.5M from Vertex Ventures SE Asia, Alpha JWC Ventures, and Temasek Holdings. The acquisition also brought on Spacemob's founder and CEO Turochas Fuad to manage its expansion through Southeast Asia.
WeWork's former CFO and managing director of WeWork Asia, Christian Lee sees co-management and Powered by We as a major driver to expansion in the region. "Landlords in Asia are coming to us and asking for help or a cultural upgrade," Lee told TechCrunch. "It's one of the biggest opportunities in Asia — we take everything we learned as a package and bring it into a landlord building or company building."
WeWork's investors, leadership, & competitors
WeWork valuation & funding history
Since its founding, WeWork has raised a mountain of money in the private market, with $6.5B in total equity funding.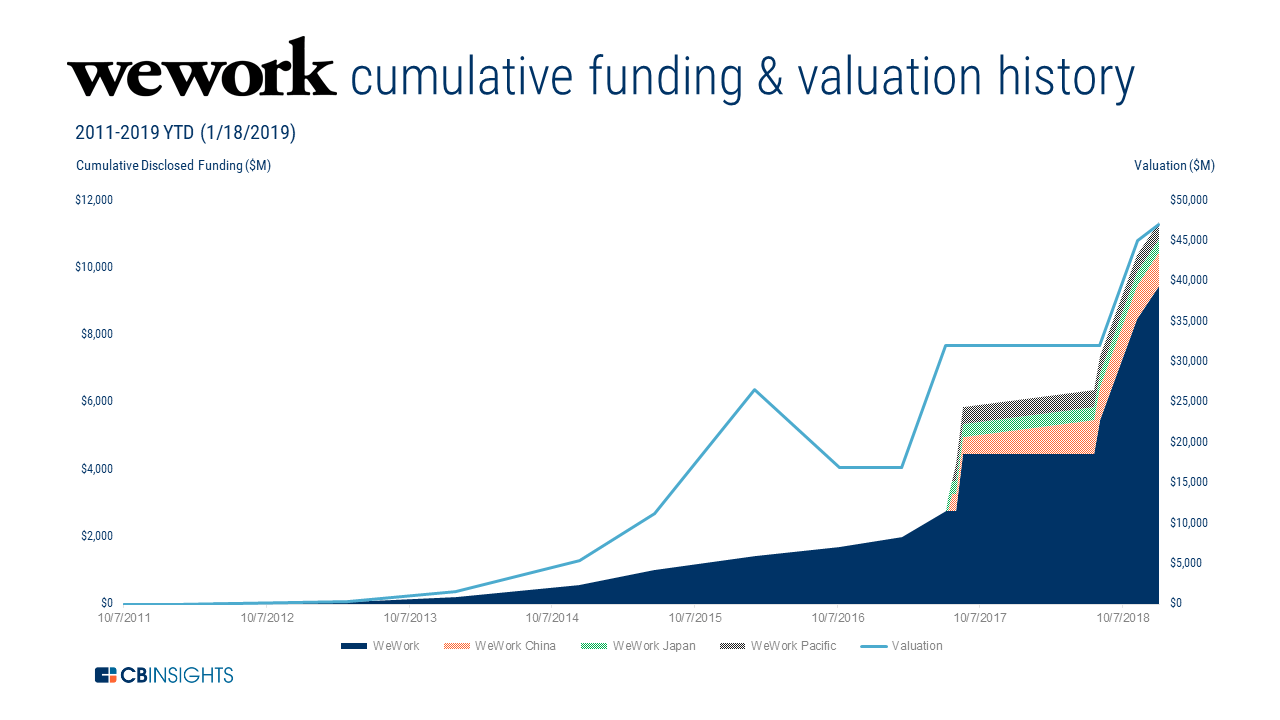 At the time of its $40M Series B financing in May 2013, WeWork had reached a $318M valuation. In February 2014, the company raised a $157M Series C and reached a $1.6B "unicorn" valuation.
Since then, each successive round has added billions to its valuation, which, following a number of large rounds from SoftBank Group, has most recently ballooned to an astounding $47B.
Much if not all of WeWork's valuation is based on its historical and forecasted revenue growth. Compared to comparable publicly traded companies like IWG, WeWork's revenue growth is far higher. (For more on WeWork's valuation, check out our valuation analysis.)
In November 2018, WeWork's largest investor SoftBank announced that it was investing a further $3B into the real-estate company, valuing WeWork at approximately $42B. SoftBank took an interesting approach to this round of funding, opting to structure the round as a warrant that gives the investor a great deal of flexibility.
Although it's practically inconceivable that WeWork might be acquired in the near future, SoftBank would be in an envious position if any company did make an offer, or if SoftBank itself decided to acquire the company. Structuring this round of funding as a warrant also allows SoftBank to retain much of its bargaining power if WeWork were to file an IPO, a much likelier (though still somewhat distant) prospect.
SoftBank announced another $2B investment in WeWork in January 2019 — much lower than the initially planned $20B. SoftBank was forced to revise its investment after stock market troubles pushed its stock down 20%.
Aside from cementing its power over the rapidly growing real-estate company, SoftBank's latest investment in WeWork is a strong signal that it will continue to support the company for the foreseeable future. This will likely embolden WeWork to continue investing in its tangential businesses, as its recent rebrand to The We Company suggests.  
SoftBank's continued investment in WeWork is also highly strategic. One of WeWork's largest competitors, Chinese company Ucommune, raised $200M in November 2018 as part of its Series D round. Analysts expect the company will use the funding to continue its series of strategic acquisitions to shore up its presence in the Chinese domestic real estate market and other key markets in Southeast Asia.
Ucommune, which is currently valued at $3B, may lack WeWork's muscle, but it's clear that the company has considerable ambitions and plans to apply further pressure on WeWork in competitive markets.
Investors
WeWork's investor composition weighs disproportionately towards larger, institutional money managers like mutual funds, endowments, and banks. This includes the Harvard Management Company, JP Morgan Chase, Goldman Sachs, and Fidelity Investments, as well as traditional venture firms like Benchmark.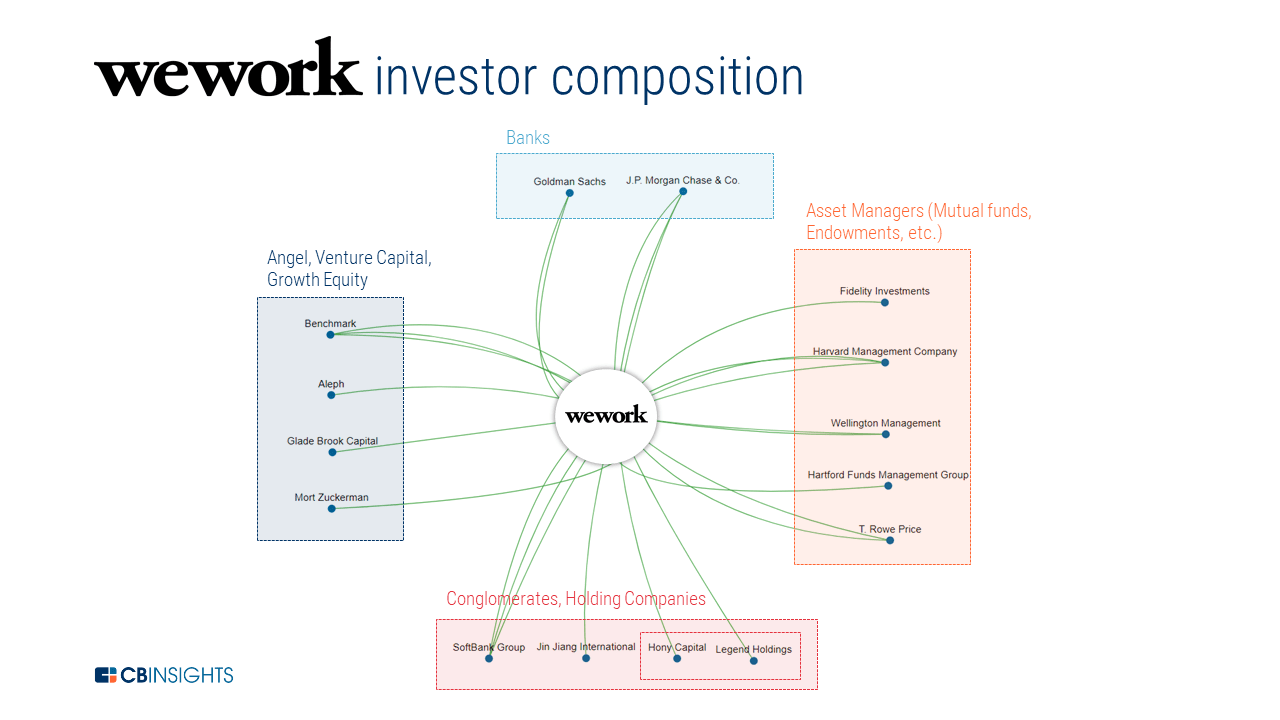 The company is also backed by some notable Chinese investors, including Legend Holdings, parent company to Lenovo, and Jin Jiang International, with ties to the Chinese government.
However, WeWork's most influential investor is surely SoftBank Group. In 2017, SoftBank Group closed $93B to form the SoftBank Vision Fund, aimed at buying significant equity in market-leading technology companies.
"I told Adam not to be proud that WeWork was growing organically without a large sales force or spending big marketing dollars. Make it ten times bigger than your original plan." — Masayoshi Son, CEO, SoftBank Group
WeWork was one of the Vision Fund's first investments. The terms of SoftBank's deal were allegedly sketched out by Neumann and Masayoshi Son, SoftBank's CEO, in the backseat of Son's car as he departed from a mere 15-minute visit to WeWork's offices. The terms set out a $3B investment into WeWork — a mix of equity buyouts ($1.3B) and new capital ($1.7B) — with additional investments made to new Asian entities WeWork Japan, WeWork China, and WeWork Pacific.
Based on WeWork's recent geographic expansion, it would seem Neumann and his team are putting SoftBank's money to use.
As SoftBank continues to deploy its Vision Fund, it's worth keeping an eye on the office locations of Mr. Son's portfolio companies. The WSJ reported that Son has suggested he would urge portfolio companies to find office space within WeWork locations, and SoftBank's subsidiary Sprint is a WeWork enterprise client.
Leadership
We put together a blueprint of the company's top ranks. While WeWork's leadership structure is fuzzy, here are the executives who either directly report to CEO Adam Neumann, or have his ear.
News Sentiment
WeWork has seen a significant amount of fluctuation in news sentiment in recent years. Although sentiment is generally trending up, the company has seen a recent sharp downturn as stories have come out about a drop in SoftBank's expected investment and potential conflicts of interest for CEO Adam Neumann.
Note: we calculate positive stories as 1, negative stories as -1, and neutral stories as 0.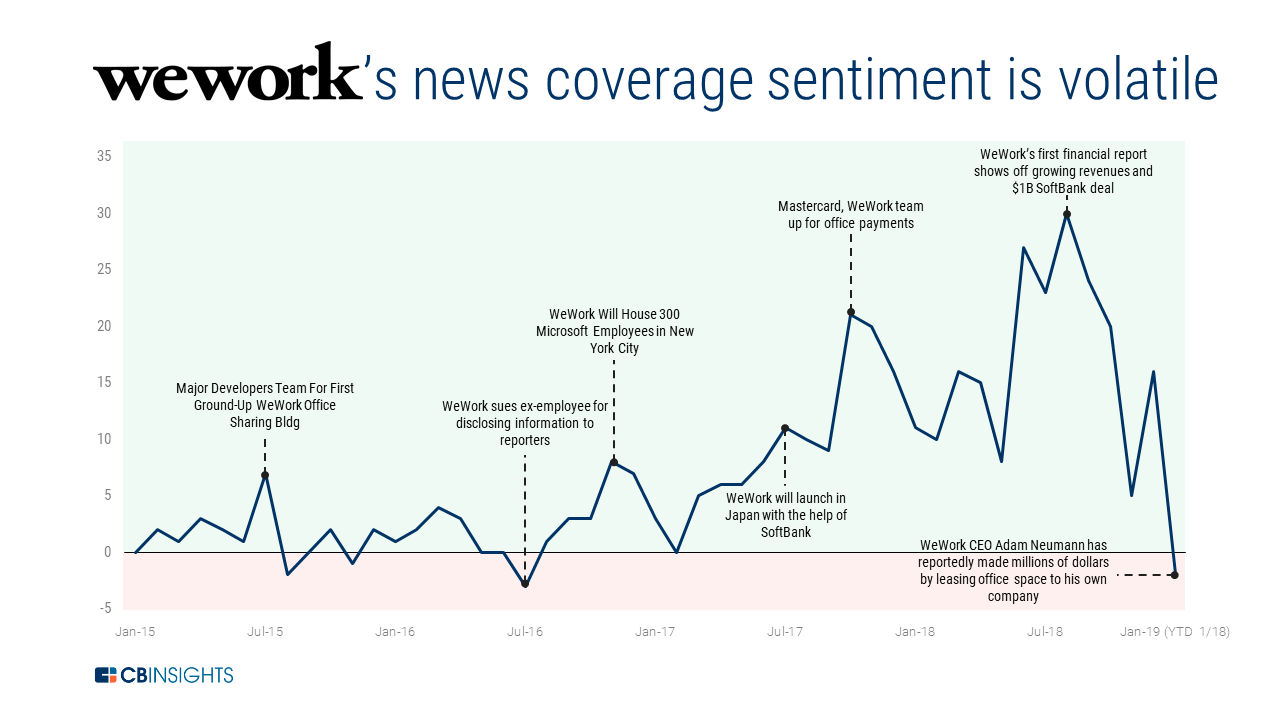 Competitors
Private startups are cropping up to compete
There were around 19,000 co-working locations around the world as of September 2018. While none are as well-capitalized as WeWork, the company has nonetheless been aggressive in weeding out competition, poaching members with offers of months of free membership.
Knotel is one example. The New York City-based company has raised $155M from investors including Bloomberg Beta, 500 Startups, and Rocket Internet, among others. In 2017, Knotel and two other companies accused WeWork of spying on its operations, sending employees to pose as potential customers.
San Francisco-based RocketSpace is a well-capitalized office space company designed to help startups grow, offering offices and accelerator services. The company notably also has enterprise clients. Founded in 2011, it raised $336M in 2016 in a corporate minority round from HNA Group, a Chinese conglomerate.
Convene provides space for corporate events, offering meeting and conference rooms with production support, amenities, and technology. Convene manages amenities for the Durst Organization in One World Trade Center, among other locations.
Other co-working companies have more specific focus areas. Neuehouse, for example, focuses on "solopreneurs" and teams of less than 10, particularly in the film, fashion, and design industries. The company has raised $71M to date.
The Wing offers an all-women social, co-working, and networking club. WeWork participated in a $32M Series B to the startup in Q4'17. The Wing's first location in the Flatiron neighborhood in New York opened in 2016, followed by its SoHo location in 2017.
Today, it has 5 open locations spread across NYC, Washington DC, and San Francisco. More spaces are set to open in West Hollywood, London, Boston, Chicago, Toronto, and Seattle between spring 2019 and the end of 2020.
Some companies, such as Croissant and Spacious, have carved out spaces in other unique ways. Croissant grants members access to co-working offices around New York City, San Francisco, Los Angeles, Chicago, and Washington DC. Spacious, which raised a $9M Series A in 2018, partners with restaurants in New York City during no-service hours.
As WeWork expands into Asia, a few players have emerged as notable competitors. Beijing-based Ucommune (fka URWork, before being sued by WeWork) has raised $768M from Sequoia Capital China, among others, at a valuation of $3B. As of August 2017, Ucommune had 7,500,000 square feet and 100 locations in China.
To head off additional competition in the Asian market, WeWork acquired Chinese co-working startup Naked Hub in April 2018 for a reported $400M, though specifics of the deal were not disclosed.
Publicly traded real estate companies are also taking note
Major real estate incumbents are angling to make competing investments with WeWork. In January 2018, Brookfield Asset Management and Onex Corp, Canada's largest asset manager and private equity firm, respectively, bid on IWG Plc, a flexible office space provider. The $3.7B bid was rejected.
IWG's $2.9B market cap is roughly one-tenth WeWork's private market valuation, despite having 3,000 locations compared to WeWork's 550. Its co-working sub-brand Spaces had 200 US locations a the end of 2018, and plans to more than double that figure in 2019.
In December 2017, IWG negotiated an agreement with Brookfield to lease seven floors within the Hudson Yard development — an indicator of how important Brookfield thinks co-working is to its own leasing strategy.
The Blackstone Group has also made its foray into the co-working industry, purchasing a majority stake in The Office Group, a flexible office space provider at a valuation of roughly $695M. Blackstone is the largest landlord in the US and one of the largest landlords in the world, with $250B in gross real estate assets under management (as of 9/30/18). Blackstone is also a landlord to WeWork.
Rob Harper, head of US asset management in BX's real estate group, said co-working "is certainly something we're spending a lot of time focusing on in our office space business."
"The way towers were built in the 1980s, they were a monument to the corporation. Now, if it feels corporate, that's the kiss of death." — Lisa Picard, President & CEO Equity Office (Blackstone)
Traditional commercial real estate landlords are surely feeling squeezed.
In the UK, an industry-wide decline in lease lengths occurred for the first time in six years, and landlords feel obliged to make changes. One of the UKs largest REITs, British Land Co., has even started its own co-working brand called Storey.
In addition to putting a stake in the co-working game, landlords are building out their amenities to compete with the likes of WeWork: major commercial landlords are aggressively constructing communal spaces, happy hours, game rooms, and more to make their buildings more attractive to corporate tenants.
Naturally, some competitors have decided that it is better to work with WeWork than against it. Major real estate developers like the Rudin Management Company and Boston Properties have bought in on WeWork's value-add to a building.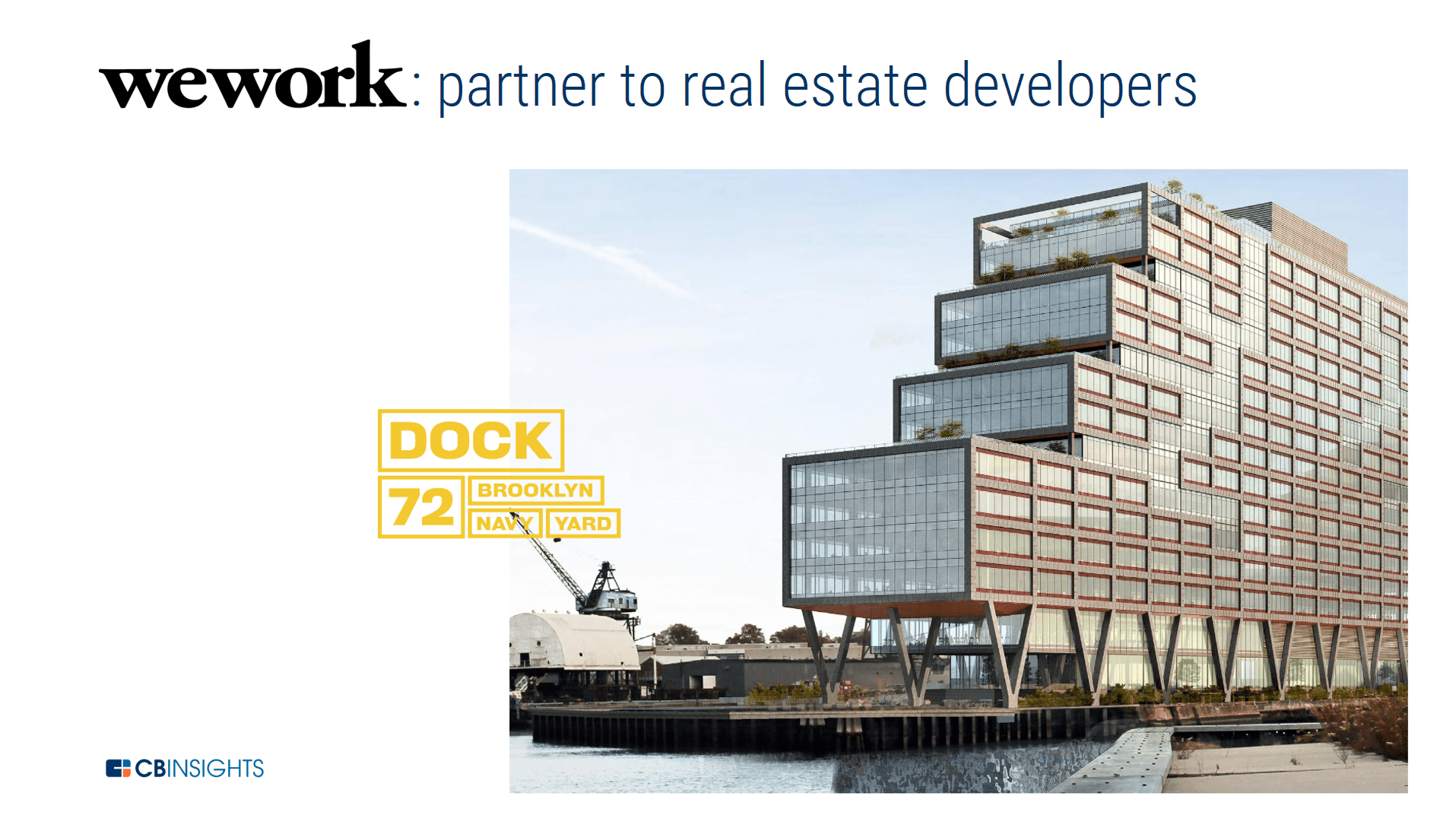 The companies' joint building in Brooklyn, Dock 72, is a 675,000 square foot Class-A building. WeWork will occupy 222,000 sq ft, while 35,000 sq ft of the building will be devoted to amenities designed by WeWork, including a 13,000 sq ft food hall, a 15,000 sq ft wellness center, lounges, conference rooms, and a rooftop conference center and event facility, among other amenities.
The building also will have its own app to assist in building security, conference center booking, food deliveries, and transportation updates. Powered by We offices for IBM and Verizon have already been earmarked.
Concluding thoughts
To date, WeWork has proven two things. First, it can quickly expand at scale, opening between 500K – 1M sqare feet per month. And second, it can design spatially efficient offices in non-identical locations, from brand new offices to spaces so old they were once operated by the East India Company.
Both of these accomplishments rely on defensible strategic advantages, namely, a control of the complete building lifecycle and a mastery of data-informed design.
The cost savings WeWork can then pass on to corporate clients are a massive accomplishment in technical efficiency, as well as a compelling outsourced service. This makes WeWork's Powered by We a significant competitive business — so long as the company can continue to deliver and improve on its technological capabilities.
WeWork's enterprise business is vital to its long-term strategy. If the company continues to add co-management deals that cater to large corporates, it has a strong shot at living up to its sky-high valuation. However, if enterprise growth stagnates, and it appears that companies are using their WeWork partnerships more as a marketing tool than an office solution, WeWork may stumble.
Moreover, WeWork's accounting risk is still high. The company's short-term risk of default on its lease obligations seems low, but only given the strength of its balance sheet and deep-pocketed investors. Driving that risk down will likely require WeWork to limit the numbers of new locations that are leased, as opposed to co-managed.
With all this in mind, if WeWork can continue to improve its efficiencies in office design, the highly funded company could create a new paradigm for enterprise real estate management.
If you aren't already a client, sign up for a free trial to learn more about our platform.