Our wellness report takes a data-driven look at global wellness investment trends and top deals. It highlights which technology-enabled solutions are rising in the wake of Covid-19 and tracks investor focus across the wellness landscape.
The State Of Wellness H1'20 Report: Investment & Sector Trends To Watch features updates on VC funding, M&A deals, and emerging startups across key areas of wellness. It focuses on technology-enabled solutions and business models across areas including fitness tech, sleep, women's health, and self-care.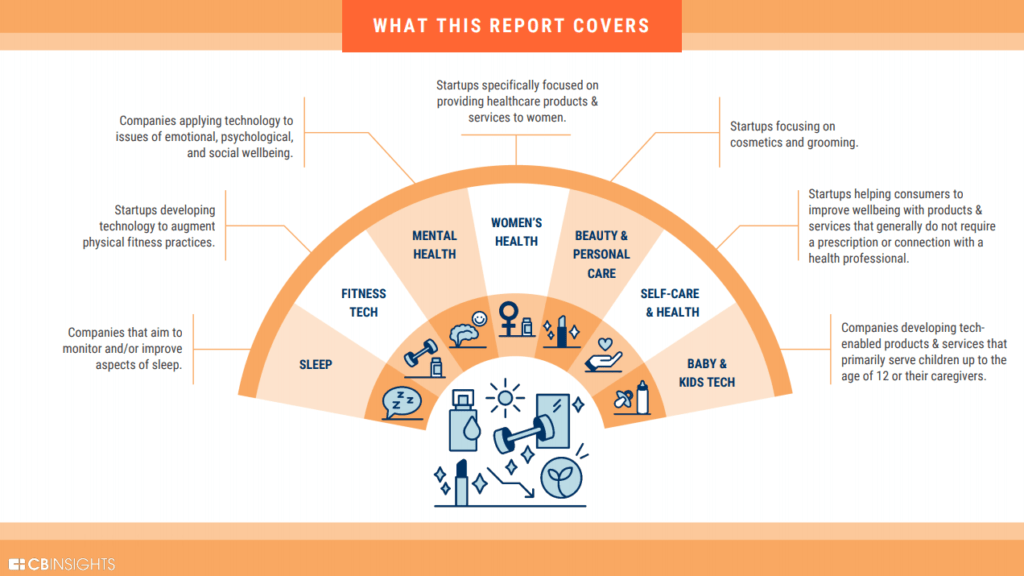 Using data and features from the CB Insights platform, we report on key insights and emerging trends, including how VC investment has shifted amid Covid-19. We also highlight underlying themes within wellness where leading brands, services, and retailers will likely focus their attention in the future.
Report Highlights:
Overall funding and deals are down in 2020 so far

: Funding fell to $4.6B in H1'20, down 24% from $6.1B in H1'19. Deals dropped 16% year-over-year (YoY). 

Mental health startups saw over $1B in funding in H1'20

: Investors have poured over $1B into mental health and wellness startups so far in 2020 — the most of any category featured in this report. The mental health and wellness space also leads in deal activity, with 106 deals taking place in H1'20. 

Two fitness tech startups have reached $1B+ valuations this year

: Keep, a China-based startup focused on community fitness with online classes, and US-based Classpass joined the list of global unicorns in 2020. 

Investor attention to digital & at-home wellness solutions has grown in the wake of Covid-19

: The pandemic has accelerated the trend of bringing wellness products and services — from sleep tests to fitness tech — into the home as individuals seek to reduce infection risk from visiting physical businesses like spas and studios. 

Fulfilling the need for connection and community is coming to the forefront

: Wellness solutions that emphasize community and connection with others over distance are seeing greater traction as consumers stay physically apart. These range from community fitness apps to online groups for women in similar stages of life.

Wellness categories continue to emphasize sustainability

: From lab-grown collagen for skincare to sustainably sourced baby food, themes of sustainability are here to stay in the long term.

Companies are targeting specific demographics more explicitly

: Startups are focusing on more specific demographics as the wellness space becomes more inclusive. 
If you aren't already a client, sign up for a free trial to learn more about our platform.